Our rating and review of the Head Graphene XT Vector can be summarized in the fact that it is a good racket that suits both the offensive and defensive player. It is a racket that is very suitable for those who play at the beginner – advanced level. 
Head Graphene CT Vector is a very popular padel racket from the racket giant Head.
Head Graphene XT Vector characteristics
The combination of a round racket with medium balance makes it a model that is very easy to handle in all positions, and it provides an exquisite playing feel. A versatile racket that stands out thanks to the control it provides, but also the power and explosiveness of the strokes. The same fine quality that Head always delivers to its users. The design is sleek and very stylish – a black racket with the logo and details in magenta.
Specifications
Information about the racket
Player performance level: Intermediate - Advanced
For this new and innovative racket, graphene has been used as the base. Graphene is a lighter and stronger material than regular graphite and is an excellent choice for the new generation of padel rackets that Head has produced. This is because it is a material that is significantly stronger and more lightweight than anything that has been used to date, and therefore it gives the manufacturer the chance to distribute the material without affecting either the weight or the characteristics of the racket. 
Flexible Chassis is the name given to the new frame design, which should provide a smoother transition between the frame and the foam in the core. This results in a racket with greater comfort and a perfectly shaped sweetspot that gives you extra control when you need it. 
For the core, the soft EVA foam Comfort Foam has been used, which absorbs vibrations while providing good speed in the strokes. A vibration-dampening core is important to help prevent common injuries such as tennis elbow while providing the best comfort and feel in every ball strike.
The racket also comes with a built-in carbon fiber frame guard, which protects it from scratches, knocks, and cracks. Thanks to this, you know that your Head model will stay in excellent condition for a very long time.
Recently, a number of padel rackets have been introduced with a round shape and medium balance, just like the XT Vector has. Traditionally, the round rackets have a low balance, in other words, a center of gravity that is close to the grip of the racket. This characteristic makes them very easy to play and responsive, but less effective on the offensive. 
Moving the balance a little higher, as in this model, results in a racket that is much more balanced. You get the control, precision, and a big sweetspot that characterize round rackets while getting much better up front at net. You'll feel it's much easier to swing, and combined with its lightweight, it's a fine weapon on the offensive as well.
This is a round racket with a large sweetspot making it a balanced and forgiving racket that won't punish you for your mistakes. What distinguishes it from round beginner rackets is that the balance is a bit higher and the hitting surface is harder, and therefore it performs very well in both offense and defense.
The Head Graphene Vector can be described as a medium-hard racket. The core is of the softer kind to help provide optimal control and comfort, at the same time as it puts speed on softer balls.
The hard and stiff hitting surface of graphene provides the necessary power and dynamics you need for an effective and purposeful attacking game.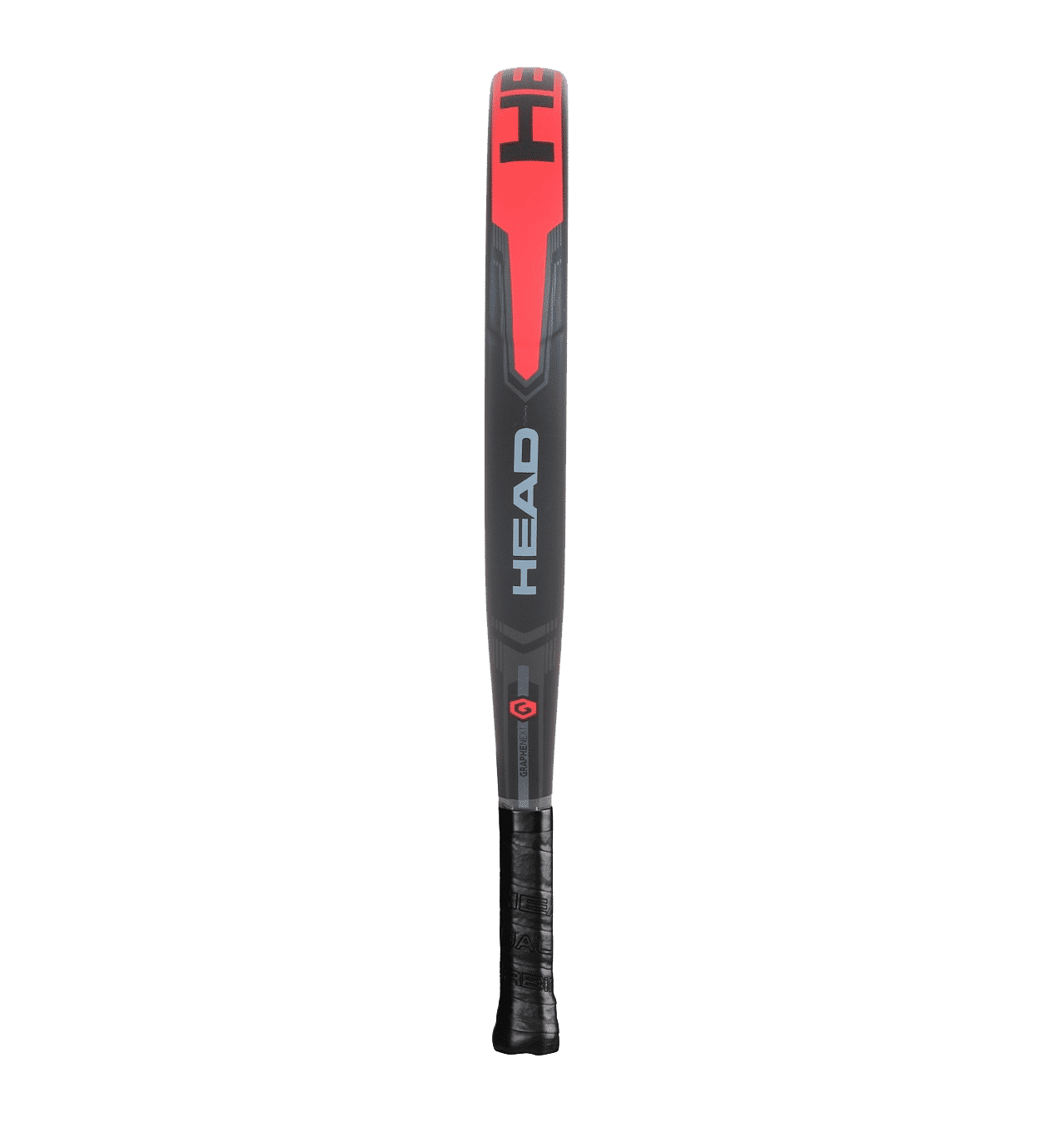 What level of player is Head Graphene XT Vector suitable for?
It's a great playing racket that's really suitable for almost any level of player. Those who have been bitten by the padel bug and want to advance to the next level will find this to be the perfect partner. 
It's forgiving when the situation calls for it, thanks to the large sweetspot, but at the same time powerful and explosive thanks to its graphene hitting surface. Experienced players will appreciate how easy it is to handle, and that it allows you to be your best version no matter what. Skilled beginners, especially if they have experience in tennis or squash will also enjoy it.
In short, it's a racket that everyone can adapt to, and it will almost certainly feel comfortable and familiar from the very first moment.
Is the racket best suited for offensive or defensive play?
Here you have an all-round racket that is designed to adapt completely to the player. If you're an all-round player who wants to win matches through a flexible and versatile style of play, you've found the right one. Thanks to graphene, it's stiffer and lighter than similar models, making it easier to swing and more effective in the air. 
When defending from the baseline, you'll feel total control, being able to place the ball wherever you want, as it provides a very good feel when hitting the ball. It also performs very well in front of the net, both when it comes to smashes and quick volley duels. Bandejas also work very well with the XT Vector.
Brief information about the brand
Head launched its first padel racket in 2010, and since then has been at the forefront of developing ambitious padel products with the highest quality and the latest technology. As new materials come to market, they are quick to investigate if there are features of their rackets that can be improved with the innovative new additions. 
Head is always working to offer every player something that really fits, both in terms of level and style of play. Competitive professional players, as well as amateurs and beginners, appreciate the wide range, which season after season manages to outperform the previous collection. No wonder many WPT stars such as Alejandra Salazar, Fernando Belasteguin or Sanyo Gutierrez only play with these rackets.
Head is an American brand that is now based in Holland. Founded in 1950 by aeronautical engineer Howard Head, it is a world leader in the manufacture of sports equipment. One of their biggest names is tennis titan Novac Djokovic. Apart from padel, Head has also been manufacturing equipment for other racket sports such as tennis and squash, as well as winter and water sports since 1950.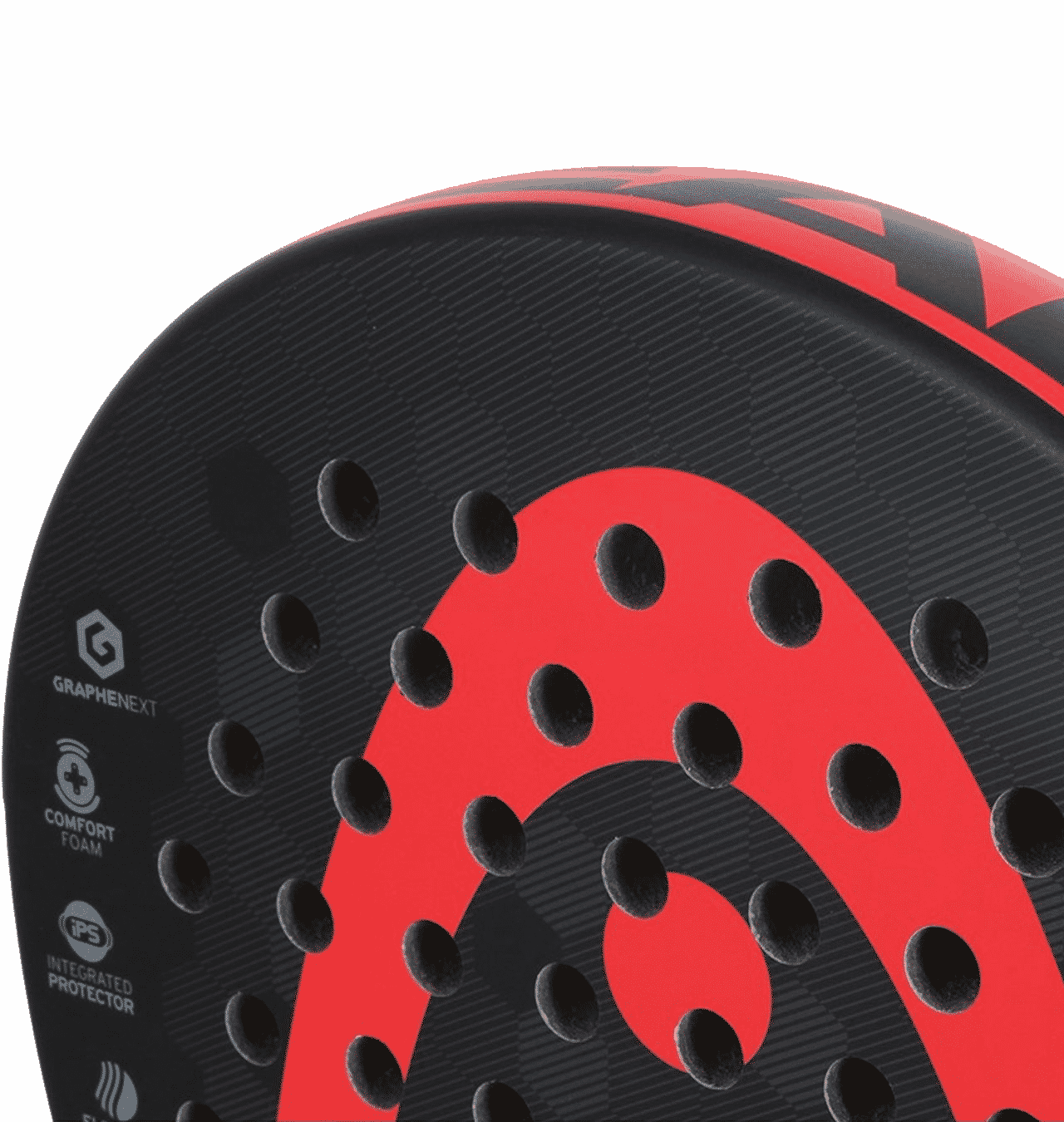 Benefits of the Head Graphene XT Vector
The Head Graphene XT Vector is a very affordable option, which has become very popular with a large audience. It will help you grow as a player no matter what level you are currently at, from professional competitive players to goal-oriented recreational players will be able to find a favorite here.
The relationship between power and control that has been achieved here cannot be described as anything other than exquisite. Head has once again succeeded in creating what it is set out to do: an all-round racket that truly delivers all over the court.
You will be able to feel completely confident with this racket in your hands, no matter what kind of opposition you have on the other side of the net, you will be able to do your absolute best. It's a racket that feels comfortable in your hand from the moment you pick it up, and one that you'll never want to let go of.
Plus / Minus
Summary of our review
Excellent for the beginner and up to intermediate

Low balance with a large sweet spot

Smooth hitting surface that means you won't get as much spin on the ball
As long as it's an all-round racket you want, this one doesn't actually present many weaknesses. Of course, there are alternatives that are more powerful or offer greater control. The only thing we can think of as a minus is the smooth hitting surface. Nowadays, many models come with some sort of textured hitting surface that allows you to get a better grip on the ball and more spin, and that would have made the XT Vector even better.
Head Graphene XT Vector reviews and ratings
Below we have collected reviews for the Head Graphene XT Vector online. 
4.7 out of 5 by a product review on Racketspecialisten.se
Our overall verdict and review of the Head Graphene XT Vector is that it is a really affordable all-round racket that has a wide target audience ranging from beginners and singles up to professional competition players, it is very popular. The racket is also well-balanced between power and control, where Head has really managed to make the racket an all-round racket.
The Head Graphene XT Vector is made from a material called Graphene, which is such an incredibly durable material. Graphene also has the property that the material can be very thin, but at the same time incredibly strong. Head has also chosen to implement Comfort Foam in its core, which makes it a perfect choice for those who want to play with a comfortable racket.
Disclaimer
All opinions given by Elitepadel and our writers are subjective and you may not agree. Elitepadel.se is a free platform for you as a visitor and is instead funded through collaborative links to our partners. You as a visitor are not affected by these links.
Follow Elitepadel on Youtube!
We publish everything from video reviews where we test and compare different products to tips on how to become a better padel player.