Looking for the best padel balls 2022? In this article, we'll help you find the balls that will help you play the best padel possible – plus you'll get an exclusive discount code from us so you can buy your new balls at a great price.
The most important thing to understand is that there are padel balls with different characteristics and the best padel balls for you are not necessarily the best for someone else.
For example, there are slow padel balls that are generally good for the beginner and there are fast padel balls that are better suited for a higher level where players want more speed.
Padel balls best in test:
Click on the names to navigate directly to the padel ball.
Best padel balls for beginners and amateurs
This is Robin Söderling's new padel ball that he has produced together with the Swedish padel team Simon Vasquez. It's a ball that performs at its best mainly when the game is slower, but it's of course perfectly acceptable for smashing as well. It's a premium ball with a really nice felt, and the awesome feel of the ball is what makes it so popular with players.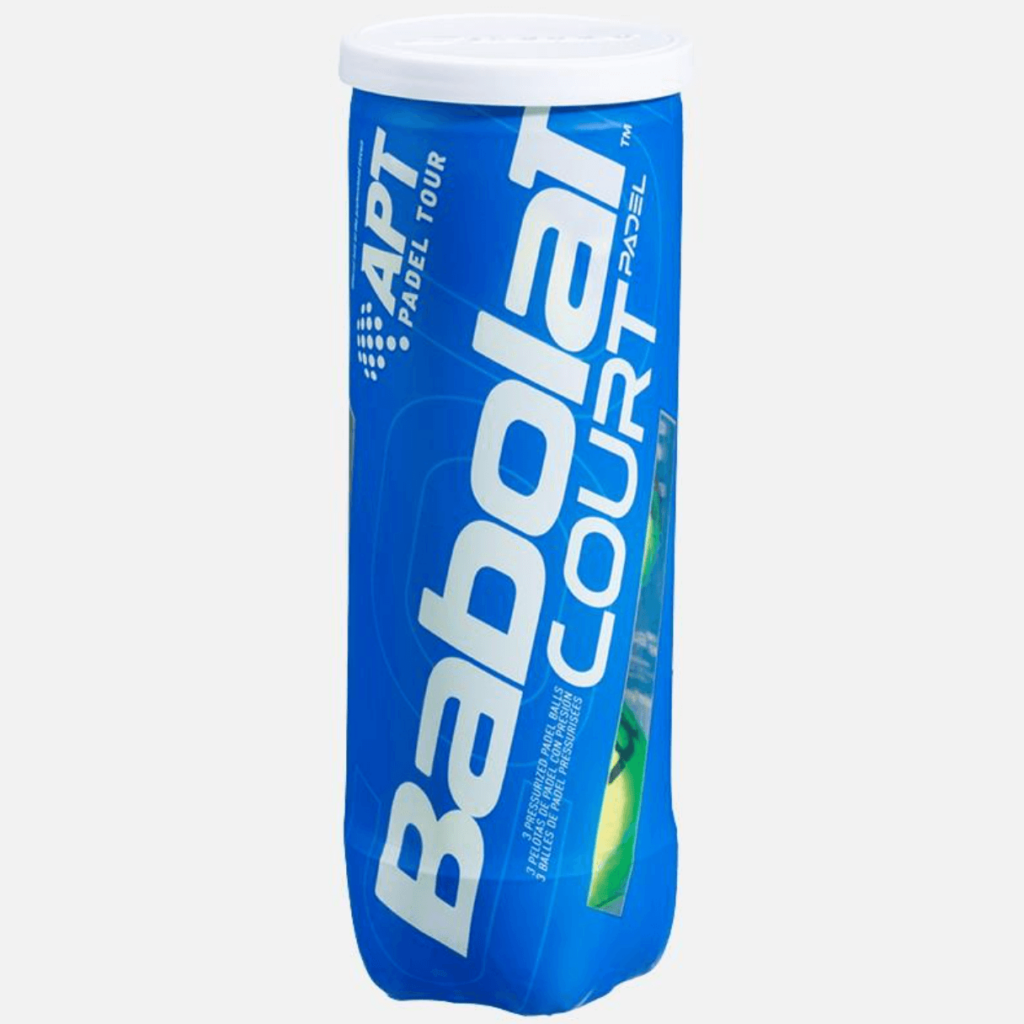 2. Babolat Padel Court Ball
Babolat Padel Court Ball was formerly called Padel+ and is an extremely popular padel ball. It is also the official match ball of the APT Padel Tour. That says a lot about the quality of the ball despite its low price. 
Best padel balls - mid-price
Head Padel Pro is arguably the most famous ball on the WPT pro tour, and it's the players themselves who have chosen it. This is a premium ball that gives you the ultimate control and maximum durability. Perfect for the demanding player who prioritizes quality.
Best Padel Balls - Premium
This is a version of the ultra-classic Head Padel Pro, where S stands for speed. This is a very fast ball that allows for quick duels in front of the net. It's also great for kicking the ball out of the cage, thanks to the new core that makes it even more dynamic and vibrant. The fact that it is the official ball of the WPT says it all.
Different padel balls on the market
Babolat Padel Tour is the official ball of the Spanish Padel Tour, and it has been developed in collaboration with some of the best WPT players. It has used the latest technology to produce a really fast gas ball with a durability that you will be pleasantly surprised by. A properly strong felt in the cover complements this premium ball that ensures extra good spin. 
For which level is the ball suitable?
A fast ball like this is best suited to really good intermediate-level players and players at an even more advanced level and competitive players.
We can't say anything else about this ball other than that it is very complete, suitable for most player levels and player types. An extra plus for the durability.
This is a very high-quality ball that is used officially in many competitions and tournaments in Spain, the world's largest padel country. The new felt makes it a little slower than other competition balls, and this in turn makes it slightly more durable. It feels a bit heavier when you hit it, but it's an incredibly good ball for those who have precise placements as their best weapon.
What level is the ball suitable for?
Bullpadel's premium Gold ball has been developed for competitive use, but thanks to its contribution to better control, it is also popular with recreational players with a more technical style of play.
As mentioned above, it can feel a little heavy at impact, but the ball feel and control is better than in the faster balls. The durability makes it a very good choice for those who play a lot.
This is a slightly softer version of the WPT's official ball and is a real classic. Its excellent characteristics make it suitable for a very wide audience, and clear proof of this is that it is one of the best-selling balls of all time. As soon as you open the ball tube, you will notice the pleasant feel of the felt. It's a ball that prioritizes control, a perfect choice for players who base their game on precise positioning, but which won't let you down with a more aggressive game for that matter.
For which level is the ball suitable?
This is primarily a competition ball, but it is so complete that it is suitable for a very wide audience.
This ball is particularly good if the surface is very fast, then it gives that little bit extra in terms of control and ball feel at the moment of impact. If, on the other hand, you play on a slower surface, it is better to choose the Head Padel Pro S version, which is a slightly faster ball.
This is the ball used on the World Padel Tour – need we say more? It's one of the absolute best balls on the market today, both in terms of durability and speed. In virtually every test done by various companies selling padel products, you will find the Head Padel Pro S at the top, which is a good testament to its quality and playing characteristics.
What level is the ball suitable for?
Head Padel Pro S is best suited for players at an advanced level, it is designed for the best padel tournaments in the world. All skilled players, but especially those who are more offensive-minded and like to dominate the court with their speed and powerful strokes.
Advantages and disadvantages
This is a ball we can't say anything negative about. For inexperienced players, it is not the best choice, but that is not the target group it is aimed at either. Despite being a ball that excels in speed, it has a durability that exceeds all expectations.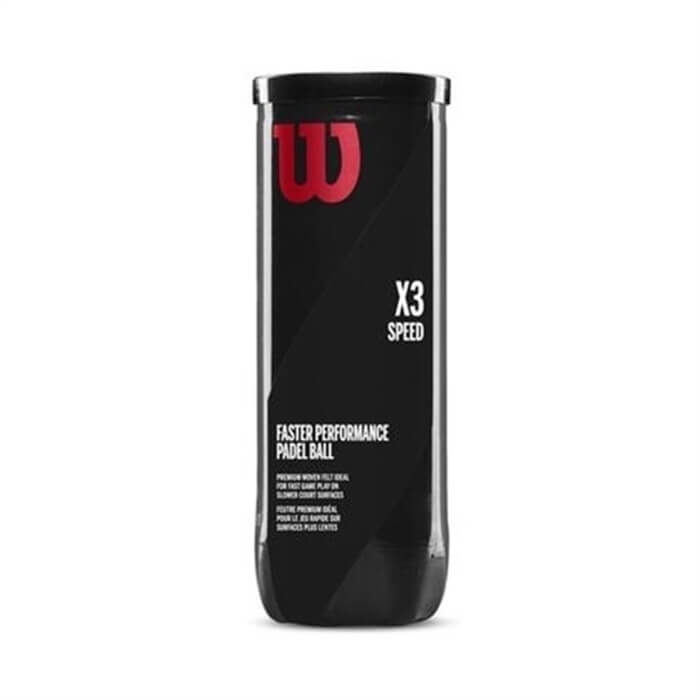 Wilson Performance Speed Padel Ball
Just like Wilson's Rush padel ball, the Performance Speed is a competition ball that is used on the Swedish Padel Tour and Padel SM, among others. It is slightly faster than Rush, which makes it particularly popular with fast and offensive players who like to win points on power.
What level is the ball suitable for?
Wilson has worked hard to produce this competition ball, which is both fast and durable.
A padel ball of this quality, which is also used in prestigious tournaments can't be anything but awesome. The only disadvantage that can be seen is that the target group will be quite narrow, it is not the optimal choice for recreational players.
An exclusive premium ball that will become a favorite among advanced level and competitive players. It has a slightly higher bounce than normal, making it a good choice for the dynamic player who bases their game on speed and explosiveness.
For which level is the ball suitable?
It is well suited for advanced and competitive players, especially those who are offensively oriented.
Advantages and disadvantages
It's a fairly specialized ball, which is great for its somewhat limited audience of skilled, attacking players who want as fast a game as possible.
The Swedish brand 4on has made a relatively fast padel ball that for that matter does not sacrifice durability or a nice ball feel when hit. It is a ball that always strives to maximize your game in all situations, both when you want quick decisions in front of the net and when you want optimal precision in more advanced strokes.
What level is the ball for?
Designed for skilled players, both intermediate and more advanced, who prioritize quality and durability.
A good and affordable padel ball suitable for a fairly wide target group.
Choosing the right ball is an important part of your game, as the leading brand Nox is well aware of. They have therefore developed a fast ball that nevertheless has good durability, and it is now the official ball of the French Padel Tour. It keeps good pressure for many hours, and its speed makes for a fun and dynamic game all over the court.
For which level is the ball suitable?
Nox has developed this ball for high-level players, especially competitive players.
Advantages and disadvantages
A good and complete ball that stands up well to the competition at the top. It is appreciated by both more offensive players and more technical players who win points thanks to its clever strategy.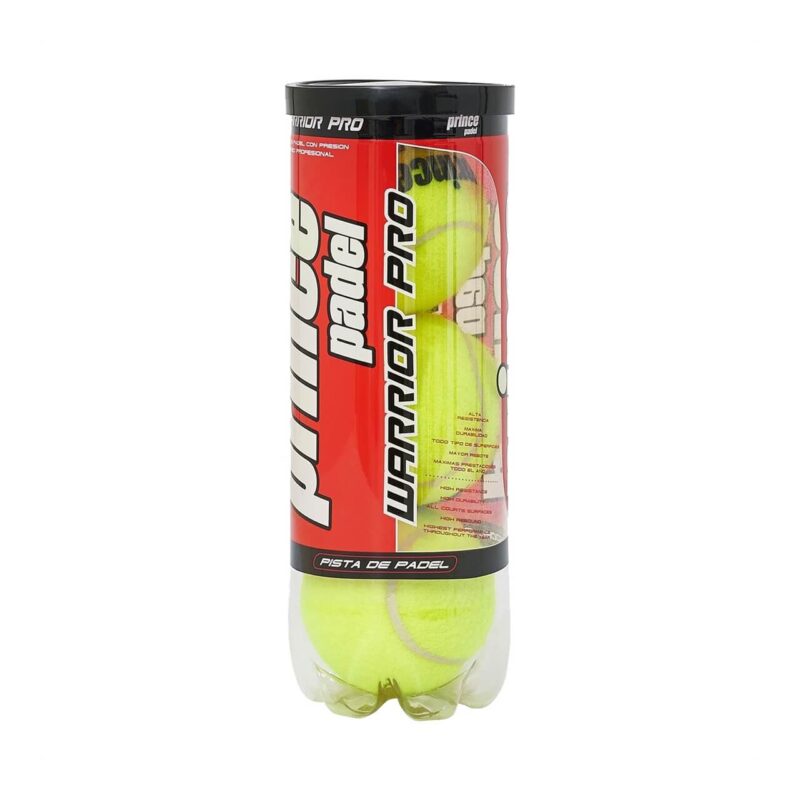 Prince Padel Ball Warrior Pro
This is a fast ball that influences a lively bounce and ensures your game is as dynamic as possible. It's great fun to play with if you like to use spin and effects – that's when the ball really performs at its best. Durability is another great feature you can count on.
What level is the ball suitable for?
Warrior Pro is made to appeal to skilled and fast players with a wide stroke range. A good choice for experienced intermediate players and players at a more advanced level.
The fast pace and lively bounce make it a fun ball to use offensively, but ball feel and control are not its strong suit.
For a ball designed for beginners and players who want a slower game, this ball is of surprisingly good quality. The speed, bounce and feel of the ball are all given high marks, and the price is also appealing as this ball is slightly cheaper than other balls of similar quality and characteristics. The durability is very good, as you will notice.
For which level is the ball suitable?
This is a great choice for new players and exercisers, but it's really suitable for any level as long as you're looking for a slower game.
Advantages and disadvantages
The RS Padel Tour X is especially useful on really fast surfaces, as it contributes to a more balanced game. It is not the optimal choice for skilled players who build their scores around a strong overhead game.
Drop Shot Tournament is one of the best balls on the market, it holds pressure even after many hours of play and really stands out for its durability. Its exclusive core guarantees an exquisite ball feel and allows you to discover your greatest potential in all situations. Drop Shot also offers Training, which is a slightly slower and easier ball to play for players who are still developing their technique.
What level is the ball suitable for?
It's a little too fast to be an optimal choice for the beginner, but although it's primarily intended as a competition ball, it's fine for everything from skilled intermediate players to elite players.
This is, as we said, one of the absolute best balls you can get your hands on, we're guessing it won't be long before it becomes the official ball for one of the absolute most important tournaments.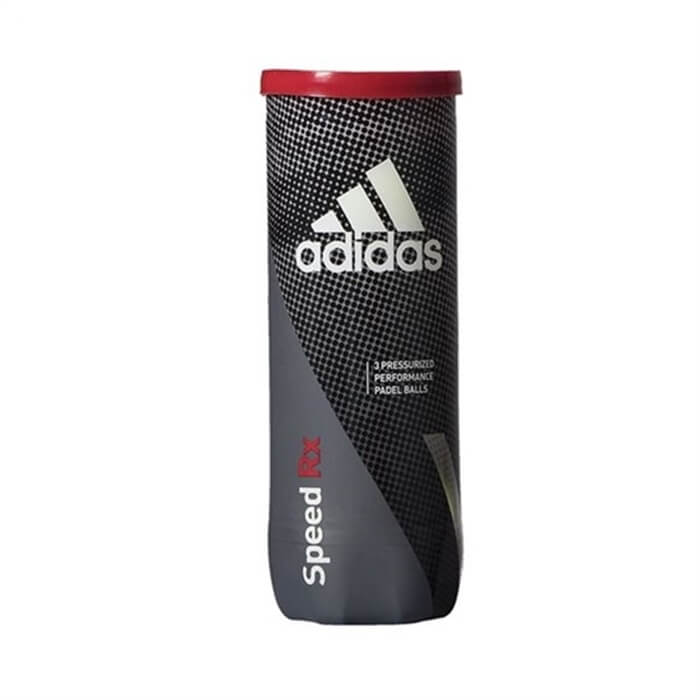 Adidas Speed RX Padel Ball
Here we find high speed combined with an excellent bounce, and something that really characterizes the Adidas Speed RX is the awesome feeling you get when hitting the ball. This ball is really amazing, Adidas has really succeeded in producing a ball that meets all the high expectations you can set for an international leading brand. The response is just as good in the softer strokes as in the harder ones.
For which level is the ball suitable?
The Adidas Speed RX Padel Ball is great for all levels of play, possibly with the exception of competitions but that's mainly because there are pure competition balls that are a cut above.
This is a very complete ball that will not disappoint. It doesn't quite have the same level of brilliance, quality, and durability as the very best models, but it is just below the top level.
The Spanish brand Vibor-a is synonymous with quality. Their new padel balls are made to maintain a nice pressure for several matches, with a good bounce and a nice ball feel on hit. A ball that provides a nice grip and good control for the technical player.
For which level is the ball suitable?
The Vibor-a Elite Tour is ideal for recreational and skilled players who have a good technique and want to continue to develop to reach the top.
Advantages and disadvantages
It is not the fastest ball on the market but is in exchange very balanced and suitable for a wide audience.The feel of the ball when hit is definitely worth noting.
Tretorn has a very good padel ball that is characterized by Swedish quality right through, only the best materials have been used for this competition ball. The lightweight felt is specially developed to suit the game of padel, and the durability the ball boasts thanks to its exclusive TRI-TEC technology is among the best on the market.
What level is the ball suitable for?
The Tretorn Series is a ball that is both durable and fast and designed for competitions. It is a model that is really suitable for all skilled players, regardless of their style of play.
Advantages and disadvantages
This is a complete and balanced quality ball that most people will want to keep using. It is suitable for all experienced players who want to improve, and in fact, it is equally suitable for both the more aggressive style of play as well as the more technical.
Below we have gathered all the most important information about padel balls.
How long do padel balls last?
Unfortunately, like tennis balls, padel balls do not retain their optimum playing characteristics for very long, and this is due to the deterioration of the pressure. This can be as much as a 25% drop in pressure after the first match. We recommend changing the balls after about 2 to 3 hours of play for amateurs, but several times per match for professionals.
How to maintain pressure in padel balls
We recommend that you use a pressure container for padel balls. This will ensure that your balls stay under pressure and last much longer.
Use the Bullpadel Pascal Box
A great way to save money and be kind to the environment at the same time is to reuse your padel balls – but how does it actually work?
It's very easy and convenient with the Bullpadel Pascal Box, which restores the pressure in the balls so they're as good as new!
Watch as we at Elitepadel test the Bullpadel Pascal Box (English Subtitles).
If you play quite a lot, it won't take long before you start saving money with this handy little device, considering that it ensures that the balls retain their optimal properties for at least 9-10 hours of play that we can compare to the usual 2-3 hours. 
All you have to do is insert the padel balls into the tube and seal it. Then the air will start to be pumped in via a valve, and a pressure gauge will tell you when the optimal pressure has been reached. It doesn't get any more difficult than this to save ⅔ of your expenditure on balls!
Different balls produce different speeds
Not all padel balls are the same, for example, there is a big difference when it comes to speed. Just like with padel rackets, some focus more on speed and aggressiveness, while others are better suited for control and technical placements. 
Padel balls with higher pressure are faster than those with lower pressure, and those with longer felt are slower than those with slightly shorter ones. Longer felt also has a positive effect on the durability of the ball.
What is the difference between padel balls and tennis balls?
Most of us probably thought when we started playing padel that padel balls and tennis balls were the same. When you look at the balls, there is very little difference – they may look the same size, but not necessarily. 
If we look at the standard norms of each federation, we see that a tennis ball must have a diameter between 6.54-6.86 cm while the padel ball must be 6.35-6.77 cm in diameter. The felt that surrounds the ball we play padel with usually has longer hair and is fuzzier than the tennis ball to make it a little slower. Since the tennis courts are larger in size, these balls should be faster.
When it comes to what is not visible to the eye, the difference is greater – in the pressure. A tennis ball has almost twice the pressure of a padel ball:
Does it work to play with tennis balls?
We certainly don't mean that it's in any way impossible, but at the same time, it's not something we would recommend. Tennis balls are made to work to perfection on a tennis court that is much larger than a padel court, and it will therefore be extremely fast and not perform well in many of the padel's more technical strokes. You don't want the ball to bounce as much on a padel court, and therefore the much higher pressure of tennis balls is not suitable.
The best padel ball is individual and depends on the type of game you want to achieve on the court. But below we have listed the best-selling balls at Tengo.se – Sweden's largest online padel store.
16 best padel balls 2022:
Head Padel Pro S
RS Padel Tour X Ball
Head Padel Pro
Tretorn Series+ Padel ball
Bullpadel Premium Pro
Wilson Performance Speed padel ball
Wilson performance padel ball
Babolat padel tour ball
Båstadbollen all court tour edition
Siux match pro 3.0 ball
RS Champions choice padel ball
Nox Pro Titanium
Varlion padel ball summum pro W
Tecnifibre team padel ball
Babolat padel court ball
Prince warrior pro padel