Our rating and review of the Head Evo Sanyo is summed up in that it is one of the most complete all-round beginner racquets on the market. The Head Evo Sanyo is aimed at the beginner but also works great for the recreational player. 
We have tested the racket!
Micke at Elitepadel has tested the racket. In this video you can see us test play and review the racket.
Specifications
Information about the racket
Player performance level: Beginner - Intermediate
Head Evo Sanyo characteristics
This is a great example of the perfect racket to have with you during your first practices and matches, as it allows the best possible results over a wide stroke range. The most important thing when starting out in padel is to get the correct technique into as many strokes as possible as quickly as possible – and the Evo Sanyo has been developed to do just that. 
At the initial stage when you start playing padel, you want a balanced racket, capable of producing ball speed as well as control and precision. Vibration dampening is also important, to keep the risk of injury to a minimum while your joints get used to the new load. All this you'll find here in a stylish package.
It's a racket with a classic and elegant design in black, white, and silver, and with a weight that's around 370 grams. The look has been copied from Sanyo Gutierrez's personal racket choice, the Alpha Pro.
This is a great racket from a technical point of view as well. Just as Head makes clear to us every season, they provide the same high quality throughout their range of rackets no matter what level of player it is designed for.
The Power Frame System is a frame construction that combines the best materials – carbon fiber and fiberglass – to create a racket that is incredibly resistant and durable while increasing the power channeled into every ball strike. Head's Innegra technology has added lightweight fibers to the frame that at the same time contribute to stability and shock absorption.
It has opted for an inner core of Comfort Foam that provides a softer ball feel and ensures that vibrations are reduced in a very effective way. This foam provides delightful comfort in every stroke while making the ball hit more explosive.
To complement the Evo Sanyo and guarantee the forgiving quality a beginner's racket cannot be without, a hitting surface has been made from fiberglass. Thanks to fiberglass being a flexible surface, it provides an exquisite ball feel with awesome control, and with the racket's large sweetspot, you'll develop as a player while getting the right technique in.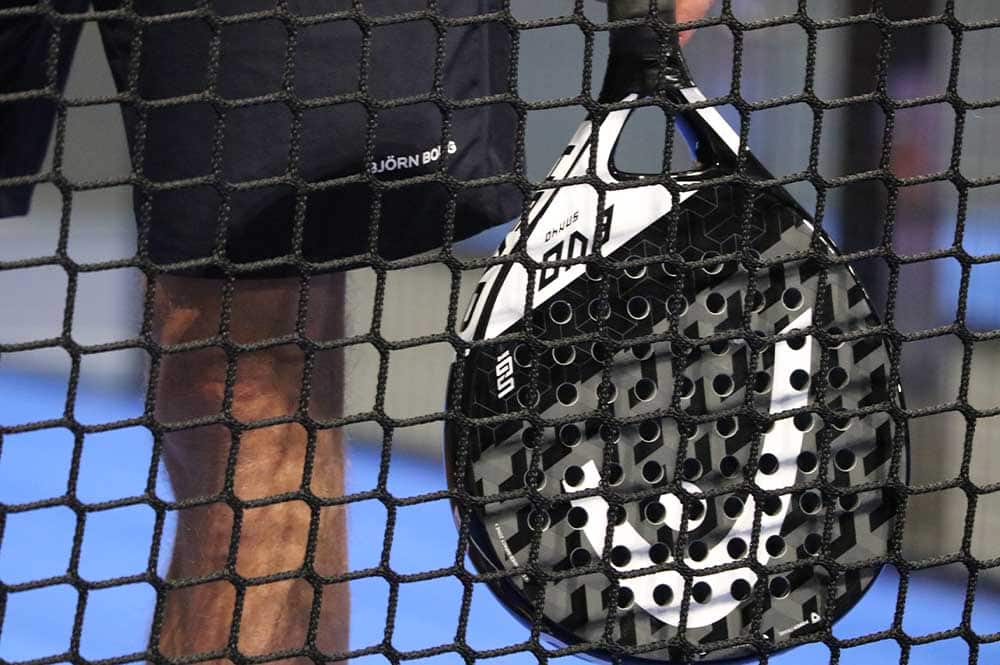 The Evo Sanyo is a drop-shaped racket with a medium balance, designed to help you hit your best shots in all conditions. Rackets with a high balance are also called top-heavy, and they are a good choice for technically skilled players who build their game on explosive overhead shots. Conversely, rackets with a low balance, or center of gravity, are usually round in shape and are liked by players who focus primarily on control and precision. 
These tend to feel easier to handle because the center of gravity is so close to the body, but they are usually difficult to get much power out of offensive strokes. A mid-balance racket can be described here as the happy medium – it's simply an all-round racket that delivers in all situations.
This drop-shaped racket is a great choice for those looking for a balanced racket that delivers an exceptional combination of power and control. It's made from extremely durable materials to ensure maximum durability while giving you excellent conditions to hone in on your technique and learn to read the game in the best possible way. 
Drop-shaped rackets are made to be versatile, which is exactly what you should go for in the early stages of mastering the sport of padel. Once the basics are in place, you can decide whether you want to define your style of play as more offensive and explosive or more controlling and technical. If you feel that a mix of both is what suits you best, a drop-shaped racket is the best choice even further down the line.
The frame, constructed from carbon fiber mixed with fiberglass, produces a racket that is stable yet flexible. The soft EVA foam inner core provides vibration dampening and optimal comfort. For the hitting surface, flexible fiberglass has been chosen because it's a forgiving material that gives you the best possible control in all positions, and the large sweetspot ensures you keep it even when you're not hitting the sweetspot. A soft racket like this model is a great choice to start your padel career.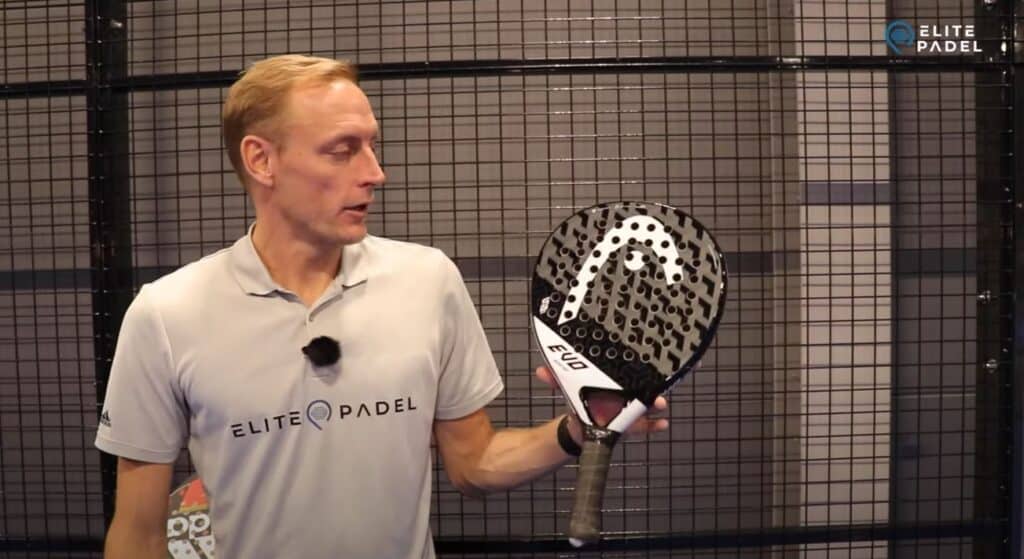 What level of player is Head Evo Sanyo suitable for?
Are you thinking about starting to play padel and having trouble deciding which racket to choose? Here Head presents an excellent racket for you as a beginner, but also suitable for you as a more experienced player looking for a comfortable and easy to play racket. 
The racket's features make it a good choice for those who want to learn how to play and develop their technique. You'll be able to find your feet in any playing situation and thus see which style of play will suit you best in the long run. 
Thanks to its large sweetspot, you'll be able to impress your opponents with surprisingly powerful yet precise shots from any corner of the court. 
Is the racket best suited for offensive or defensive play?
It's a racket that delivers awesome productivity, both offensively and defensively. The strength of the Evo Sanyo is precisely that it is versatile, and therefore equally suitable for all situations. When you are just starting to play padel, it is best not to concentrate on any particular style of play, it is better to focus on getting the basic technique right in all types of strokes. 
Even if you want to focus on the offensive style of play, for example, you still need to be able to defend yourself, and offensive rackets often place greater demands on you as a player in defensive situations. This is precisely why many people choose an all-round model during their first stage, as you will then have plenty of time to specialize in your preferred style of play and refine your game. 
Brief information on the brand
Head is an American brand now based in Amsterdam in the Netherlands. When aeronautical engineer Howard Head started his company in 1950, he did so with the ambition of making really good skis, and ever since then it has been at the forefront of material selection, design, and innovation. 
As you probably already know, Head not only offers equipment for winter sports but also water sports and of course racket sports such as tennis, padel, and squash, which are all part of their range. 
Their clear goal is to always put the user first, and they have therefore developed a very wide range of products so that professional players, as well as those who have these particular sports as their hobbies, can find the right equipment for their level and thus perform at their best.
When it comes to padel equipment, Head has spoiled us by constantly surprising us with new materials and improved technology every season – here you will find a racket for every match, every style of play, and every level of play. 
The company is constantly working with both players and coaches around the world to research the needs of the players and then develop new products based on these needs. It's their continuity, the guarantee that year after year they deliver the same high quality and constantly raise the bar a little higher, that means many of the WPT stars play exclusively with Heads rackets – including Argentinians Sanyo Gutierrez and Fernando Belasteguin or women's world number one Ariana Sanchez.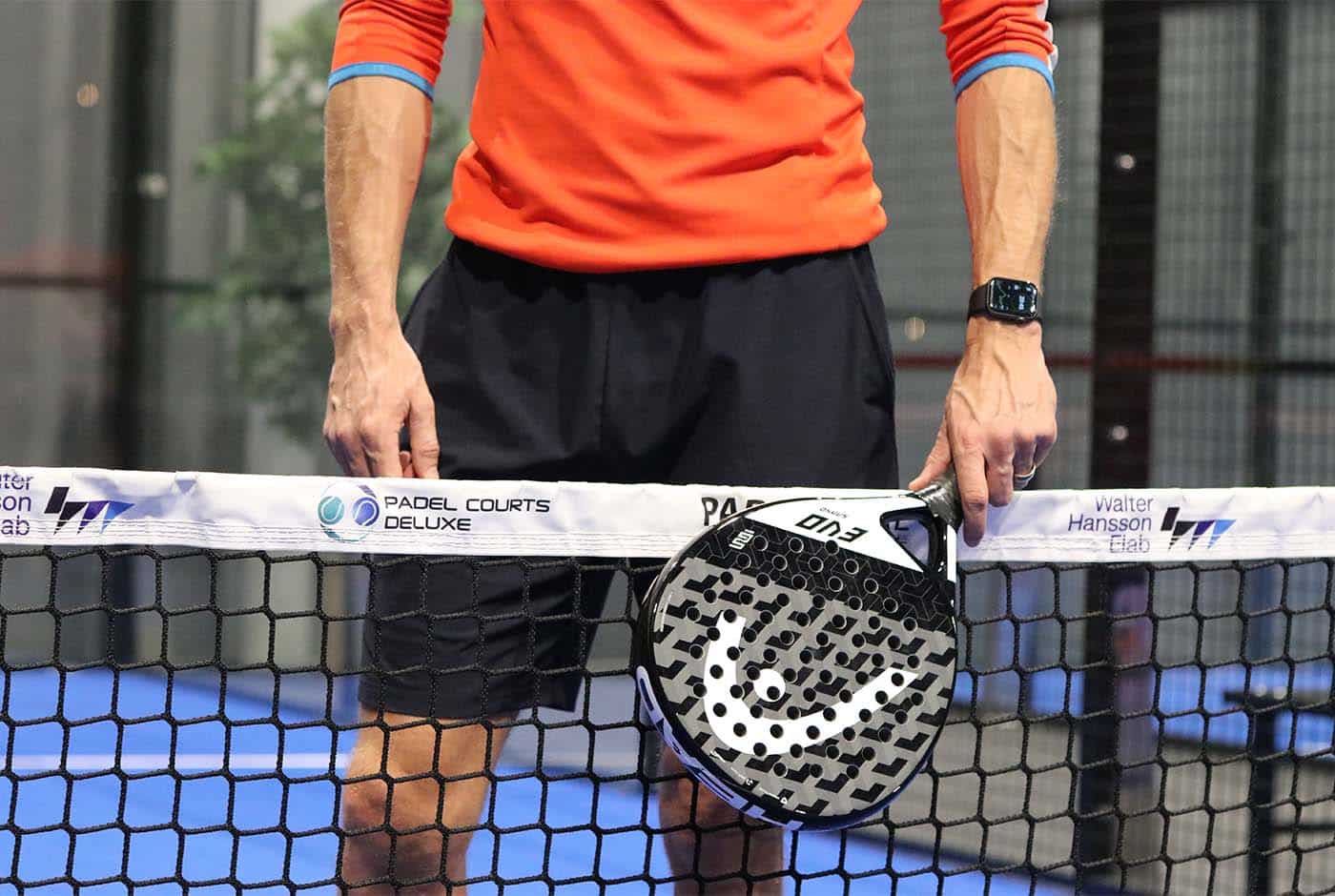 Advantages of the Head Evo Sanyo
It is one of the most complete beginner rackets you can get your hands on. The Innegra technology ensures that it is a durable model that allows you to build up your game and technique in the easiest way possible. The soft core adds a little extra speed to your strokes and also makes it a comfortable and gentle racket to spend many hours with in the cage. A stable model that adds control and power to your game, no matter what happens on the court. To top things off, this racket is extremely affordable.
Plus / Minus
Content of the review
Excellent choice for the beginner

Very complete all-round racket

There are better choices if you are at an advanced level
As a beginner's racket, it doesn't seem to have any immediate drawbacks, but once you have a bit more experience, you'll probably find it feels a bit tame. The weight can also feel a little high compared to others that are similar. Lighter-weight models that facilitate faster movements are often required until you learn to read the game better.
Head Evo Sanyo reviews and ratings
Below, we have collected reviews for Head Evo Sanyo online.
4.6 out of 5 from Tengo.se
Our overall rating for the Head Evo Sanyo
Our overall verdict and review of the Head Evo Sanyo is that it's a great beginner's racquet where stroke and technique are the focus. The racket is at the same time a really stable racket for intermediate level players. The Head Evo Sanyo is perfect for the all-around practitioner who is still learning the basics of padel.
The mix of carbon fiber and fiberglass creates a resistant and durable racket. At the same time, it increases the power of every ball hit. The Head's Comfort Foam also provides a softer ball strike and ensures that vibration is reduced.
We therefore give this racket 4.6 out of 5.0 stars.