Disclaimer
All opinions given by Elitepadel and our writers are subjective and you may not agree. Elitepadel.se is a free platform for you as a visitor and is instead financed through collaborative links to our partners. You as a visitor are not affected by these links.
Guide to the best padel racket
Best padel racket for beginners
Here are the two best padel rackets for beginners. There are a few things to keep in mind when choosing the right padel racket for beginners:
The racket should preferably be in a round format
You want a large "sweetspot"/hitting area = a forgiving racket
The hitting surface should be further down towards the handle for better control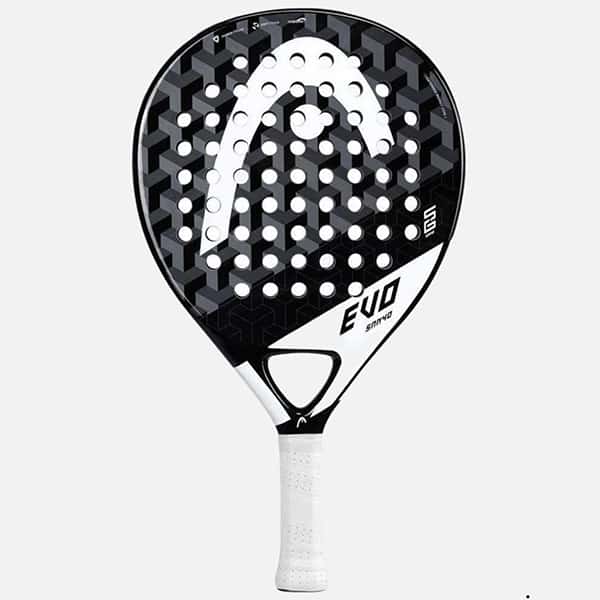 For you with a lower budget
Easy to play vs. Advanced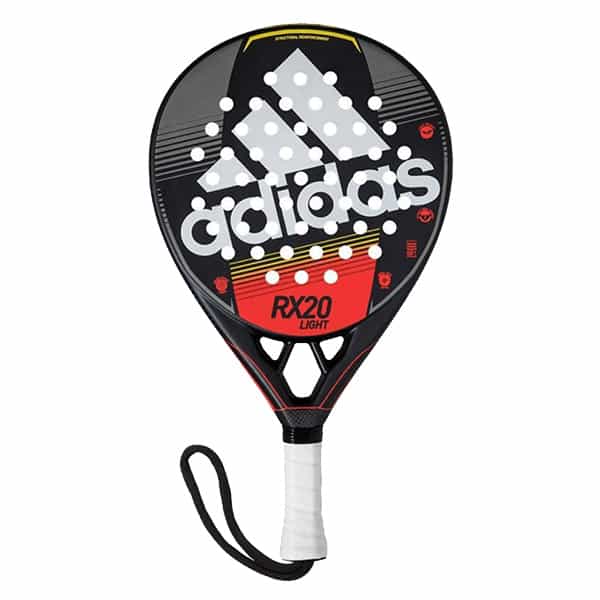 For you with a better budget
Easy to play vs. Advanced
Best padel racket for intermediate
When you take a step up from being a beginner, you are often classified as a medium or intermediate player. Here we present the two best padel rackets for mid-level players. The racket type is typically called a hybrid, as it is a mixture between a beginner racket and an advanced padel racket. Keep this in mind when choosing:
The majority choose a drop-shaped padel racket (round also works)
You often want to get a little more speed compared to a beginner racket
Sweetspot is a little further up compared to a round the racket
Suitable for you who like to play both offensively and defensively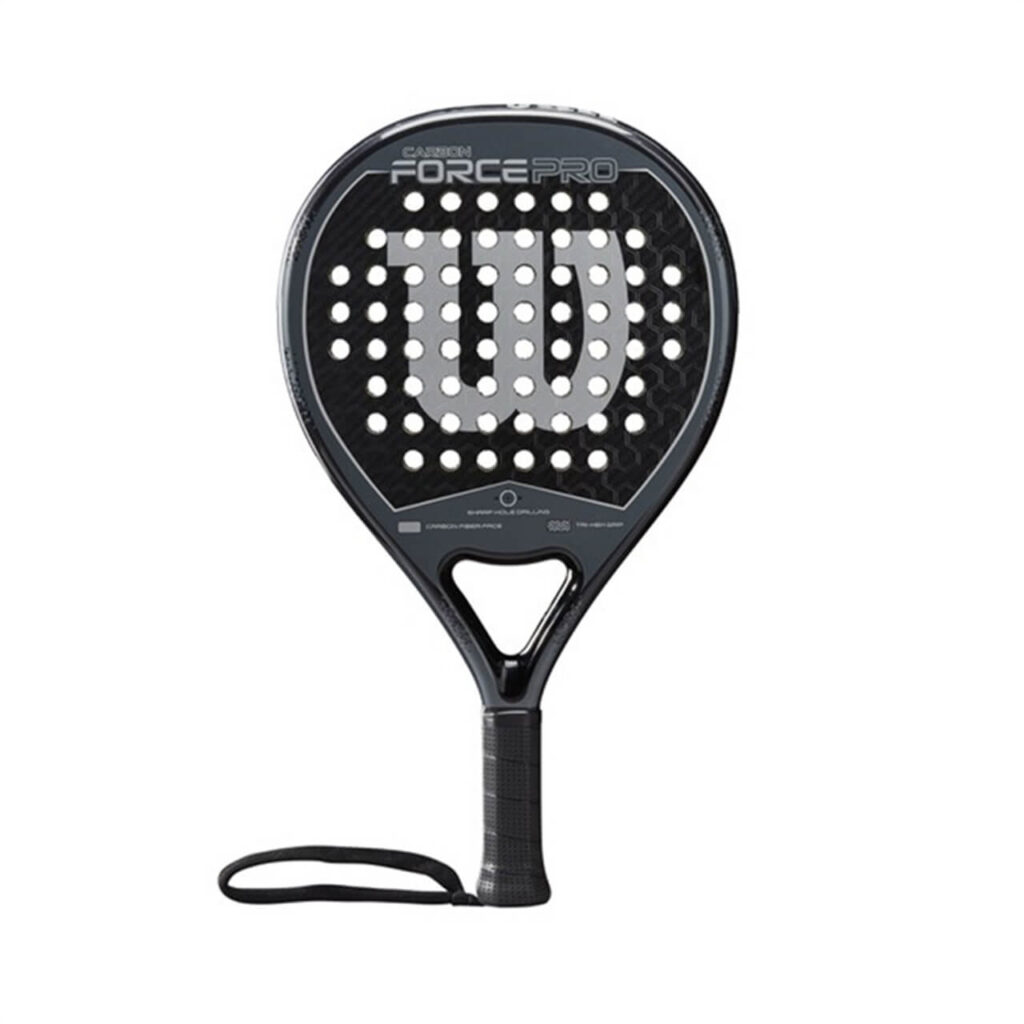 For you with a lower budget
Easy to play vs. Advanced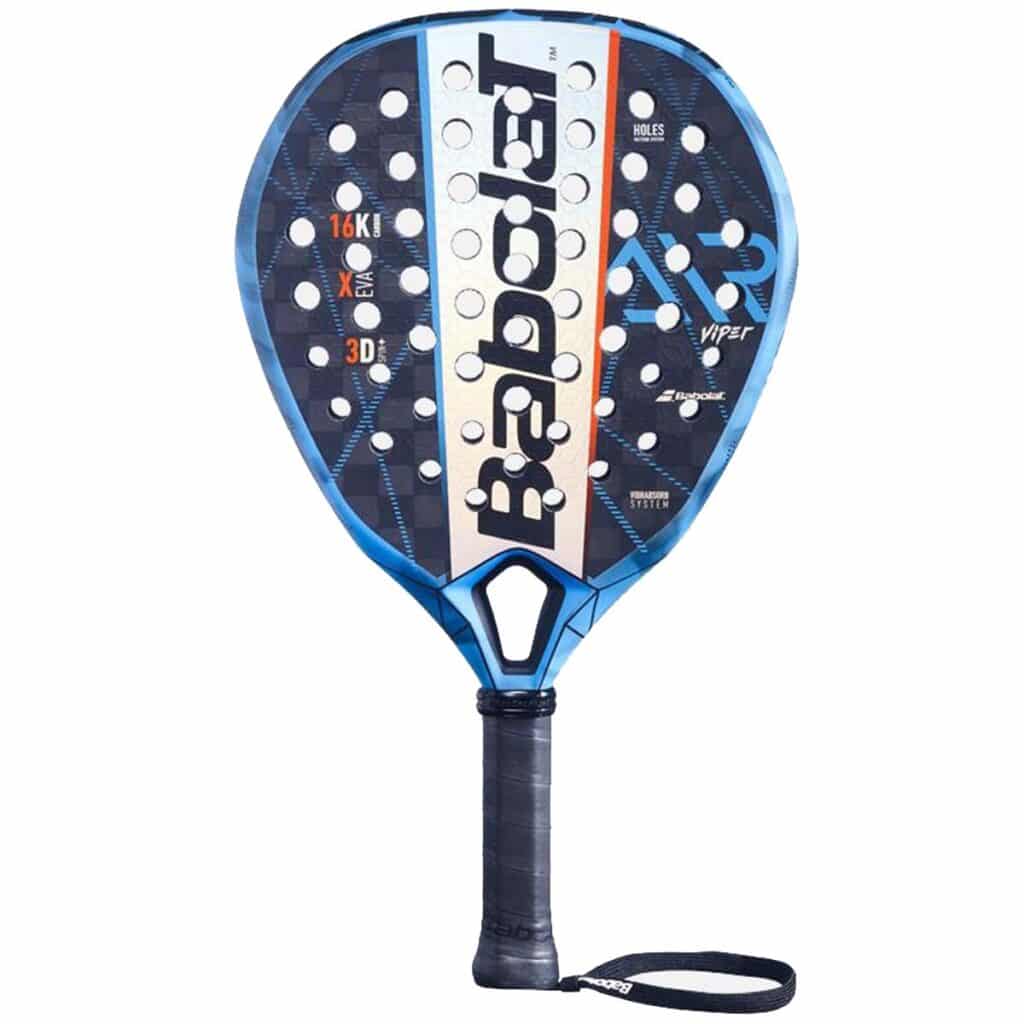 For you with a better budget
Easy to play vs. Advanced
Best padel racket for competition players
As a competition player, you play at a much higher level, and you have then developed a style of play. The best advanced padel rackets are therefore different depending on what style of play you have adopted. We have selected two good all-round rackets for you who want to be able to play both offensively and defensively. In addition, you should keep the following in mind when choosing an advanced padel racket:
The majority prefer a slightly more difficult-to-play diamond-shaped racket
You get more speed in battles with an advanced racket
You have a smaller sweetspot = you have a greater chance of missing the hit
You get more control if you can play with a diamond-shaped racket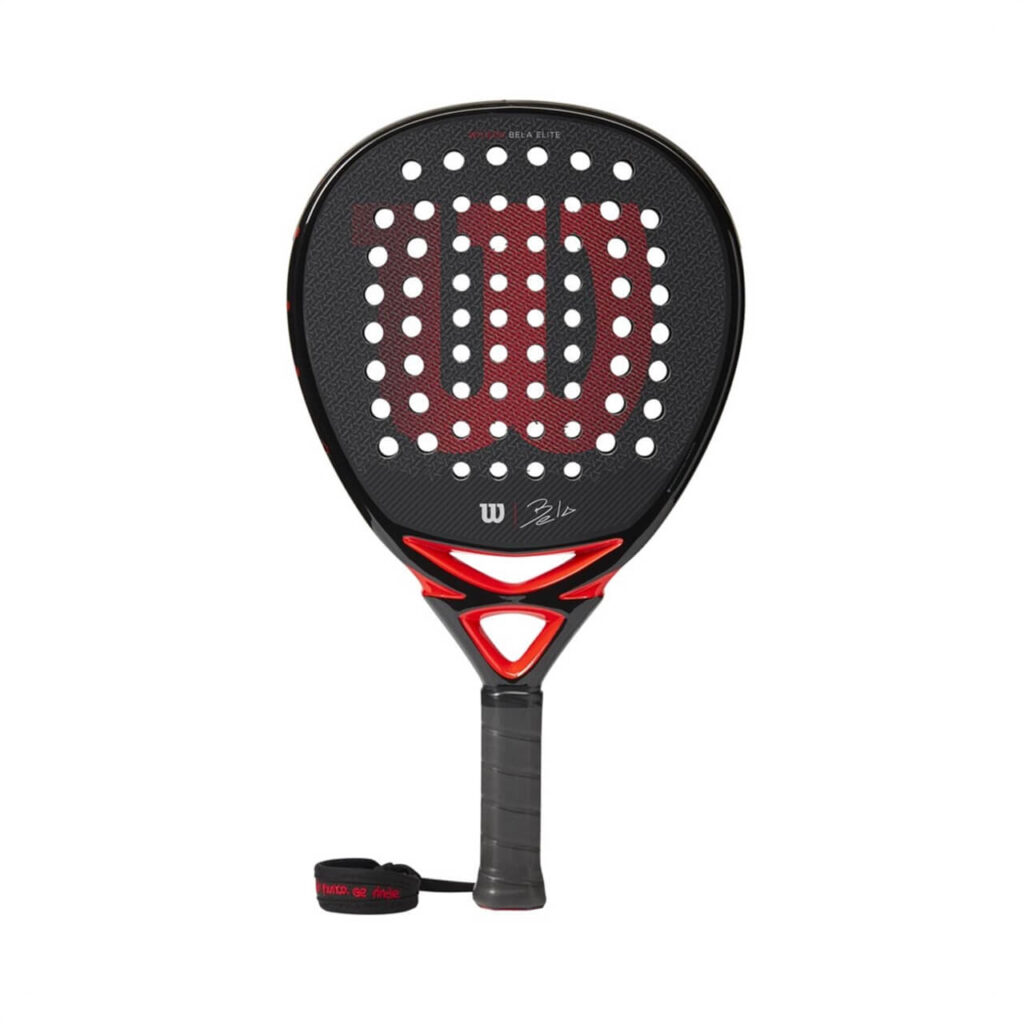 For you with a lower budget
Easy to play vs. Advanced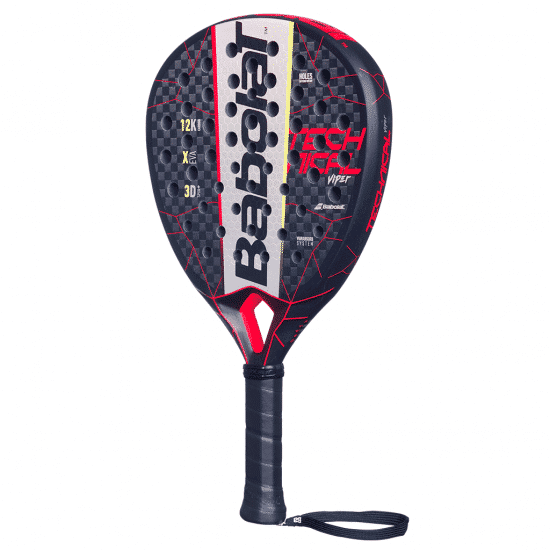 For you with a better budget
Easy to play vs. Advanced
A padel racket is used in the racket sport of padel or padel tennis. It is a sort of cross between squash and tennis and is played over a court that has two halves separated by nets. In this respect, the sport is similar to tennis. However, in padel tennis you are also allowed to use the walls to play, as is done in the game of squash. 
Padel tennis is most popular in Latin America and Spain and has somewhat obscure origins, being played on English cruise ships in the 1920s. But it was not until 1974 that the rules of the game were formalized and then administered by the International Padel Tennis Federation, which was founded in 1991.
The difference between a padel racket and a tennis racket
What distinguishes a padel racket from a tennis racket is that it does not have strings. Instead, it is made of a composite material and has a hitting surface with holes. The padel racket therefore has less hitting power than a tennis racket. It is similar to the racket used in platform tennis, which is a hybrid form of tennis originating in the United States, but a padel racket has its own specifications. 
The thickness is about four centimeters. Beginners tend to choose lighter padel rackets, which give better control, while more experienced players have thicker rackets, which give them more power in their strokes.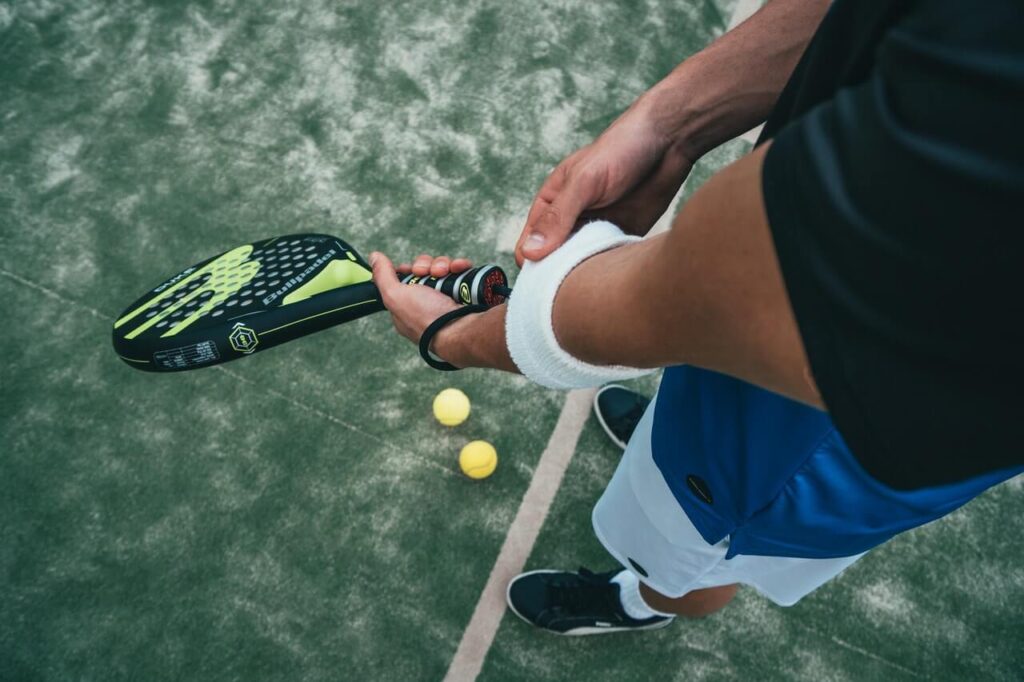 Three different types of padel rackets
There are three different types of padel rackets. Their main shape can be round, diamond-shaped or teardrop-shaped. The shape affects the balance, and manufacturers of padel rackets often adjust this balance to achieve unique benefits.
A round padel racket provides the best control when playing, which is why it is often used by beginners. It has a balance that is in the middle or closer to the handle, giving the player more control. One disadvantage, however, is that the speed will be reduced due to the focus on control.
The round shape has a larger sweetspot, i.e. an optimal hitting area. This sweetspot is further down the racket near the handle. Even recreational players tend to prefer this shape on their padel racket. Players with a defensive style of play where they defend balls close to the glass appreciate the round racket. It is also used by world-class players.
A padel racket with a drop-shaped racket head is not as flat at the top as a diamond-shaped padel racket. It works well to be used by competitive players and more advanced intermediate players. 
This racket is also usually referred to as a hybrid because its shape is somewhere between the diamond-shaped and the round racket. A drop-shaped padel racket has a sweetspot that is higher up than it is in the round racket. But it is still lower than in the diamond shaped one. 
People who like a varied game between offense and defense tend to appreciate the drop-shaped racket.
A diamond-shaped padel racket has its sweetspot at a higher position, near the top of the racket. This makes for a more difficult racket to play, but also means there will be more power in the strokes. 
With a higher balance point, the racket can feel top-heavy, which gives less control, but the higher speed is appreciated by players with a tennis background.
Brands selling padel rackets
For those looking to buy a padel racket, there are many different brands to choose from. Their rackets are made of different materials with unique characteristics. There is a good chance that you will find a racket that suits your style of play.
Adidas is a well-known company that manufactures shoes, clothing and training equipment such as padel rackets. For example, their range includes round rackets of the model "Adidas Adipower CTRL 2.0" which is a round padel racket made of carbon equipped with smart holes and high memory EVA foam. Adidas also has diamond-shaped rackets and models designed for juniors and beginners. Read more about Adidas padel rackets.
Asics is a Japanese company founded in 1949 that manufactures sports shoes and sportswear. They also offer a wide range of padel rackets. The Asics Hybrid Hard is an example of one of their rackets, with a hard core that delivers a powerful hit. Their rackets also feature Flex Rebound, which allows the ball strike to provide more leverage, and Solid Core Construction, which provides more stability when playing.
Babolat was founded as early as 1875 in Lyon, France. Today it is one of the world's largest brands in padel. They make everything from padel shoes, padel rackets and bags. But they also offer a wide range of equipment in tennis and badminton. Read more about Babolat padel rackets.
Black Crown produces padel rackets with a distinctive design, where a crown adorns the racket. Their padel rackets come in a high performance range for those looking to progress or for professional players. The range comes in a variety of colors and sizes, with a round shape and sweetspot in the middle of the racket.
Bullpadel is a Spanish company that has been producing padel rackets for 25 years. Their range includes rackets for children and juniors aged seven to eleven, as well as for adults. There are rackets for both beginners and more advanced players. Some well-known models from the company are the Hack and Hack Control, which have a carbon fiber surface layer with 18,000 threads per square centimeter, giving a faster and more responsive hit. Other well-known models from the company are the Vertex 2 and Vertex 2 Control, which have a more rough surface, providing a longer ball contact. Read more about Bullpadel padel rackets.
Drop Shot is the official racket sponsor of the Swedish padel tennis team and is constantly developing new technology for its products. The company was founded in Madrid and offers padel rackets made of fiberglass, which provides increased comfort, and other technology such as Super Rebound Cork System, Carbon Bumpers and focus on creating durable rackets. The Drop Shot Conqueror padel model has been used by the famous player Juan Martín Díaz.
Joseph Boyd Dunlop invented the pneumatic wheel used for racing bikes, revolutionising the entire cycling industry. In 1889, Dunlop was founded as a company and started to produce various sports products. They now sell a range of padel rackets. The Galactica from Dunlop is a heavier hybrid racket that delivers a lot of power in the strokes. Some of their other models are Nemesis and Inferno which combine control with power and comfort.
Head is a global company that manufactures and markets sports equipment, including racket sports. Their range of padel rackets includes the Pro Excellence series which includes the Delta Hybrid and Delta Motion models. They also have junior and team padel rackets. Read more about Head padel rackets.
Just ten manufactures its padel rackets by hand in a part of Spain called Catalonia. They make only thirty rackets each day in their unique crafting process, which allows Just ten to focus on the quality of their products. It also gives them time to test and approve each racket.
Nox is a Spanish company that manufactures and sells good quality padel rackets. Several world stars in the sport, such as Miguel Lamperti, use their padel rackets without modifying them, which means that you as a consumer can play with the same specifications. Read more about Nox padel rackets.
Osaka was founded in 2011 and then started focusing on hockey, as it is their big passion. One of the co-owners, Stephen Butler, is a former international hockey player. Then the company also started with padel rackets, clothing, and shoes for the sport of padel. Read more about Osaka padel rackets.
Prince is an established brand in the industry that also offers tennis products. They have a range that includes padel rackets, accessories and balls of a high technical class. The company started manufacturing padel rackets in the mid-eighties and is constantly developing new innovations and materials so that both elite and intermediate players can enjoy their sport.
Royal Padel Sportsystems has been the manufacturer and marketer of the Royal Padel brand since 1988. They released their first collection of padel rackets in 1991. The collection consisted of three racket models made of wood. After a long material development, they now use different technical materials such as fiberglass, carbon fiber, aramid fiber and more, which gives a good control, power and balance in their padel rackets.
RS is a premium brand that is also part of the tennis brand RS Tennis. Operations began in 2013, and they currently sell their products in fifty countries. RS stands for Robin Söderling who is a professional tennis player. He started by developing a tennis ball and has now also started producing padel rackets. The brand has a sleek Scandinavian design and makes premium products developed for players by players.
Salming Sports is a company that has been on the market since 2001 and over the years they have started to produce shoes, clothing and other equipment for various forms of training. Some they are known for are handball, floorball and running. Since autumn 2021, they can now also offer various accessories for those who practice the sport of padel, such as some padel rackets for different game types and smooth stylish padel shoes that have beneficial features for the padel player. Read more about Salming padel rackets.
StarVie is a leading Spanish brand in the industry. They founded their business in 2002 and now develop high quality padel equipment. Several prominent players on the men's and women's side use StarVie when they play, such as Carolina Navarro, Matías Días and Franco Stupaczuk.
Stiga is an Eskilstuna-based company with a long experience in manufacturing racket sports products. They have been producing table tennis products since 1944 and have now also started to offer high quality padel rackets. Their handmade padel rackets are suitable for both beginners and competitive players. The brand has a stylish and uncluttered design that rhymes well with its Scandinavian heritage. Read more about Stiga padel rackets.
Varlion was founded in 1993 in Argentina and soon opened a factory in Buenos Aires to create high quality, in-house designed products. They created their first padel racket in 1995 designed by founder Felix Regalia. 
Varlion incorporates technology from the world of motorsports by blending its aerodynamic and structural design into the production of their padel rackets. They have also created a new aesthetic that they call Econaked, where they reuse solvents and paints up to 80 percent. Their padel rackets therefore appear as they are, and are not covered with stickers or paint. Read more about Varlion padel rackets.
Vibor-A is a Spanish company based in Madrid that manufactures rackets. Their design, manufacturing and development takes place in their main facility in the city. Vibor-A has earned a reputation for being a globally prominent manufacturer of padel rackets and is innovative. Their wide range of padel rackets are handmade and go through many tests to provide a high quality. Since autumn 2017, they also have operations in Sweden.
Wilson is a company that has been producing products for tennis players for a long time. They now also manufacture padel rackets and have a good reputation with their world-class padel rackets. Wilson Padel Carbon Force is one of their famous models of padel rackets. It has a new foam that adapts to the user's playing style. Read more about Wilson padel rackets.
How to choose the right padel racket for you
When choosing a padel racket that's right for you, there are a number of factors to consider. There can seem to be a jungle of models out there to choose from, and a large number of reviews can create confusion about which padel racket is best. 
Your style of play, how often you play, and your level of play are examples of different factors that influence which padel racket might work best for you. The head shape, balance and weight of the padel racket are also important aspects to be aware of in relation to how they affect the racket's playing characteristics.
1. How often do you play?
If you play less frequently, for example for fun with your friends or as an occasional exercise, your padel racket will not have to meet the same high standards as a more intensive player. For those who play a lot and hard, it is best to spend your money on a high quality padel racket. This will result in a racket that lasts longer and will allow you to develop your game. If you prefer to play more infrequently, you can choose a simple racket with a lower budget, as you will not notice any difference compared to playing with a more expensive racket.
2. What level do you play at?
When you are just starting to play, it is good to choose an easy to play racket. There are a wide variety of padel rackets to choose from that are specifically designed for beginners. To find a racket that's right for you to start with, try out your friends' rackets and see which one works best. Generally speaking, a lighter racket may work better for beginners, as they are easier to handle and provide a higher degree of control.
If you don't have a big budget, the choices you can make will be a little more limited. However, it's not necessary to spend a lot of money to start with. Many padel rackets are technologically advanced and are of good quality, even at a lower price.
4. What is your playing style?
The side you play on tends to influence your playing style. If you play on the left side, you tend to be more offensive in the game, whereas if you play on the right side, you are the one responsible for building up the game. However, there are exceptions to this rule. 
Whether you are right or left-handed also affects your playing style. If you are more offensive and tend to smash often, it is a good idea to choose a hitting surface on your racket that provides a high responsiveness when you hit the ball. Such a racket is more difficult to play with for beginners but is suitable for players who are more offensive and experienced.
5. What is your physique?
Your weight and your physique will influence which padel racket suits you best. For those who have a lighter in weight and are a junior, for example, it works better to play with a lighter racket. If you have a good physique and are heavier, a heavier racket will give you more speed and power in your strokes.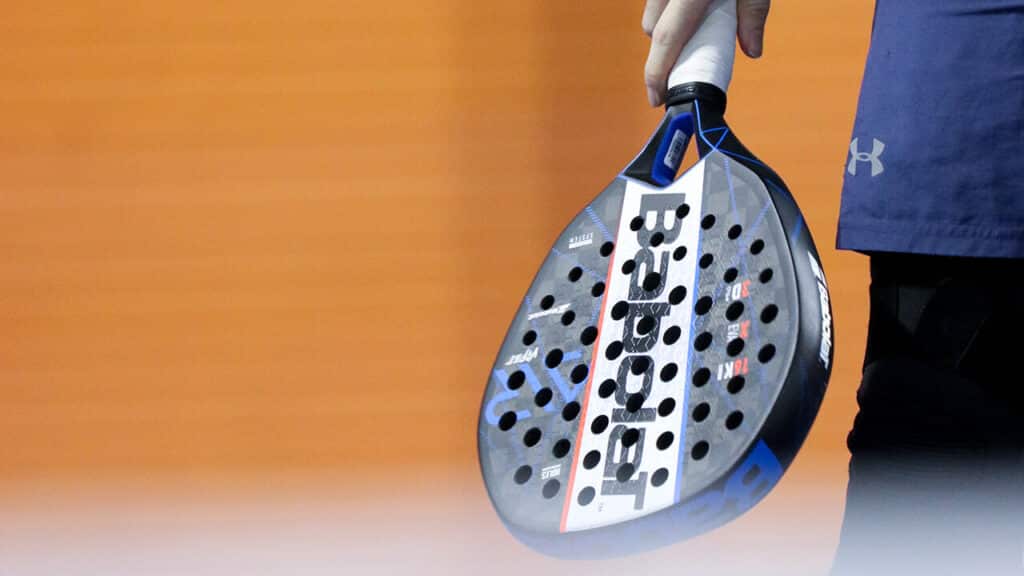 Photo when I, Anton Gustafsson, play padel with the padel racket Babolat Viper Air.
What shape should your padel racket be?
The shape of your padel racket can have a big impact on its playing characteristics. Here you can choose between round, drop and diamond shaped padel rackets.
Advantages of round padel rackets
A round padel racket has a greater length than width. It has a small sweetspot that is located more in the middle of the racket, near the handle. This shape provides better balance and higher control.
Advantages of the drop-shaped padel rackets
This shape is also called a hybrid, as it is a cross between a diamond shape and a round shape. The point of impact is slightly above the center, and it generally provides better speed than it does control.
Advantages of the diamond-shaped padel racket
A diamond-shaped padel racket has a more tapered shape that provides more surface area higher up. This means that it is a top-heavy racket and the center of impact and center of gravity are at the top of the racket. This racket provides more speed in the game and is suitable for those who have previously played a lot of squash or tennis.
Balance of the padel racket
The balance is a result of how the weight of the padel racket is distributed between its highest and its lowest point, which are the racket's top and its grip, respectively.
When a padel racket has a low balance, it is easy to maneuver and provides good comfort when playing. This provides good control and confidence in the game and is less impactful to the body, resulting in a lower risk of injury. However, a racket with low balance does not provide as much power in the strokes when playing offensively, as when smashing or volleying.
A padel racket with a high balance will give you more speed in your smashes and volleys, but it will be less comfortable and your control will not be as good. You need to have a strong playing technique and be good at hitting the ball. If you are prone to injuries, it is best not to choose a padel racket that has high balance.
For those who want a padel racket that offers both good control and acceptable speed, a racket with medium balance is a good choice.
Hard or soft padel racket
A padel racket is made with a core that is made of rubber or a foam material. The hardness of the material affects the speed at which you play. The frame also affects the characteristics of the racket. 
A carbon fiber frame makes the racket light but durable if you accidentally hit it on the floor or wall. It is also an advantage to add a frame protector to make your racket more durable.
When your padel racket has a soft core, your balls get more speed. EVA is a common material in the core of today's padel rackets. It stands for ethylene-vinyl acetate rubber and has elastic properties.
A hard padel racket gives you more control in the game when you hit the ball. The surface material of the racket can vary, it can be made of fiberglass or carbon fiber. A padel racket with an exclusive carbon fiber material with a large number of carbon threads can be perceived as duller when the ball hits it. But the power and feel of the strokes will be good.
Weight of the padel racket
One of the most important factors when choosing your padel racket is its weight. For men, padel rackets usually weigh between 350 and 385 grams. Women's rackets are between 330 and 360 grams.
Differences between a lighter and a heavier padel racket
When your padel racket is heavier, you get more power in your strokes, but the racket also becomes more difficult to maneuver and clumsy. A lightweight racket is easier to handle and provides better control. If you have a tennis elbow, it's a good idea to choose a lighter padel racket because it puts more strain on your elbow.
You can follow the guidelines below to find a weight of your racket that suits you best.
Men weighing 50-70 kg: 360-365 grams

Men weighing 70-80 kg : 365-375 grams
Men weighing over 80 kg: 380-390 grams
Women weighing 40-60 kg: 340-355 grams
Women weighing 60-70 kg: 360-365 grams
Women weighing over 70 kg: 370-375 grams
Which is the best padel racket?
The padel racket you think is best is a balance of your own preferences and circumstances. By using the criteria listed above, you have a better chance of finding a padel racket that works well for you and your style of play.
What is a padel racket made of?
A padel racket is often made of several different materials that are selected to give the racket good playing characteristics. Simple models of padel rackets are made of fiberglass while more expensive models are made of carbon fiber or mixtures between fiberglass and carbon fiber. 
The hitting surface can also be rougher, which can give a different feel when playing. To find the material that best suits your playing style, it's a good idea to try it out.