Our rating and review of the Head Zephyr 2022 is summed up in that it is an excellent choice for the player who wants to get to the next level. Head Zephyr 2022 comes with a medium balance that will give you an awesome defensive characteristics where the racket performs very well in the defensive game.
We have tested the racket!
Mikael at Elitepadel has tested the Head Zephyr 2022. In this video you can see us testing and reviewing the racket.
Our opinion after testing the Head Zephyr 2022:
Head Zephyr 2022 characteristics
Below we go through the Picture from when we tested and reviewed the Head Zephyr 2022 and the characteristics of the racket. In addition to the features, the racket is aesthetically beautiful, with fine lines and nice coloring.
| | |
| --- | --- |
| Rackets specifications |   |
| Brand | Head |
| Shape | Round |
| Balance | Medium |
| Game type | Allround/defensive |
| Game Level | Beginner – intermediate |
| Weight | g (+/-10) 335 – 355 g |
A distinguishing feature of the latest models from Head is the Graphene 360+ technology, which gives better durability to the frame while providing the player with flexibility and softness during the game. Combined with a Comfort Foam core, it minimizes vibration in the racket and makes it more ergonomic to use for the player.
The balance point is at a medium level which gives advantages in both offensive and defensive play, but combined with a softer core it gives even more advantages when shooting low balls or getting rid of slow balls with more power.
Round-shaped racket that also provides the racket with a larger sweetspot, giving more chances to hit full shots with both power and control.
A softer racket that offers many strengths in defensive play on the padel court. Round racket shape, softer core and a mid-level balance point that provides a softer game for the player and makes it easier to receive softer balls, while getting them away with more power.
What level of player is the Head Zephyr 2022 suitable for?
This racket is suitable for more or less all levels of play and is particularly good for those who want a racket that is more ergonomic. The racquet has a light weight and several technologies that minimize vibrations and receive balls in a softer way.
Is the racket best suited for offensive or defensive play?
The Head Zephyr is an all-round racket, but has more advantages for the defensive game. A racket with more soft characteristics, which gives more advantages for receiving slow or low balls. At the same time, both the core and the carbon-reinforced tee can return more power in the strokes.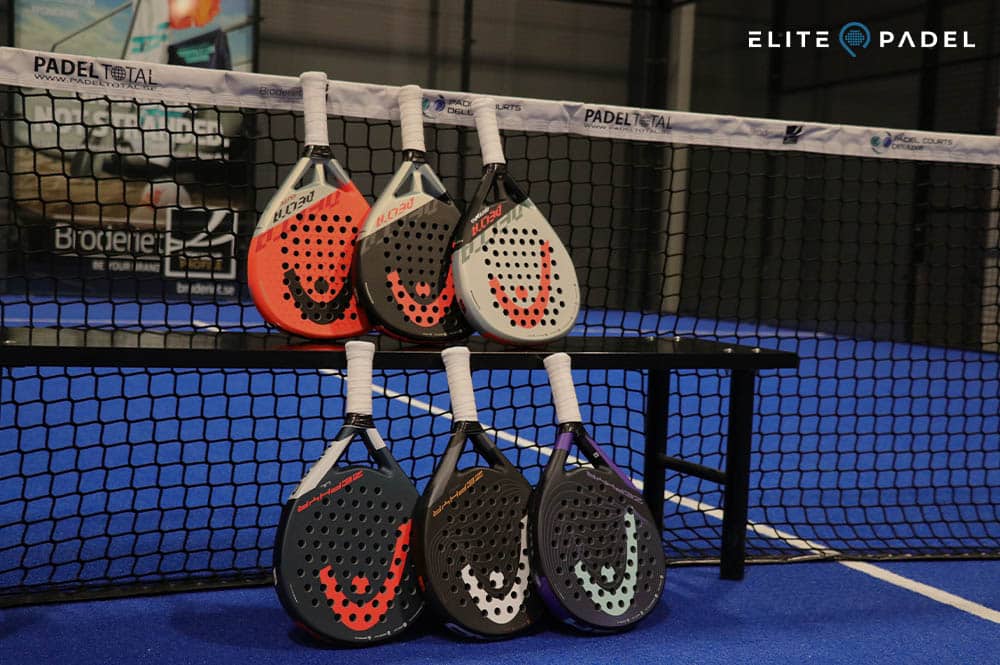 Information about the Head brand
The Head company was founded in 1950 by Howard Head, who initially focused on producing skis with metal. His focus on metal was then taken to rackets for the sport of tennis and the company developed various technologies over the years to reproduce different characteristics of their rackets.
Then they also moved on to the sport of padel, where today you can see, among other things, the Graphene 360+ technology, which gives their racket models better durability and more power for the player. Their padel rackets are very popular in today's market, partly for their good durability and because their models come with useful features in different types of games.
Advantages of the Head Zephyr 2022
The racket has a very light weight, which makes it particularly suitable for those players who have weaker muscles or joints. It will be easier to handle in both swings in the air and when hitting balls. Their Graphene 360+ technology gives the racket better durability, but also a smoother game and more balance which also makes it more ergonomic for the players.
The Comfort Foam core is of the softer variety, which gives advantages in defensive play and it also minimizes vibrations in the racket. Which gives better control in the game and minimizes the risks of strain on the player's muscles and joints.
Most of the features of this racket are aimed at a defensive game, so it may be more difficult to get high balls away with high speed or to smash out opponents. The light weight of the racquet has several advantages, but for those who want a more aggressive or explosive game, it can be more of a negative, as they may need a racquet that is heavier and harder.
Our review for the Head Zephyr 2022
Mikael Rohana from Elitepadel has tested the Head Zephyr 2022 and gives the following review and rating:
"När jag testade Head Zephyr 2022 och  jämförde med Head Zephyr Pro 2022 så upplevde jag att detta rack var lättare i vikt och därmed så tycker jag att Head Zephyr 2022 då var ett lättare rack att hantera på banan. Tack vare sin lättare vikt så är det också ett rack som sliter lite mindre på armen. Så mitt omdöme är att racket är en modell som jag absolut hade rekommenderat för damen eller herren som söker lätt vikt, mycket kontroll och en stor sweetspot."
Disclaimer
All opinions given by Elitepadel and our writers are subjective and you may not agree. Elitepadel.se is a free platform for you as a visitor and is instead funded through collaborative links to our partners. You as a visitor are not affected by these links.