In this article, we have listed the best padel racket for women. Generally speaking, as a women's padel player, you'll want to use a lighter padel racket – of course, this doesn't apply to more fit and strong women. 
In this article, we highlight six great padel rackets for women.
Keep in mind that a round padel racket with a large sweetspot will give you more control, while a drop or diamond shaped racket is generally more difficult to play.
Summary of the best women's padel racket:
| | | | |
| --- | --- | --- | --- |
|   | Rackets name | Shape | Difficulty |
| 1 | RS Z-series Women's Edition by Margaux | Round | Easy |
| 2 | RS Z-series Edition Snake | Drop | Medium |
| 3 | Varlion LW Carbon Alu Woman | Round | Medium |
| 4 | RS Cobra Women Silver Edition | Round | Easy |
| 5 | Adidas Adipower Woman Lite | Round | Easy/Medium |
| 6 | Adidas RX20 Light | Round | Easy |
1. RS Z-Series women's Edition by Margaux
This is a women's racket that suits most people, from the recreational player to the more professional player. It helps the player to get extra speed on the ball as it has a fairly high balance. This racket doesn't require a lot of strength to get the ball where you want it to go and the weight feels comfortable in the hand.
It is designed by Margaux Dietz who is both a broadcaster and famous influencer. The racket gives you a good grip on the ball as well as an extra spin due to its sandpaper surface. 
Looking at the negatives, you can say that it is a rather expensive rack for the beginner. If you don't know if you really enjoy padel or if you will be playing that much, it can seem like a lot of money to spend on a racket. 
2. RS Z-series Edition Snake
This is a racket designed for women who want to win. Here you have a high balance and a power that will help you smash your opponent. Robin Söderling, who is a former top-five tennis player, has been involved in the development of this racket. 
It is easy to play with as it has a large sweetspot that allows you to regularly hit the ball the way you want. The coarse surface of the racket allows you to cover the court, while the medium-hard foam provides a great mix of power and control. You get a nice balance that gives you speed when you play, but without costing you in fatigue. However, if you are a beginner with padel, this is not the ultimate choice.
3. Varlion LW Carbon Alu Woman
Here we have a rack that is made with a round shape that gives control over your power when you play. It is made with a new design that reduces the weight of the racket's bumper from 22 grams to 11 grams, a full 50 percent. It is also designed with a hexagon frame to provide greater resistance.
If you have to find any disadvantage with this racket, it is that it is for the advanced player who has been playing padel for a while and knows their game. So it is not a racket aimed at the beginner. 
4. RS Cobra Women Silver Edition
This racket is perfect for the beginner who wants a racket they can develop with. It is a lightweight racket with a great design that makes it a popular choice for many. The sweetspot is placed in the middle of the padel racket, and the shape of the racket is round. To get more spin and power in the ball, the surface is made of sandpaper. 
There are not many disadvantages more than when you start to become a bit more advanced in your game, you may feel the need to change your racket to something more suited to your more advanced level of play. 
5. Adidas Adipower Woman Lite
This is a lighter rack for the player who wants maximum manageability during the game. If you think comfort and control are the most important things in your game, this is a perfect buy. It is easy to handle and weighs only 345-360 grams and has a round shape and medium balance.
This padel racket is suitable for all ladies and all levels. It also works nicely for men so you can invest in this racket for the whole family. 
The downside is that it may feel too light for the advanced player who wants to be able to generate a lot of power in their strokes.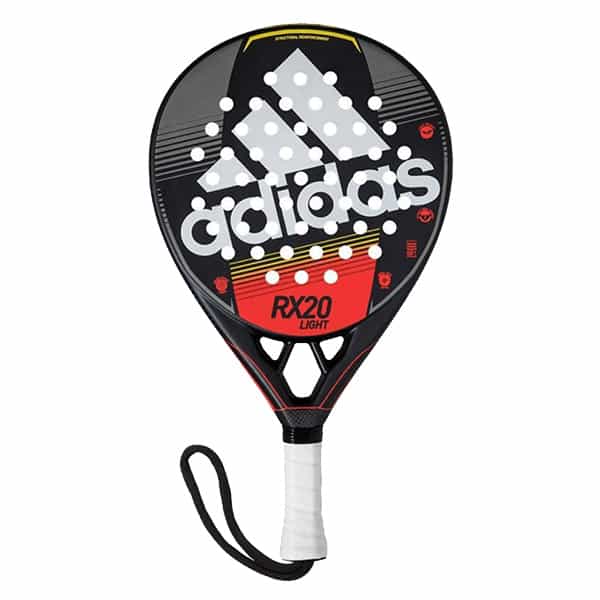 If you're just starting your padel career and want a good racket to develop with, this could be the perfect fit. It's very easy to play and produces nice hits even when the ball doesn't end up in the middle but perhaps further out to the sides. It is also easy to handle thanks to its lightweight feel and because it is so light it is also gentle on the arm.
On the downside, it may be a little too light for some players, especially if you've been playing padel for a while. If you hit hard strokes, you might be quite disappointed as there is not much power in the strokes due to the soft surface. 
We highlight the Adidas RX20 Light as the best padel racket for beginners in the premium class.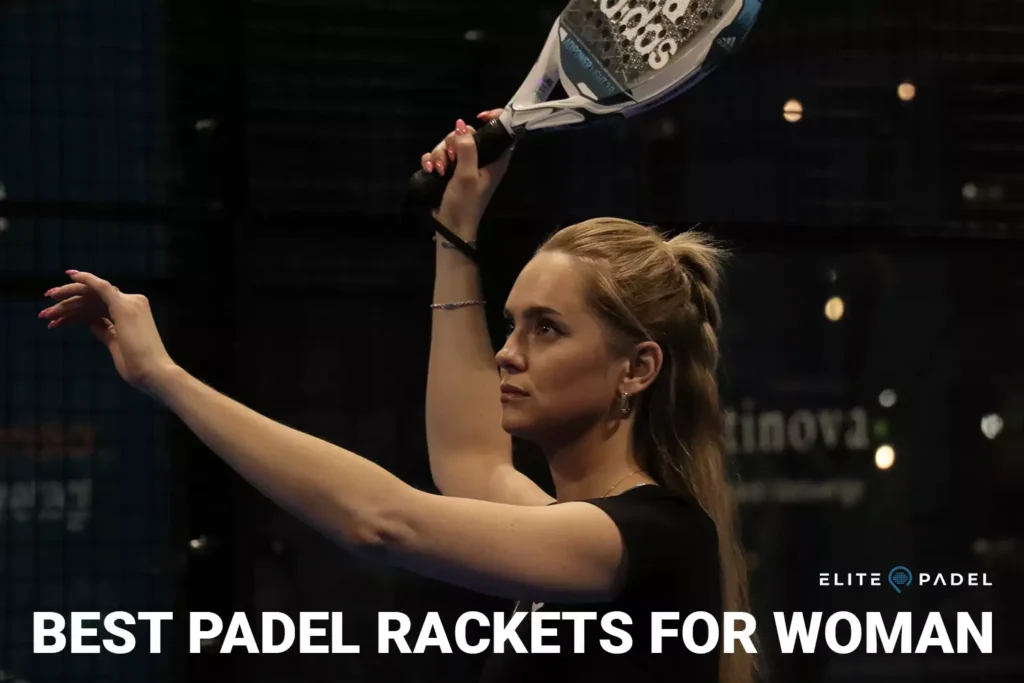 Good things to consider when choosing a women's racket
In order to choose the right racket that will feel comfortable as well as also help you with your game, you need to find out what kind of player you are. A good way to find out what kind of player you are and what you want from your racket is to test play different rackets before you decide.
Weight 
The weight of the racket is important to consider. A heavier racket will give you more power in your strokes, but it can also feel clumsier and be more difficult to handle, especially for beginners. A lighter rack will give you more control over your strokes and if you are a player with less power, a women's racket may be ideal.
Difficulty level
You should adapt your padel racket according to how long you have been playing padel and what level you are at. If you are a beginner, you can invest in a racket that is round in shape and weighs a little less. If you're a more advanced player, you'll probably want a slightly heavier padel racket with a different head shape to help you get the balls away with power.
Design to your taste
When choosing your racket, you obviously want the design to be appealing while also obviously being good to play with. When you look at the hitting surface of the racket, there are three different shapes. 
A padel rack for beginners should be designed with a round shape as they often have a good balance in the middle which gives good control. For the advanced player, a racket with a diamond-shaped design is a good fit. It typically provides good speed but less control, which puts pressure on the player's abilities.
For the recreational player as well as the competitive player, the drop-shaped racket head may suit well as it is a combination of the above.
Price
Another thing to consider when choosing a paddle racket is the price. There are rackets in all price ranges and this is where one's budget may set the ceiling. The most expensive is not always the best for you. Many times, competition rackets and more advanced rackets are a bit more expensive and you may not have a need for one. 
If you are buying a racket for the first time, it might be a good idea to talk to someone in the store. Often you can get tips and advice there to choose the right one and find something that fits your price range.
More tests of the padel racket
We have tested and reviewed padel rackets in many different categories to help you make the best choice possible. Below you will find different best in test for different categories: