In this article, we have selected the best padel racket for spin. In order to hit a shot with maximum spin on the ball, you should choose a padel racket with a rough surface. It is becoming increasingly common for racket suppliers to put some sort of roughened surface on their rackets.
Below we list the top three padel rackets for spin in three different categories;
Best budget choice
Best value for money
Best premium racket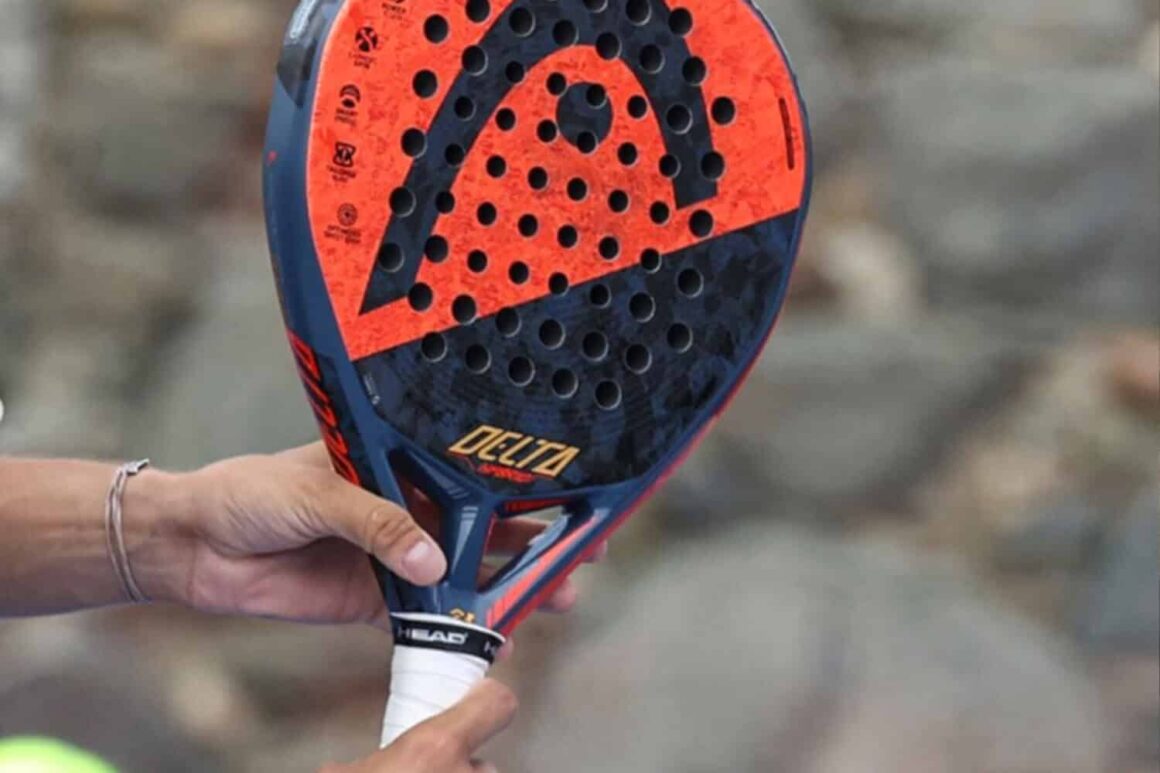 1. Head Delta Hybrid Graphene 360+
This diamond-shaped padel racket is Head's new sequel, which has been designed to be easier to handle while providing more power. This is thanks to the frame being given a new material, called Graphene 360+, to be able to give the player more power without the playing technique suffering. 
This racket is mainly aimed at competitive players, as its features have been designed for those who benefit more from the technical details. Other peculiar features are that the hitting surface is softer and will thus provide the player with better feel in the stroke.
The balance is located high, which will provide more power when the ball is hit there, and with the roughened surface of the racket, different techniques can also be created with the ball. For example, getting the ball away with high power, while still getting a spin on it. This can make it harder for opponents to predict where the ball will bounce further. 
The sweetspot on this model has been made larger using a technique where the holes have been drilled in a specific way. The pattern resulting from the drilled holes is specifically designed and there are different sizes of holes, which gives the effect of a larger sweetspot that is also more stable than before.
This racket can be perceived as difficult to play if you do not have long experience in padel play. It may take a few hours of practice with it to get into some new swings and other techniques.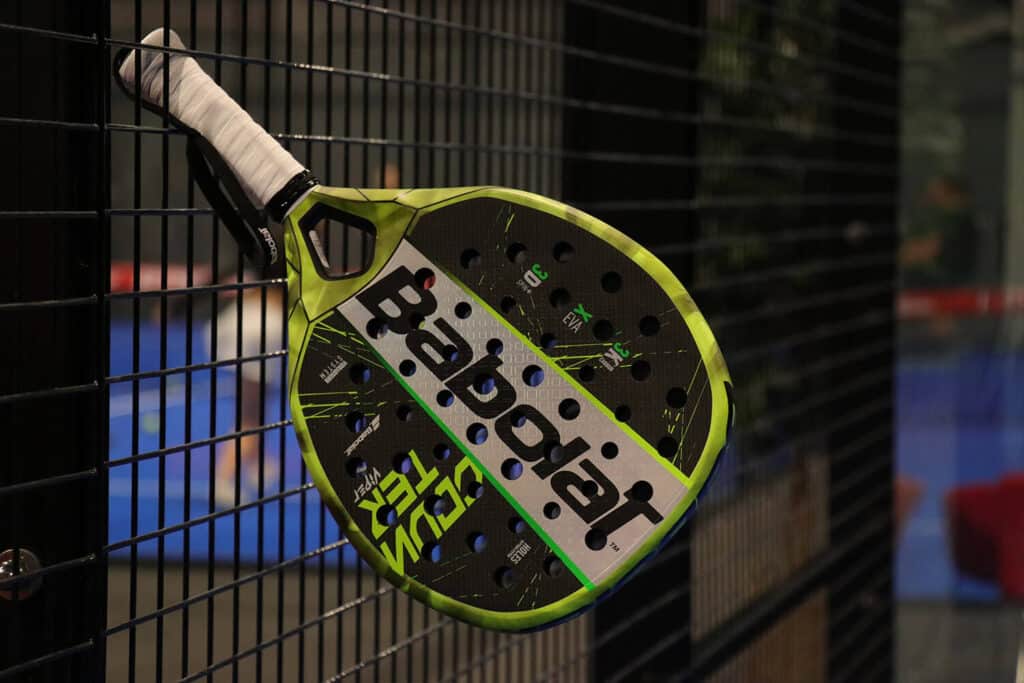 This round model of padel racket is recommended to those players who want to focus on good control of the game, including being able to play with good precision of the ball. With its low balance, it becomes easier and more ergonomically correct to maintain control of its padel racket. 
In addition, it has been equipped with the Vibrasorb System technology in the neck of the racket, to minimize any vibrations between the ball and the racket. This gives both a chance for a better game where you have better control over the direction of the ball and there is also less stress on the wrist and elbow.
The racket's sweet spot, like previous models of this brand, is reinforced with the drilled holes in strategically selected locations. The good effect of this leads to strokes with more power and control. 
All in all, it is possible to focus one's game on good control and precision, but also have the ability to spin the ball to create confusion about the ball's direction. There are also good opportunities for that with this racket, as the surface has a roughened surface that should lead to more safe ball hits while also having the ability to spin the ball.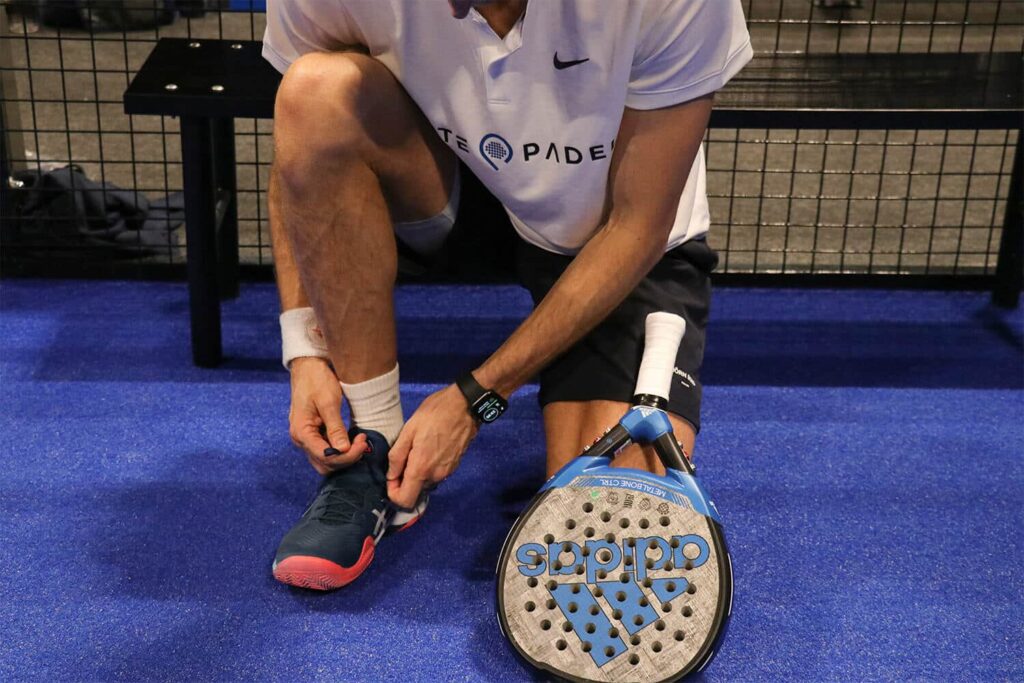 In order to take advantage of all the possibilities and features that come with this model of padel racket, you need to have many hours of padel play behind you. Your game is at an advanced level, maybe even started to compete.
There are some advanced features here, which can lead to great positives in your game. For starters, it is possible to change the balance of the racket by moving smaller weights, which are placed at the bridge. This allows you to decide if you want to play with a racket that is more forward weighted, which is an advantage when more power is needed in the game.
A light racket, despite all the techniques involved, and with a roughened hitting surface this can make for a very interesting game. Including different spins on the ball. The experienced player can alternate his game in several ways, especially in combination with varying between low or high weight on the racket.
At the same time, a more controlled game is possible, using the racket's balance which is in the medium range and its sweetspot is both centered and wide. The racket provides the player with better control and less risk of joints getting high stress. 
Good to consider when choosing a racket for spin
1. You want a relatively large sweet spot
The sweet spot of the padel racket tells you where it is most optimal to hit the ball, to get a soft and safe hit. If it's more centrally located, it's more likely to be big. It's not always a given, but because this area should be as far away from the edges as possible, it can be. You want a big sweetspot because then you have a larger area for the ball to hit, with good power.
2. Where do you want the centre of gravity of the racket?
When deciding where you want to put your emphasis, you need to consider your playing style, among other things. A racket with a low centre of gravity makes it easier for you to control your racket and therefore have better control over the direction of the ball.
A high centre of gravity gives the ball more power and therefore a higher speed. On the other hand, this can be very hard on the wrist and elbow. So it depends on your muscle strength and how experienced you are. If you feel strong and confident in your game, a high centre of gravity can be a good choice to strengthen your game. 
If you feel insecure, then it might be better to play with a medium center of gravity for a while, before advancing to a high one. A medium will give you more control than a high, but you won't get as much power as with a high CG.
3. Choose a racket with a round or drop shape
A drop-shaped racket has a higher sweet spot than a round-shaped one. Drop-shaped models are often chosen by those who want to take advantage of both the ability to play with good control and the chance to get a little more power into the ball, which then flies away at higher speeds.
Rackets with a round shape are seen by many beginners, but also by those with more experience of the game. They choose this type in order to maintain more control in the game. It can also be said that a round shape is suitable for players who prefer a defensive game.
4. Your racket should be easy to play
What you should take into account when talking about your racket being easy to play is its shape, balance and sweeetspot. The bigger the sweetspot you have on your racket, the more likely you are to hit the ball, which is good to keep in mind until you have developed more in your padel playing. After all, the more often you hit the ball, the easier and more fun the game becomes. 
With a low-balance racket, there is less strain on your joints, as the hand holding the racket is closer to the balance point. When there is a larger gap between the hand and the balance point, there is more strain on the joints and this is easier to deal with when you are more used to the game. 
The sweet spot, which is the area where the racket can provide the most help to the player, is larger on a round-shaped racket. On these rackets it is also placed more centrally on the hitting surface, making it easier to hit the ball and get the ball away with more power and with better control over its direction.
Frequently asked questions about spin
What is needed on a racket to get a good spin?
Search for padel rackets that have had their hitting surface roughened using a specific technique. The ball will be more accurate, while the surface will help spin the ball in a different direction.
Are there different types of spin?
Topspin is when the ball is spun from the top of the racket. Backspin is the most common, when the racket starts in a position that is slightly backwards and the spin comes from the bottom of the racket. In side spin, the racket starts high and you load by moving backwards sideways, but the ball should be hit at a lower height and it gains more speed when the hip is turned sideways in the movement.
Why should I hit with a spin?
When you put spin your balls, your game becomes more difficult for your opponents to predict. It becomes more difficult for them to calculate the direction of the ball.
Good to consider when choosing a padel racket for beginners
We have tested and reviewed padel rackets in many different categories to help you make the best choice possible. Below you will find different best in test for different categories.
Best women's padel racket
Best padel racket for beginners
Best padel racket for intermediate players
Best padel racket for spin
Best padel racket for control
Best padel racket for power
Best padel racket for kids
Disclaimer
All opinions given by Elitepadel and our writers are subjective and you may not agree. Elitepadel.se is a free platform for you as a visitor and is instead funded through collaborative links to our partners. You as a visitor are not affected by these links.