In this article we have listed the best padel racket for power. Generally speaking, if you like to play offensively and like to hit balls out of the cage with power in padel, you want to use a racket that is designed for power.
Let's get started right away!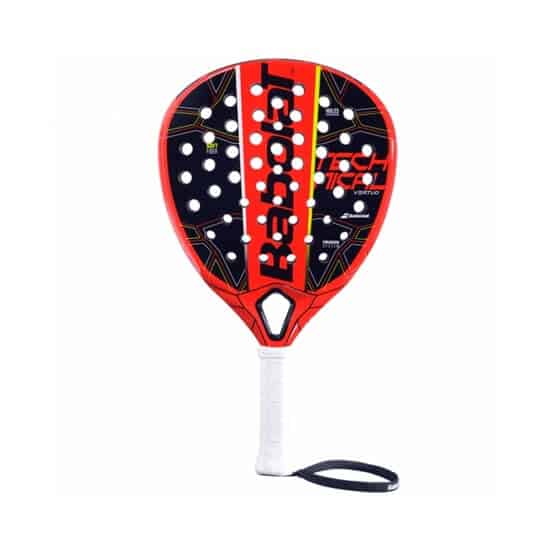 1. Babolat Vertuo Technical
A strong padel racket with features that make it suitable for both recreational and elite players. This diamond-shaped racket has a low weight and soft hitting surface, which are great starting points for recreational players looking for more advanced playing styles. Getting more chances to get the ball away with solid speed or fool the opponent with a high spin smash.
The softer hitting surface than many other padel rackets, aimed at a so-called aggressive style of play, provides greater opportunities for control of the ball. At the same time, the racket's high balance allows you to swing the ball away with real power. This power is also supported by the stable and strong carbon fiber frame. 
Do you feel it's time to start advancing your game, but you still have a lot of playing hours left to feel really confident on the court? Then this racket can put your mind at ease with a softer hitting surface, Soft Fiber, which is made of soft fiberglass. The main advantage of this material is that even if you were to hit your racket a little crooked on the ball, there's still a good chance that the ball will fly away with good control.
This racket is best suited for an offensive padel game and to take advantage of all its features it is an advantage if your joints are sufficiently resilient, supported by strong arms and shoulders. A racket with a lot of power further up towards the top, but can suit many intermediate players who want to get a bit more out of the game.
2. RS Prime Power Edition 2022
This padel racket can provide you with a lot of power for your aggressive style of play on the court. Your offensive game can be very powerful without sacrificing much of the control. 
Better control of your game is provided by a large sweetspot and a mid-level balance point. The technique used to create a larger sweetspot is called Total Sweetspot and this technique also allows you to hit the ball away with real power. This allows you to play a more aggressive game while maintaining good control of your shot, even though the hit would not always end up in the middle of the sweetspot.
With high-impact padel rackets, there can be more risk of muscle and joint damage, but this model has been equipped with Vibrastop Tech technology. It dampens vibrations every time you hit the ball. This racket makes for a healthier game while allowing you to harness a lot of power in your strokes.
The aim is for it to act as a form of all-round racket. However, the focus is higher on being a powerful racket, which is why they have chosen to make this racket very hard. The frame is carbon fiber and the hitting surface is dense carbon fiber cloth. Although this racket is relatively gentle considering its strong characteristics, it is aimed at those players who have more experience in the sport and have worked up a good playing technique.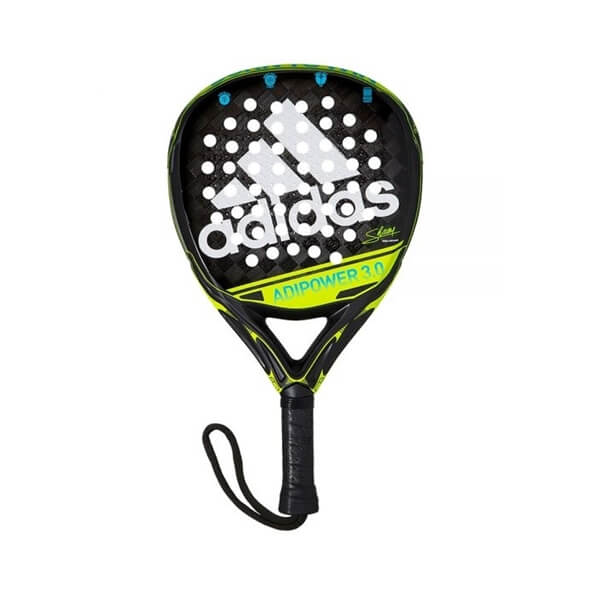 Here, the more experienced padel player gets a faithful friend on the court and can be a good help in creating a more advanced game at competitions. It is a round racket with a medium balance but equipped with techniques that are a good help for impactful ball hits.
A round padel racket with features for all-round play, but aimed primarily at players with more experience on the court. The core of this racket has Eva High Memory foam which ensures that the player can give the balls a tremendous amount of power when hitting. This foam returns to its original shape immediately after the ball has lost contact with the racket. 
The hitting surface has been made extra durable using both carbon fiber and aluminum, which quickly became a big hit by many players. Another quality linked to the hitting surface is the 3D Spin Blade, which has provided the surface with a rough layer. This layer helps the player to be able to spin the ball on impact, creating an unpredictable direction of the ball. 
The balance point, which is at a level between low and medium, makes the racket easier to handle. This level of balance makes it more suitable for control, but with the help of other features, there is still a chance to hit the ball away with considerable force. However, it is not aimed at experienced players who like to smash balls away. In that case, a high balance point is better.
Good things to consider when choosing a power padel racket
1. You want a sweetspot high up on the racket
A padel racket with a sweetspot high up will have more power, especially when combined with a high balance point. The racket becomes so-called forward momentum and a good hit in the sweetspot generates enormous power and this can be of great interest to experienced players who like an aggressive style of play, such as being able to smash balls away with a lot of power.
It is more difficult to get a good hit on the ball further up the racket, so longer experience of the game is needed to control this. Those who can master hitting the ball high up on the racket can also more easily manage to smash a ball away to a low level, as there is a high sweetspot. 
This results in a longer swing with incredible power, as well as good control of the ball.
Many of the talented elite players who are known for their powerful smashes use diamond-shaped rackets with a high sweetspot.
2. The center of gravity should be high
A high center of gravity is a great advantage for players who want to be able to use a lot of power in their strokes. It is similar to gripping a hammer far out on the shaft. The hammer is swung back a bit, to quickly come out with proper power and hit the nail with tremendous force. 
This technique is what allows you to get the most power out of hitting a ball with a racket. Hence, a high center of gravity is what should be sought for players who want to focus on offensive play. A style of play where you get several opportunities to smash balls away with tremendous power.
A stiff padel racket can help the experienced player with much more power than a soft one can. However, it's best suited for players who have many hours of playing under their belt, as it can take some strength and proper technique to be able to play it to its full potential. The racket needs a slight backward swing before it flies forward to hit the ball away with real power.
Experienced players who have learned a good technique for hitting the ball in a controlled manner will benefit more from a stiffer racket. With good strength and technique from the player, they can get more power out of the racket. In addition, their strength may be needed when hitting away slow balls, as extra strength is needed to get away slow balls with a stiff racket.
Frequently asked questions about the best power padel racket
Below we have listed frequently asked questions and answered them.
What features of the padel racket give me power?
A combination of high sweetspot and balance point will give you the most desirable characteristics to get as much help as possible to swing away balls with high speed.
What shape of padel racket should I choose for power?
Choose a diamond-shaped model, and you're more likely to have a bigger sweetspot high up on the racket, as well as a high center of gravity, so you can get more powerful hits on the ball.
For whom is a padel racket with power suitable?
First and foremost, they are suitable for players who have many hours of padel behind them. These rackets require some muscle strength and playing experience to withstand the strain these rackets can put on you.
Best padel rackets in different categories
We have tested and reviewed padel rackets in many different categories to help you make the best choice possible. Below you will find different best in test for different categories.