In this article, we've collected the best-looking padel clothing for both men and women. Popular women's padel clothing is often padel skirts, dresses or tights. While for men, the most popular outfits are shorts and t-shirts or pique. 
You can also quickly navigate directly to women's and men's clothing or specific padel clothing through the menu below.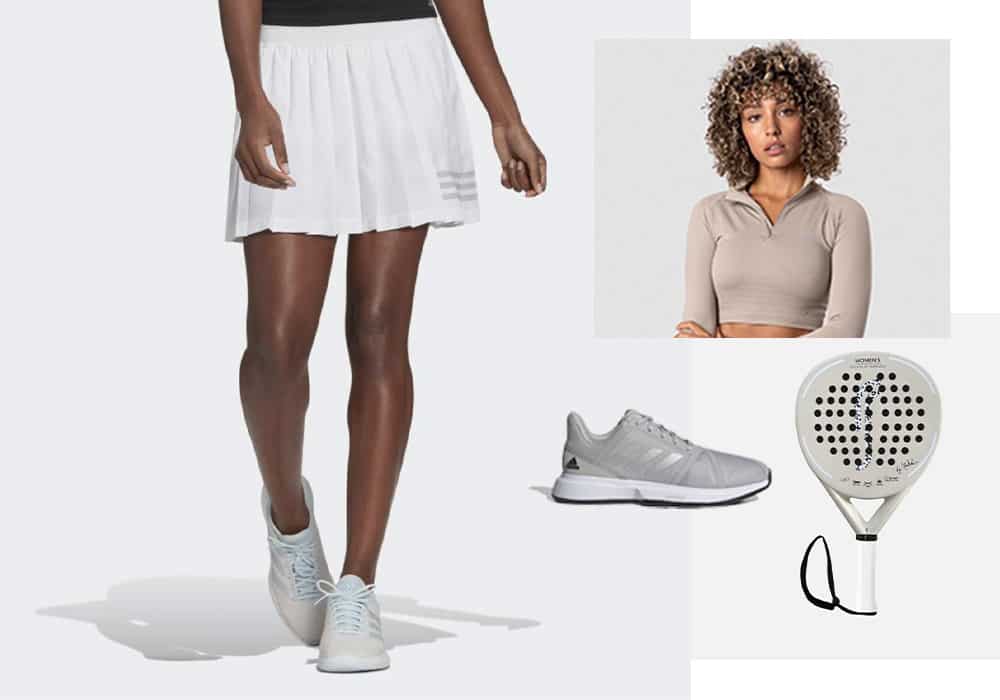 Stylish women's padel clothing
Padel is usually played indoors or outdoors in summer. This means that the sport gives you the opportunity to wear stylish padel clothing such as padel skirts, dresses and t-shirts. Below, we list more clothes as inspiration for you.
There are a variety of outfits for ladies, which allow us to always feel stylish and ensure our confidence is at its peak. What you definitely don't want when choosing a padel skirt are inner shorts that keep sliding up or see-through fabrics. When you don't feel comfortable on the court, you can't possibly deliver your best game, which is why it's always a good idea to invest in good quality padel skirts.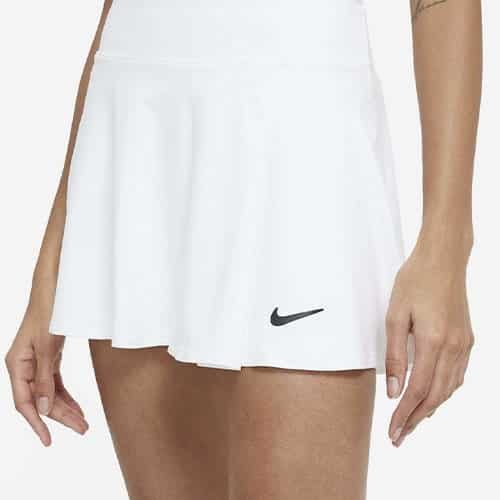 Order your new padel skirt today!
When choosing a padel skirt, it can be useful to take into account whether we want pockets for storing the balls in the inner shorts, as many models do not come with this. If there are no inner pockets, you simply store the balls inside the inner shorts, and what you feel comfortable with is of course a matter of taste. Just don't leave the balls on the court, as they will easily disturb the game.
As with regular skirts, padel skirts can have a high or low waist, a looser or tighter fit, and slightly different lengths. Here you only need to consider what you like and feel comfortable with, as they effectively serve the same function. The material should feel comfortable against the skin, wick away or absorb moisture and breathe well during matches.
Many people like padel dresses because they're so simple – it only takes a few seconds to change, and you never have to think about how to combine the top with the bottom. They often feel cooler to play with as they don't tighten at the waist in the same way as a skirt, but it's important to choose a good material that breathes properly.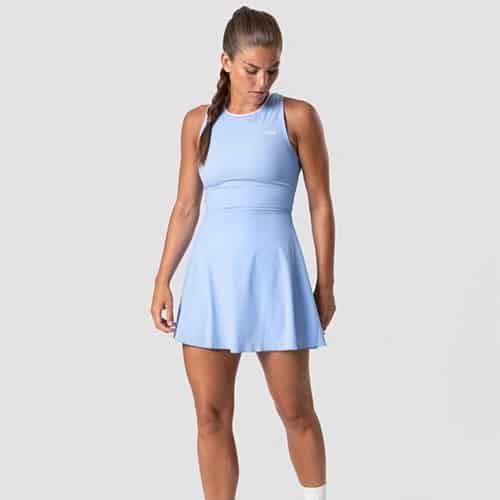 Order your new padel dress today!
As with skirts, we recommend going for really good, high-quality materials. Dresses are a bit more expensive because they are a whole outfit, and you want them to retain both their color and shape for as long as possible. The inner shorts should feel comfortable and stay in place – even with dresses, there are models with and without pockets. 
When it comes to colors, you should of course choose colors you like and feel you look good in, but it might also be worth considering whether you mostly play outdoors or indoors. If you often play outdoors, dark colors can be very hot in summer, and with lots of light from the sun, for example, very thin and light fabrics are also more likely to become transparent.
It's great to play padel in a pair of flexible shorts that breathe, they are a very good alternative to the skirt and are now seen more and more on the women's side. Among those who prefer to play in shorts, pockets for ball storage tend to be a basic preference, and so are seen in most models. There is a very wide selection of padel shorts from all the leading brands such as Nike and Adidas.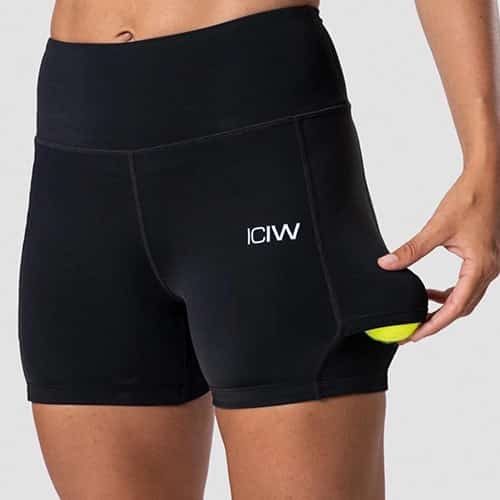 Order your new padel shorts today!
Make sure that the inner shorts fit comfortably, they should not ride up or chafe, and that the length of the shorts is suitable to your preferences. High or low waist and wider or thinner elastic can also be a factor when choosing the perfect shorts. A lightweight material that wicks away moisture and is quick-drying makes for the ideal combo.
Padel tights are a garment that has become really popular lately, and therefore new and very fresh models are constantly coming out on the market. Not everyone likes to play with loose clothing on their body or to show off their winter-bleached legs. Many feel more comfortable with longer and tighter versions on the court, so in this case, padel tights are a good choice.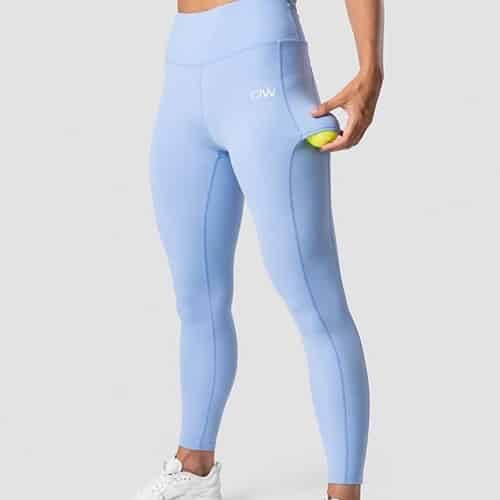 Order your new padel tights today!
The fit is the most important thing when it comes to choosing the right padel tights. They need to fit snugly around the butt and thighs to allow you to move freely during matches, and also around the waist. There are models with a higher waist, which tends to be many women's favorite, or those that sit a little lower on the stomach.
Pockets are good to consider here too. You don't want to play with your balls lying on the court for a number of reasons – it takes longer to serve when you have to keep retrieving balls, it can disrupt the game and in the worst case, you can trip on them. Add to that a great fabric that keeps your legs dry while breathing, and you have the perfect pants to play in as often as you like. 
We've mentioned it before, but there is no harm in repeating – go for good quality when it comes to your padel gear. This applies especially to your t-shirts, as they will be washed often. No one wants to have to buy new shirts once a month because the clothes have lost their fit or have started to fade in color.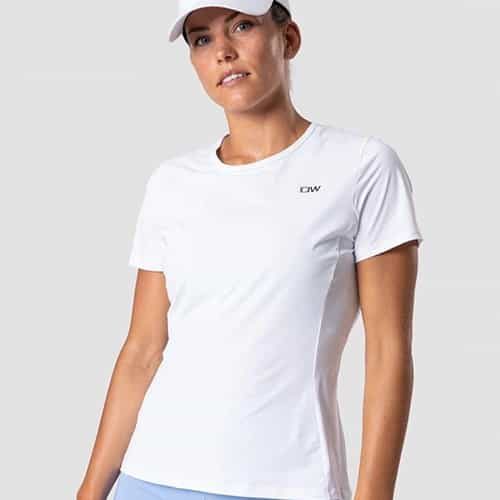 Order your new padel t-shirts today!
When it comes to choosing a top, the material is extremely important. It is imperative that it is breathable and that it stays dry. No one can play well if they are on the verge of heatstroke or if they are all wet with sweat. Thin, soft cotton fabrics tend to be a good choice as they breathe, feel comfortable against the skin and absorb moisture.
Prefer tighter or airier garments? Long-sleeved, short-sleeved or sleeveless like tank tops? In Sweden, we usually play padel indoors, so it might be a bit of an overkill to go for long sleeves unless it happens to be a very cold padel hall you're playing in. The freedom of movement should be to the highest standard in the garment you choose, so you never have to feel restricted on the court.
There's no getting away from the fact that the stylish details on a pique shirt automatically give us a slightly more professional, upscale look on the court. Most are figure-hugging for a really great fit, and feature fabrics that breathe and wick moisture away from the body. If you make sure the design is ergonomic and the garment has a good stretch, you have the perfect combination for freedom of movement on the court.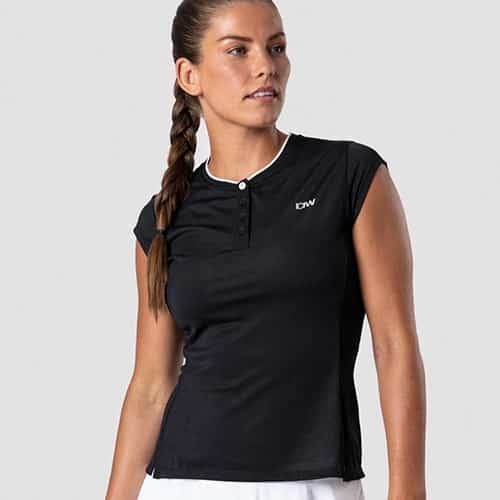 Order your new padel pique today!
If you like to wear classic colors such as white or black on your bottoms, it's nice to combine this with a pique with some fashionable colors that catch the eye. More neutral colors on your shirt, such as navy blue, suit most people and make for a timeless outfit.
A proper pair of padel shoes is essential whether you play several times a week or just for fun once in a while. A common misconception is that it doesn't matter much if you don't visit a padel court very often, but that's not true at all. Good shoes are almost as important as a suitable racket, as padel is a sport that relies on rapid movement in all directions and can therefore lead to wear and tear on your joints.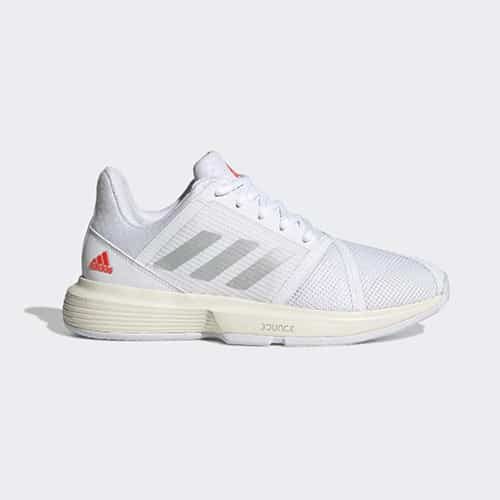 Order your new padel shoes today!
The sole is the base of the shoe, whose job is to provide us with a top-notch grip. You can choose between the classic herringbone sole, the sole with small rubber studs that are excellent on artificial grass, or the one called a combined sole as it is a mix of the two previously mentioned. The latter is perfect for all types of surfaces.
Make sure that your shoes, like your racket, adapt to your needs and playing style. If you're a fast player whose main weapon is your nimble feet, look for models that weigh as little as possible and are extremely flexible. If, on the other hand, you are injury-prone, a stiffer and more stable shoe is probably a better choice for your feet and ankles.
A padel cap can serve several functions on the court – either to shield your eyes from bright light if you're playing outdoors or a glare if you're playing indoors, but of course, many people use a cap simply to complete their look. They come in all sorts of colors and from all the leading brands, so you'll have no trouble finding one that suits your outfit perfectly.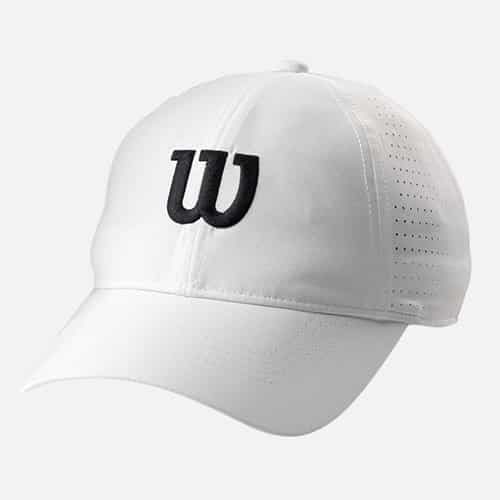 Order your new padel cap today!
We recommend choosing a lightweight material that breathes well and also absorbs moisture well. Quality is also important when it comes to hats, so they should be able to withstand being washed many times without losing either shape or color.
Wristbands and headbands (sweatbands)
Different types of sweatbands are an indispensable complement when practising such an intense sport. Padel is an energy-intensive sport that burns a lot of calories, so it's no wonder that you sweat a lot. This is where ankle straps and headbands come in handy to ensure that sweat doesn't have to affect your game.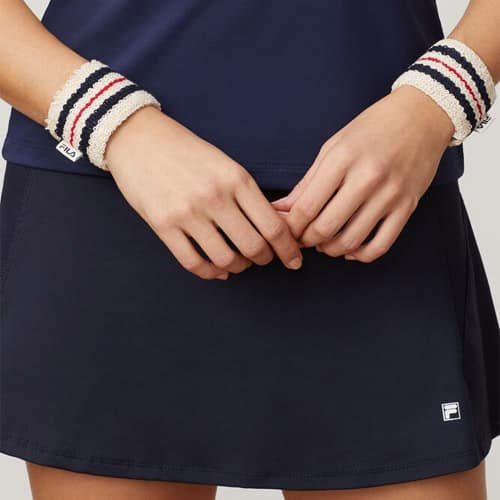 Order your new sweatbands today!
The wrist bands ensure that moisture doesn't run from your forearms down to your hands, which can cause your racket to slip out of your grip, and they're also handy for wiping sweat from your face. If you want to keep your hair in place or sweat a lot at the hairline, you can add a headband.
These come in a variety of colors and designs, so you can always find variations that match the rest of your outfit perfectly.
Below  here we will list different stylish padel outfits for men.
Stylish padel clothing men
You can also find very stylish men's padel clothing. We've listed everything from paddle shorts and padel shoes to pikes and t-shirts below. Combine these stylish ones and you'll have some really great men's padel outfits.
There are a variety of padel shorts to choose from, all of which are both stylish and functional. Nike, Adidas, Bullpadel, Wilson, and Asics are just a few examples of brands that have really good quality shorts that will allow you to perform at your best on the court.
The fit and material are the first things to consider when choosing shorts for your matches. They need to fit comfortably and give you the necessary freedom of movement, so if you're hesitating between two sizes, we recommend going for the bigger one. Almost all padel shorts come with a drawstring waist, so you can easily adjust the pants to fit perfectly.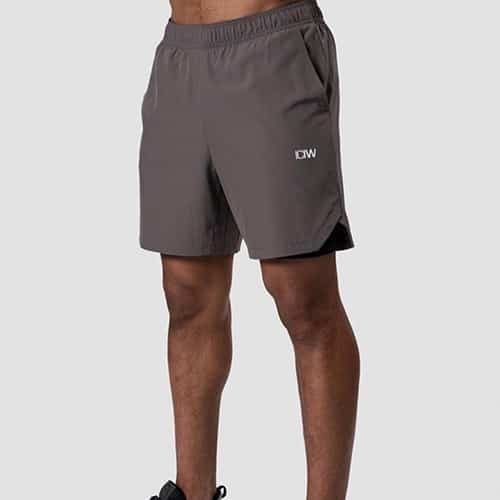 Order your new padel shorts today!
The material needs to be breathable and wick moisture away. Padel shorts come with side pockets so you'll always have your balls accessible. The shorts come in different lengths, so you can choose whether you prefer them a little longer or rather shorter.
What impression do I want to give when I step out on the court, is what we should have in mind when it comes time to choosing new outfits. It's much better to think about this than to go off and play in the first best clothes we had time to throw in the bag, as the clothes can actually affect our game. When we are happy with our clothes we automatically have better confidence, and a comfortable outfit that retains temperature allows us to focus on the opposition 100%.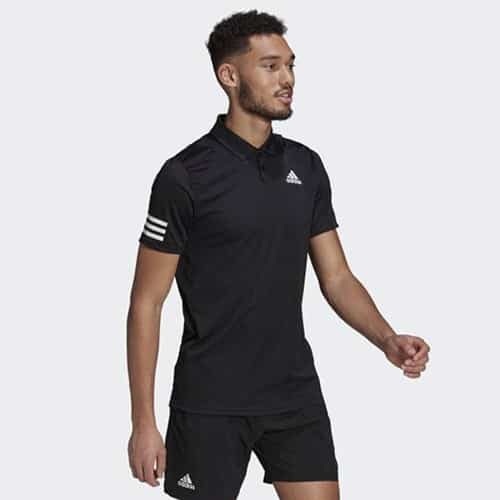 Order your new padel pique today!
If you want to look really professional on the court, the right choice is to play in a nicely fitting padel picket shirt. Pay attention to the fit over the arms, shoulders, and back, so you can always feel you have total freedom of movement in all types of strokes. 
A comfortable fit, the collar, and the buttoning at the neck give you a well-thought-out and stylish look at all times, and as these shirts are very popular, you can certainly find the perfect design for you at your favorite brand. A thin, lightweight fabric that lets your body breathe no matter how tough the game gets is what can make you a winner.
When it comes to t-shirts, we really want to stress the importance of going for good quality. High-quality fabrics are cheaper in the long run, as they retain both fit and color much longer than the cheap versions. That way, you don't have to buy new shirts once they've been washed a few times.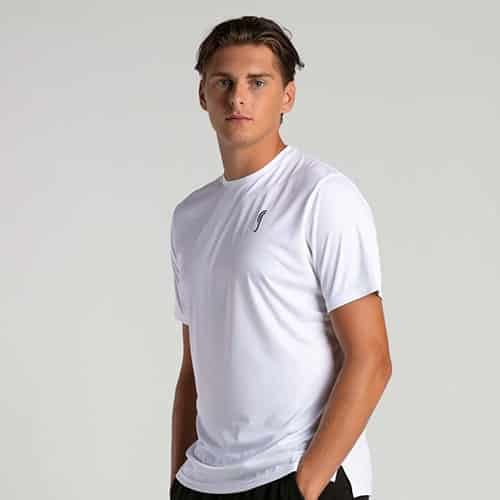 Order your new padel t-shirts today!
T-shirts made from soft cotton fabric are usually a safe bet, as they breathe and absorb moisture to keep your body dry. They are also very comfortable against the skin, to avoid chafing and irritation. Many models come with new technology that allows the material to breathe optimally and also be quick-drying, so sweat never becomes a nuisance during matches.
Also, make sure that the t-shirt you have chosen is flexible, preferably with good stretch, and durability. Padel is a fast-paced sport with a large movement pattern, so we recommend that you choose your clothing carefully.
Are you one of those who play padel in the same shoes you wear to the gym or run in? Then it's about time you took the plunge and invested in a pair of padel shoes. Fast footwork is essential if you want to play at your best, and optimal play is impossible to achieve if you don't have a good grip on the often slippery padel courts.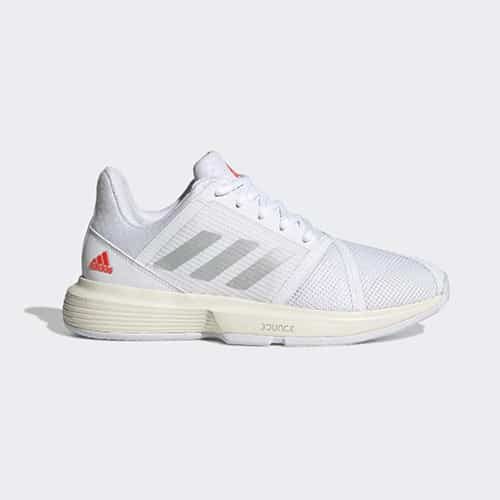 Order your new padel shoes today!
Running shoes are never recommended when playing padel, as they do not have any of the characteristics of a padel shoe. They tend to breathe very well in most cases, but they do not have a suitable sole to provide the necessary grip. Nor do they have the desirable stability that a good padel shoe provides, as this sport is full of rapid lateral movements and braking. 
Good shoes are the most important part of our equipment when it comes to preventing injuries and unnecessary wear and tear on the joints, which is why we always recommend using shoes specifically designed for padel even if you don't play very often. 
All the major brands offer padel shoes: Babolat, Bullpadel, Wilson, Adidas, Nike, and many many more. Be sure to choose a model that weighs as little as possible if speed is an important component of your playing style, while the more stable and rigid models are more effective in preventing injuries.
When it's time to head out for a match, it's always a good idea to have a cap in your bag. Make sure it's made of a moisture-absorbent material, as it's easy to sweat a lot when playing. It will also help you keep your eyes focused despite any blinding lights or bright illumination. Of course, if you're playing outdoors, keep it with you to protect you from the sun. Lightweight, breathable materials are another thing to consider.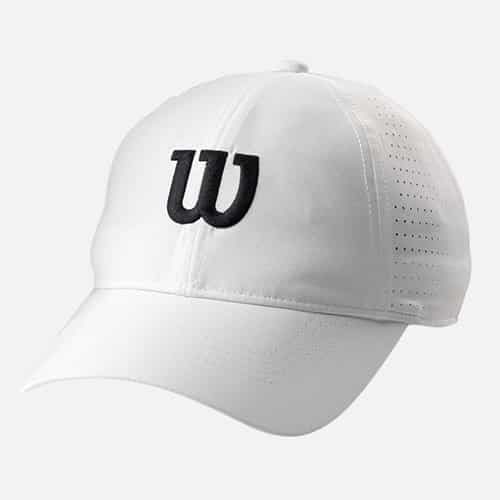 Order your new padel cap today!
Disclaimer
All opinions given by Elitepadel and our writers are subjective and you may not agree with them. Elitepadel.se is a free platform for you as a visitor and is instead funded through collaborative links to our partners. You as a visitor are not affected by these links.