När du ska investera i en ny padelväska så gället det att hitta den bästa modellen för dig, dina förutsättningar och även dina målsättningar. Vill du att väskan ska vara liten och smidig eller kan den vara större så den rymmer fler racketar och ombyten?
I den här artikeln går vi igenom det du behöver tänka på för att hitta den bästa padelväskan för just dig. Vi har även valt ut tre mycket bra padelväskor i prisklasserna Budget, Mellan & Premium här nedanför.
Låt oss komma igång direkt!
When investing in a new padel bag, it's important to find the best model for you, your circumstances and even your goals. Do you want the bag to be small and sleek, or can it be bigger to accommodate more rackets and spare parts?
In this article, we'll go through what you need to consider to find the best padel bag for you. We've also picked out three very good padel bags in the Budget, Medium & Premium price ranges below.
Let's get started right away!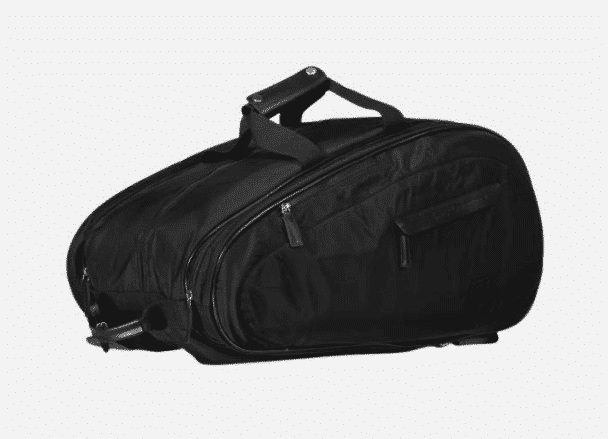 Stiga x Hildebrand One Padel Bag Black
There are plenty of cheap and functional padel bags, which are a good choice if you don't play very often. These bags often only hold one racket, and if you don't use more than one, you won't need multiple compartments.
It may be worth comparing the quality of your bag with the quality of your racket, as the more expensive bags tend to have thermo lined compartments which protect the racket from temperature changes. Heat, cold or rapid temperature changes will shorten the life of your racket, so a good padel bag should be seen as an investment in your equipment.
Practical things to consider are a separate shoe compartment, it gives a fresher feel not having to store your shoes with your clothes, meaning you won't have to keep them in a separate plastic bag.
Lined straps make a bag much more comfortable to carry around, and it can be useful if it can be worn both on the shoulder and as a backpack. It should have room for everything you need and last but not least – it should look good, of course!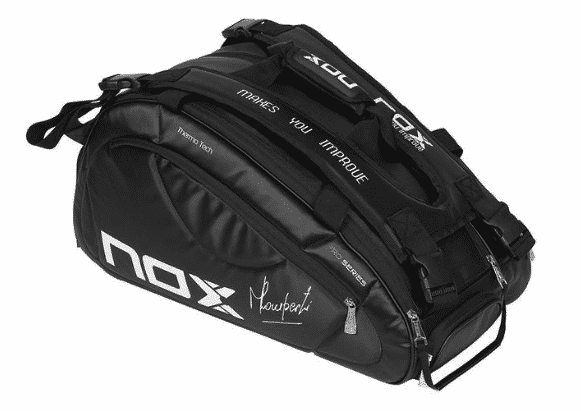 NOX Luxury Lamperti Padel Bag
Padel legend Miguel Lamperti, who has helped design some of the best-selling rackets in history, naturally has a favorite bag too. Nox has spared no expense in crafting a truly awesome bag to carry the signature of its top poster name. The bag's main compartment has plenty of room for three rackets, clothes, and a separate compartment for shoes. 
On the side is another large, thermally insulated compartment with room for two more rackets. Of course, there are several smaller compartments so that your personal belongings are always easily accessible. 
The design is sleek and stylish with the Nox motto "Makes You Improve" prominently displayed. It can be worn over the shoulder, in the hand, or as a backpack with its double, padded shoulder straps and measures 65.5x30x35cm.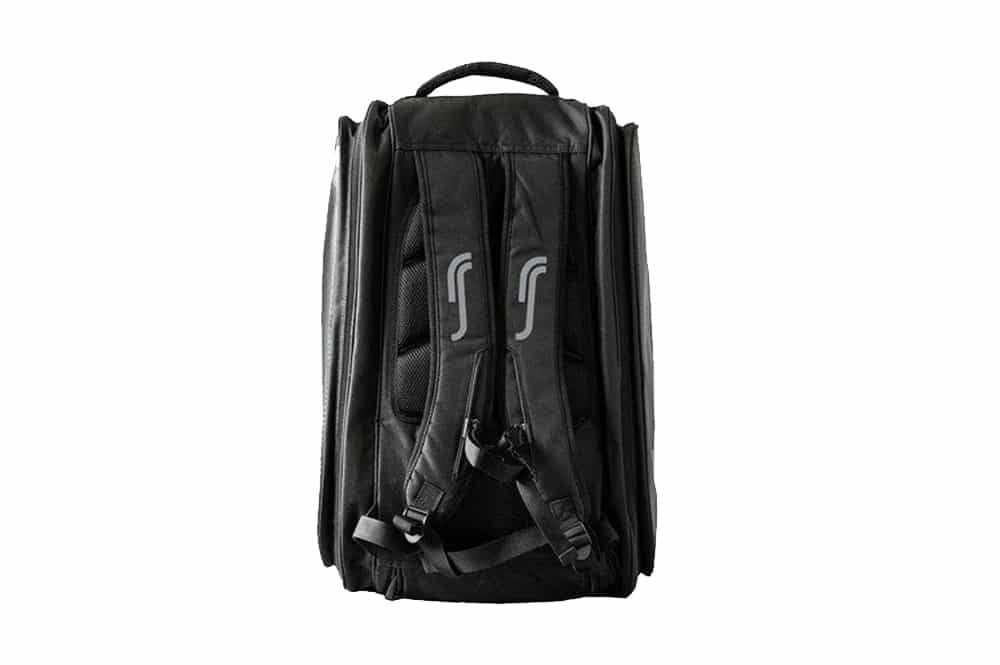 Good to consider when choosing a leather padel bag
There are several models of padel bags that are made of either leather or leatherette. The advantage of this type of bags is that they are really stylish, they look really luxurious. They are also durable and long-lasting. 
However, you have to be prepared to open up your wallet, because they are considerably more expensive than the classic polyester versions.
Padel bags in different colours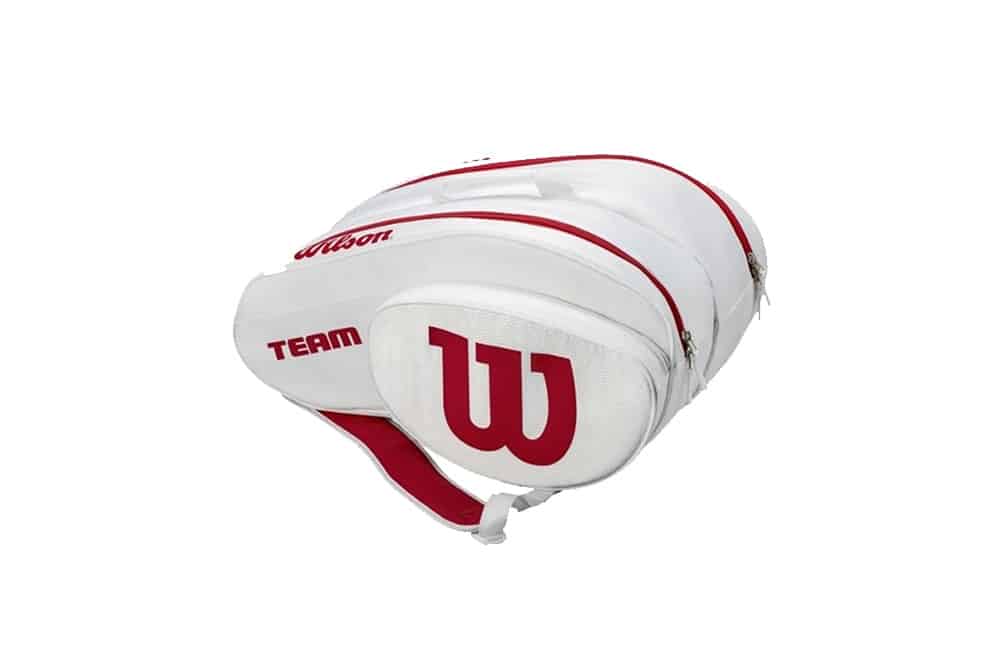 A black padel bag is a classic that will never go out of style. You can't go wrong with a classic plain black bag. There are a variety of models to choose from, as every brand tends to want a black version of every size.
They are also easy to keep clean, very few stains will show up on a black bag, which means it will stay new and fresh for a very long time.
Just be careful not to accidentally leave your black padel bag in the sun, it can get very hot which your rackets won't appreciate.
Pink has become one of the absolute trendiest colors in recent years, and it has of course become the favorite of many padel players as well. A pink padel bag signals that you like to have the latest and that you want people to notice you when you step onto the court. The downside to these stylish and colorful bags is that you have to be careful to keep them clean – stains and marks show very easily, so it might not be long before it starts to look worn.
There are plenty of small and handy padel bags for those who don't need to lug around more than one racket. Of course, a smaller bag won't hold as much as a larger one, but it will be easier to carry. If you already have a favorite bag for your everyday essentials, a small and handy padel bag that can hold the essentials is a good choice. The backpack models are an affordable option because they can be used for more than just racket sports, and are especially handy when you're traveling.
Brands selling padel bags
As expected, an international giant like Adidas has a great range of bags for those who want to organize their padel equipment. You will find many different designs and models, both large and small. Their color choices are for the most part quite classic and timeless, and they are the first on the market with an eco-friendly bag.
The French brand Babolat has a wide range of bags, which just like their rackets stand out thanks to their modern design. They have many exciting alternatives to the classic bags, such as tough backpacks and duffel bags. Even the color choices are very sleek and fresh, in line with their other products. A bag from Babolat will always deliver top quality and style.
Spanish Bullpadel, for many the ultimate padel specialist, offers us bags that are designed to be both stylish and practical. You have everything from extremely spacious models that can fit all the rackets you need, to small and sleek versions for those who only want to carry the bare essentials. Whatever your level and whatever your preference, you'll always be able to carry all your equipment in a manageable and organized way.
Drop Shot is a relatively new brand that has quickly become one of the market leaders. What they lack in terms of experience, they make up for in their fierce commitment to innovation, technology, and design in all their products. Top player Juan Martin Diaz has chosen them because of this, which is good proof that their products are also suitable for those who only want the best. Many of their bags and backpacks are black with strong accent colors, and there are several easy-to-handle designs with softer color choices to satisfy everyone.
If you want to make sure your padel equipment is protected and well organized at all times, Head padel bags are a great choice. The same high quality and design we find in their rackets can also be found in their bags and backpacks. It's no surprise that an international giant like Head has a huge range for all players, practical models in all sorts of sizes with plenty of compartments, and comfortable straps. Head makes sure you're always prepared when you hit the court.
Here you have perhaps the most exclusive padel bags on the market. They are available in different materials, but all are of premium quality. Padel bags made of leather or organic, ecological cotton fabric with leather details give you a truly luxurious feel and guarantee that you won't go unnoticed. Most models are timelessly classic, but there are also variations that will surprise you.
Nox has everything you need to make sure your equipment will always be in the best possible condition for all your matches and tournaments. Rackets, clothes, shoes, and balls – all this and more can be stored in the awesome-looking bags that have plenty of handy compartments. They come in every size and style imaginable and are all made from durable, hard-wearing materials of the highest quality – exactly what you'd expect from Nox. You'll find the most modern and daring designs mixed with elegant classics.
Prince is a classic in racket sports and offers a collection of very affordable padel bags. You can find both simpler thermo-insulated racket covers for amateurs who don't play very often, as well as professional models with space for several rackets, clothes, shoes, balls, and everything else that might be needed when spending many hours in the cage. Their designs may not be among the most daring, but good material choices and high quality run like a thread through their product range.
Racquet studios
padel bag
The Swedish brand Racket studios specialize in elegant padel bags made out of synthetic leather. These are bags of very high quality that will be able to hang with you for a very long time. This is not a brand for those who prioritize trends or daring and colorful designs, this is a typical Scandinavian design with clean lines and exclusive material choices.
Robin Söderlings, as you know, has its own brand, RS padel, that in recent years has invested heavily in padel. Completely in line with his rackets, he offers us nice padel bags that are spacious, functional, and with stylish details. The design is classically Scandinavian just like the other products, and will not disappoint you. Durable and hard-wearing bags and backpacks that will be your perfect companion for practices, matches, and tournaments as they take care of your equipment and protect your rackets.
Spanish brand StarVie has been making top-quality padel products for over a decade, and they have a range of really good-looking padel bags. Their designs are characterized by being modern and colorful, made to be seen. You'll find both bags and backpacks that are roomy, comfortable to carry, and protect your rackets from temperature changes so they last as long as possible.
Table tennis icon Stiga has entered the padel market. They have a smaller range of bags that include all the essentials for transporting and organizing our padel equipment. The colors are strictly classic as it's all about grey and black which always work and are easy to keep clean. Stiga padel bags are timeless, practical, and stylish.
Vibor-A is another quality Spanish brand in padel. They have a great passion for the sport, and it shows through their constant innovation and modern designs. Their choice of materials is always inspired by the latest developments and quality always comes first. You'll find everything from handy racket cases to proper bags that hold everything and more.
Vidar of Båstad
padel bag
Introducing another Swedish brand that offers all of us padel enthusiasts stylish, roomy bags that are perfect for taking everywhere. PU leather with multiple compartments so you can store your shoes separately from your clothes, towel, and other necessary equipment. The padded straps make it very comfortable bags to carry around while being really stylish and practical.
As you'd expect, racket giant Wilson has one of the widest ranges of padel bags on the market – you're sure to find a model to suit you here. Not only do they have different types of bags, backpacks, and cases for all levels of players, but the designs and color choices are varied so we can all find exactly what we're looking for. The high quality that Wilson is known for is of course found in all of their bags, so they are all very resistant and durable.
What type of padel bag suits you best?
A classic racket bag is the best choice for those who need to carry more than one racket. The more you play, especially tournaments where it can be an advantage to have different rackets depending on the type of opposition you will face, the better bag you will need.
A spacious bag with room for clothes, one or more changes of clothes, and a ventilated shoe compartment is the best companion. If you have expensive rackets, you should definitely go for a bag that is thermo-wrapped, protecting your racket from rapid temperature changes so that they last as long as possible.
Backpacks are the most comfortable type of padel bag to carry, so if you have long commutes, this is an option you should look into – models with padded shoulder straps are particularly comfortable. There are many roomy backpacks for multiple rackets and even models with separate, ventilated shoe compartments, so don't think that one backpack will automatically accommodate less equipment.
The advantage of a duffel bag is that you can use it for so much more than just playing padel. If you don't play very often, buying a specific padel bag can feel a bit unnecessary, and then a duffel bag is undeniably more practical. You can use it even when working out at the gym, swimming, or whatever activities you prefer, plus they're as handy as ever to pack for a weekend trip or carry as hand luggage on the plane.
Differences between padel bags
More expensive padel bags will undeniably be of higher quality and made from more durable materials. The most common material used by the major brands is a durable synthetic material, which in many cases is waterproof, easy to keep clean, and can withstand most use. Then there are bags made of leather, leatherette, or faux leather for those who want a more luxurious and exclusive look on the course.
When it comes to the inside of the bag, the most important thing to consider is whether it's thermo-padded. This is particularly important if you play a lot and have relatively expensive rackets, as it extends the life of a racket significantly – padel rackets don't like cold, heat, or rapid temperature changes.
Imagine playing after work, having your racket lying in a cold trunk all day, and then stepping into a warm padel hall. This feature is usually not very expensive, and especially if your racket costs a fair bit, it is certainly recommended.
The number of compartments adapted to different things
Several different compartments make a padel bag extra practical. It should be able to hold at least one racket, shoes, a towel if you shower in the padel hall, shoes, and clothes. If you play tournaments, you'll probably want to carry more than one change of clothes. House keys, car keys, and mobile phones are handy to keep in separate compartments so they're always easily accessible without having to search through the whole pack, and they should ideally have a zip for security.
Specific breathable shoe compartments
A separate shoe compartment is always a big plus, so you don't have to keep them with your clothes or in a separate bag. In addition, if the shoe box is ventilated, it will help prevent bad smells from occurring.
Dedicated racket compartment for different numbers of rackets
Keeping rackets in separate compartments is good for preventing scratches that can easily occur if you keep them in the same compartment with other equipment. The side compartments for rackets should preferably be thermally insulated to protect your rackets from temperature changes. If not all of your bag's racket compartments have this feature, you should prioritize your most valuable models.
Advantages of using a bag adapted for padel
You can pack your padel equipment easier and better
Keeping your clothes, shoes, and rackets in separate compartments means they will stay much fresher and you won't have to worry about bad smells getting stuck in them. It's also easier to stay organized and avoid arriving at the padel hall only to find you've forgotten things at home.
You protect your equipment better
Your rackets are protected from scratches and knocks by keeping them in separate compartments, and your clothes and shoes are also protected from scratches and stains if you don't need to store them with things like your keys and sports drinks.
FAQ - Frequently asked questions about padel bags
What is the difference between a cheap and an expensive padel bag?
The difference between an expensive and a cheap padel bag is mainly the quality of the materials and stitching, and also to some extent the comfort features such as padded straps. A good rule can be to go for the same quality on your bag as you have on your rackets, and that thermo insulation is always a plus.
Can padel bags be washed?
It all depends on the material they're made from, and the easiest way to tell is to look at the label where the care instructions are. Even if your bag isn't machine washable, you can wipe it with a wet cloth to remove any stains or marks, and if the problem is a bad smell, you can turn it inside out and leave it to air dry in the sunlight.
Who are the leading brands of padel bags?
Pretty much every brand that makes padel rackets also has good padel bags - of course, you don't have to have the same branding on your bag as on your racket, but a little extra flair goes a long way. Head, Wilson, Babolat, and Bullpadel are manufacturers that have a great range, and we'd also like to mention Swedish contenders like Stiga, RS, and Hildebrand.