Are you interested in padel rackets, padel shoes and other products from Stiga?
Good, then you've come to the right place! In this article, we present all products from the Swedish brand Stiga. You will also find complete reviews and links to where you can buy each product.
Do not miss our video below where we compare and review Stiga's paddle racket.
Innehållet på denna sidan
Disclaimer
All opinions given by Elitepadel and our writers are subjective and you may not agree. Elitepadel.com is a free platform for you as a visitor and is instead financed through collaborative links to our partners. You as a visitor are not affected by these links.
Comparison of Stiga's padel rackets

Stiga operates in Sweden by:
Stiga AB
Västra vägen 31
573 41 Tranås
Email: webshop@stigasports.se
Organisation number: 556061-8463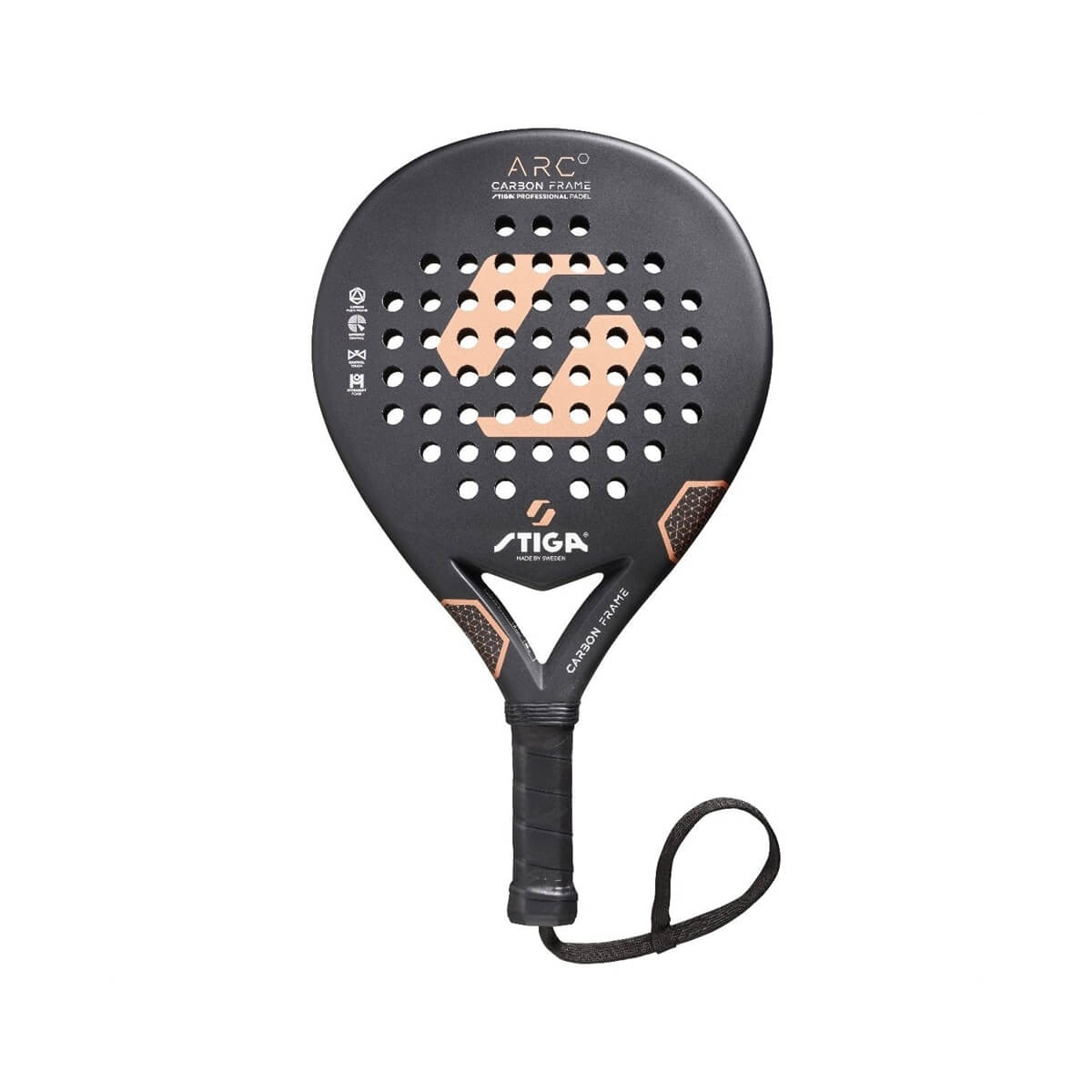 Here Stiga presents a handmade racket with a round shape and low balance, perfect for those who want maximum control but without sacrificing speed and power in their game. The round shape creates a good sweetspot that makes for a forgiving racket even when the ball hits further out towards the frame, which is very much appreciated when you don't yet have much experience on the court and don't always hit the ball on target. 
Another advantage for new players is the low balance. When the center of gravity is closer to the body, the racket is much easier to handle, it feels more comfortable in the hand and it feels smoother in the movements. The better you learn to read the game, the better your positioning will be. 
This is an excellent option for those who want a racket that allows you to deliver your best shots at all times – it's the secret to practicing good technique as quickly as possible. The Arc has a two-layer fiberglass hitting surface, making it a flexible racket that offers confident control in every shot. The frame is made of carbon fiber, to maximize stability and durability. The soft core places good speed on the balls when you're not hitting very hard yourself, and makes it easy to play.
This is a very affordable racket, weighing in at 365 grams, with a sleek, Scandinavian design.
Racket shape: Round
Recommended player performance level: Beginner – Intermediate
Suitable for game type: Allround – Control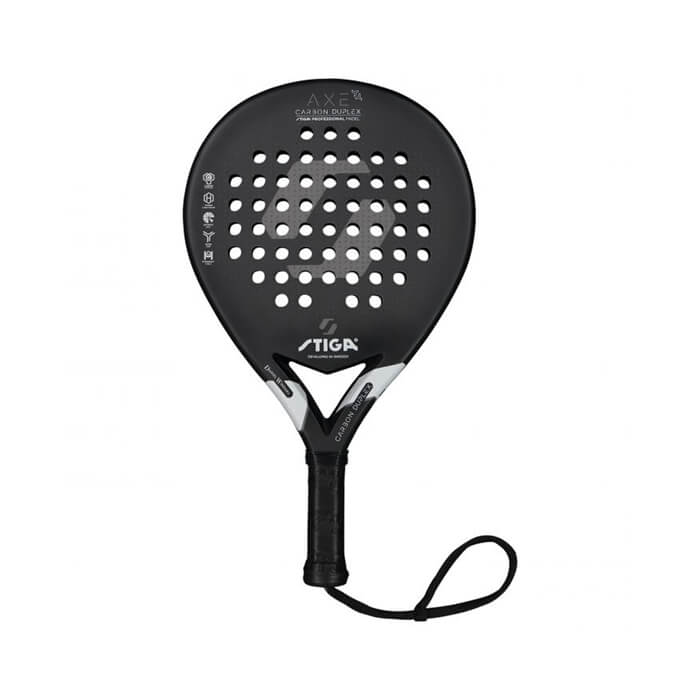 This racket has been developed together with the Swedish champion Daniel Windahl. The Axe is a round model with a low balance and a weight of 365 grams, made for the demanding player who wants the best results in offense, but without sacrificing control and precision in the more technically challenging strokes. 
The frame is made from a blend of carbon fiber and Kevlar – Hybrid Flexi Frame – making it extremely stable and durable. The Carbon Duplex hitting surface is a blend of carbon fiber and fiberglass for the best of both worlds. Carbon fiber provides power in your strokes and great speed on your overhead shots and smashes, while flexible fiberglass provides maximum control.
The Axe is also topped with the sandpaper-like Ultra Grip surface layer for the best grip and power on sliced balls. Optispot Max is the technology used to enhance the sweetspot, providing near-total ball control even when you're in a pressured position.
This racket is suitable for skilled players and also for recreational players who want a complete and balanced racket to take their game to the next level.
Racket shape: Round
Recommended player performance level: Intermediate-Advanced
Suitable for game type: All-round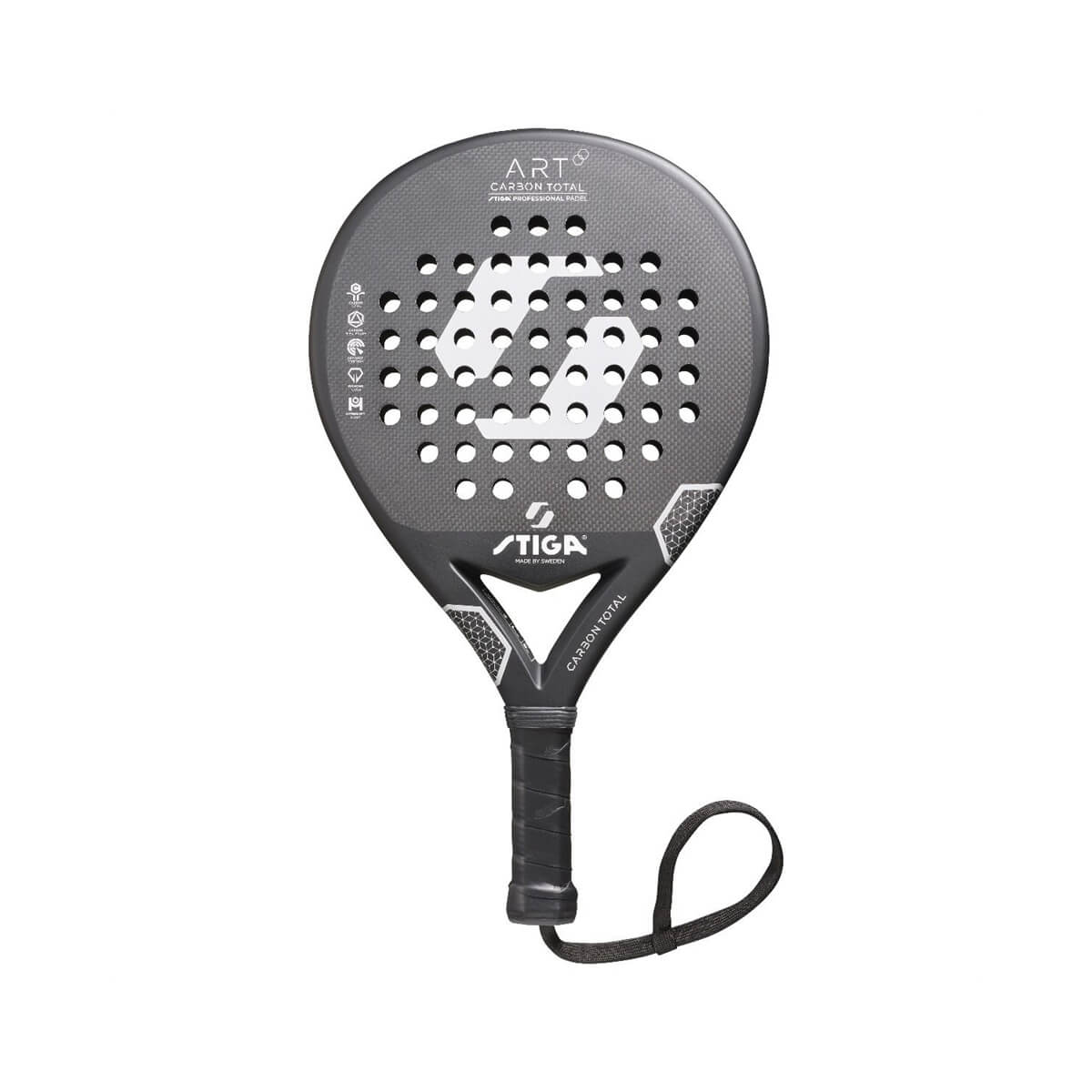 Art is a very versatile racket that provides a very good combo of speed and control whether you are further back in the court or in front of the net. It is designed for skilled recreational players and players at a more advanced level who like to vary their game between offensive attacks and skillful placements. 
The frame is made of carbon fiber, Carbon Flexi Frame, which provides a stable and durable racket you will enjoy for a long time. The racket's hitting surface is also made of carbon fiber 3k, which means that 3000 carbon fiber threads per cm² have been woven together. A dense carbon fiber hitting surface gives extra speed to the balls, and together with the soft core, it gives a very nice ball feel. Diamond Touch is what Stiga refers to as the technology where all the pieces fall into place; speed, control, and feel.
Art is a racket with a low balance and a weight of approximately 365 grams, which suits a wide target group thanks to its large sweetspot optimized with Optispot Perform.
Racket shape: Round
Recommended player performance level: intermediate-advanced
Suitable for game type: All-round
Ace is Stiga's flagship racket in this year's racket collection. Like the other models, it is a round racket with a low balance to be as easy to handle as possible and provide maximum control in all positions. This is designed for the skilled player who focuses on an offensive style of play but doesn't want to miss out on any defensive or precision performances. It is the personal racket choice of top Swedish player Emmie Ekdahl for competitions.
Ace comes packed with the latest technology. The entire frame is constructed of carbon fiber Carbon Flexi Frame, ensuring stability and maximum durability. The core is made of the soft Black EVA foam that the entire series boasts, so you never have to compromise on control and comfort in the ball strike.
What's special about this model is the OCS System, which are tiny air bubbles found inside the core foam, which is what gives the unique experience in hitting. This core is also extremely durable, ensuring that your racket will deliver the same high performance even when used frequently. 
The hitting surface is a true masterpiece of Carbon Xtreme 24k – an extremely dense carbon fiber fabric with no less than 24,000 carbon fiber threads per cm² – the effect of which is that the racket reacts faster on ball impact and gives the ball a higher exit velocity.
Ace counts on Diamond Touch technology in the hitting surface which, according to Stiga, means that speed, control, and feel are present at 100%, providing a very stable racket with optimal speed and power in every stroke.
Racket shape: Round
Recommended player performance level: Intermediate – Advanced
Suitable for game type: Offense
Comparison of Stiga's padel bags
| | |
| --- | --- |
| Stiga's padel bags | Volyme |
| Stiga One padel bag | 75 liter |
| Stiga Edge training bag gray | 75 liter |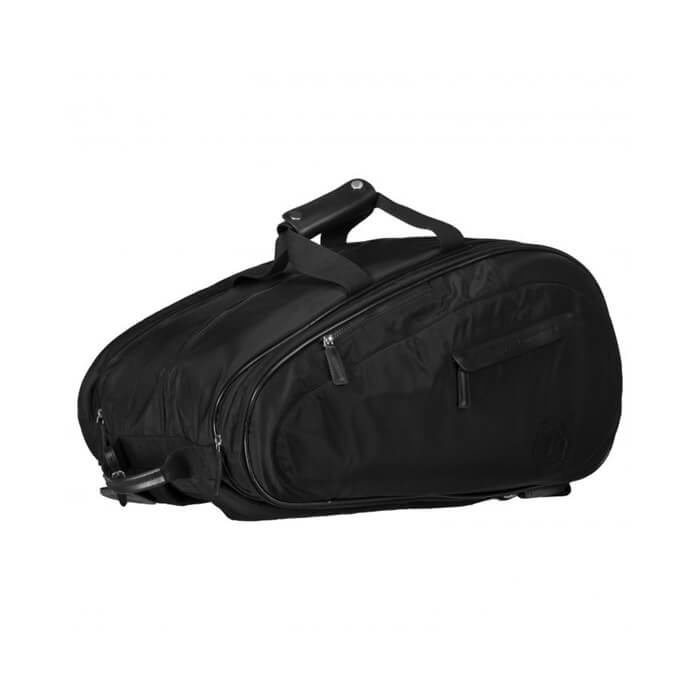 An exclusive and stylish padel bag that easily holds everything you need – rackets, clothes, and balls. The bag has no less than 7 separate compartments, which also includes a ventilated shoe compartment. The choice of material has fallen on water-repellent nylon combined with leather details. The shoulder straps can be easily adjusted if you prefer to carry it as a backpack, and the dimensions of the bag are 56x28x36.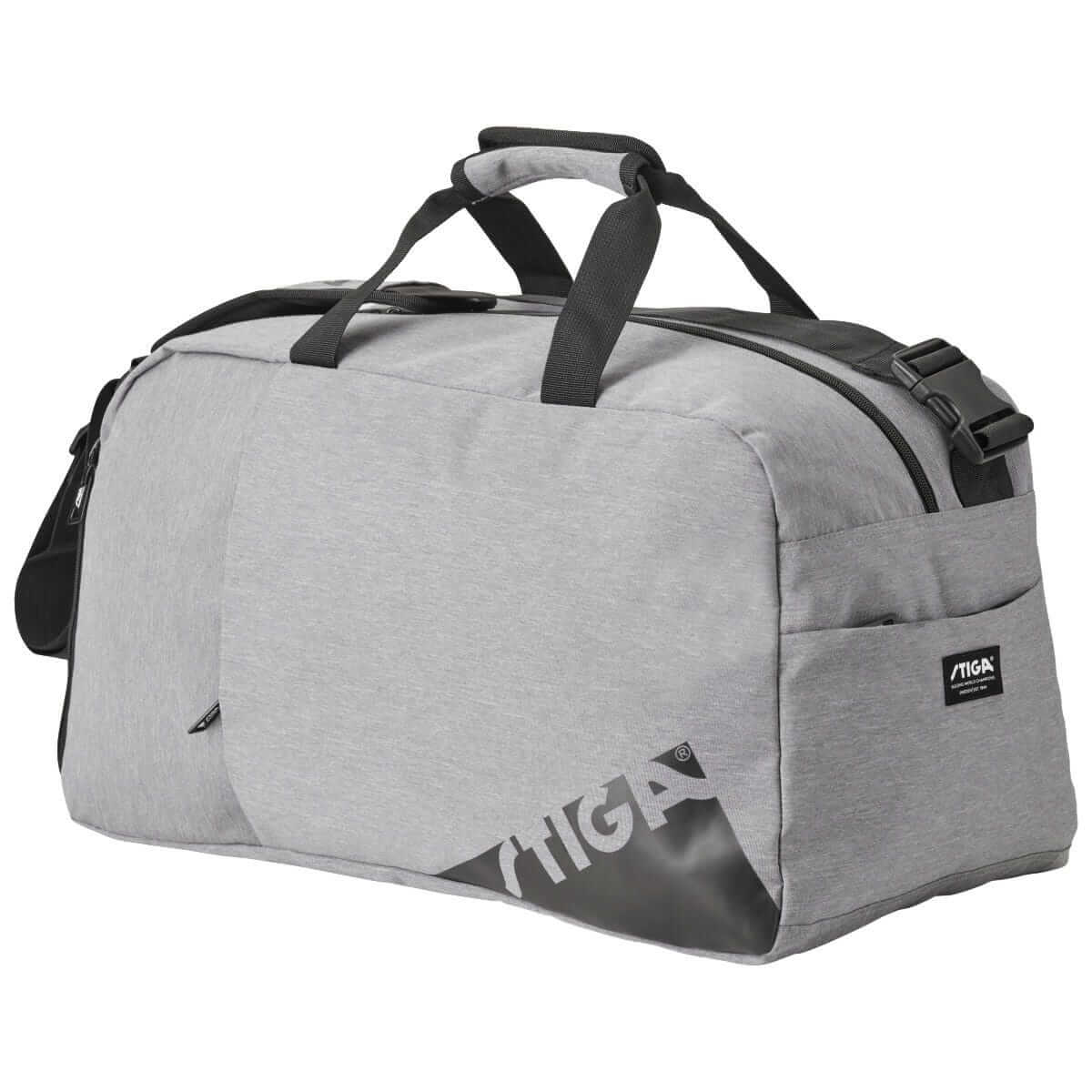 Stiga Edge training bag grey
The perfect bag to easily take your workout gear with you wherever you go. It is made of water-resistant Oxford nylon and has many practical compartments. The total volume is 48L, measuring 54x29x31. The shoulder strap is padded, adjustable, and removable for maximum comfort. The bag also comes with a carry handle.
Measure: 54x29x31
Volume: 48L
HISTORY BEHIND THE COMPANY
Introduction about Stiga Padel
Stiga Sport is a brand that since 1944 has been producing high-quality table tennis products for all levels of players. After following the explosive growth and popularity of paddle tennis in Sweden, they thought the time was right to take their extremely long experience in racket sports to the next level and start their own development of products, thus contributing to the improvement of padel tennis.
As with Stiga's table tennis rackets, all their padel rackets are handmade for the best possible results. Their racket collection currently consists of four different models – Ace, Arc, Art, and Axe. All of them have a core made of a black EVA foam, called Hypersoft Foam, and then each model has an individual technology that gives them different characteristics and thus suits different types of players.
The history behind Stiga Padel
Every Swede is familiar with the company Stiga Sports, one of the world's biggest brands when it comes to table tennis. Since 1944, they have been producing high-quality table tennis equipment and other sports goods that are now sold in over 100 countries around the world. Stiga Padel is a new division within the company that released its first collection of padel rackets in 2019, and they have all been developed in collaboration with the former national captain of the Swedish padel team Dani Dios Zetterlind. 
Stiga Padel presents an ambitious and very affordable collection that has really managed to combine all the valuable features needed in really good padel rackets, with high quality as the constant benchmark they have accustomed us to over the decades. All rackets are handmade, in order to guarantee a unique experience for every user.
The entire Stiga racket series is based on the best material choices and the latest technology and has then been combined with a very stylish, minimalist design that is a characteristic of Scandinavian brands. 
If you're interested in other padel rackets you can visit our article where we go through all of the best padel rackets.
Stiga Padel has two big names as its main promotional ambassadors, they are Daniel Windahl and Emmie Ekdahl.
Daniel Windahl, like many other padel players, has a background in tennis, with no less than 14 Swedish Championship golds under his belt. Circumstances, however, led him to abandon a promising tennis career to focus on padel instead, which was confirmed to have been an excellent choice when he became the best in Sweden in 2018 at the age of 22. 
He is a physically strong player who on the court is characterized by an explosive attacking game, and is predicted to have a very good WPT ranking in the near future.