Below we have listed the best padel shoes for men. We have selected three padel shoes in three different price levels. If you're heavier, it's especially important to choose the best padel shoes for you, given that you need stability and cushioning when playing padel on the hard surface.
Disclaimer
All opinions given by Elitepadel and our writers are subjective and you may not agree. Elitepadel.com is a free platform for you as a visitor and is instead financed through collaborative links to our partners. You as a visitor are not affected by these links.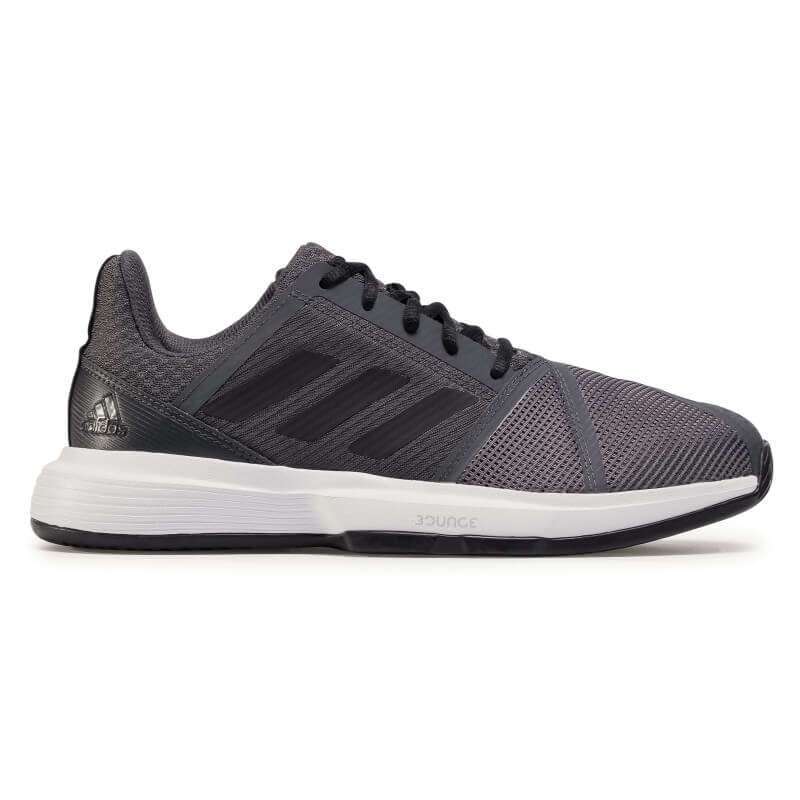 Adidas Courtjam Bounce Men Clay/Grey
Although the Adidas Courtjam Bounce belongs to the cheaper price range when looking for a good pair of padel shoes, these are still comfortable and easy to wear. The sole that is underneath the shoe has the aforementioned herringbone pattern which means that the shoes are both powerful and durable.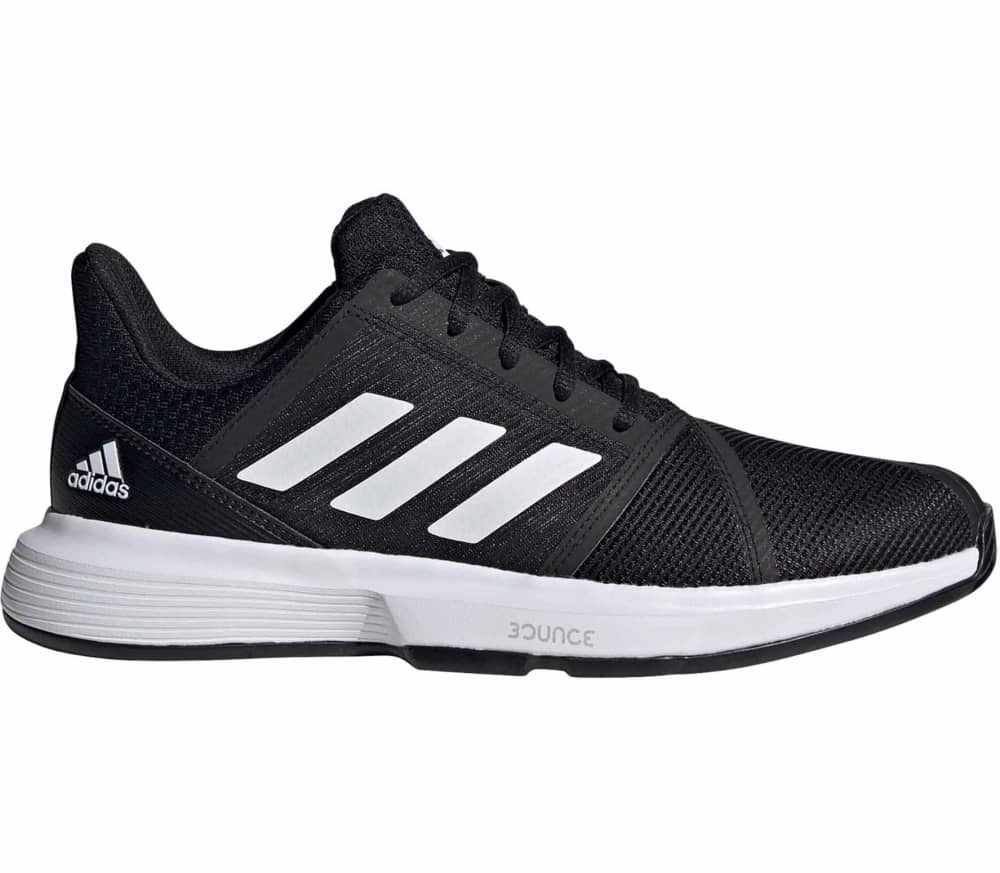 The Adidas Courtjam Bounce M is very similar to the cheaper model with almost the same name on the left. However, this model is slightly sturdier and gives you slightly more quality. Price-wise, there is not much difference between the shoes.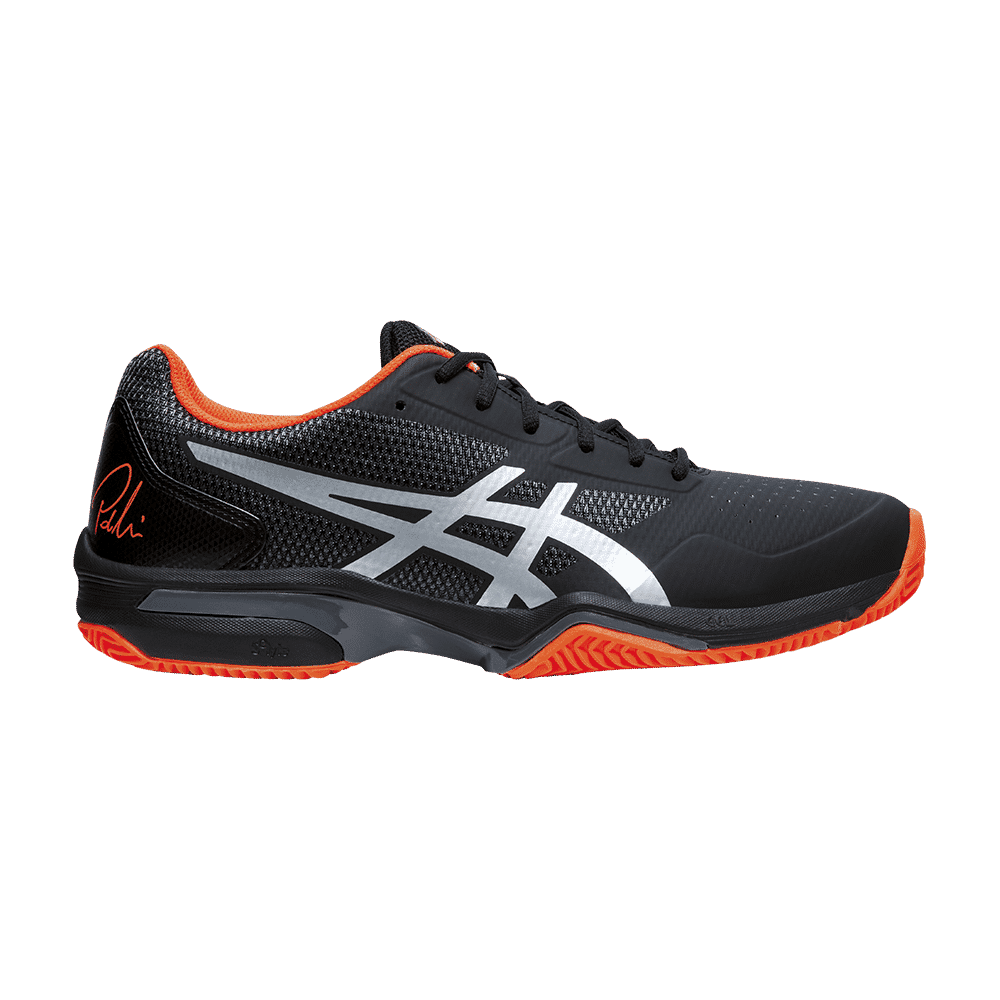 The Asics Gel Lima Padel 2 is described as a padel shoe that can provide you with stability, comfort, and steady balance. In the heels of the shoe, you will find an extra cushioning that is described to be more than you should possibly expect, the cushioning is made of a gel, and you will also find this gel in the front of the shoe. 
Since padel is a sport that involves high tempo and a lot of back and forth movements, the shoe is equipped with a reinforcement right at the toes to thus reduce wear and tear, for example during a serve. This padel shoe is perfect for playing padel on artificial grass or gravel courts.
Best padel shoes for women
Below we have listed the best padel shoes for women. The padel shoes are sorted by price level.
Although the Adidas Courtjam Bounce belongs to the cheaper price range when looking for a good pair of padel shoes, these are still comfortable and easy to wear. The sole that is underneath the shoe has the aforementioned herringbone pattern which means that the shoes are both powerful and durable.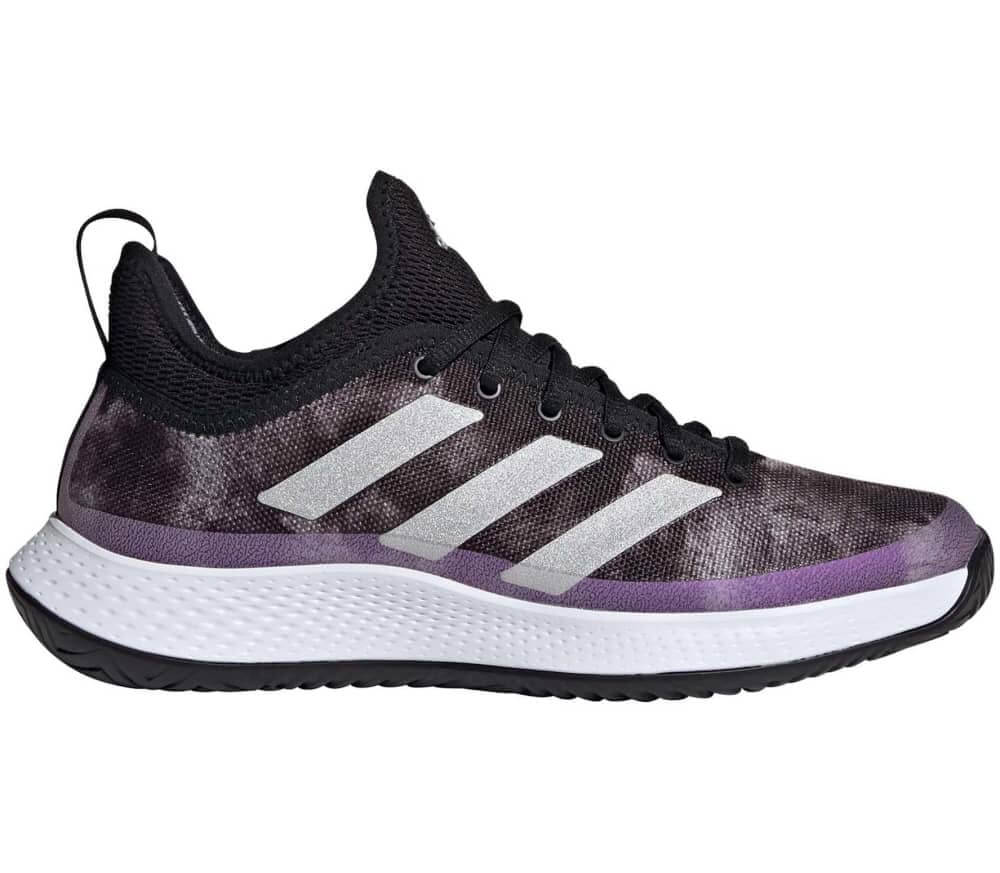 Adidas Defiant Generation W
Lightweight, flexible and durable – who said a shoe can't have it all? The upper is made of a multi-layered textile mesh, ensuring a perfect fit and breathability. Your feet will maintain an optimal temperature hour after hour on the court, with this lightweight model easily following you around every corner of the court.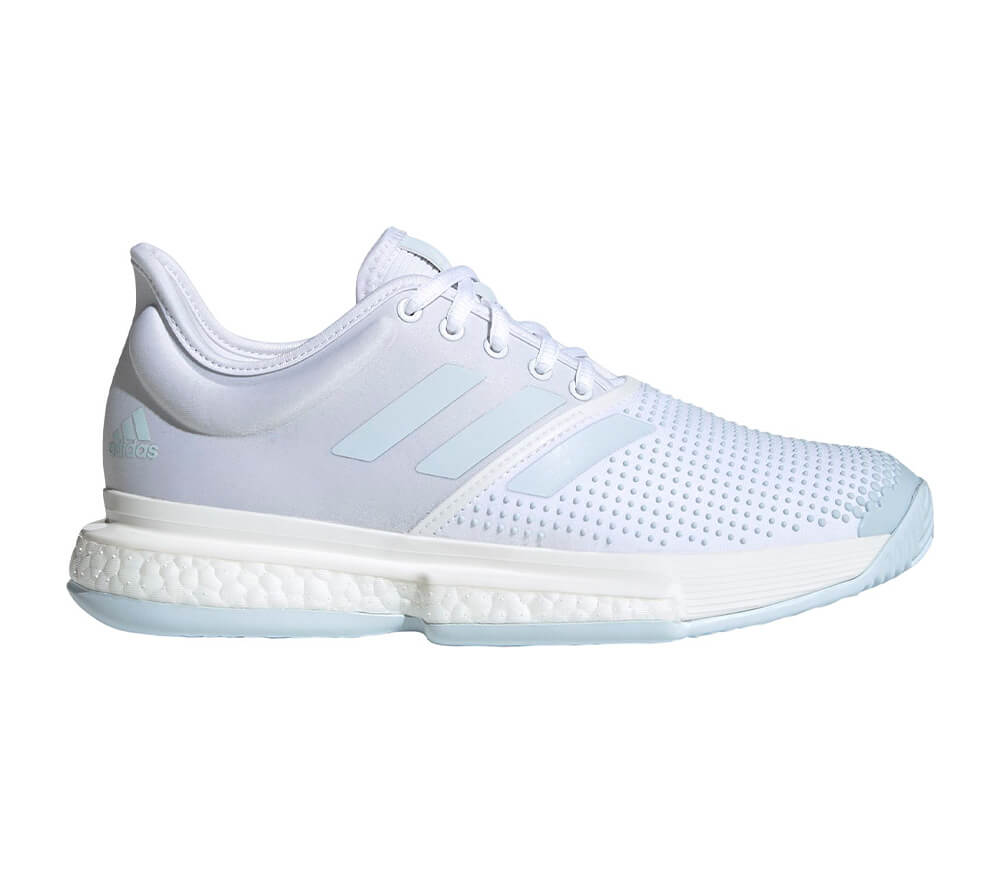 Adidas Solecourt Woman is the premium shoe we choose to highlight here at Elitepadel. We think the shoe is worth the money as you get extra quality compared to the shoes offered at a slightly lower price. Feel free to compare the prices of the shoes through our Pricerunner feature which will take you to the online store with the lowest price right now.
Above we have selected the best padel shoes according to us at Elitepadel. There is a huge variety of shoes available today and we have highlighted the ones we think make the best padel shoes right now. Above you can see the best shoes for three different price ranges; premium, medium and budget.
Innehållet på denna sidan
Before the sport of padel emerged in Sweden, there were really only a few padel shoes, while today we have a whole host of different brands that can also be custom-made to fit your foot. 
Padel shoes are available in a cheaper price range for beginners to experienced players where the padel shoe can be adapted for all kinds of feet. 
In this article, we list the best padel shoes based on three price ranges; premium, medium and budget.
This is how padel shoes are built
A padel shoe is constructed in such a way that it has a sole that is covered by different patterns depending on the choice of shoe. The shoe itself along with the sole pattern contributes to a number of different functions, important to remember is that you should be sure to test the shoe if you buy it in a physical store where you can also get help and advice from the store staff. 
If you start looking at a padel shoe that has small patterns, these are also the ones that provide better support overall and this is regardless of the surface that you are playing on for example indoors or outdoors. 
Then there are padel shoes that have a sole with small dots which is currently one of the leaders on the market, however this works best on artificial grass. 
Finally, there is another sole that is now also popular and that is the sole that incorporates a herringbone pattern, some may be familiar with these as they are generally often used for tennis but work just as well in this sport.
Different players prefer different characteristics
Today, there are a huge number of padel shoe models and brands on the market, some of which have focused on stability in order to be more agile on the court and vice versa. 
As mentioned above, the grip can vary a bit depending on the brand and model you choose. 
An important aspect to keep in mind is that not all players prefer the same type of grip. Some players want to slide more on the court whether they are a beginner or an experienced padel player, while others instead want the grip to come off the court right away.
Just like different types of padel players like different types of rackets. Read our big test of best padel rackets. 
Padel racket
Buy a padel racket that suits you and your style of play. We'll help you!
Padel trips
Find our big list of padel trips if you want to travel and play padel abroad.
Padel rules
Learn to play padel by mastering the rules first.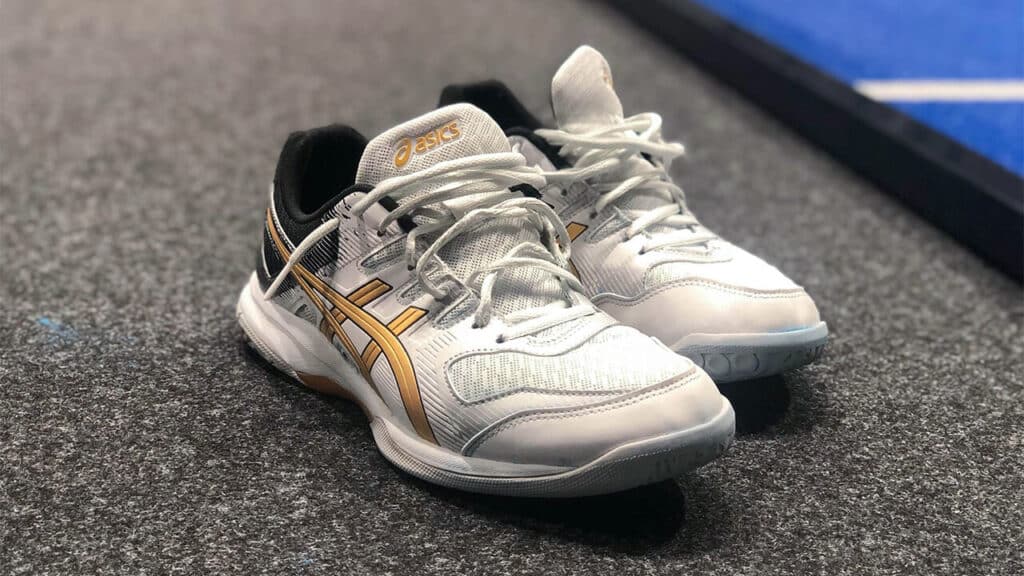 Advantages of padel shoes
Many people might wonder why normal indoor shoes could not work just as well when playing padel? But the answer lies in the fact that the surface of padel courts tends to be quite slippery, especially if you are playing outdoors. This means that it is very important to get a pair of shoes that include a good grip to avoid injuries. Because just as mentioned above, it is also required that the sole should be gentle to protect your ankles as padel, for example, is a very mobile sport.
Having a shoe with a good grip is not the only thing that is asked for and considered as an advantage around padel shoes, but another advantage is that the padel shoe is a stable shoe that sits comfortably on your feet making it easier to perform the sport correctly as well as allowing you to perform hard hits. As for hitting and being able to hit harder, the basis is that the force behind the racket is greater when you know you are stable in your feet.
The difference between padel shoes and tennis shoes
So far, quite a lot has been said about the grip of a padel shoe, in parallel with its stability. Looking at the difference between padel shoes and tennis shoes, this is also talked about here, when making a comparison between these two shoes. 
A tennis shoe versus a padel shoe means that the surface of the shoe is quite significantly different from each other. If you do a general drawing of the padel shoes that are available today, the padel shoe is actually not as reinforced around the shoe as a tennis shoe is. The reason for this is that in padel you play more up and down, as well as forward and backward, whereas in tennis you talk about the familiar baseline. 
Another difference between the shoes is the weight and the agility, where the padel shoes today are both lighter and more agile. So even though you think the shoes are very similar when you see them in front of you, there is actually quite a big difference even if it is not visible to the eye.
Another difference between these two shoes is that the padel shoe is more elevated at the heel versus a tennis shoe. The reason for the elevation on the padel shoe is to make it easier for you as a player to start a game or if you need to make a hasty stop to grab the ball while running. 
It is important to point out that if you are a beginner, it is currently recommended that you focus more on a stable shoe that is less raised at the beginning, but of course, the fit is what should govern which padel shoe you choose to buy regardless of how raised it is at the heel.
Can you buy padel shoes online?
As with almost everything else these days you can buy padel shoes online, below are some options that have a wide range of padel shoes so that you can hopefully find a pair that you like and is a good option for your particular feet.
What makes Rocketpadel stand out is that it actually only offers padel products that are considered to be the best on the market, but that are also quality assured and tested by the Swedish elite in padel. Since padel was a sport that just exploded in Sweden, Rocket Padel also has an alternative solution in the form of a shop in selected padel halls around Sweden, in order to be able to provide extra help when customers have questions about various padel products. In these shops, you also have the opportunity to test, for example, padel shoes and at the same time get expert help from staff who work exclusively with the sport of padel.
Their ambition is to create a website in the form of e-commerce where they have selected reliable products that will help each individual padel player to take the game to the next level. One thing that makes Nordic Padel special is that they currently have some partnerships with the country's top padel players and coaches to be able to bring in the hottest and most exclusive on the market and provide spot-on descriptions for all their products. 
The descriptions of their products mean that you as a customer gain greater knowledge about the specific product you are looking for and a form of security about what you actually buy. As a customer, you should not have any questions about the products on the website, but the product descriptions should be clear in themselves.
At Padelspecialisten you get a carefully selected range from the leading brands worldwide along with very competitive prices. On their website, you can find a lot of information about different padel accessories, from beginners to experienced players. 
So if you don't have the opportunity to go to an existing store, this could be a useful tip to get more meat on your bones when you are buying new padel shoes, for example. Padelspecialisten is currently described as one of the fastest-growing companies in padel accessories, where their ambition is to make it easy to shop and spend your time playing padel instead.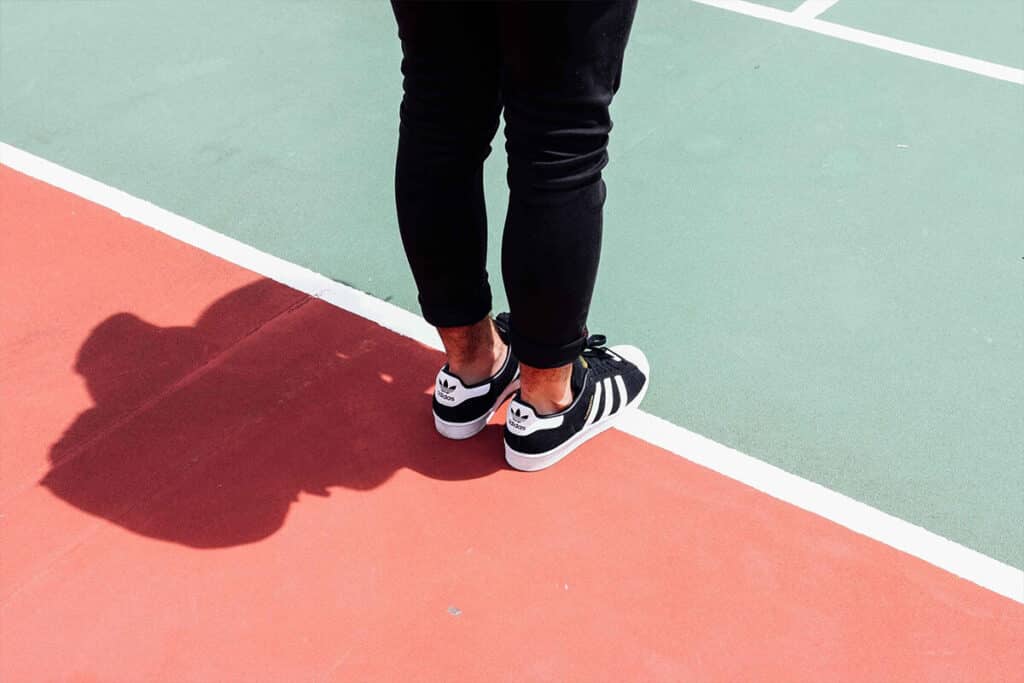 Frequently asked questions
The court on which padel is played is very similar to a squash or tennis court. All these courts have playable walls and a net, and a padel court is usually rectangular in shape. 
The game is played on surfaces such as porous concrete, cement or artificial grass. The net on the court should be 10 metres wide and in the middle of the court the net should be 0.88 metres high. Each end must be 0.92 metres high and the top of the net must have a white strip of 5 centimetres as a post. 
At each pillar outside the playing field, the metal rope shall be attached and it is this rope on which the net is strung. Here you can find all the padel courts in Sweden.
How much do good padel shoes cost?
In order to feel that you have invested in a good pair of padel shoes, you should be prepared to spend about 100 EUR on the shoes. Of course, this can vary, in the case of sales or discounts. But the advice is to spend a little extra on the shoes right away, instead of buying something cheaper or having to buy new ones due to wear and tear or damage caused by the shoes not being stable enough.
How should padel shoes fit?
Generally speaking, a padel shoe should fit no differently to a regular training shoe. What you need to think about in order for them to fit optimally on your foot is that the shoes should sit "firmly" on your feet, i.e. you should not feel your foot moving in the shoe when you move. At the same time, it's just as important that they don't sit too tightly on your foot and hurt, which can mean that you start to feel numbness in your foot.
When should you get a pair of padel shoes?
To get the most out of your game when you start playing padel, a good starting point is to get a good pair of padel shoes from the beginning. Of course, you should bear in mind that you may want to try out the sport a few times before you decide to buy the various padel accessories that you may need for padel. 
A beginner does not play the same way as an experienced padel player, which means that the same kind of shoes are not required at the beginning as when you start to get into the game. It has been found that it is common to buy a padel racket first when you decide to start playing padel and then to buy a pair of proper padel shoes after. 
So there is really no concrete answer on when you should get yourself a pair of good padel shoes. There are many aspects that can play a role, for example, the economy or that you want to try playing padel a few times before.
Good things to consider when choosing the best padel shoes
There can be a lot of different aspects to consider when choosing shoes depending on, for example, mobility, weight, previous injuries. Below are some answers to questions that are usually recurring. Make sure you choose the right padel shoes to reduce various types of padel injuries.
If you weigh a lot, it is important to focus on shoes with good cushioning in the soles
It is never wrong to think about your personal aspects when choosing shoes. Admittedly, many padel shoes already have very good cushioning in general. But it is clear that some brands can have better padel accessories and attributes than others. 
An example of this is Adidas and Babolat, who place more focus on cushioning. Even Nike has put extra focus on providing good cushioning in their padel shoes. Of course, it is a matter of personality as to what you consider to be good cushioning, but these three brands are recommended.
Problems with sprained feet?
Choose shoes with a higher lacing and better stability. Having a shoe with higher lacing also means that the shoe will give you better stability. Since our feet look completely different from person to person, this is very individual about how high the lacing should be on the shoe. However, a higher lacing also means that your feet don't move as much as a normal padel shoe and are therefore embraced with better stability.
Do you run a lot on your heels?
Choose shoes with extra cushioning and an enclosed and supported heel. The recommendations here revolve around having as much cushioning as possible at the heels but to the extent that it still feels comfortable for your feet. One model here that is recommended is a model from Adidas called Courtjam Bounce.
Brands selling padel shoes
There are a lot of brands that want to get into padel and everything that goes with it, and there are many that are doing very well. There are well-known companies that have previously focused on tennis but are now also moving into padel. Then there are other brands that are completely new and were created with the aim of becoming the leading player in the market. Below is a mix of different brands selling padel shoes.
Adidas is a brand that has been a leading brand in sports equipment and other accessories for a long time. They have now also taken on the role of also focusing on padel in addition to the other sports. Adidas has today a very high-class padel range, as well as it suits both beginners and experienced players. In other words, this is a brand to recommend as you know you can trust Adidas.
Adidas har idag en väldigt hög klass på padelsortimentet, likväl som det passa både nybörjare och erfarna spelade. Med andra ord är detta ett varumärke att rekommendera då man vet att man kan lita på Adidas.
Babolat is today one of the world's largest and leading brands in padel. Here they put a great focus on being able to offer you as a customer everything that can be needed in the sport of padel. Considering that some world stars today use Babolat, you can count on the products to be both high quality and well-liked.
Bullpadel is a brand that comes from Spain and has been on the market for over 25 years. Given their lengthy experience, Bullpadel has most of what you could possibly need today. Among other things, they have divided up their range so it should be easy to find what you are looking for, for example, junior or adult padel equipment as well as all the levels in between.
Head is one of the biggest brands worldwide when it comes to different tennis brands. Now Head has also established itself in the sport of padel and has grown at an incredibly fast pace. Today, Head also manufactures its own padel rackets and padel balls, which are said to be one of the best on the market. 
Something that makes Head unique is that it is constantly investing in padel in order to maintain its status just as it has done with tennis where it is one of the best players in today's market.
Just like the brand above, Prince is a well-known brand when it comes to tennis and they have now also decided to expand their range in padel and put a lot of time to grow in the same way as they have done with their brand in tennis. In other words, Prince is a brand to be reckoned with when looking for padel accessories and is also a brand many elite players recommend.
Wilson is one of the world's best-known and growing tennis brands, and certainly one we have come across before. They too have chosen to focus on padel and have so far managed to become one of the brands that can be considered a leader in padel. Wilson offers today a huge range of high-quality products in padel and has everything you can think you need when playing padel.