Our verdict and review of the Babolat Revenge Carbon can be summed up in the fact that it is a very well-developed racket with a lot of speed and control. It is a racket that is very suitable for those who play at an intermediate – advanced level. 
The drop shape gives you a slightly smaller sweetspot compared to a round racket, so it's good if you've played a few times and have your eye on your ball hits.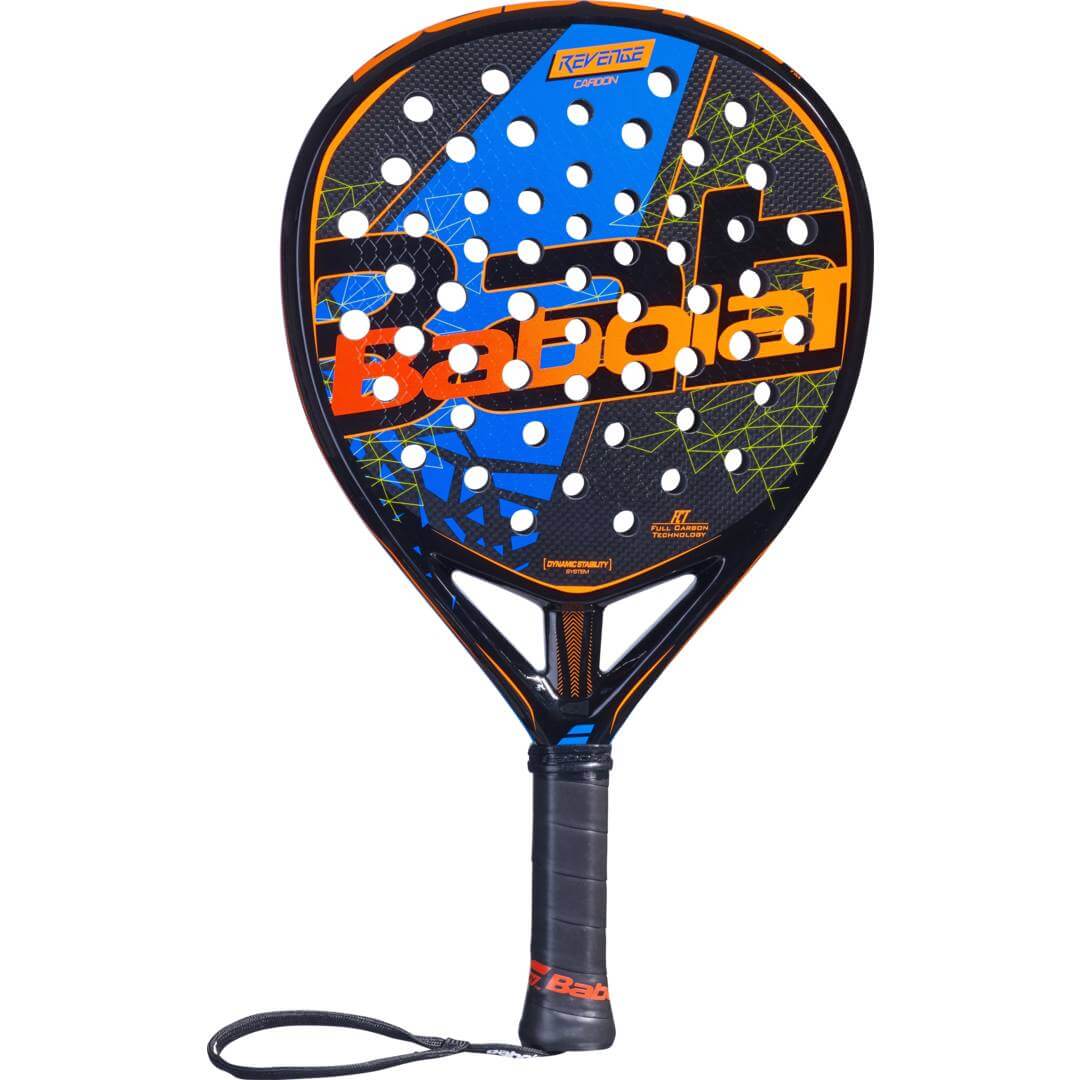 Babolat Revenge Carbon characteristics
The first impression is of a stable, drop-shaped racket with a stylish and vibrant color scheme.
We think Babolat has done a great job of producing a racket for the all-round player that works really well in all aspects of the game. It's a balanced racket that provides perfect harmony between speed and control, delivering both up front at the net and from the back of the court. Great pressure in volleys, overhead play, and even in the smash. At the same time, you maintain great control with the bandejas and a fast counter game.
The drilled holes are centered around a relatively large sweetspot, and larger and smaller holes have been combined in a specific pattern to maximize speed and control. The Revenge Carbon sits between the speed-focused Viper Carbon and the more control-focused Defiance Carbon, and we believe it provides the same high quality feel as the other rackets in this Babolat series. Many believe this will be one of the season's favorites due to the balance and harmony it provides.
Specifications
Information about the racket
Shape: Hybrid/Drop format

Game type: Balanced offensive/defensive

Player Performance Level: Intermediate-Advanced
Revenge Carbon is a racket made with FCT-Technology, in other words, the entire frame and hitting surface is made entirely of carbon fiber. We think this is the biggest improvement with this model, as it provides the explosiveness that all players need up front at the net. 
Babolat has made the core of the new and dynamic material Black EVA which both increases comfort and precision, making this racket the perfect hybrid of power and control.
On top of the hitting surface, a grooved 3D pattern, which Babolat calls 3D Spin, has been added to give you a really good spin on the ball on stop balls and top spin shots.
Dynamic Stability System is the name of the stable construction used for the neck of the racket. Tungsten has been blended into the structure to increase the stability of the racket when hitting the ball while reducing vibration for better comfort and reduced risk of injuries such as tennis elbow.
Like previous Babolat models, this one also uses the revolutionary Hole Pattern System technology. HPS involves carefully analyzing the shape and sweetspot of the racket and adjusting the size and placement of the holes to deliver the most power and follow the ball path.
Revenge Carbon has a centered balance that we've measured up to 265mm and a centrally located sweetspot. Thanks to the central center of gravity, this is a relatively easy-to-maneuver racket that performs well across the court.
When choosing a racket, the first thing to consider is the shape, as no one shape is optimal for every player. It all depends on your playing style and level.
A drop-shaped racket is an obvious choice for those looking for the perfect blend of speed and control, most are so-called all-round rackets that certainly don't excel at particular shots but you don't need to feel vulnerable at any stage of the game. This type tends to be appreciated by players who like to alternate between the defensive and the aggressive style.
The most common material at the core of today's padel rackets is EVA foam. This material has been developed to be very resistant to impact while providing perfect elasticity – exactly the characteristics you want from your padel racket. EVA comes in many different densities, so it's suitable for just about any type of racket. Revenge carbon has a core of Black EVA and is rated as medium-hard, so it provides a good mix of power and speed.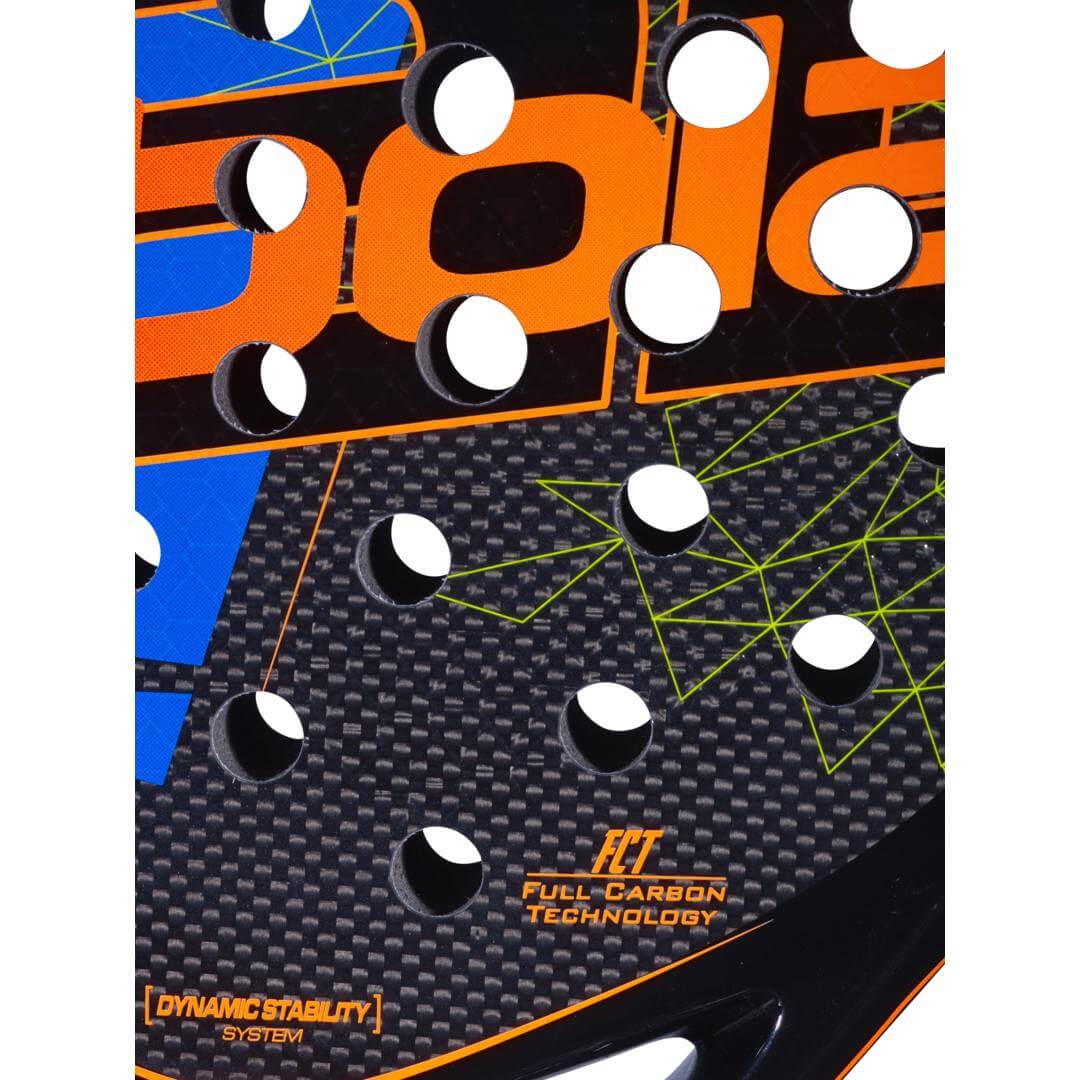 What level of player is the Babolat Revenge Carbon suitable for?
We recommend it for intermediate to advanced level players. It is very affordable for an intermediate-level player as it is a very complete racket that will be able to stay with them for a long time thanks to the resilience and durability that a carbon fiber racket provides. Even as your game improves, and your technique develops, you will still feel that your racket is right for you. 
More experienced players who opt for the Babolat Revenge Carbon will get a high level racket suitable for competitive matches. This is a versatile racket that adapts to the situation, regardless of the player's preferred playing style.
Is the racket best suited for attacking or defensive play?
The Revenge Carbon works really well defensively, providing a nice feel to the ball while easily generating speed in the strokes even in pressured situations. It has a large sweetspot, so even if you get a hit further out towards the frame, it's a forgiving racket that provides a good margin of error.
In offense, the racket generates good power in volleys and overhead play, it also performs above expectations in smash situations where the textured hitting surface provides a good effect on the ball. It's a racket that suits those with a mixed playing style, alternating between both offensive and defensive play.
Brief information about the Babolat brand
Babolat is the world's oldest brand focused on racket sports, it was founded back in 1875 in the French city of Lyon by Pierre Babolat. The company has an enormous range of products with quality and security as its benchmark and is a firm favorite among many racket sports players. Today they offer all kinds of sports equipment in addition to rackets, such as clothing, shoes, balls and other accessories.
Their original business idea almost 150 years ago was to produce strings of natural sinew for the newly invented sport of tennis, and then also for badminton. They quickly became a world leader in the market, and most of the top players in racket sports still use their strings today. It's been about 20 years since Babolat started making padel rackets, at the same time as the sport started to become really popular around the world. Today, they work very closely with coaches, players, and clubs to help the sport develop and improve.
Babolat is an official sponsor of the World Padel Tour (WPT), and Spanish world champion Juan "El Lobo" Lebrón has been using the brand since 2016. Spanish world star Rafael Nadal is one of the brand's most famous users in tennis.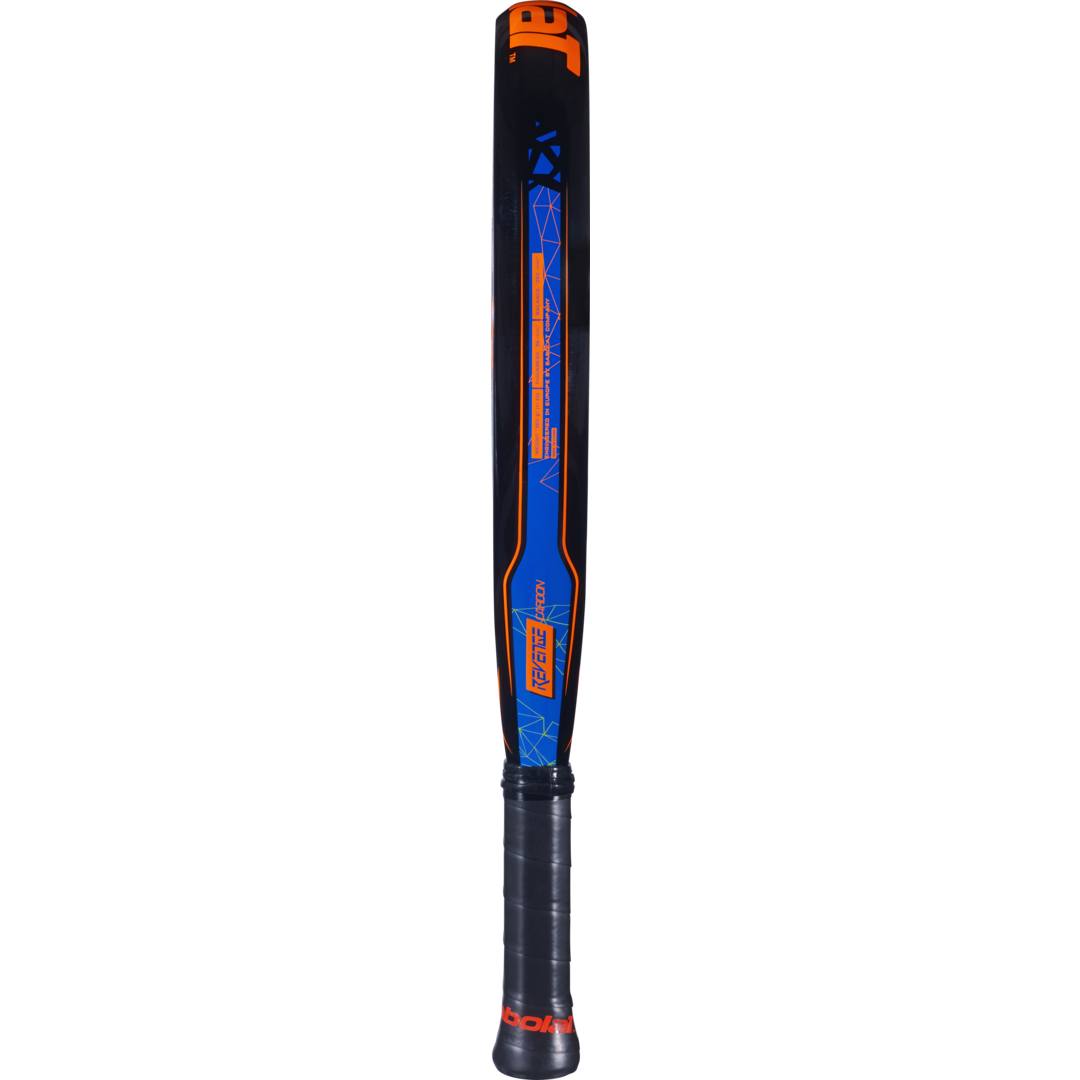 Advantages of the Babolat Revenge Carbon
This will almost certainly become a favorite of a very wide group of padel players because it suits so many types of players and can easily be adapted depending on what style of play is chosen. What Babolat has achieved is an optimal balance between power and control, a racket that provides a versatile and varied game that is useful in any match situation.
With Revenge Carbon, you don't have to forgo one part of your game to promote another – whatever happens out on the court, you'll be ready to give it your best shot. It's hard enough to provide good power and explosiveness in the strokes and precision in the crucial balls. At the same time, it's soft enough to provide a nice ball feel and to be able to harness your opponent's power in quick volley duels.
Even if the hit isn't quite clean, it's quite forgiving thanks to its large sweetspot and central center of gravity. If you've been looking for a balanced racket that performs well all over the court, you should definitely take a closer look at the Revenge Carbon.
Pros / Cons
Summary of our review
Great for all styles of play

Large sweet spot and a central centre of gravity

A versatile racket but one that won't shine that little bit extra in any aspect of the game
A versatile racket like this isn't going to shine in any aspect of the game, it's made to be good at everything but not brilliant at anything in particular. If your style of play is decidedly offensive or defensive, there are other options you'll prefer. Furthermore, it has the same design and color scheme as its 2019 predecessor.
Babolat Revenge Carbon reviews and ratings
Below we have collected reviews for the Babolat Revenge Carbon online. 
5 out of 5 through a product review on Tengo.se
Our review of the Babolat Revenge Carbon
Our overall rating and review of the Babolat Revenge Carbon is a very good all-round racket that suits all styles of play. Babolat has really managed to create a racket that has a balance between power and control. The Babolat Revenge Carbon is hard enough to get pressure and provide good power in the strokes but at the same time soft enough to provide a nice ball feel.
We believe that the Babolat Revenge Carbon is an affordable racket for players who are at an amateur or intermediate level. We also believe that it is a very complete racket that you will be able to play with for a long time thanks to the durability of the material.
Disclaimer
All opinions given by Elitepadel and our writers are subjective and you may not agree with them. Elitepadel.se is a free platform for you as a visitor and is instead funded through collaborative links to our partners. You as a visitor are not affected by these links.