Our verdict and review of the Babolat Vertuo Technical can be summed up in the fact that it is a good racket that suits the offensive player. It is a racket that is very suitable for those who play at a beginner level up to the intermediate player. 
The Babolat Vertuo Technical is the offensive oriented racket in the Babolat Vertuo series. Here you get a diamond shaped racket with high balance to get more pressure in the smash.
Watch our video below as we test the Babolat Vertuo Technical on the padel court.
We have tested the racket!
Micke at Elitepadel has tested the racket. In this video, you can see us test play and review the racket.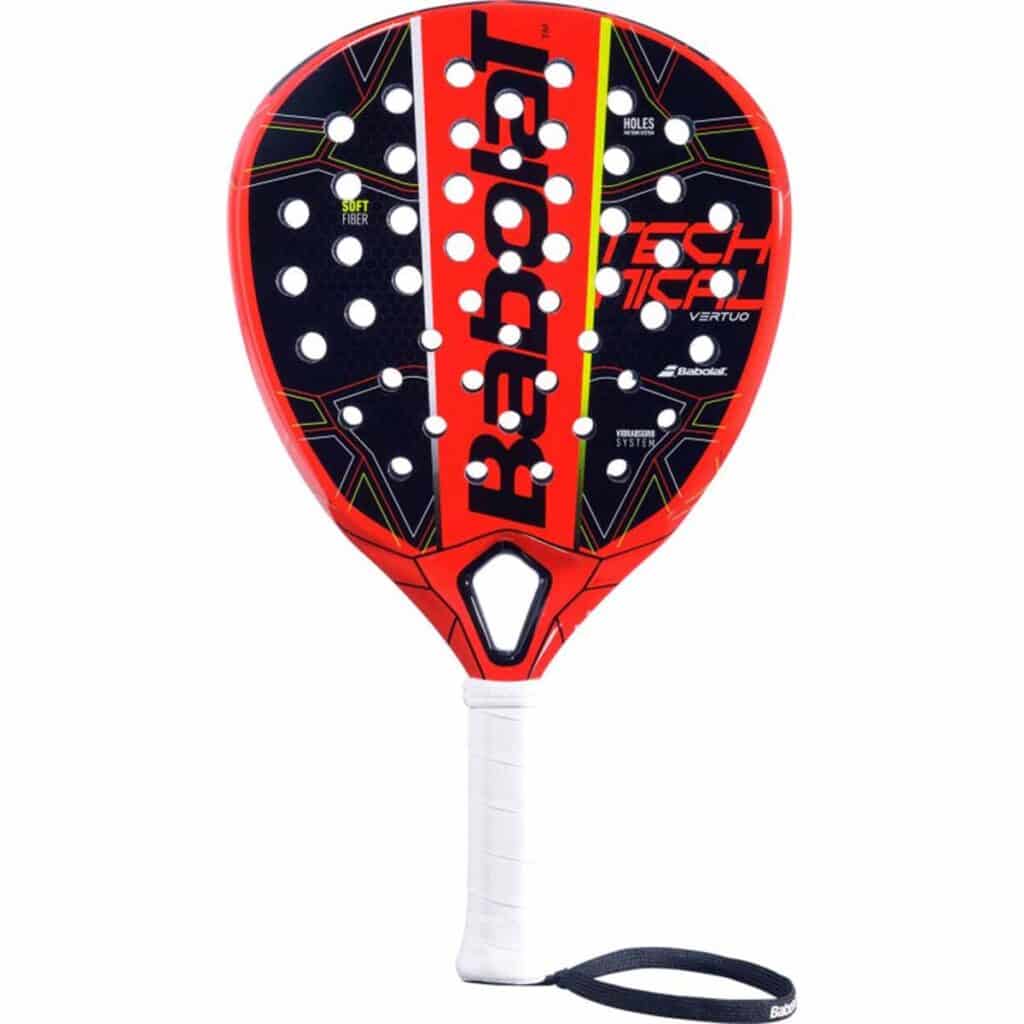 Babolat Vertuo Technical characteristics
Here we have a diamond-shaped racket with a lightweight feel and a soft hitting surface, making it an easy-to-play offensive racket for a fairly broad target group. It's a model that belongs to the French brand's mid-range, but it's an extremely affordable option for anyone who has just started playing padel as well as for recreational players with an attacking streak. 
A top-heavy racket like this is made to provide extra power in the overhead game, which you'll notice right away. It is the most offensive and powerful option in the Vertuo range. Thanks to the soft fiberglass hitting surface, it's unusually forgiving for a racket that focuses on the more aggressive style of play, making it well suited to players who are still developing their technique. Within its price range, it's definitely one of the best performing diamond rackets around.
Babolat is known for always coming up with modern and colorful designs, and the Vertuo Technical is no exception. It's very similar to top player Lebrón's premium Viper Technical racket, but here the center line with the logo is red instead of white.
Specifications
Information about the racket
Player performance level: Beginner - Intermediate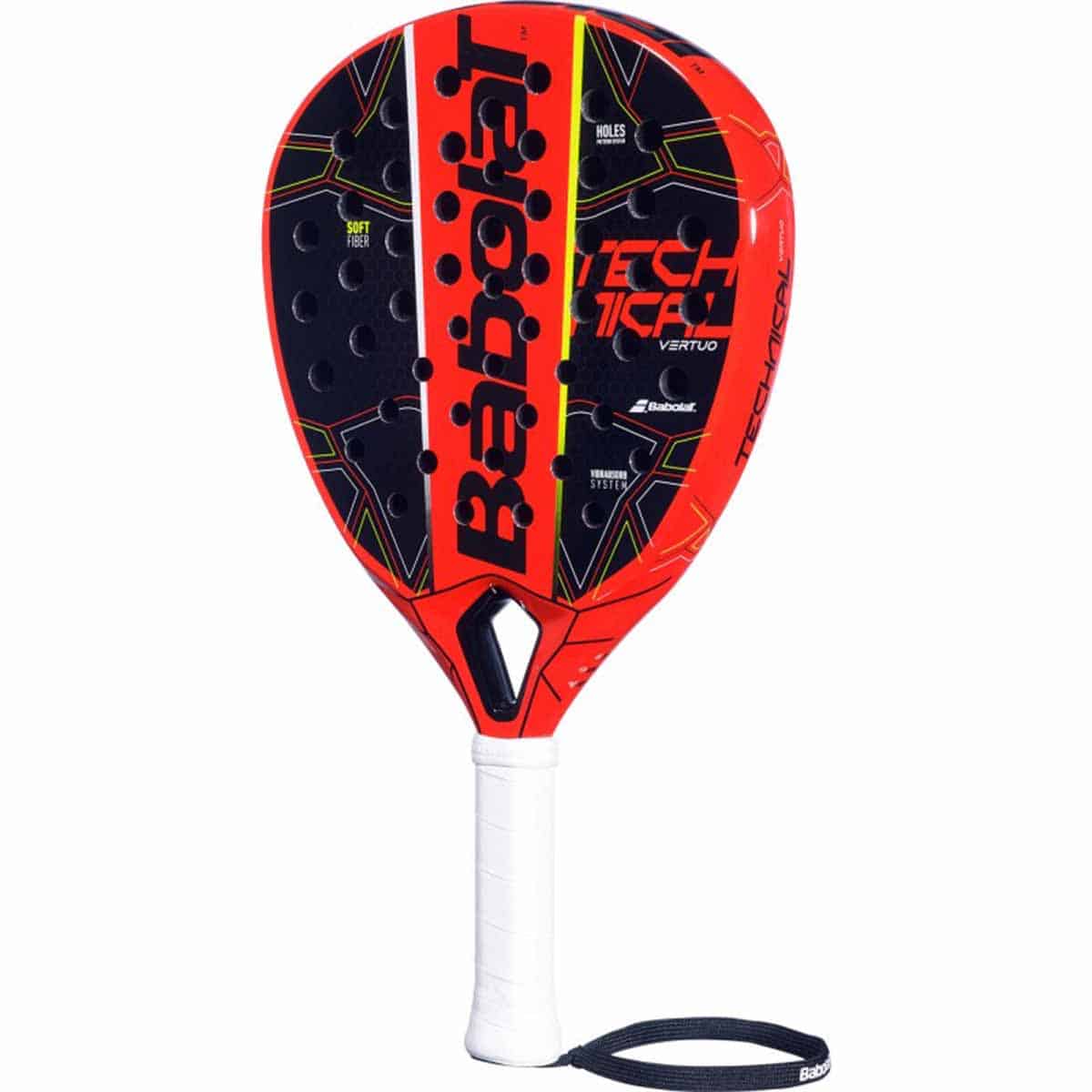 The frame is made of carbon fiber to ensure a racket that is hugely stable and durable, while also being lightweight, making it very comfortable to grip.
The core is made of Black EVA foam, which has a high density and ensures that you get good speed on the balls in all positions.
The racket's hitting surface is Soft Fiber, soft fiberglass so that the sweetspot is maximized and the racket is more forgiving. This is an important feature if you're still new to the game, as it allows you to maintain control of the ball even if you haven't hit it cleanly. 
Babolat has integrated its own vibration dampening system into this racket, the Vibrasorb System, which ensures that every ball hit comes with the best possible comfort. A big plus is that it helps reduce the risk of injuries such as tennis elbow, which often occurs if you're not used to the stresses of the game.
Another of Babolat's technologies that we find in Vertuo Technical is the HPS, Hole Pattern System, which has been used to optimize the sweetspot by drilling the holes in the most strategic positions. They are adapted to the shape of the racket to give you more speed and control in your strokes.
Vertuo Technical is an aggressive racket with a high balance, 270 mm according to Babolat's own measurements. Its shape and the fact that it is top-heavy make it a very effective weapon in front of the net.
If you haven't played with a diamond-shaped racket before, you should know that a high balance makes a racket easier to swing, much like holding a hammer at the bottom of the shaft. It is designed for those who base their style of play on explosive net attacks, fast volley duels, and powerful smashes. Thanks to its lightweight, it's a racket that's more responsive and easy to play with than similar models.
Diamond is the shape chosen for the Vertuo Technical, and together with the soft hitting surface, the offensive structure makes for a racket that is truly harmonious. All diamond rackets focus primarily on the offensive game, but this model also delivers a really nice result when defending further down the court.
It's a racket with a medium-soft feel. The core ensures good pace in your strokes, allowing you to develop your offensive potential to the fullest, while the soft and flexible glass fiber of the hitting surface provides the extra control we all need as we refine our technique. Another benefit of a soft face is that it accelerates the softer balls for you.
What level of player is the Babolat Vertuo Technical suitable for?
This racket is great for players who have recently discovered the sport, and want to base their game on powerful net attacks. Also, recreational and intermediate-level players who want a responsive and lightweight racket for their offense should definitely take a closer look. Maybe you've played with an all-round racket in the past and are curious to try a diamond? If so, this is an excellent choice.
Is the racket best suited for offensive or defensive play?
Vertuo Technical is a racket with a clear offensive focus, but that doesn't mean it neglects the other aspects of the game in any way. Of the diamond-shaped options in this price range, it's probably the one that gives you the best control. A very good choice for those who want to try a diamond for the first time.
Brief information about the brand
Founded in 1875 in Lyon, France, Babolat is perhaps the world's oldest company dedicated to racket sports. The original business idea came after the birth of tennis – they started manufacturing strings of natural sinew for tennis rackets, and later also for badminton. Their product range looks very different today, as you know, their development has made them the world leader in all types of sports equipment such as shoes, rackets, clothing, and accessories. 
It has been more than 20 years since the sport of padel became popular among the general public in Spanish-speaking countries around the world. Since its inception, Babolat has actively participated in the development of the sport and helped to increase its popularity by sponsoring various events and tournaments and, above all, designing attractive and functional equipment with the latest technology.
Spanish world champion Juan Lebrón has been using these rackets since 2016 and is one of the French brand's most well-known advertising stars. Babolat is also the official sponsor of the world's largest and most prestigious paddle tournament, the World Padel Tour (WPT).
Advantages of the Babolat Vertuo Technical
Babolat has produced a diamond-shaped racket of the same high quality they have made us accustomed to, with great materials and awesome performance. Start dominating up front at the net with this lightweight yet powerful racket, which provides great balance in most playing situations. 
You'll feel comfortable attacking as the racket gives you all the weight you need in the air, and the large sweetspot gives you the margin you need to take your game to the next level. With an easy-to-handle racket like this in your grip, you'll feel your overhead game falling into place like the pieces of a puzzle.
Plus / Minus
Summary of our review
Provides good speed in the overhead game

Affordable diamond shaped racket

Less sweet spot at the top of the racket
The soft hitting surface provides good control, but precision is not the racket's main virtue. It's not always easy to get good placements with the Vertuo Technical, so be prepared for your points to be won through speed and power.
Babolat Vertuo Technical reviews and ratings
Below we usually collect reviews for Babolat Vertuo Technical online but haven't found any. Therefore, we choose to rate based on our own opinions.  
4.5 out of 5 from us at Elitepadel
We have tested the racket!
Micke at Elitepadel has tested the racket. In this video you can see us test play and review the racket.
Summary of our Babolat Vertuo Technical rating and review
Our overall verdict and review of the Babolat Vertuo Technical is that it is a very good diamond shaped racket of very high quality. The racket is as usual of the same awesome quality that we are used to when it comes to babolat rackets. The frame is made of carbon fiber which ensures that the racket is durable and stable but also comes with a lighter weight.
The Babolat Vertuo Technical is also equipped with Soft Fiber which is a soft fiberglass that provides a maximum forgiving sweetspot. The racket also features Babolat's own vibration dampening system called Vibrasorb System which ensures that every ball is hit with the utmost comfort.
When it comes to who we would recommend the racket to, it is the player with a slightly more aggressive game as the racket has a high balance which gives more speed to the balls on high shots as a diamond shaped racket can be compared to swinging a hammer as it gives more speed on a swing.
In conclusion, I would definitely recommend this racket for the player who hasn't quite developed their offensive game but wants to take it to the next level. Another big plus is also the price of the racket as it also allows for those with a slightly lower budget but who still want a quality racket.
Here you can buy the product
Disclaimer
All opinions given by Elitepadel and our writers are subjective and you may not agree with them. Elitepadel.se is a free platform for you as a visitor and is instead funded through collaborative links to our partners. You as a visitor are not affected by these links.