Our review and verdict for the Adidas Adipower Greenpadel after testing the racket is that this racket can be awesome for those who are still learning the techniques but who are at an intermediate level. As soon as you pick up the racket, you will feel the high quality of the racket. We recommend that you have gotten past the beginner stage as the racket is aimed at more intermediate level players.
As usual, the Adidas Adipower Greenpadel is developed and engineered with the absolute highest quality and thus comes with a relatively high price tag.
We have tested the racket!
Mikael at Elitepadel has tested the Adidas Adipower Greenpadel 2022. In this video you can see us testing and reviewing the racket.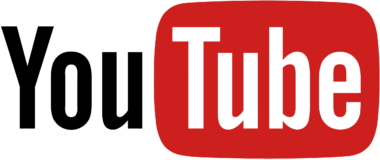 See our test and review on Youtube!
Here you can buy the Adidas Adipower Greenpadel 2022 model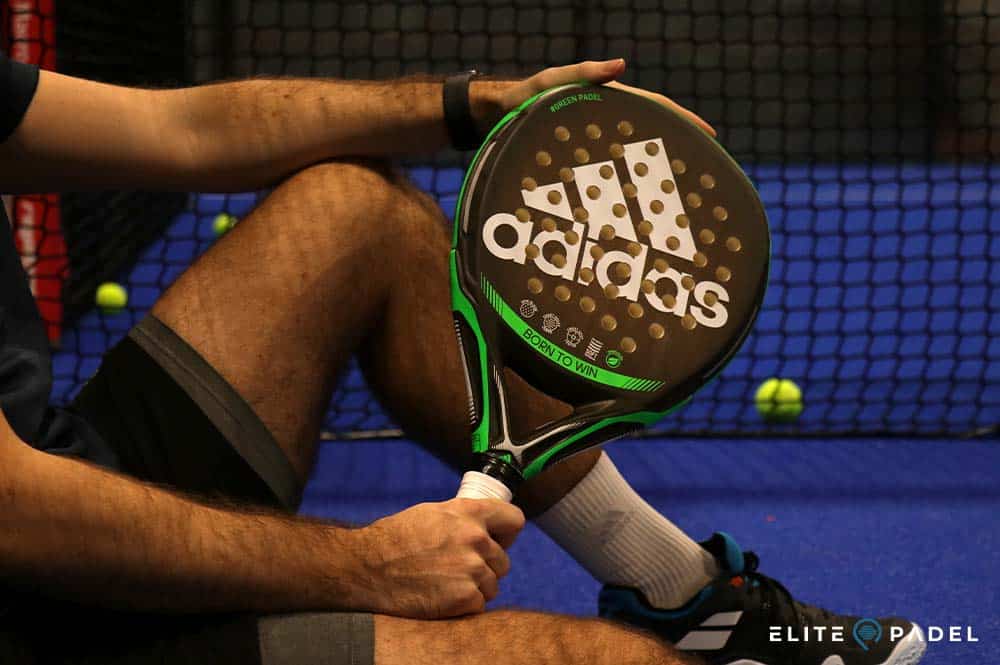 Adidas Adipower Greenpadel 2022 characteristics
Below we go through the Picture from when we tested and reviewed the Adidas Adipower Greenpadel 2022 and the characteristics of the racket. In addition to the features, the racket is aesthetically beautiful, with fine lines and nice coloring.
| | |
| --- | --- |
| Rackets specifications |   |
| Brand | Adidas |
| Shape | Round |
| Balance | Medium |
| Game type | Defensive |
| Game Level | Intermediate |
| Weight | g (+/-10) 360-375 grams |
The Adipower Greenpadel is a model in the eco-friendly class, which is why it has been given a hitting surface made of Flax Fiber material. This consists of 100% linen and its hardness is roughly between carbon fiber and fiberglass. A medium hard hitting surface and with the core Eva Soft Performance helps with the low loose balls. The frame and the parts of the racket that are particularly vulnerable have been reinforced with carbon fibre.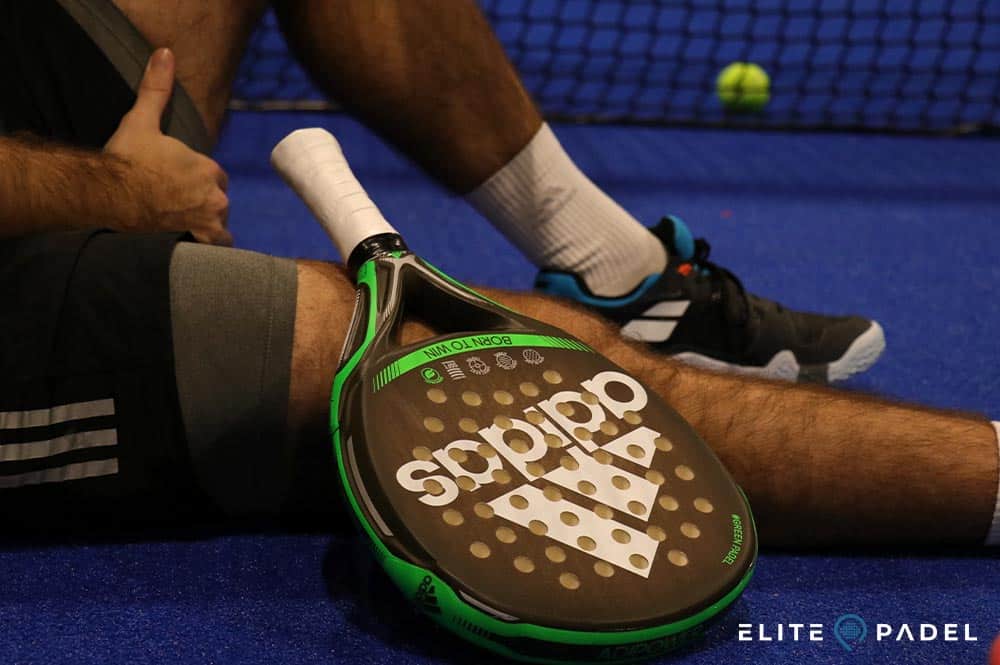 This racket has a medium balance that interacts well with a larger sweetspot, which is also at medium level. This gives you a better chance of getting controlled balls away with good power, even those balls that you may need to putt up from a low level.
The Adipower Greenpadel is round in shape and has been given a large sweetspot. These two features together make it easier to hit those really good balls. There's a better chance of hitting strong balls with good accuracy.
With a hitting surface and a core that are medium hard, this racket becomes more of a soft racket. Which also makes this model more suitable for a defensive game. The reinforced carbon fiber frame provides more durability and some stiffness, which can be of some help for offensive play.
What level of player is Adidas Adipower Greenpadel suitable for?
The Adipower Greenpadel is best suited for players who are more at the intermediate level. For example, exercisers who want to get a little further in their game. The rounded shape with a large sweet spot provides good support to improve ball striking and to practice a certain technique. The medium balance and the rough surface can also help to train more offensive play.
Is the racket best suited for offensive or defensive play?
This green model is more useful for offensive play. With its rounded shape, medium balance and medium-hard hitting surface, it provides good support for getting controlled balls away. These characteristics are also useful when dealing with low balls, where hard characteristics are of little use.
Information about the Adidas brand
Adidas is a brand from Germany, which has focused on clothing, footwear and equipment in various sports for over 70 years. As they are known for their good quality and wide range of products, they have gathered many loyal customers over the years. Which is also evident among padel players.
Adidas has more ambassadors who are professional players, who enjoy playing with their rackets. Every year that Adidas releases a new collection of padel rackets, the goal is for the range to be well-equipped enough for every padel player out there to find a model that suits their style and level of play.
Now they also have models that have been given material in the more environmentally friendly Flax Fiber on the hitting surface, which is made of 100% linen, and can be described as a mid-grade material.
Read more about the Adidas padel rackets and our other reviews.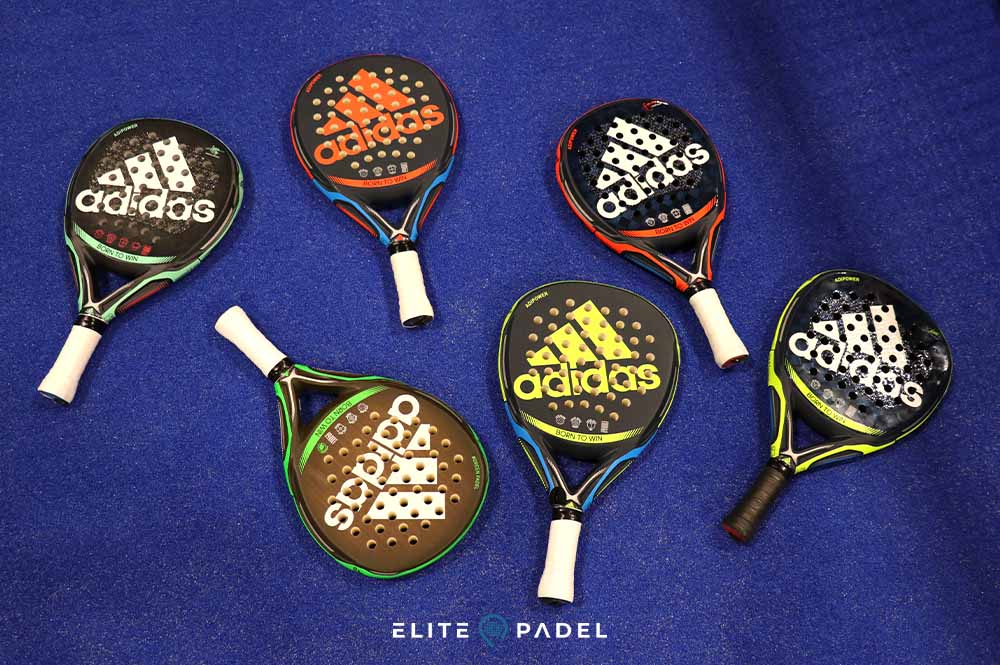 Compare racket with other models
Benefits of Adidas Adipower Greenpadel 2022
For those players who are at an intermediate level and who like defensive play, they can get several benefits from this racket. This round-shaped racket with a large sweetspot and medium balance provides players at this level with good help to develop their game. Practice more full shots and technique play at some level.
The hitting surface has been roughened up a bit with the help of Spin Blade Gritt technology, which helps the player to be able to swing at some balls to fool the opponents.
The Flax Fiber hitting surface is medium hard, but the material is 100% linen which is both durable and light in weight. This makes the racket more durable and a bit lighter in the hand. This material is more environmentally friendly and every Greenpadel racket from Adidas that is sold will ensure that 3 sqm of forest is replanted.
If you want to benefit from this racket in tough attacking games, it can be difficult. Also when the player adds a lot of power from himself. Even if it is possible to get away with smashes, it will be difficult to provide them with the surprising power that you are aiming for in those situations.
Disclaimer
All opinions given by Elitepadel and our writers are subjective and you may not agree. Elitepadel.se is a free platform for you as a visitor and is instead funded through collaborative links to our partners. You as a visitor are not affected by these links.