Our verdict and review of the Adidas RX20 Light is that it is a great racket for those looking for a more easy to play padel racket. The racket has a large sweetspot and a soft surface that gives it more control in the strokes. The downside to this is that the player who hits a bit harder strokes might be disappointed as the soft surface does not have as much power in the stroke.
Read more to find out everything you need to know about the racket before you buy and feel free to use our discount code which gives you 10% off your entire purchase.
Micke at Elitepadel has tested the Adidas RX20 Light. In this video you can see us test play and review the racket.
Our opinion after testing the Adidas RX20 Light:
Adidas RX20 Light characteristics
Here Adidas presents an incredibly balanced and lightweight racket designed for both women players as well as men looking for a lighter alternative. Improve your technique with the help of this model that provides a nice combination of speed and control, allowing you to play comfortably all over the court and give it your all in all positions and playing situations.
Thanks to weighing only 350 grams and having a centered center of gravity, it's a very easy-to-handle racket that works well with fast movements. Whether you're defending from further back in the court or attacking in front of the net, you'll feel comfortable and confident with this racket in your hands. You'll get used to playing with this racket in no time, and it will help you raise the bar in your game and defeat your opponents by adapting to all strokes and playing conditions. 
We like the design, which is mostly black with a well-placed, centrally-located logo in grey along with stylish details in red and yellow. A modern and fresh look that will catch the eye both on and off the court.
Specifications
Information about the racket
Shape:

Drop shape/hybrid oversize

Player performance level:

Beginner/Medium
The frame of the Adidas RX20 Light is made of flexible fiberglass construction with a reinforced outer structure designed to improve the durability of the racket, called Structural Reinforcement.
In addition, the new technology Structural Power has been used, which is a fiberglass reinforcement that has been integrated into the core of the racket, creating an extra-strong connection between the frame and the racket's hitting surface.
EVA Soft Performance is a soft core that ensures the best possible control and reduces vibration and thus the risk of injury.
The Smart Holes system provides an optimal distribution of holes in different sizes to give maximum durability to your racket while increasing the power of your strokes without the need for a lot of effort.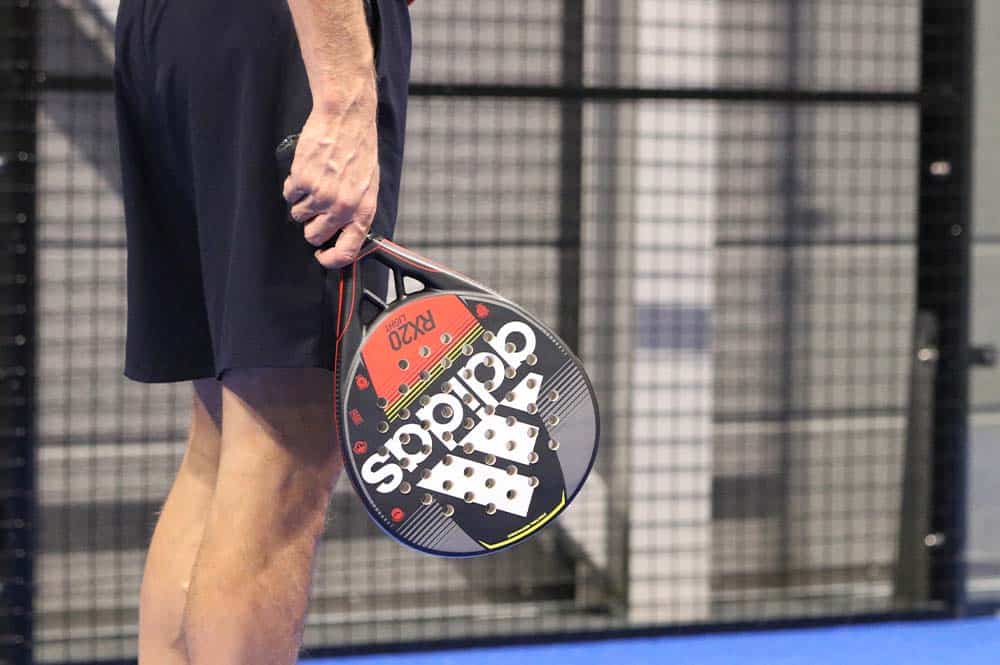 According to Adidas, the balance has been measured at 265mm, which means a central center of gravity. A medium balance gives you the control you need in every position and works just as well in the overhead game as it does for volleys or games further back from the baseline.
When it comes to choosing a padel racket, there are three shapes to choose from:
Diamond, which is recommended for skilled players with a preference for playing in offense, as they demand a little more in the way of technique.

Round, which is generally recommended for beginners and players who focus on control rather than overhead play and smashes. 

Drop-shaped, also called hybrids, precisely because they are a mixture of both of the previous two. These are very popular with players who are still defining their style of play or simply want a racket that works well in all conditions.
The Adidas RX20 Light is a drop-shaped racket that delivers a balanced result whether you are attacking, defending, or counter attacking. A very interesting option for those who want to take their game to greater heights.
For the Adidas RX20 Light, a softer core of EVA Soft Performance has been chosen, with the intention of providing the best possible control, comfort, and feel in the ball strike.
This type of core also provides tangible vibration dampening, to help prevent injury, which is especially important when you're stepping up the intensity of your game. Soft EVA is a flexible foam that adapts to each stroke while providing good speed on the ball even if you don't hit it very hard yet. Even the hitting surface is made of flexible fiberglass so you can take advantage of your opponent's strength to make the return of the ball more explosive.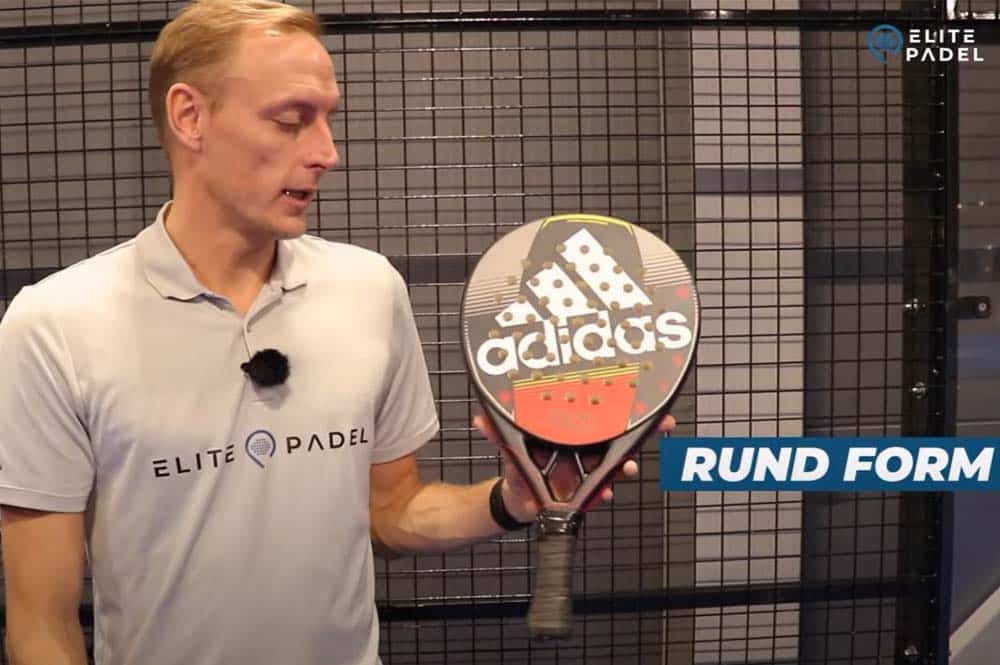 What level of player is the Adidas RX20 Light suitable for?
This is a very suitable racket for those whose game is still under construction and need to get used to different types of shots. It will help you develop in the cage due to having an easy-to-hit target, thanks to the well-sized sweetspot. The lightweight feel of the racket means it will easily keep up with any movement as you learn to read the game and ball placement more efficiently.
Is the racket best suited for offensive or defensive play?
This is an all-round racket, for those who don't specialize in any one style of play but want a racket that is suitable for all phases of the game. When you haven't been playing for a long time, this is definitely the type of racket to go for, to be able to get a good technique into all types of shots without feeling like you're missing out in certain situations.
Brief information about the brand
Adidas has been investing really heavily in padel over the last few years, and always manages to surprise us with a new collection every season – and so it is for 2021. In the new collection of rackets, you will find a combination of the latest technology, the latest designs, and the best materials to ensure that you will always find a model that suits your style and level of play. Adidas has several of the top names on the WPT as loyal users, including Ale Galán, Seba Nerone, Marta Ortega, and Alex Ruiz to name a few.
Adidas is a German company that, since it was founded in 1949, has quickly evolved to become a world leader in all areas they have chosen to manufacture sports equipment for. You'll find everything you need no matter what your favorite sport is, and although they initially specialized in footwear, they now also offer rackets, clothing, and accessories for most sports for both professionals and amateurs.   
Advantages of the Adidas RX20 Light
The Adidas RX20 light is a fantastic value racket you will quickly fall in love with, it is very well compensated in all areas – power, control, and comfort. This racket is very handy when you're playing your first matches and still need more control than power, as the soft core and hitting surface absorbs the opponent's power and then sets the pace for your own strokes.
It's extremely easy to handle thanks to the slightly larger size which also provides a larger sweetspot, which is always a plus when you're still developing your technique and sometimes hitting further out to the frame than you intended. 
Pros / Cons
Summary of our review
A very good racket for those who need more control than power

Extremely easy to handle racket

For the hard hitter, this racket is not an optimal racket
It's not a racket for those who want to specialize their style of play, there are better versions for the aggressive and dynamic player and better for those who focus primarily on control – this is designed precisely to get a good all-round feel. If you hit hard yourself, you'll feel a lot of the power is lost through the soft and flexible hitting surface. It would have been nice to have some sort of top layer on the hitting surface for more impact on the balls.
Here you can buy the product
Disclaimer
All opinions given by Elitepadel and our writers are subjective and you may not agree. Elitepadel.se is a free platform for you as a visitor and is instead funded through collaborative links to our partners. You as a visitor are not affected by these links.