Our rating and review of the Adidas Adipower CTRL 3.1 is that it is a very good choice for the more experienced player. The racket has it all for the all-round player where you get above all a racket with high control. 
The Adidas Adipoer CTRL 3.1 is one of Adidas' best padel rackets and comes with a price tag accordingly. It is fitting then that we at Elitepadel.se can offer you as a reader a discount code to Sweden's leading padel store below. The promotional code gives you 10% off your entire purchase.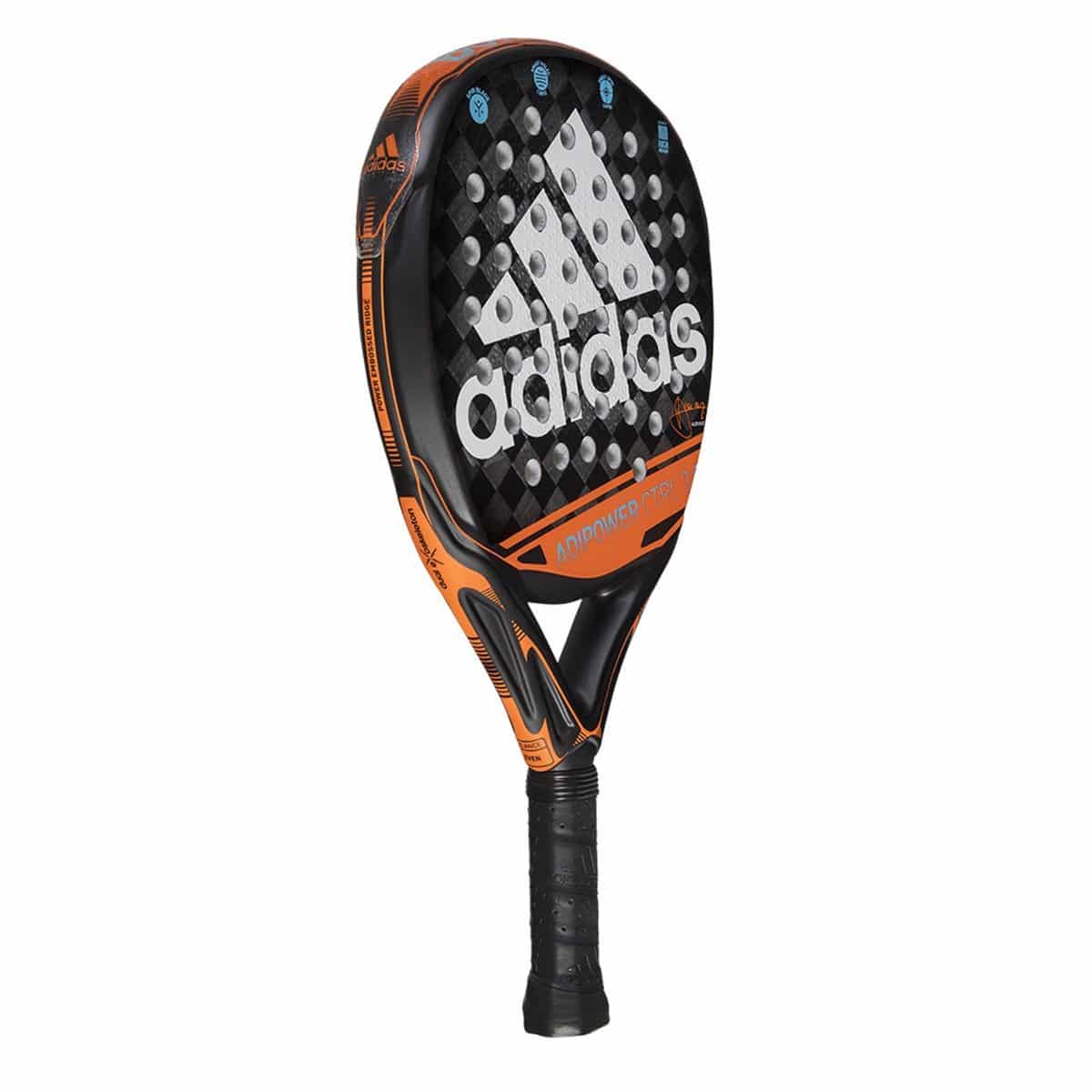 Adidas Adipower CTRL 3.1 features
One of the absolute highlights of the season is the racket that finally delivers the perfect combo of power and control. None other than Spanish superstar Alex Ruiz helped craft it, and it's the same one he reaches for with pride when he competes on tour. 
It's a very easy-to-play racket that won't disappoint in any playing situation. You have awesome control and margin for error in the defensive game, but you can quickly switch to attack and counter with a dynamic overhead game that will put all your opponents to the test. A generous sweetspot makes it a forgiving racket, even if you hit further out to the frame. 
The hard core coupled with the carbon fiber hitting surface makes it an effective weapon in front of the net, you are guaranteed to hit the ball out of the cage more than once even though this is not the racket's main feature.
The design is classic but fresh, with a black background and a centrally placed white logo with orange details.
Specifications
Information about the racket
Balance: Low - Medium, 265 mm

Player performance level: Advanced
The Adipower CTRL 3.1 is a top racket with a solid carbon fiber frame reinforced with the new and improved Dual eXoskeleton technology. These are thin carbon fiber nerves that branch out across the frame and core to make an extremely stable racket that really harnesses the player's energy in the strokes to maximize power.
The hard foam Eva High Memory core places great speed on the balls. It's a type of flexible memory foam that regains its shape as soon as the ball has recoiled. The hitting surface is made of hard carbon fiber reinforced with aluminum, which has been a hit from the start because players greatly appreciate the extreme durability it provides. The model also features the Power Embossed Ridge, one of Adidas' new and popular emblems that makes it a more favorable racket where explosiveness is constantly optimized.
The 3D Spin Blade structure is the rough top layer of the hitting surface that guarantees the best spin and power in the strokes, especially when you like to use stop variations, which makes it even more difficult for your opponents.
According to Adidas, the balance is 265 mm, which means a low-medium center of gravity that sits close to the grip, making it a racket that is easy to handle and follows through with fast movements and game changes without any problems. It's not designed for the aggressive player who has the smash as their primary weapon, but the hard-hitting surface influences decent speed while keeping your accuracy razor sharp.
When choosing a padel racket, it's important to pay close attention to the shape that best suits you and your game. Round rackets are generally recommended for beginners as they are more manageable and adaptable to different styles of play, but depending on the materials used in their manufacture, these characteristics can vary significantly. What has been focused on here is combining materials and the center of gravity to create a balanced all-rounder racket.
The Adipower CTRL 3.1 is a round racket with a large sweetspot, making it suitable for the player who prioritizes total control. But don't be fooled, the hard core combined with the carbon fiber hitting surface makes for a powerful and explosive ball strike.
Hard rackets are mostly recommended for players who focus on speed and have good technique. They give very good precision but tend to be a little uncomfortable for those who are not very experienced in the sport.
This is in every way classed as a hard racket, thanks to the core of hard EVA foam plus the hitting surface of aluminum-reinforced carbon fiber. Hard rackets, as mentioned, are well suited for players with a well-developed technique, however, the Adipower CTRL 3.1 has a larger sweetspot than other rackets with these characteristics, making it a more forgiving option.
What level of player is the Adidas Adipower CTRL 3.1 suitable for?
It is a racket that is made for skilled, high level players. To get the most out of this racket you need to have a good technique, but it is still surprisingly suitable for intermediate players thanks to its low balance and large sweetspot. Despite being designed for more advanced players, it will also go down well with the general public.
Is the racket best suited for offensive or defensive play?
It fits like a glove for the technical player who likes to dominate matches with precise and powerful strokes without losing the slightest bit of control. The more defensive player will find a racket that provides comfort and precision in every stroke from any corner of the court. 
The lower center of gravity makes it easy to play and is responsive to commands, facilitating game transitions from attack to defense and vice versa. It's not the optimal racket for a player who goes hard on their overhead game, but it will still give the player in offense enough power at all times not to disappoint. A really good all-rounder model.
Brief information about Adidas
This season Adidas presents a renewed padel range of rackets, shoes, clothing, and accessories, all made from the best materials and the latest technology to satisfy even the most demanding players. The rackets in particular will be particularly popular as they are made of the highest quality to suit a professional level, while being easy enough to handle to be appreciated by players who want to take their game to the next level.
Adidas was founded in Germany in 1949 by Adi Dassler and has long been the market's leading shoe manufacturer, especially for football. They started manufacturing padel equipment many years ago, and now have many of the sport's most influential players as promotional models for their products. 
It is undoubtedly one of the brands that have grown the most in recent years, as it has proven that it maintains the same high quality in its padel products as in its other range of sports equipment in all categories. Adidas has once again proven why it has been a world-leading brand for so many years.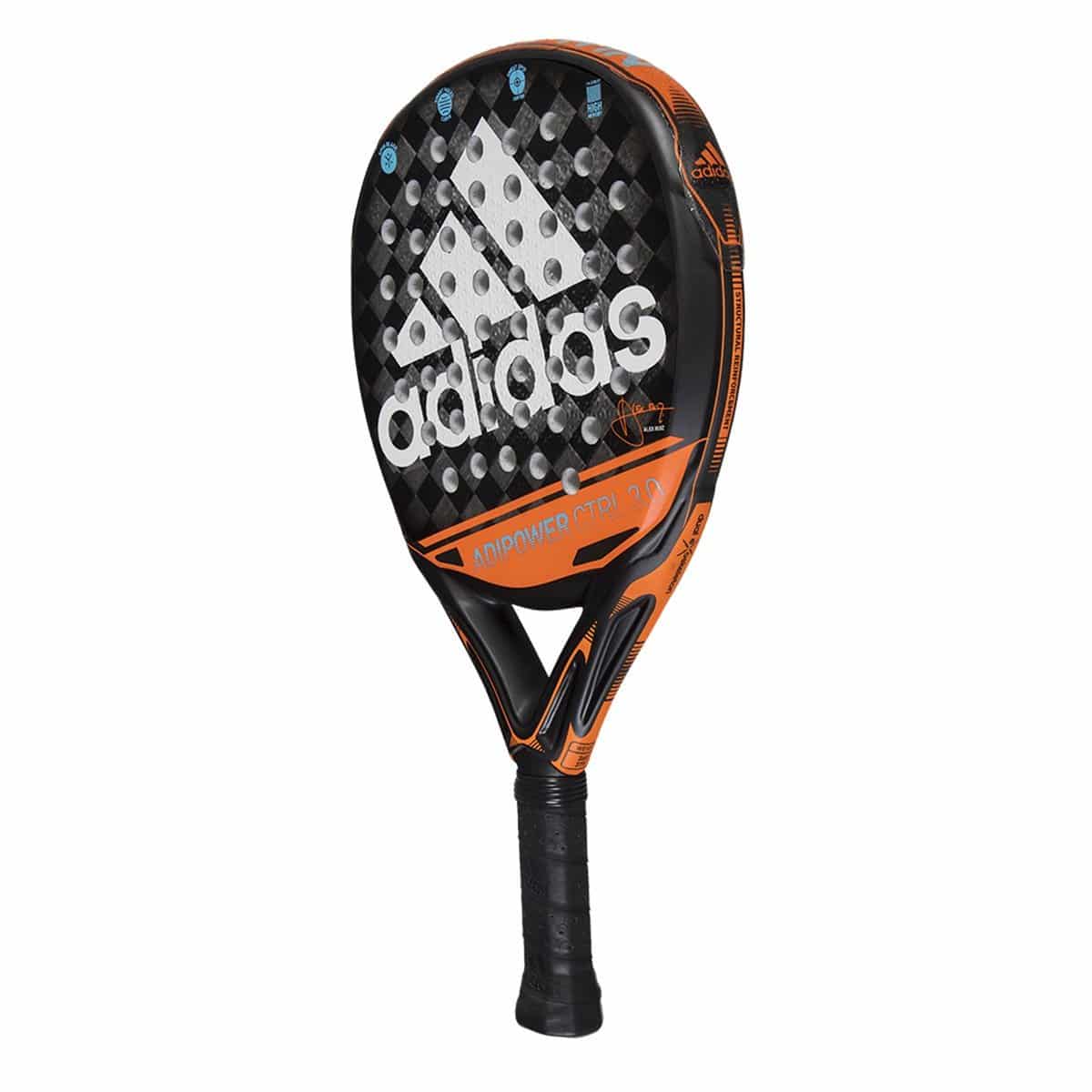 Advantages of the Adidas Adipower CTRL 3.1
This is a racket that has most of what you could ask for, it also suits most playing styles as well as player performance levels. The fact that it is round with a medium balance makes it very comfortable and responsive to play with, and the large sweetspot means that you won't lose control even on an off-target hit. 
The hard core with carbon fiber hitting surface provides plenty of speed for anyone who isn't an attack specialist, and the grooved top layer provides awesome spin. Its balanced design will make its presence felt all over the court and in all situations, whether performing a volley at the net or counterattacks from further back in the court. Knowing that you have such a complete racket in your hands gives you a great sense of security and it will help you develop to the level you want to achieve.
Plus / Minus
Sammanfattning av vår recension
Hard core that gives you speed for those who are not attack specialists

Textured surface layer provides an awesome spin

Does not provide optimal power in smashes
The only fault you could find with this racket is that it doesn't provide optimal power in the smashes, but at the same time this is something that only the player who plays in offense will notice. The lower center of gravity means it's not as easy to swing overhead as models with a higher balance, but on the other hand it's more playable.
Adidas Adipower CTRL 3.1 reviews
Below we have collected reviews for the Adidas Adipower CTRL 3.1 online. 
5 av 5 through customer reviews at www.smashinn.com
Our overall review for the Adidas Adipower CTRL 3.1
Our rating and review of the Adidas Adipower CTRL 3.1 is very good and suitable for skilled players at higher levels. You get a racket that is suitable for the technical player who likes to dominate the matches. The racket is also great for the defensive player who is looking for control and precision in every shot from any corner of the court.
The combination of the large sweetspot, precise and powerful strokes without losing the slightest bit of control makes us give the racket a very high rating.
Compare and find the best price by clicking the button below. You'll automatically be sent to the store in the Pricerunners database offering the lowest price:
Here you can buy the product