Our verdict and review for the Adidas Essnova Carbon CTRL 3.1 after testing the racket is that it is an awesome racket for the offensive player who is at a Beginner – Intermediate level. This racket also has a Diamond shape which gives you more offensive qualities.
Adidas new padel rackets are not only really aesthetically pleasing, they also have a really good quality. The price level is neither the lowest nor the highest compared to competitors.
We have tested the racket!
Mikael at Elitepadel has tested the Adidas Essnova Carbon CTRL 3.1. In this video you can see us test play and review the racket.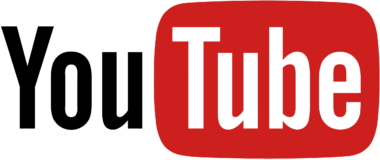 See our test and review on Youtube!
Our opinion after testing the Adidas Essnova Carbon CTRL 3.1: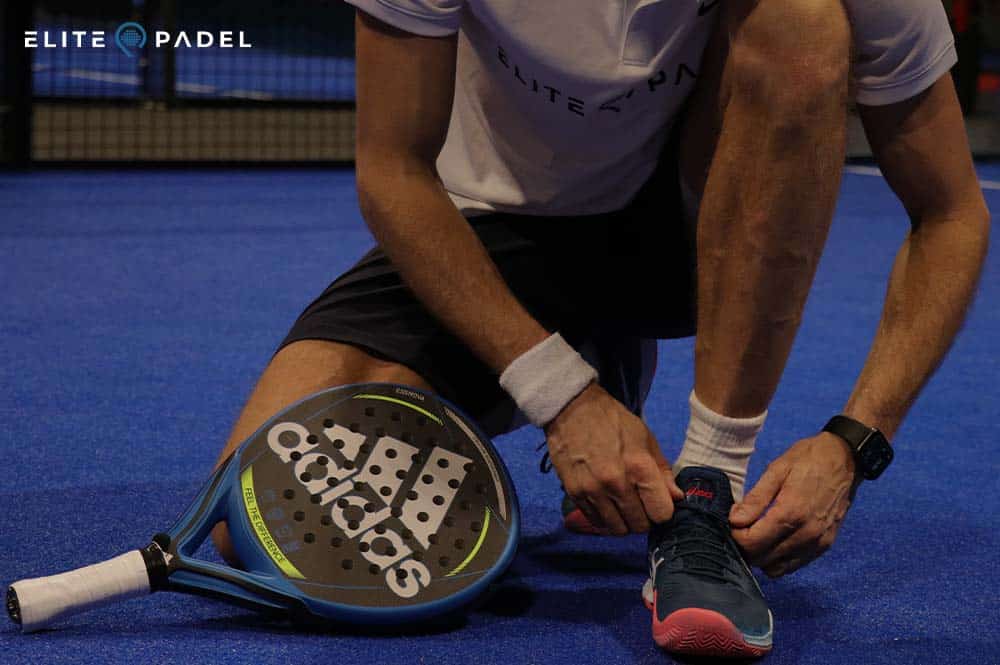 Adidas Essnova Carbon CTRL 3.1 characteristics
Below we review the Adidas Essnova Carbon CTRL 3.1 and the racket's features. In addition to the features, the racket is aesthetically beautiful with fine lines and nice coloring.
| | |
| --- | --- |
| Rackets specifications |   |
| Brand | Adidas |
| Shape | Round |
| Balance | Medium |
| Game type | Defensive |
| Game Level | Intermediate |
| Weight | 360-375 g |
Like many other Adidas racket models, this one has been reinforced in vulnerable areas and in the frame with the resilient material carbon fibre. In addition, this model has a 3K carbon fibre hitting surface. 
The soft core Eva Soft Performance will support controls in the game.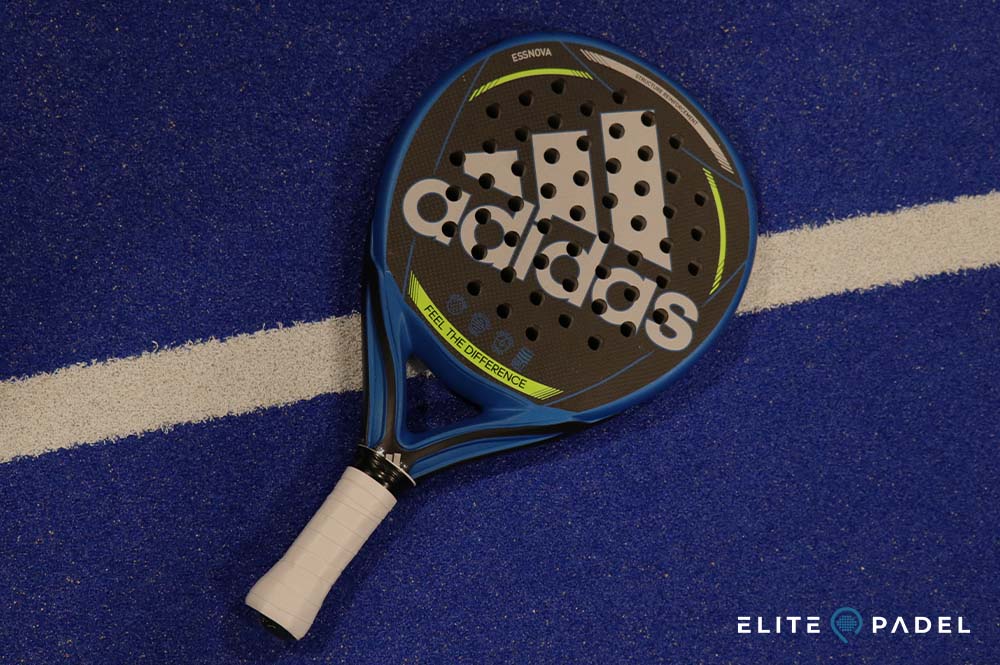 A balance point and a large sweetspot in the mid-level of the racket provide controlled play with good support. Larger area for good full shots which is in the middle of the racket, often becomes even easier for the players.
A round-shaped racket that has been given a large sweetspot at the same level as the balance point, giving a greater chance for good full shots. A medium balance that makes this round racket easier to handle.
The Essnova Carbon CTRL 3.1 is a soft racket that focuses on controlled play. The round shape with a large sweetspot and a soft core provides a softer game, which offers a lot of support for defensive play.
What level of player is the Adidas Essnova Carbon CTRL 3.1 suitable for?
As it is considered to be a racket that is very easy to handle and with large sweetspot, which poses great help for controlled play, it is well suited from exercisers upwards. Depending on how demanding you are on the racket's characteristics and how long you want to use the racket.
Is the racket best suited for offensive or defensive play?
Most of the features of the Essnova Carbon CTRL 3.1 provide good help for offensive play. Round shaped racket that has got a big sweetspot in the middle of the racket and a medium balance point are great advantages for controlled play. Greater chances for the player to succeed with full shots, right in the center of the racket, and the soft core helps the slow balls and also becomes a good support for extremely low balls that need to be putted up quickly.
Information about the Adidas brand
The German brand Adidas has managed to demonstrate its good quality and wide range of products for over 70 years. They have continued to evolve over the years, including with the help of their ambassadors in various sports. 
They have many loyal customers and now also for equipment in the sport of padel. Adidas' goal with their collections of padel rackets is that there should be a suitable model for every player on the market. No matter what level and style of play he is at.
Read more about the Adidas padel racket and our other reviews.
Compare racket with other models
Benefits of Adidas Essnova Carbon CTRL 3.1
It is a stable racket with carbon fiber reinforcements and together with the soft core and a medium balance it becomes more ergonomic for the player to handle. The hitting surface is made of 3K carbon fiber which provides both power and control in the game.
Spin Blade Gritt technology has provided the surface with a roughened texture, which presents great help for spinning to balls. This can be benefited in both offensive and defensive play, but with this racquet it comes with more benefit in the offensive game.
Given the round shape of the racket and a mid-level balance point, it will be difficult to gain power with this racket in an aggressive game. It will be difficult to succeed with solid smashes or to succeed with proper power in most high balls.
Our review for Adidas Essnova Carbon CTRL 3.1
Mikael Rohana from Elitepadel has tested the Adidas Essnova Carbon CTRL 3.1 and gives the following review and rating:
"This model has an updated striking surface which is now made of carbon fibre instead of the previous glass fibre. The Adidas Essnova Carbon CTRL 3.1 has a round shape and a medium balance which is suitable for an all-round player. When I tried this model, it feels really stable all over the court and even in pressed positions when the hits easily end up against the frame, the racket delivers a really great feel. This model is highly recommended for an intermediate player or an exerciser who wants a comfortable choice for the whole court."
Disclaimer
All opinions given by Elitepadel and our writers are subjective and you may not agree. Elitepadel.se is a free platform for you as a visitor and is instead funded through collaborative links to our partners. You as a visitor are not affected by these links.