Our verdict and review for the Fila the velocitas after testing the racket is that it is an awesome racket for the defensive player who is at a Beginner level. This racket is a defensive racket but also has a round shape which gives you additional defensive qualities.
Fila's new padel rackets are not only really aesthetically pleasing, they also have a really good quality. The price level is neither the lowest nor the highest compared to competitors.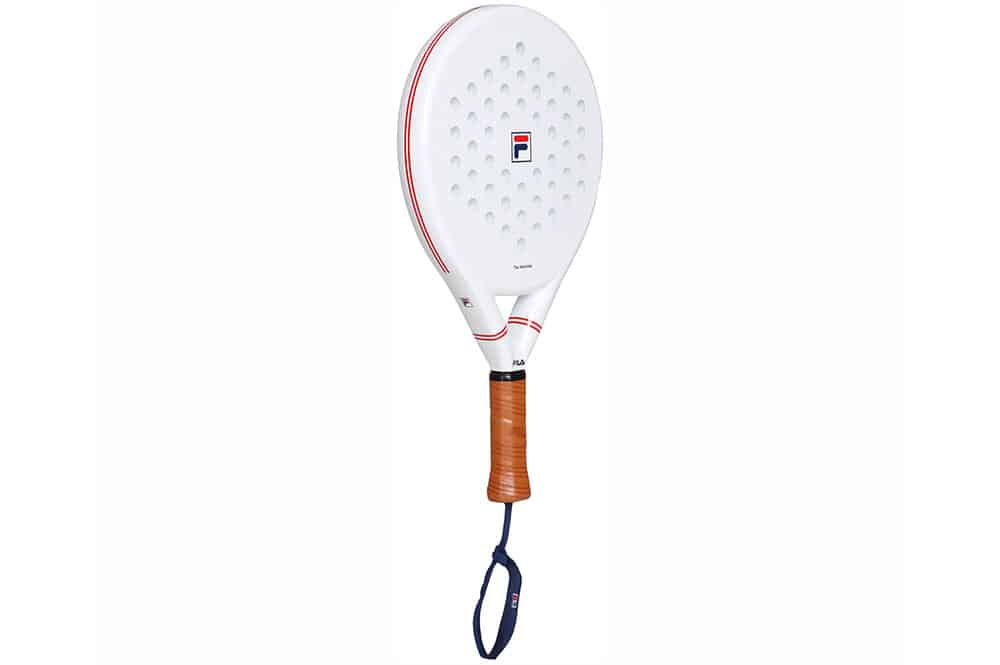 Fila the velocitas characteristics
Below we review the Fila the velocitas and the racket's features. In addition to the features, the racket is aesthetically beautiful with fine lines and nice coloring.
| | |
| --- | --- |
| Rackets specifications |   |
| Brand | Fila the velocitas |
| Shape | Round |
| Balance | Low |
| Game type | Defensive |
| Game Level | Amateur |
| Weight | 340 – 360 g |
The frame is reinforced with 100% carbon fiber, so it is stiffer but also more durable. The hitting surface is made of fiberglass and underneath there is a softer core.
A low balance point that makes it easier to handle the low balls and also creates less imbalance in the racket as the balance point is closer to the hand that holds the racket.
Round shaped racket that also has a larger sweetspot, which makes it easier to play and it is easier to create control in the balls.
A soft racket, as it is round shaped, has low balance and both the hitting surface and the core are soft. A soft racket can create more control and balance in your game.
What level of player is the Fila the velocitas suitable for?
Well suited for beginners, partly because it is lighter in the swing but also because it has features that make it easier to handle. Also for exercisers who like a softer game and practice better technique in defensive play.
Is the racket best suited for offensive or defensive play?
This racket will be of great use in defensive play, as it has a larger sweetspot, low balance point and a softer core and hitting surface. It is made to create control and balance, which is suitable for picking up the low balls or countering slow balls with more power, among other things.
Information about the DoPadel brand
Fila takes its name from the two brothers who built up the brand in 1911 in the north of Italy. Their production was first suitable for the inhabitants of the Alps, but later they started to produce clothing and equipment for athletes and sportsmen. Which started in the 1970s.
Today, Fila's range is used in many parts of the world. Consumers know they are getting good quality clothing, footwear and equipment and there is always a wide range for consumers to choose from. Padel players can probably also be pleased that there are clothes, shoes and rackets for their sport.
Read more about the Fila padel racket and our other reviews.
Compare racket with other models
Benefits of Fila the velocitas
The low weight makes it easier in the swing and more ergonomic for the player. It is easy to handle and can provide the defensive game with a lot of help. The hitting surface is a bit rough with small spikes that help spin to balls.
It doesn't provide much use for offensive play, as this soft racket is better for defensive play. It may require extra strength and control from the player to help with hard or high balls, for example if you want to smash out opponents.
Here you can buy the racket
Disclaimer
All opinions given by Elitepadel and our writers are subjective and you may not agree. Elitepadel.se is a free platform for you as a visitor and is instead funded through collaborative links to our partners. You as a visitor are not affected by these links.