Their brand can be seen today in most parts of the world, as their wide range always comes with good quality and stylish design. There is a lot to choose from, so more or less everyone who likes sports or sports can find something that suits them. Now even those who practice the sport of padel can enjoy finding clothing, shoes, rackets of various kinds and accessories.
This racket is round shaped and has a low balance point. The frame is reinforced in carbon fiber, the hitting surface is in 12K carbon fiber and has got a medium hard core. These three features make the character of this racket more hard. However, it may require extra strength from the player to get proper speed on the balls. 
However, it is a good racket for creating control and balance in the game, and the rough surface makes it easier when you want to screw the ball. So it can serve as a form of all-round racket, as there are good benefits in both modes of play.
A drop-shaped padel racket with low balance, and with several hard characteristics. The frame has been made more durable with 100% carbon fiber, the hitting surface is 12K carbon fiber and the core is medium hard. So this racket has been provided with many features to give good support to the offensive game. 
It gives the player good help to create power and speed in ball hits, while it is easier to get balance in the racket thanks to the low balance. However, the low balance leads to the need for more strength from the player to succeed with smashes. There are small spikes on the surface, however, which make it easier to create spin in balls.
This model is round-shaped with a low balance point and with a larger sweet spot. So the racket has features that give it more balance and make it easier to handle for the player.
The frame is more durable in carbon fiber, the hitting surface is in 3K carbon fiber and a softer core. So it's particularly well suited for defensive play, although it can provide good help in some offensive situations. The small spikes on the surface provide good help in spinning balls for opponents.
A round-shaped padel racket with a low balance point and larger sweetspot. In addition, also a softer Eva core and a fibreglass hitting surface. This soft padel racket is therefore well suited to beginners and those looking for a softer game. It offers more chances for full hits with good balance and control, while being easier to handle. The frame can withstand a little extra, as it is heavily equipped with carbon fibre.
Drop-shaped racket with a larger sweetspot and with a mid-level balance point. This model has been given a soft core that sits beneath a semi-hard hitting surface of fiberglass and 3K carbon fiber. Its main purpose is to provide control and balance in the game, but it can also provide some strength in offensive positions. Considering that it is a drop-shaped racket and has a mid-level balance point.
A soft racket that is good for beginners, among others, as it is round-shaped with a low balance. A larger sweetspot and low balance, which can produce more full hits with good balance and control. The soft Eva Soft core and fibreglass hitting surface provide good support when dealing with the low or slow balls on the padel court. A racket that is easier to handle and the hitting surface has a texture that helps spin balls, when desired.
Fila's range of shoes have become one of the most trending and popular shoes on the planet. Fila are of course not only selling rackets, but also padel shoes. Under here we have listed padel shoes from Fila.
Fila Axilus 2 Energized Women
Colorful shoes for women that have several strong features for padel play. The front of the shoe and the heel have cushioning material, to reduce injuries during the hard and sharp turns on the court. A rubber sole provides better stability on the court and the upper shoe is made of a lighter synthetic material.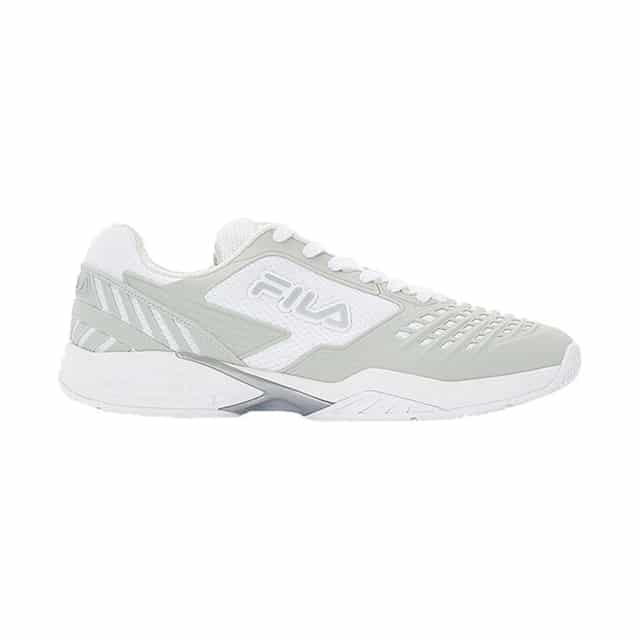 "Here is the last new addition to the family and is designed to be the most offensive racket in the series. When I tried this model I found that the racket had a pretty stiff hitting pattern, thanks to the combination of kevlar and carbon fibre in the frame but also that it extracts a very good amount of speed in the overhead game thanks to the 24k hitting surface. What I also found, despite all the offensive benefits, was that the racket also delivered really nice control and precision. So a racket recommended for the more advanced player looking for speed but who also doesn't want to compromise on control."
A shoe model for the men who play padel. A lighter synthetic shoe with a rubber sole that gives the player better stability on the padel court. Shock absorbers in the front of the shoe and on the heel, which reduce injuries for the player and make him lighter during the game.
More about the Fila brand
The Fila brand is named after the two Fila brothers, who founded the company in 1911 with the main aim of producing clothing for the people living in the Italian Alps. In the 1970s, they began to advance to producing clothing and underwear for athletes and sportsmen. Their range was expanded more and more. For more sports and sports and a wider range for each genre.