Our verdict and review for the Dunlop Omega Tour Black/Yellow after testing the racket is that it is an awesome racket for the defensive player who is at a Beginner – Advance level. This racket also has a Hybrid/drop shape which gives you more additional offensive qualities.
Dunlop's new padel rackets are not only really aesthetically pleasing, they also have a really good quality. The price level is neither the lowest nor the highest compared to competitors.
Dunlop Omega Tour Black/Yellow characteristics
The Dunlop Omega Tour is a very affordable, high-quality racket designed for new players and intermediate players who want an easy-to-play racket to grow with. It provides an exquisite balance of control and power, allowing you to practice every part of the game knowing that you will always be able to perform at your peak. 
The racket has an awesome sweetspot that allows you to control and put good speed even on shots that hit further out to the frame of the racket. The lightweight feel makes it a popular option among ladies and for players who want a gentle racket to try and avoid strain injuries to the elbow and wrist. 
This racket has a sporty design as its hallmark, which is likely to attract a lot of attention on the court. It has a black background with the logo and details in yellow/green and a matte finish.
Rackets specifications
 
Brand
Dunlop
Shape

Round

Balance

Medium

Game type

All-round

Game Level

Beginner – Intermediate

Weight

360

 g
The graphene frame construction provides superior performance compared to similar rackets, thanks to the material being extremely strong and stable yet very lightweight. Science currently knows of no other material that is as thin and durable as graphene, and the advantage when it comes to making padel rackets is that it allows the material to be distributed without affecting either the center of gravity, the weight, or the characteristics of the racket.
For the racket's core, Super Flex has been chosen, which is a medium-density EVA foam that provides an optimal combination of elasticity and speed. It influences good speed even though you may not be hitting very hard yourself yet, and it provides the necessary control in stressed situations.
The hitting surface is made of three tightly interwoven layers of fiberglass. A flexible surface like this will help you get great speed even on softer balls, but at the same time, it gives you all the control you need while you develop a more refined technique. All of these layers also provide excellent durability and longevity to your racket.
The distribution of the drilled holes has been optimized to produce a model that gives new players as stable and all-round a game as possible while they develop on their technique. The sweetspot is really hefty and gives you good margins to return shots from all corners of the court.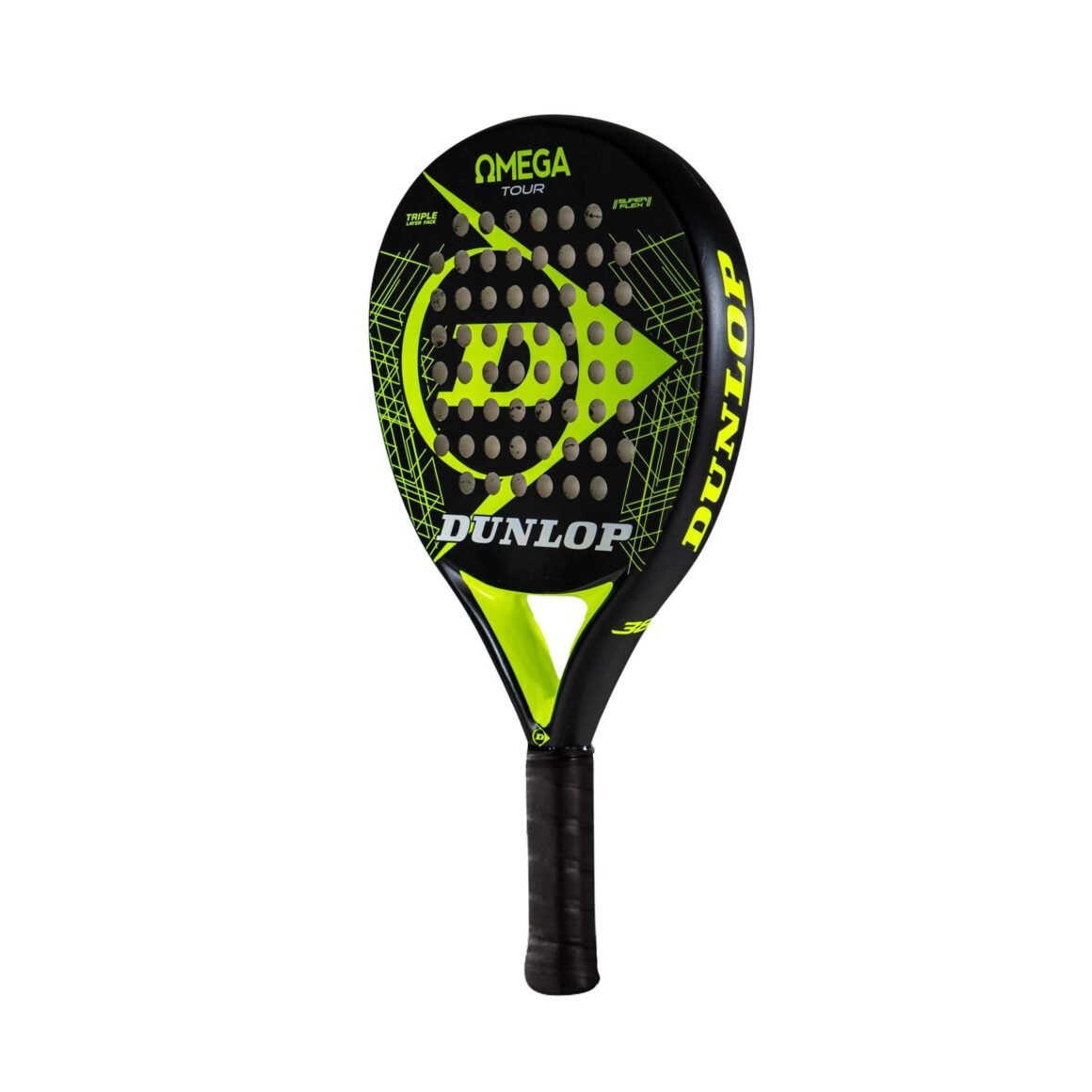 The Omega Tour is a mid-balance racket, so the center of gravity is in the middle of the racket. Top-heavy rackets are designed to provide maximum explosiveness in smashes and overhead play while a low balance prioritizes control. A center of gravity is what characterizes all-round rackets, as it does not specialize in either control or attacking play but instead is a kind of happy medium. With a racket like this, you can feel completely confident in displaying your best game in all situations and getting the best possible feel in all types of shots.
The racket's round shape is what lays the foundation for the glorious sweetspot. This model provides total control and is forgiving enough to make up for a technique that is never perfected in the beginning.
The Dunlop Omega Tour Black/Yellow is a soft racket. The Super Flex core is just what you need to back you up on offense, and the three-layer fiberglass hitting surface gives you the feeling of total control and precision in the placements.
What level of player is the Dunlop Omega Tour Black/Yellow suitable for?
Dunlop has produced this racket series for players who do not have much experience in padel but know where they want to go. For beginners as well as advanced players, it is perfect for anyone who wants to improve their game and take it to the next level. Thanks to its lightweight feel, it is responsive in all your movements and adapts to your movements very well, and the balance it delivers between power and control you will notice right away.
Is the racket best suited for offensive or defensive play?
The Omega Tour is a versatile all-round racket, which works equally well when defending from further back in the court as it does when attacking at the net. The rounded shape with its huge sweetspot allows you to control all facets of the game, and thanks to the medium balance you get a racket that is easy to swing and allows you to win easy points in the air. 
All-round rackets are a great choice at the beginning when you haven't yet developed a defined style of play, they lay the foundations for practicing a wide range so you can then win matches no matter what the opposition looks like.
Information about the Dunlop brand
Perhaps tires are the first thing you think of when you hear the name Dunlop? If so, you're not completely wrong. Scottish inventor John Boyd Dunlop patented the first bicycle tire back in 1888, and it wasn't long before it revolutionized the automotive industry. 
Sports equipment is nothing new to Dunlop, however, as they launched both golf balls and tennis balls in the early 1900s. They have been a leading manufacturer of tennis rackets for over 100 years, and have long been a reference even for the top players in squash and badminton. 
Their wide range of products is now very complete with rackets, shoes, balls, bags, and accessories. The company's headquarters are now located in Kobe, Japan.
A company like Dunlop, which has been involved in racket sports for so long, was, of course, involved when padel became really popular in the Spanish-speaking countries around the world about 20 years ago. They have many years of experience and their racket collections are getting better and better with each passing year. 
If a racket has the latest technology, is of the highest quality, and has managed to outperform last year's model – then it is most likely a Dunlop racket. Several of the world's top players use the brand, including Juani Mieres and Patty Llaguno.
Benefits of Dunlop Omega Tour Black/Yellow
Anyone who wants a versatile racket that really combines power and control at a very affordable price has an excellent option here. The lightweight feel of the racket makes it perfect for quick movements and quick volleys. It sits comfortably in the grip while you hone in on your game at your own pace, thanks to the awesome ball feel you'll achieve delicate placements and explosive smashes without straining yourself more than necessary.
A racket as complete as this has no obvious drawbacks. It might have benefited from a slightly harder hitting surface to make the target audience a little wider. A more advanced-level player will want a more dynamic racket.
Disclaimer
All opinions given by Elitepadel and our writers are subjective and you may not agree. Elitepadel.se is a free platform for you as a visitor and is instead funded through collaborative links to our partners. You as a visitor are not affected by these links.