Our verdict and review for the Fila the agilis after testing the racket is that it is an awesome racket for the defensive player who is at a Beginner – Advance level. This racket also has a Round shape which gives you more additional defensive qualities.
Fila's new padel rackets are not only really aesthetically pleasing, they also have a really good quality. The price level is neither the lowest nor the highest compared to competitors.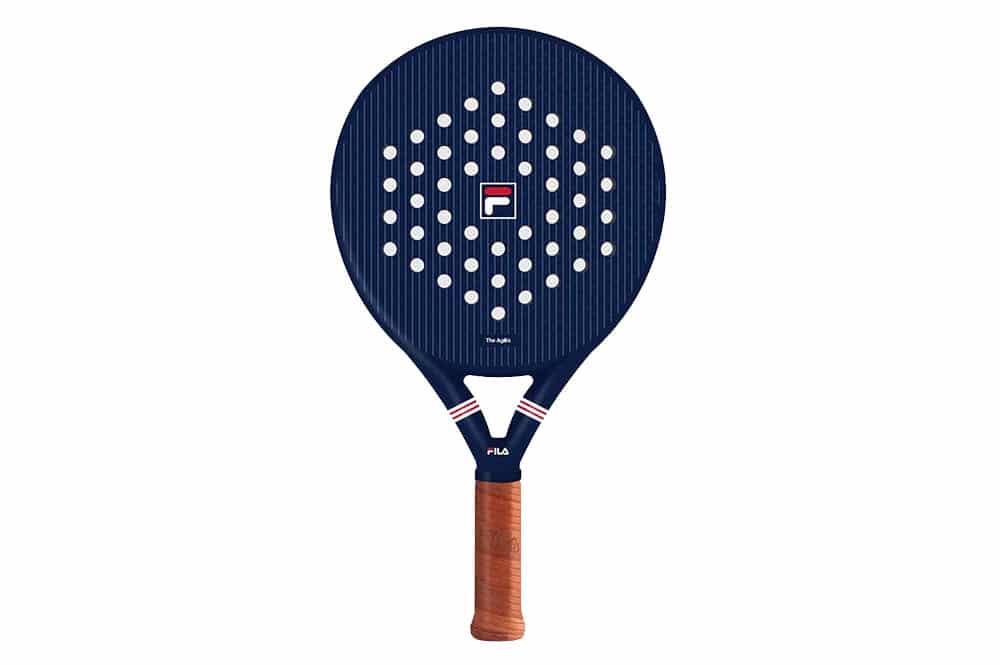 Fila the agilis characteristics
Below we review the Fila the agilis and the racket's features. In addition to the features, the racket is aesthetically beautiful with fine lines and nice coloring.
| | |
| --- | --- |
| Rackets specifications |   |
| Brand | Fila the agilis |
| Shape | Round |
| Balance | Low |
| Game type | Defensive |
| Game Level | Beginner – advanced |
| Weight | 360 – 370 g |
The frame is extra durable in its carbon fiber material and the hitting surface is a little softer with 3K carbon fiber. A racket package that can withstand more impacts and mis-hits, while still having soft characteristics.
A low balance point that creates more balance in the game. This makes it easier for the player to handle and also does not put a high strain on the player's muscles and joints.
The round racket shape provides a larger sweet spot, which makes this model easier to create good ball hits.
Soft racket due to the round shape, larger sweetspot, low balance point and softer core. The racket's characteristics make it particularly suitable for players who prefer a defensive style of play. There are some hard characteristics in this racket, like the reinforced frame and a hitting surface that is semi-hard, but are not quite enough considering the combinations with the remaining characteristics.
What level of player is the Fila the agilis suitable for?
As it is a soft easy to handle racket, it can be good for beginners and help them to create control and speed in the game and learn different techniques. It can also be a good racket for those at a more advanced level, who are mainly looking for control, balance and speed in the game.
Is the racket best suited for offensive or defensive play?
Considering most of the characteristics, it is more suitable for a defensive game. The rounded shape of the racket allows for a larger sweetspot and combined with the low balance and softer core, it is a suitable choice for defensive play and for those looking for a softer easy to handle racket to play with.
Information about the DoPadel brand
The Fila brothers founded the Fila brand in Northern Italy in 1911, with the main aim of producing clothes for the people living in the Italian Alps. It was not until the 1970s that they began to produce clothing and underwear for those involved in sports and athletics. We have seen Björn Borg posing in their underwear.
It is a big well-known brand that is sold in most of the world and they are mainly known for their good quality, stylish design and wide range of products for most sportsmen and sportswomen. Now even padel athletes can find rackets and other items that are tailored for padel.
Read more about the Fila padel racket and our other reviews.
Compare racket with other models
Benefits of Fila the agilis
It is a soft racket that mainly provides balance and control in the game, which also makes it more gentle on players' muscles and joints. In addition, the frame is reinforced in carbon fiber, which makes it more resistant to bumps and mishaps. A larger sweet spot and a low balance point help to create good ball hits with good speed and control.
It can be very challenging to use this racket in offensive situations on the padel court, so in these situations extra strength may be needed from the player.
Here you can buy the racket
Disclaimer
All opinions given by Elitepadel and our writers are subjective and you may not agree. Elitepadel.se is a free platform for you as a visitor and is instead funded through collaborative links to our partners. You as a visitor are not affected by these links.