Our rating and review of the Babolat Vertuo Counter can be summed up in the fact that it is a very easy racket to play. It is a racket that is very suitable for those who are playing at a beginner level and want to practice the basics. 
If you want to take the next step in the offensive, then the Babolat Vertuo Counter is not the racket for you. However, considering the affordability of the Babolat Vertuo series, this racket can be a very good first step and then choose a more complex racket when you are ready for it.
Don't miss our video review below as we test the Babolat Vertuo Counter, Air and Technical.
We have tested the racket!
Micke at Elitepadel has tested the racket. In this video you can see us test play and review the racket.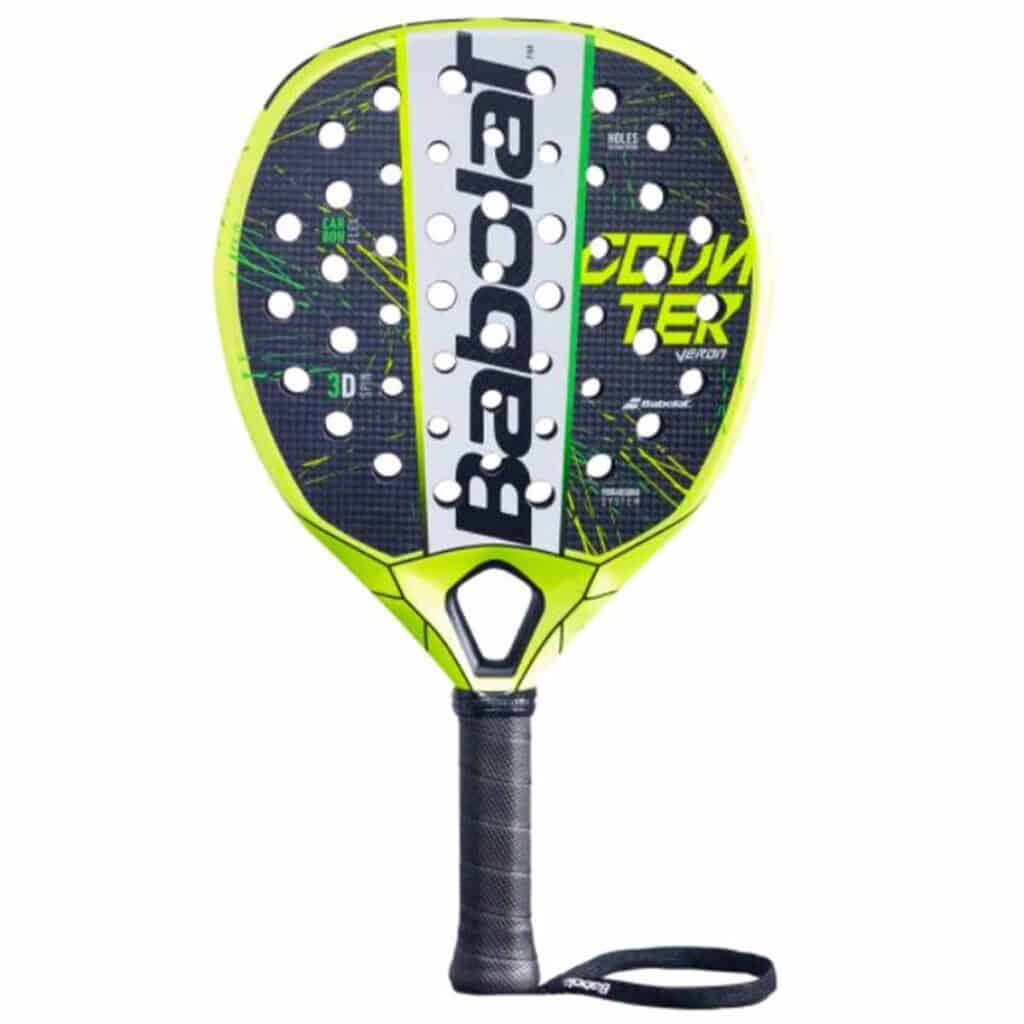 Babolat Vertuo Counter characteristics
The Vertuo Counter's hallmark is based around its impressive speed, a great choice for intermediate and new players who want to focus on improving their technique and let the racket do the work when it comes to placing speed on the balls.
Given that it's a round racket with a soft hitting surface and a large sweetspot, you'll naturally get all the control you need, and since the racket has a medium balance, you'll find it produces surprisingly good results on offense as well. A racket that will be appreciated by a wide audience, not only by players looking for a lightweight racket that is gentle and comfortable.
The design is sporty and fresh, this is by no means a discrete racket that blends in with the crowd. This racket has a black background with an appealing color scheme in green and yellow.
Specifications
Information about the racket
Player performance level: Beginner - Intermediate
The frame is made of carbon fiber to ensure that the racket is tremendously stable and durable, while at the same time being lightweight, making it very comfortable to grip.
The core is made of Black EVA foam, which has a high density and ensures that you get good speed on the balls in all positions.
The hitting surface is made of Soft Fiber, a kind of soft fiberglass. The main feature it provides is that the sweetspot will be maximized, giving you a more forgiving racket. Any new player should go for a model like this, which allows you to maintain control of the ball even on those occasions when you hit further out towards the frame. 
Babolat's own vibration dampening system has been integrated above the handle of this racket. The technology is called the Vibrasorb System, and it helps to reduce the risk of injuries such as tennis elbow. A soft racket absorbs vibrations well, but with this added in, it makes a racket that is an excellent choice for players who struggle with muscle strains.
Another of Babolat's new technologies that the Vertuo Counter boasts is the HPS, Hole Pattern System. The purpose of this is to strategically pattern the drilled holes according to the shape and sweetspot of the racket to give you more speed and control in your strokes. It also gives you better grip on the ball for maximum spin.
The racket has a mean balance that Babolat has measured up to 265mm. So it's a round racket with a slightly higher balance to be more effective and easier to use on the offensive. Round rackets usually have a low balance, which makes them the easiest shape to play with as the center of gravity is so close to the body, but at the same time, they are more difficult to swing. A medium balance makes this a bit more of an all-round racket thanks to it working better in the overhead game.
The Vertuo Counter is a round racket, the best shape for new players as it provides the biggest sweetspot possible and makes for a forgiving racket that gives you margin even on off-target hits. However, this does not mean that it is not suitable for all levels of players, even players in the world elite who build their game on total control play with round rackets. 
Like the entire Vertuo range, this is a soft racket, designed to allow recreational and novice players to bring out their very best qualities on the court. A softer racket like this puts good speed on the balls even when you're not hitting excessively hard, which is a big advantage because, in the beginning, you tend to focus mostly on technique.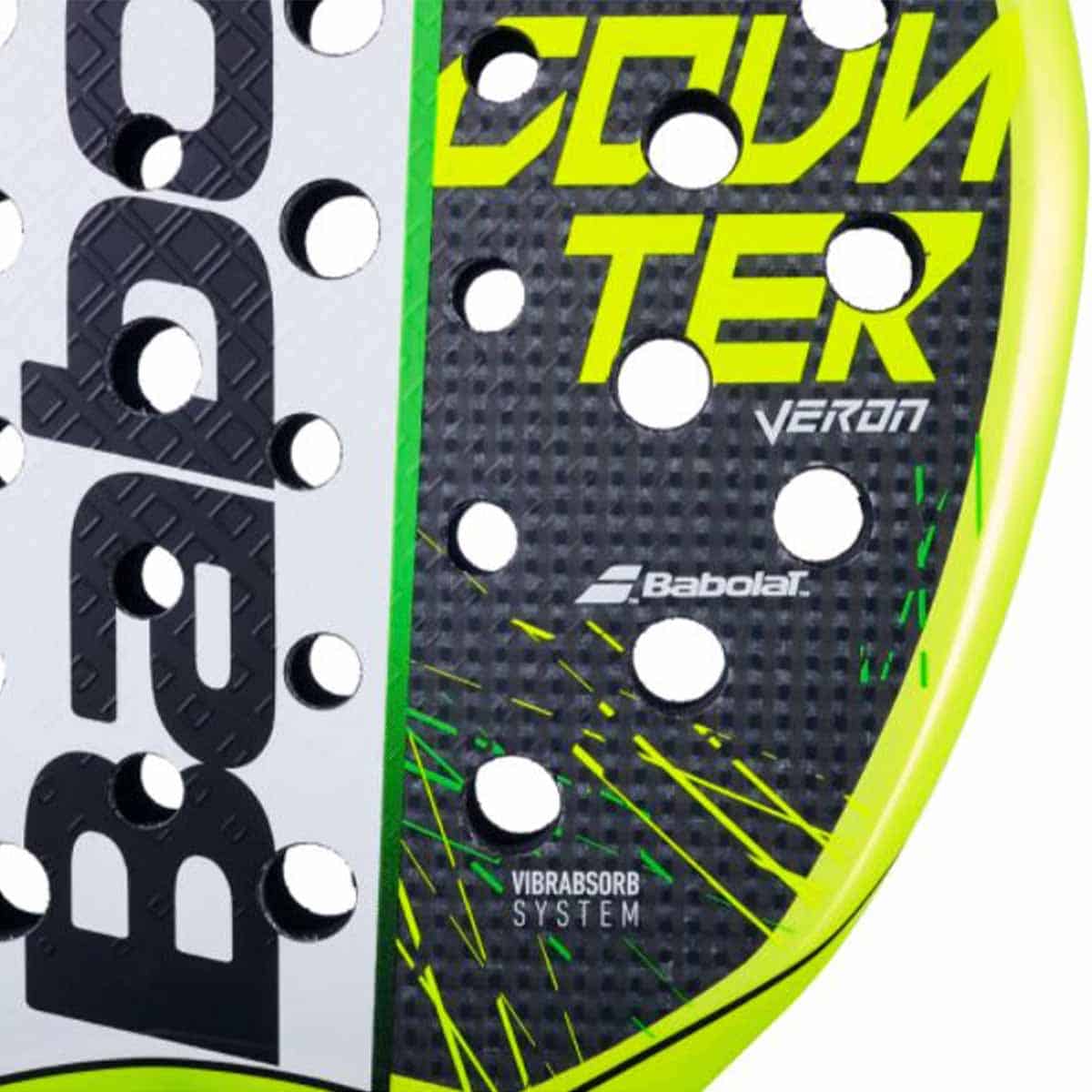 What level of player is the Babolat Vertuo Counter suitable for?
This is an easy to play and stable racket with a substantial sweetspot, making it an excellent choice for all new players and recreational players who prioritize control at all times. The Vertuo Counter allows you to develop your technique while still feeling like you can perform at your best and defeat your opposition. 
Is the racket best suited for offensive or defensive play?
Vertuo Counter is designed to meet the needs of all players when taking their first steps on the padel court. You have a great sweetspot that allows for most, along with a core and hitting surface that lays the foundation for great speed in your strokes. A soft racket like this provides the best possible control, but at the same time it provides really nice speed and the mid-range balance ensures it delivers on offense as well.
Brief information about the brand
Babolat is probably the world's oldest brand focused on racket sports, and its headquarters are located in Lyon, France. This family business was founded by Pierre Babolat back in 1875 during the birth of tennis, and his original business idea was to manufacture natural gut strings for both badminton and tennis rackets.
For almost 150 years, the brand has been the world stars' favorite for stringing their rackets, but their product range has undergone a major evolution. Today, they are the world leader for all types of racket sports equipment such as shoes, balls, clothing, bags, and accessories.
Ever since padel became really popular in the Spanish-speaking countries around the world, the French brand has been producing padel rackets. It has now been about 20 years since then, and Babolat has constantly been at the forefront of helping the sport grow through various innovative materials and designs. What sets them apart from many other manufacturers is a close working relationship with clubs, schools, coaches, and players to analyze the needs of the sport and thus determine the direction in which development needs to go. Characteristics such as security, quality, and status are ever-present throughout Babolat's range of products.
Babolat is the official sponsor of the world's largest and most prestigious paddle tournament, the World Padel Tour (WPT), and one of its most recognizable names in the sport is Spanish world champion Juan Lebrón.
Advantages of the Babolat Vertuo Counter
This racket is a very good option to start your career on the padel court. It is lightweight, has good vibration-dampening, and provides awesome comfort in the company of good speed. Injury-prone players will appreciate it a little extra, as it is so supple and easy to handle both in movements and in front of the net. 
The large sweetspot and soft fiberglass hitting surface allow you to make mistakes without having to lose points, so you can hone in on your technique at your own pace. Thanks to its neutral balance, it also performs well when you enter your attacking game. With a complete racket like this, it won't be long before you're ready to take your game to the next level.
Plus / Minus
Summary of our review
Hard to get to the next level with this tackle
It's probably not a racket you'll play with for very long, at least not if you're aiming to get better. Once you've practiced the basics and start hitting a little harder, you'll probably want to switch to a harder racket for better precision and more explosiveness in your game.
Babolat Vertuo Counter reviews and ratings
Below we usually collect reviews for Babolat Vertuo Counter online but haven't found any. Therefore, we choose to rate based on our own opinions.
4.0 out of 5 from us at Elitepadel
We have tested the racket!
Micke at Elitepadel has tested the racket. In this video you can see us test play and review the racket.
Our Babolat Vertuo Counter review
Our overall opinion and review of the Babolat Vertuo Counter is that it is a very good padel racket for beginners with very high quality. This racket is perfect for the player who is just starting to play padel or who is not that skilled yet. 
It is a lightweight racket that weighs only 350g. The racket is also equipped with a vibration dampening feature that gives it an awesome comfort and good speed in the strokes.
The Babolat Vertuo Counter is also recommended to injury-prone players as it is a responsive and easy to handle in fast movements. The large sweetspot will also help in case of error strokes.
The disadvantages of this racquet will only become apparent once you start to get a little better and have a better understanding of the game and fine-tuned your strokes. The Babolat Vertuo Counter is probably not a racket that you will have for very long because it lacks the features that you will want when you take the next step. One feature that you will want is a less soft racket to be able to get more precision and explosiveness in the game.
In conclusion, I would definitely recommend this racket as it is perfect for beginners and practitioners who are not that skilled yet at a decent price.