Our rating and review of the Babolat Revenge W is summed up in that it is a very well designed racquet that is made for a versatile game and also delivers good speed and control. It is a racket that is very suitable for those who play at an intermediate – advanced level.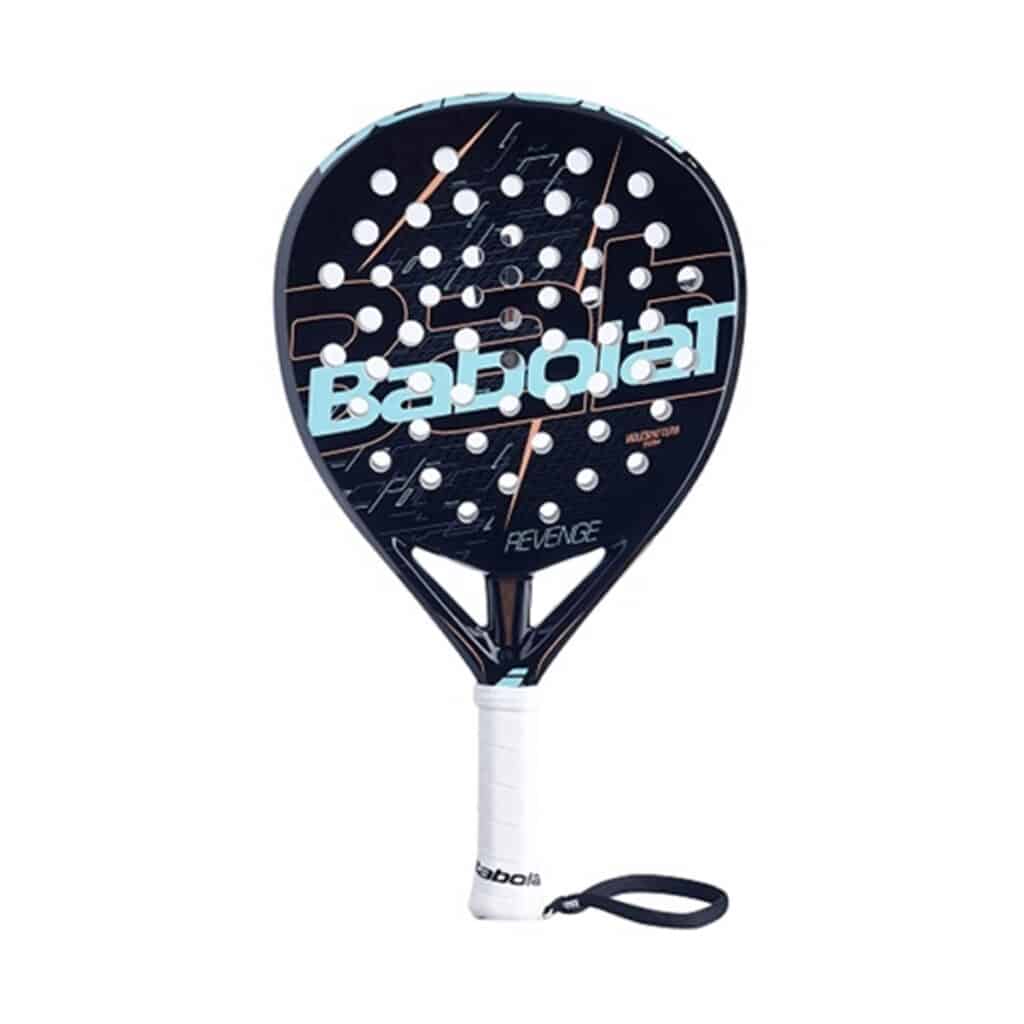 Babolat Revenge W characteristics
We think it is about time that a racket like this, which is made to fit all women players like a glove, was developed. Lately, Babolat has been focusing on developing a racket for each specific style of play, and we believe this comes at the perfect time. In a sport that is constantly evolving as much as padel does, it is important that you as a player can feel that you have found a racket that is perfect for you.
This is a uniquely designed racket for all the women in the sport of padel. A stylish color scheme that comes in black, white, and pink is sure to attract a lot of attention on the court.
It's a lightweight, drop-shaped racket that sits comfortably in the hand, feels responsive as you move around the court, and provides a really good combo of speed and control. It has a great sweetspot and a mid-range balance that suits most player types.
Revenge W features Babolat's new HPS System technology. HPS stands for Hole Pattern System, which means that the shape and sweetspot of the racket are carefully analyzed and then the size and placement of the holes around the sweetspot are adjusted to maximize speed and power by following the trajectory of the ball in the best possible way.
This racket is used by WPT star Victoria Iglesias.
Specifications
Information about the racket
Shape: Hybrid/Drop format

Player performance level: Intermediate - Advanced
The Revenge W has a sturdy and durable frame made of 100% carbon fiber, a material that makes this a racket that will stay with you for a long time. The racket's neck is also reinforced with the Dynamic Stability System, which means that tungsten fibers have been integrated to provide extra stability but also to reduce vibrations. If you play a lot or are injury-prone, you should definitely go for a racket that has vibration-dampening incorporated within as it reduces the risk of, for example, tennis elbow.
The core is made of white Soft EVA foam which easily speeds up the ball while increasing comfort thanks to the reduction of vibrations. 
The hitting surface is made entirely of fiberglass, which is a softer and more flexible material than carbon fiber that more experienced and technically skilled players who hit hard tend to prefer. Fiberglass is a resilient material that places good speed on the balls even when using softer strokes. It has a large sweetspot which makes it a forgiving racket, even when hitting further out to the frame. It also helps to absorb vibrations, increasing comfort during play.
Thanks to its lightweight feel, the racket is easier to handle compared to most other models, and the lower center of gravity makes it easy to swing and thus generate speed.
The Revenge W has a medium balance that we measured up to 265 mm. A central center of gravity makes it easier for you to control the racket and inflicts less pressure on the wrist. This reduces the explosiveness of your overhead shots compared to top-heavy rackets but in return provides more control and precision.
There are three different types of padel racket: round, diamond-shaped, and drop-shaped. Drop-shaped rackets are a mixture of the round and diamond-shaped and are therefore also known as hybrids. The round rackets mainly provide control, while the diamond-shaped ones provide power and explosiveness. The drop-shaped rackets provide – as you might have guessed – a combination of control and power. 
The Revenge W, which is a drop-shaped racket, provides the optimal combo of speed and precision. An easy-to-play racket that works very well all over the court. This racket is a happy medium, you could say, and they tend to be appreciated by players who like to alternate between the defensive and the aggressive style of play.
The soft EVA foam core combined with the fiberglass hitting surface classifies the Revenge W as a medium-hard racket. They provide good speed, even on looser shots, while players who already hit very hard themselves may find they feel a little tame because some of the outgoing power is absorbed by the racket. On the other hand, it is well suited to harnessing the opponent's energy, as the elastic hitting surface allows the ball to bounce back with good speed.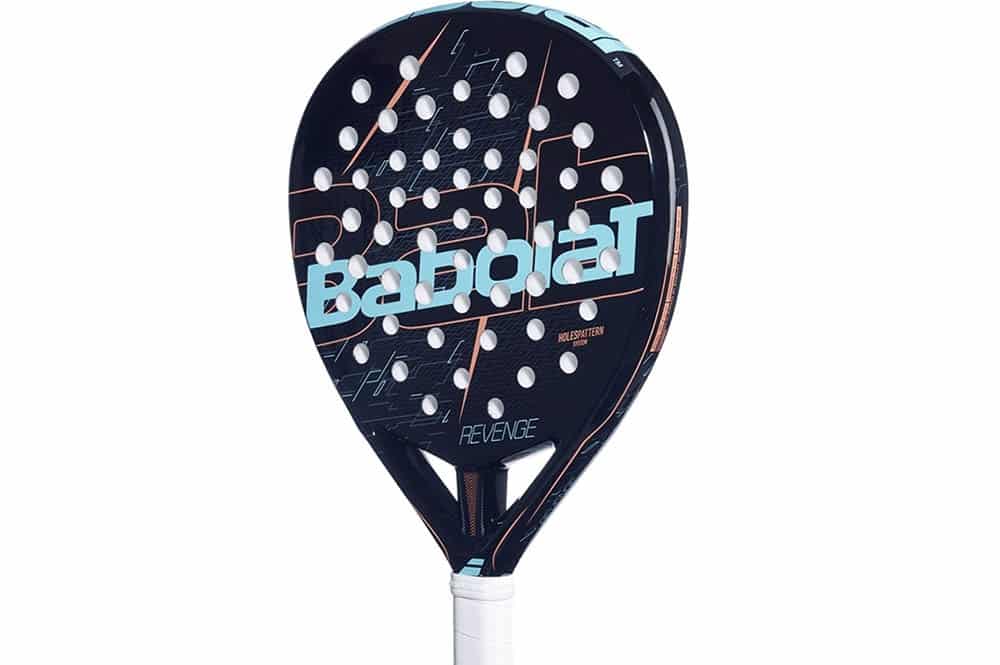 What level of player is the Babolat Revenge W suitable for?
We recommend this racket to all women who play at an intermediate level and to skilled amateurs. Even for more experienced players, it's an all-round racket that works great, especially if you have a mixed style where explosive smashes and heavy volley play are not the foundation of your game.
Is the racket best suited for attacking or defensive play?
The Revenge W provides a fun and versatile game, equally suited to offensive strokes such as smashes and volleys while giving you good speed and control from further back in the court. The main feature of drop-shaped rackets is precisely that they suit most player types, they don't shine in any particular facet but serve a function that suits the all-round player perfectly. 
Brief information about the Babolat brand
It is not uncommon that tennis is the first thing you think of when you hear the name Babolat, who has not seen for example Rafa Nadal who has been using the brand since long ago. Nadal is far from alone, as Babolat is the world leader in tennis, but is also a favorite of many in racket sports as a whole.
Babolat was founded back in 1875 in Lyon, France. Pierre Babolat had a brilliant business idea – he started making strings from natural sinew for the fledgling sport of tennis, whose rackets needed more elasticity. It wasn't long before the racket stars of the day noticed how well Babolat's product worked, and to this day no one can compete with the brand when it comes to stringing rackets. 
The company, which is still owned and run by the same family, now has a huge range with quality and security as its benchmark. They now offer all kinds of sports equipment in addition to rackets such as clothing, shoes, balls, and other complementing products.
About 20 years have passed since Babolat started manufacturing padel rackets, at the same time as the sport started to become really popular around the world. Latin America and Spain were countries where the sport quickly gained traction, and they have dominated the international championships ever since. Babolat currently works very closely with coaches, players, and clubs in order to constantly develop products and designs that adapt to the user's wishes and needs. 
Their product development of padel rackets takes place in Barcelona. Babolat is an official sponsor of the World Padel Tour (WPT), and Spanish world champion Juan "El Lobo" Lebrón is a familiar face who has been using the brand since 2016. 
Advantages of the Babolat Revenge W
This is a new model of padel racket with a unique design that caters to all women on the padel court. It provides a great ball feel and works just as well in both offense and defense. The fact that it also delivers both speed and control makes it a very good choice for those who want to vary their game. 
Despite not being a predominantly offensive racket, it achieves a great result even on overhead shots and smashes. It's not the most powerful racket on the market but it delivers good power in the hits while maintaining control. It's a great option if you want an easy-to-play racket that can help you take your game to the next level, but also if you already have good technique and want to have fun on the court.
It's great for the fast player who wants a responsive racket that can keep up with quick movements close to the net and further back in the corners. It weighs in at just 350 grams, making it a really light model that also feels very stable.
Plus / Minus
Summary of our review
Ideal for a versatile game

Delivers good speed and control despite its light weight

Babolat chose not to use their new 3D surface which would have given better spin on the ball
We would have liked Babolat to use their new 3D grooved face on this racket to maximize grip and get a better spin on the ball.
Babolat Revenge W reviews and ratings
Below we have collected reviews for the Babolat Revenge W online. 
5 out of 5 by a product review on Padelspecialisten.se
4.7 out of 5 by a product review on Racketspecialisten.se
Our review of the Babolat Revenge W
Our overall rating and review of the Babolat Revenge W is a very good racket that gives a nice feel to the strokes. The racquet also works equally well on the offensive and defensive end. The Babolat Revenge W is a combination that provides both speed and control in the strokes. Therefore, this racket suits players who want to vary their game between offensive and defensive play. It also comes at a lighter weight that allows for quicker reflexes and turns on the court.
The Babolat Revenge W is made of 100% carbon fiber which is an incredibly durable material that allows the racket to hang around for a long time. Unfortunately, Babolat chose not to use their new 3D surface layer on this racquet.
Here you can buy the product
Disclaimer
All opinions given by Elitepadel and our writers are subjective and you may not agree with them. Elitepadel.se is a free platform for you as a visitor and is instead funded through collaborative links to our partners. You as a visitor are not affected by these links.