Our rating and review of the Babolat Vertuo Air is summed up in that it is a very well designed racquet that is also very easy to handle with a softer hitting surface. It is a racket that is very suitable for those playing at Beginner or Intermediate level. 
In the video below, you can see us testing and reviewing the Babolat Vertuo Air. We compare the racket with Babolat's two other models in the series – Vertuo Counter and Vertuo Technical. 
We have tested the racket!
Micke at Elitepadel has tested the racket. In this video you can see us test play and review the racket.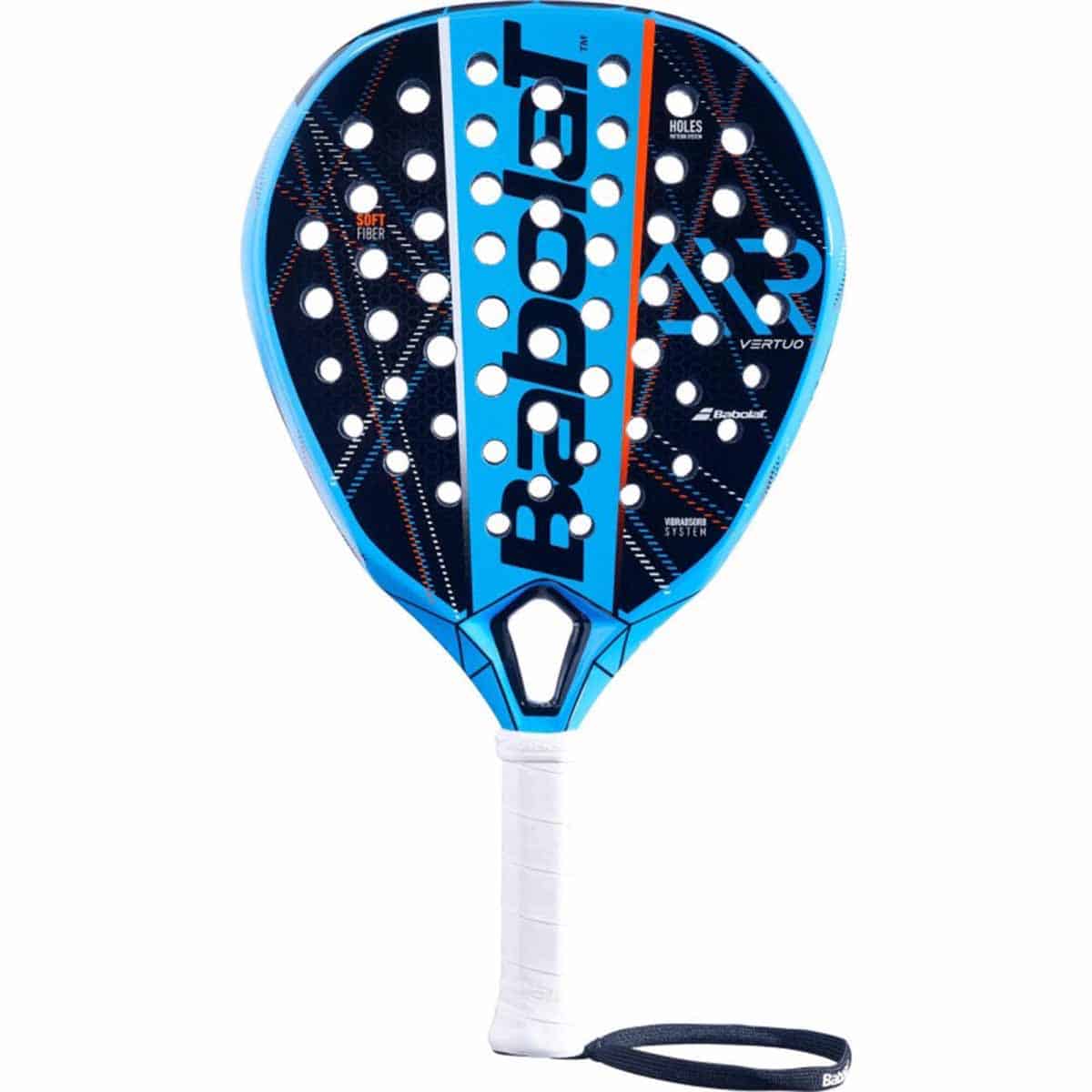 Babolat Vertuo Air characteristics
This is a racket that stands out from the crowd for its tremendous ability to put speed on the ball, but also for being very easy to play with thanks to the soft hitting surface. The racket's shape and very lightweight feel of only 345 grams make it an excellent choice for the fast player who likes to move all over the court.
A very versatile racket that will help you bring out your best game in all the different situations that can arise during a match. The Vertuo series are Babolat's mid-range rackets, all of which are made to be very affordable and easy to play with while delivering the same high quality and performance that we are used to. The Vertuo Air is the lightest of the three models.
The design is in true Babolat spirit, a racket with a sleek and modern look with a black background and blue centerline. The racket has minor details in blue, white, and red with a matte finish.
Specifications
Information about the racket
Player performance level: Beginner - Intermediate
Vertuo Air has a carbon fiber frame that ensures stability and provides a long-lasting, impact-resistant racket.
The hitting surface is made of Soft Fiber, which is soft fiberglass. This soft hitting surface makes it a forgiving racket and provides a larger sweetspot that ensures good speed even when you hit further out towards the frame.
The core consists of Black EVA foam, which puts good speed on the balls thanks to the power of your stroke being concentrated to the maximum at the moment of impact.
Babolat's proprietary Vibrasorb System vibration dampening technology is integrated into the neck of the racket just above the grip. This combined with the very lightweight makes Vertuo Air a very gentle racket that is definitely recommended for players who struggle with injuries such as tennis elbow.
Of course, the French brand has also made use of its now classic technology HPS, Hole Pattern System. It adapts the racket's drilled holes to its shape and sweetspot, in order to make the placement as efficient as possible. This helps the racket deliver more power in the strokes and greater comfort when hitting the ball. In addition, the grip is improved to give you more spin on the ball.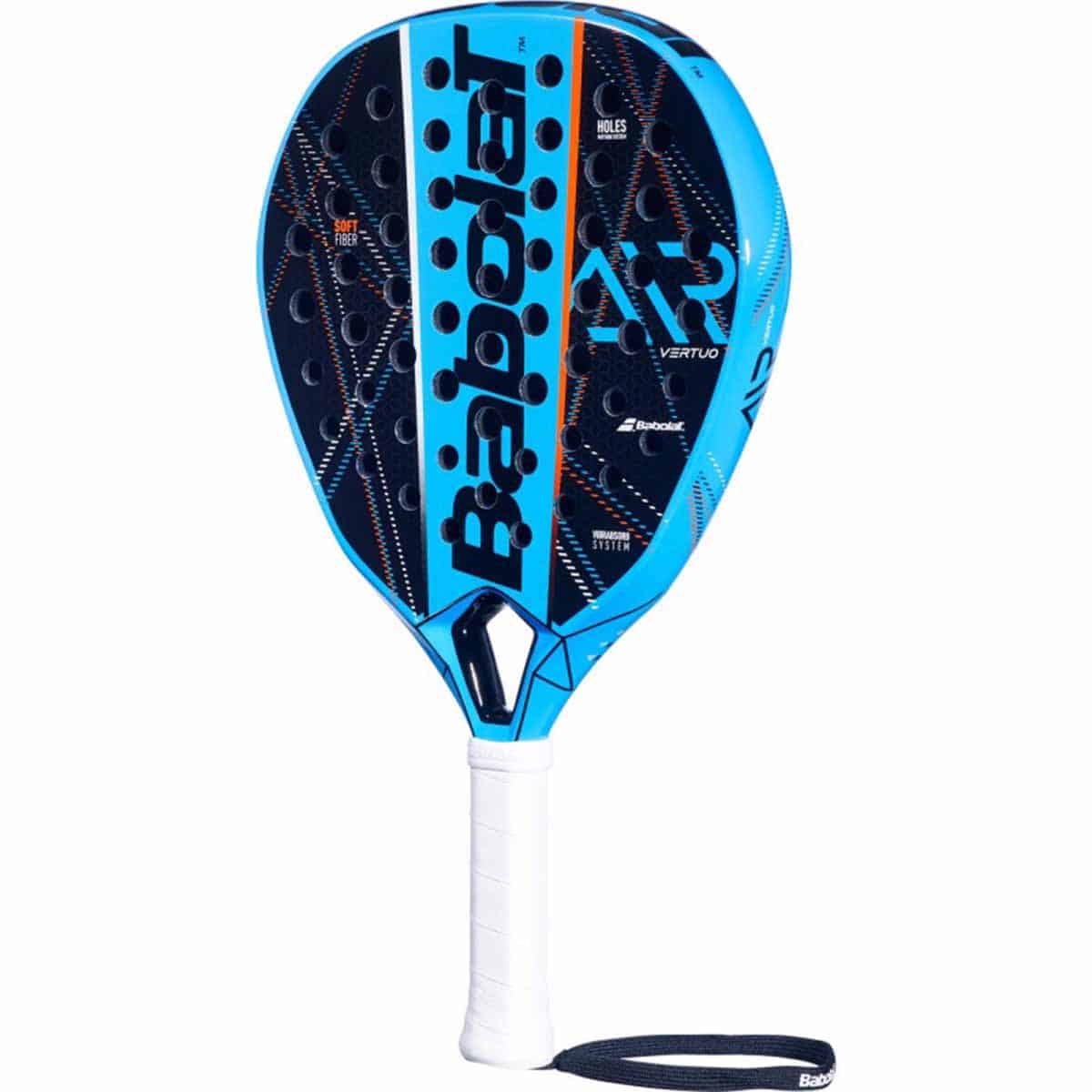 The racket has an average balance of 265 mm, according to the manufacturer. A centered center of gravity makes for an easy-to-handle racket that follows movements effortlessly, which is further enhanced by its lightweight.
The Vertuo Air is a drop-shaped racket, making it the perfect choice for the versatile player who wants to take part in complete and as polished games as possible, where strokes can be varied at all times. The drop-shaped rackets are also called hybrids, simply because they are a mixture of the offensive diamonds and the more controlled round models.
This very affordable model is a soft racket, to ensure you always feel the best response. The advantage of particularly soft rackets when you don't have much experience playing padel is that they provide maximum control while giving you good speed.
A flexible surface gives an extra spin to the ball on impact, making the stroke more explosive even though you may not be hitting very hard yourself. Then, once you've developed a good hitting technique, you can switch to a harder racket, as they make better use of your own power.  
What level of player is the Babolat Vertuo Air suitable for?
The combination of a lightweight, soft hitting surface and a large sweetspot makes this racket a perfect option for both new players and recreational players. It's easy to swing, and it allows you to perform at your best in all conditions thanks to its versatility.
In most cases, using an all-round racket is a clear advantage when you start playing, as it often takes time to develop a defined playing style, and you will be much more complete as a player if you master all types of shots with a good technique.  
Is the racket best suited for offensive or defensive play?
Here, Babolat has produced a smooth and responsive racket designed for the fast player who likes to finish most of the points in front of the net. It's an all-round racket, equally suited to all phases of the game, but the lightweight and shape of the racket make it very easy to swing overhead, so offensive players will probably enjoy it more. 
Brief information about the brand
Many people relate Babolat primarily with tennis, as the brand in this sport is the largest in the world, with users such as Spanish icon Rafael Nadal. In fact, Babolat is perhaps the world's oldest racket sports company, having been founded back in 1875 in Lyon, France.
Their original business idea, no less than 150 years ago, was to produce strings of natural sinew for tennis rackets, and later it was also developed for badminton. Today, the product range has seen tremendous growth, making them the world leader for all types of racket sports equipment. They offer players of all levels products such as shoes, rackets, clothing, bags, and other equipment useful in the sporting world. 
The sport of padel became really popular in Central and South America and Spain a little over 20 years ago, and from the very beginning, Babolat was ready to show its ambitions in this new market that is constantly evolving and improving. In the sport of padel, the brand has been associated with keywords such as quality, security, and status since its inception.
Babolat is the official sponsor of the World Padel Tour (WPT), the world's best paddle tournament. Spanish world champion Juan "El Lobo" Lebrón has been using these rackets since 2016 and is one of the French brand's big poster names.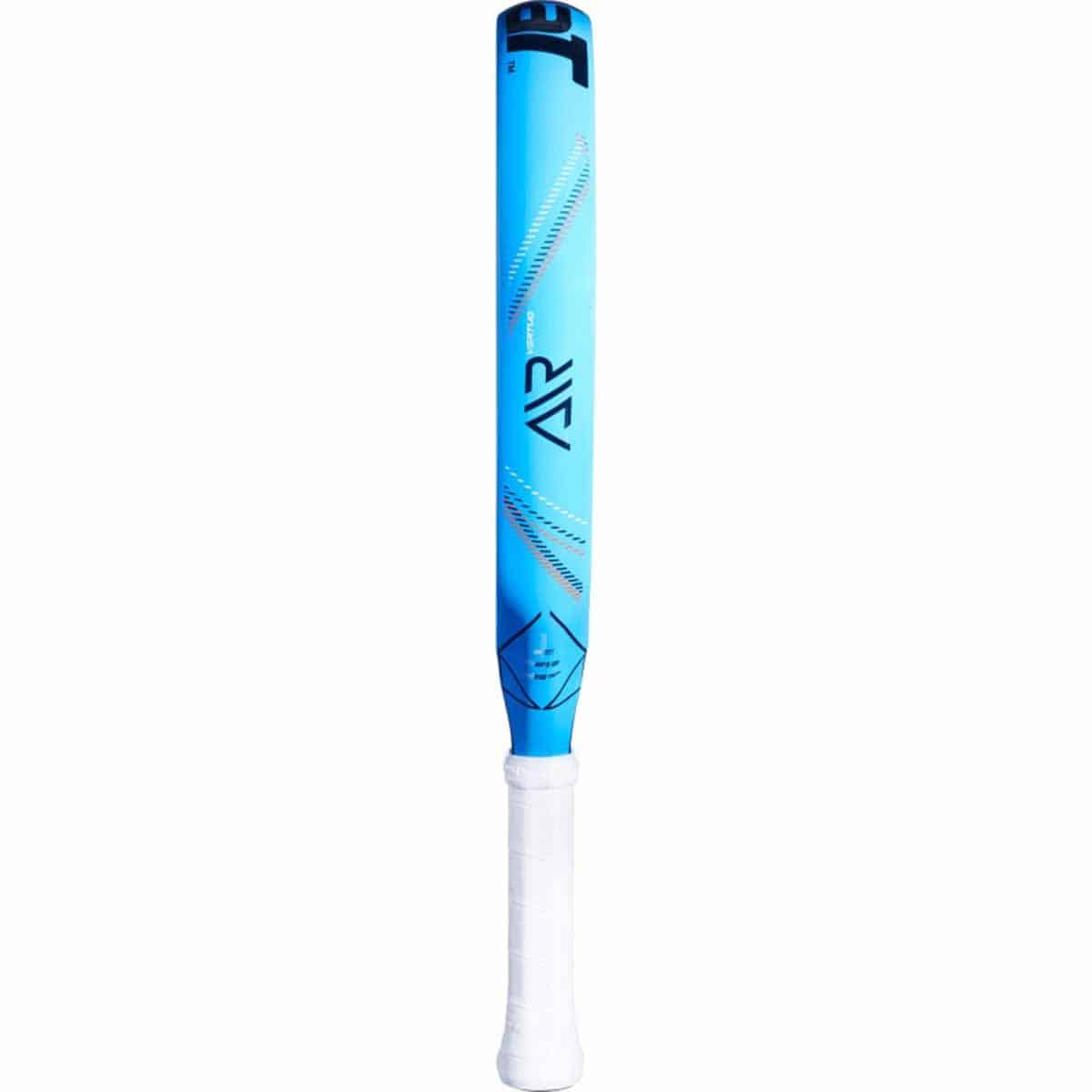 Advantages of the Babolat Vertuo Air
The strength of the Babolat Vertuo Air is that it is a racket that allows you to use your speed to generate momentum, which makes for a very dynamic and powerful overhead game. When you grip it, you immediately feel it encouraging you to take every chance it offers to hit the net and decide the score.
The comfort of each stroke is awesome, which is to be expected with a soft hitting surface enhanced by the additional vibration dampening – an extra plus for those looking for a gentle racket that weighs little.
Plus / Minus
Summary of our review
A very light racket which contributes to speed in various movements

Softer hitting surface compared to the more expensive series from Babolat

Softer hitting surface compared to the more expensive series from Babolat
It's not a racket for those who already hit hard, in that the flexible hitting surface will absorb some of your power and take advantage of it. However, if you focus on good technique, it will help to boost softer strokes. Precision is also not a strength in a soft racket, the placements won't be as precise as you might like.
Babolat Vertuo Air reviews and ratings
Below we have collected reviews for the Babolat Vertuo Air online. 
5 out of 5 by a product review on Padelspecialisten.com
We have tested the racket!
Micke at Elitepadel has tested the racket. In this video you can see us test play and review the racket.
Our review of the Babolat Vertuo Air
Our overall rating and review of the Babolat Vertuo Air is a racket that weighs much less than other racket models that gives you an advantage by being able to be fast in your movements. It also helps you to generate speed and a powerful overhead game using the light weight.
The racquet also has a relatively large sweetspot which is a great advantage in case of an error hit. The Babolat Vertuo Air also combines a soft hitting surface and a lighter weight that makes the racquet a perfect option for both beginners and recreational players.
Disclaimer
All opinions given by Elitepadel and our writers are subjective and you may not agree with them. Elitepadel.se is a free platform for you as a visitor and is instead funded through collaborative links to our partners. You as a visitor are not affected by these links.