Our rating and review of the RS Prime Power Edition is summed up in that it is an excellent choice for the player who wants to get to the next level. The RS Prime Power Edition comes with a medium balance that will give you an awesome all-round game where the racket performs very well in the offensive game.
We have tested the racket!
Mikael at Elitepadel has tested the RS Prime Power Edition 2022. In this video you can see us testing and reviewing the racket.
Our opinion after testing the RS Prime Power Edition 2022: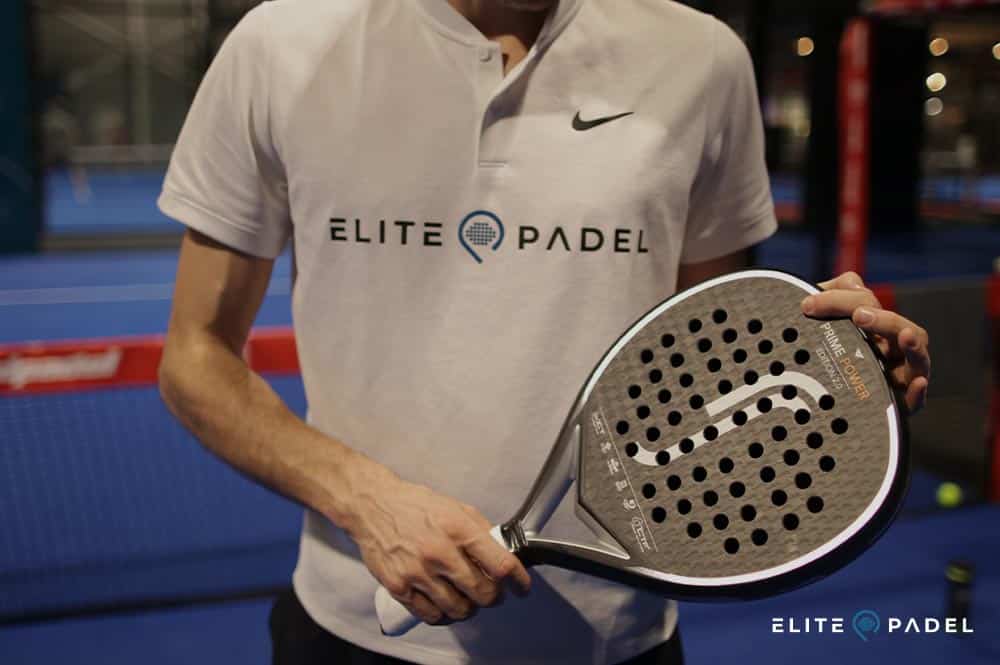 RS Prime Power Edition characteristics
Here RS presents the second of the Z-series premium rackets. We would guess that it is Söderling's personal favorite racket, as it would be a perfect match for his powerful, attack-oriented style of play on the tennis court.
The Prime Edition Power has been designed to be the perfect choice for the attacking player with an aggressive style of play based on smashes and overhead play, but which hasn't quite been conquered by the diamond-shaped models.
Designed to generate as much power as possible without sacrificing control and precision, it is a very balanced racket that is sure to become a favorite of many this year.
For an advanced, offense focussed racket, it's really easy to play with thanks to the extra-large sweetspot, lightweight and medium balance. A very interesting option for the all-round player who prefers to focus on their attacking game and has the smash as their best weapon.
| | |
| --- | --- |
| Rackets specifications |   |
| Brand | RS |
| Shape | Drop shape |
| Balance | Medium |
| Game type | Offense |
| Game Level | Intermediate – Advanced |
| Weight | 365 g (+/-10) |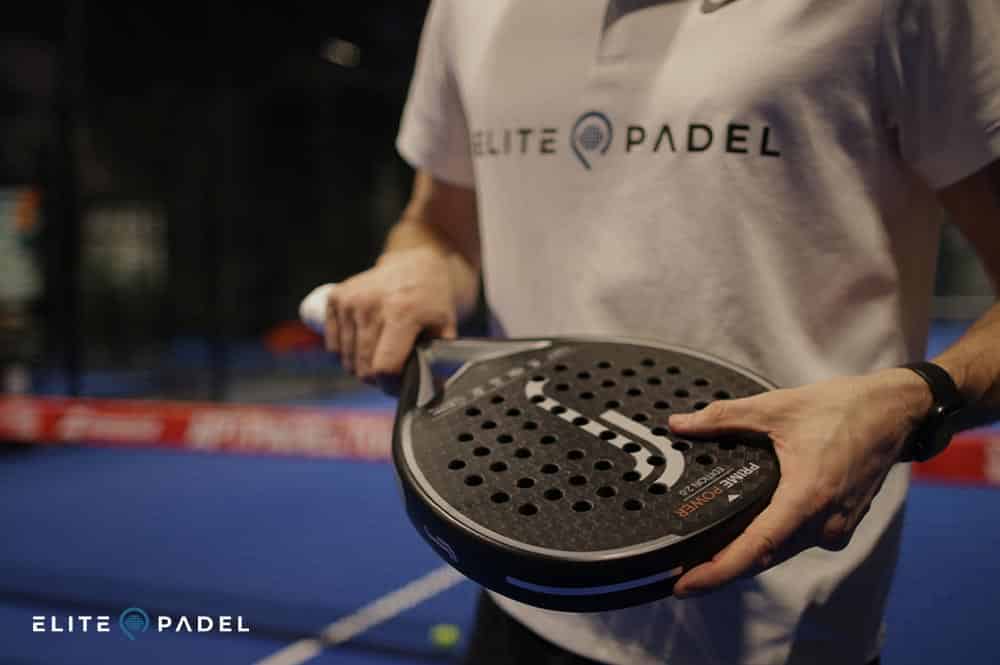 The first thing that was done to ensure that the result would be a stable and durable racket was to manufacture a frame of 100% carbon fiber Carbon 50EV. The next step was to also create a hard core, to really put some serious speed on each ball.
One of the most important factors when it comes to a padel racket is the hitting surface. Different materials mean different characteristics when hitting, and if it's an offensive racket you're after, you should undoubtedly choose a hard material that creates power in the strokes. 
Here the choice has fallen on a safe bet, one of the densest carbon fiber fabrics on the market by far – 18k Carbon. So you have no less than 18,000 carbon fiber threads per cm² which not only makes it extremely durable and hard-wearing, it also provides really good pressure in your attacking game. The carbon fiber fabric in this case has been topped with a fiberglass element, to provide the hitting surface with a little more flexibility that increases control.
Shot-Max Control is a new technology that turns this racket into an effective attacking weapon as it provides really good precision in ball placement. Hard models like this often require a lot of technique to put the ball where you want it, which makes this a welcome aid.
Total Sweet Point is what they call the optimized hole placement, the pattern the holes form gives the racket an extra-large sweetspot that also maximizes the power of each ball strike. Another advantage is that the bigger the sweetspot, the easier it is to hit the ball correctly, even if you don't find the middle of the racket, the ball will still be controlled and end up where you want it. 
Vibrastop Tech is a vibration dampening technology they have used, another step towards making this as gentle a racket as possible for the dynamic attacking player. It effectively absorbs the vibrations created every time your racket meets the ball, reducing the risk of injuries such as tennis elbow.
As is to be expected from a drop-shaped racket, the Prime Edition Power has a medium balance. The center of gravity of the racket is, therefore, a little closer to the body, which means that the leverage when swinging the racket is not quite as great as in the top-heavy diamond rackets, but in return, it is easier to play. 
It follows more easily all the lateral movements, up to the net and back in the corners without you noticing it's in your hand. It allows you to broaden your game by constantly giving you the optimal conditions whether you're defending, laying clever bandejas, enjoying quick counterattacks with volley play, or looking to decide points with powerful smashes.
Here we have a drop-shaped, yet very offense focussed racket which seems to have been a stroke of genius on the part of Söderling – and his collaborators. Almost always the aggressive, attack-minded players tend to fall for the diamond shape, but often they find that they may not quite have the technique to make this type of racket work fully on the court. 
Sometimes they find themselves forced to switch models because the constant balancing of these top-heavy models is a strain on their elbows and shoulders. The solution? Prime Edition Power, which offers the same features as a diamond-shaped racket but is far more gentle and easy to play with.
This is a hard racket, the hardest of the RS premium rackets, from the sturdy carbon fiber frame to the extremely dense carbon fiber weave in the hitting surface. Even the core is hard, to provide that extra push in the ball strike. The softer a racket's hitting surface, the more your power is absorbed. 
A hard racket acts like your opponent hitting the ball hard into a brick wall – it recoils. A softer hitting surface gives more control, but the effect is like having a thick carpet hanging on the brick wall. 
The equally high-end Prime Edition Control model has many similar features but is a better choice for those who want a slightly softer option.
What's worth pointing out is that despite its hardness, it's gentle to play with, and that's mainly thanks to the medium balance. 
By having your center of gravity closer to your body here, it automatically becomes a gentler option for your shoulders and arms. Especially if you use a lot of overhead play, and have previously played with a diamond-shaped racket, you will notice the difference.
What level of player is the RS Prime Power Edition suitable for?
It is a racket designed primarily for experienced players with a fairly high technical level, but because it is more manageable than diamond-shaped rackets with similar characteristics, it is also an interesting option for intermediate players who play in offense and who still want to develop their game. The enlarged sweetspot also makes it a more forgiving racket that works really well even if you occasionally hit off-target.
Is the racket best suited for offensive or defensive play?
Prime Edition Power is designed for the all-round player who focuses on power and explosiveness. It is an offensive racket, without being extreme. The solidity of the racket ensures it performs at its best when attacking in front of the net or often engaging in fast-paced ball duels that you like to settle with a smash. 
If you're putting good speed on the balls yourself, this is a racket that adds extra pressure to every stroke, so you can really put pressure on your opponents at all times. It's suitable for a wide audience thanks to its drop shape and medium center of gravity, making it much easier to play with than other, similar variants.
Information about the RS brand
World-famous tennis star Robin Söderling was the first professional player to develop a tennis ball himself. This laid the foundation for his now highly successful company RS, which since 2013 has worked to produce "premium products developed by players for players". In recent years, Söderling has broadened his focus from tennis to also explore the market for padel products, well aware of the sport's growing trend in Sweden and that it is undoubtedly here to stay. This was the beginning of the company's new branch: RS Padel. 
In collaboration with some of the padel sport's top-ranked players such as Marbella's Cayetano Rocafort and Sweden's Simon Vasquez, here comes an exciting collection of rackets, balls, and bags characterized by innovation, the best material choices, and the latest technology.
Comparison of RS rackets
Shape
Balance
Level of play
Weight
RS Prime Team Edition
Drop Shape
Medium
Intermediate
360-370g
RS Cobra Apex Womens Edition
Round
Low
Beginner - Intermediate
330-350g
RS Cobra Edition
Round
Low
Beginner - Intermediate
360-375g
RS Cobra Womens Edition 2.0
Round
Medium
Intermediate - Advanced
335-360g
RS Pro Edition Cayetano Rocafort
Hybrid (Round/Drop)
Medium
Intermediate - Advanced
360-375g
RS Pro Edition Simon Vasquez
Hybrid (Drop/Diamond)
Medium/High
Intermediate - Advanced
360-375g
RS Prime Team Edition Black
Drop Shape
Medium
Intermediate - Advanced
360-370g
RS Prime Womens Edition Blue
Drop Shape
Medium
Intermediate - Advanced
345-360g
RS Prime Power Edition
Drop Shape
Medium
Intermediate - Advanced
360-370g
RS Prime Control Edition
Drop Shape
Medium
Beginner - Intermediate
360-370g
X-Series Womens Edition by Margaux
Drop Shape
Medium
Beginner - Intermediate
355-370g
Click here to read about all RS padel rackets.
Advantages of the RS Prime Power Edition
In the Prime Edition Power, RS has found a niche that may not have been previously represented on the market, a racket whose characteristics are a sort of cross between a drop-shaped racket and a diamond-shaped one. It is the perfect option for offensive players who have been using drop rackets and are considering making the switch to diamond, or for those who find that the diamond shape puts too much wear and tear on their joints. 
The happy medium allows you to experience the best of both worlds – the power and explosiveness of a hard racket, and the control and precision of the drop shape. A combo that will undoubtedly be appreciated by a wide audience. 
The light weight is another plus, you'll find that it's a racket that glides easily and smoothly with all your quick movements across the court. You'll have a lot of fun playing with this in your hand, whether you're competing or playing a practice match with work buddies.
Keep in mind that this is not the most offensive or the most powerful racket on the market, but simply a more easy-to-play and gentle racket than most other hard models. If it's a pure power racket you're after, this is not the right choice. 
The smooth hitting surface we think is a minus, an offensive racket with some kind of textured surface will give more width to the game with better spin and effects. The Prime Edition Power Sandy model has just that, and this detail undoubtedly means you get a better grip on the ball during the match.
Disclaimer
All opinions given by Elitepadel and our writers are subjective and you may not agree. Elitepadel.se is a free platform for you as a visitor and is instead funded through collaborative links to our partners. You as a visitor are not affected by these links.