Our rating and review of the RS Prime Control Edition is summed up in that it is an excellent choice for the player who wants to get to the next level. The RS Prime Control Edition comes with a medium balance that will give you an awesome all-round game where the racket performs very well in the offensive game but also has a good control in defensive shots.
We have tested the racket!
Mikael at Elitepadel has tested the RS Prime Control Edition 2022. In this video you can see us testing and reviewing the racket.
Our opinion after testing the RS Prime Control Edition 2022:
Here you can buy the RS Prime Control Edition
RS Prime Control Edition characteristics
Introducing one of the premium rackets of the season, where control, power, and precision finally go hand in hand. It has succeeded in creating a drop-shaped racket that allows you to enjoy the thrill of fast-paced ball duels while feeling in total control in all match situations. The latest technologies have been combined with the highest quality materials, to make you feel comfortable with your racket from the very first moment.
The hard carbon fiber frame has been joined by a softer core, with a substantial sweetspot for finding unthinkable angles on the court. You'll be able to place the ball exactly where you want it while impressing others with your smashes at the front of the net. Prime Control Edition promotes an all-round game based on control and seemingly impossible placements executed with razor-sharp precision.
One of the reasons this is a racket that delivers such incredibly effective and precise placements is thanks to the new and revolutionary Shot-Max Control technology. The hitting surface becomes more impactful, and when you combine that with the improved sweetspot, the result is a racket that will attract a lot of attention in the market.
In terms of appearance, the racket has a clean and elegant design with no unnecessary frills, exactly what the brand is known for.
| | |
| --- | --- |
| Rackets specifications |   |
| Brand | RS |
| Shape | Drop shape |
| Balance | Medium |
| Game type | Control |
| Game Level | Intermediate – Advanced |
| Weight | 365 g (+/-10) |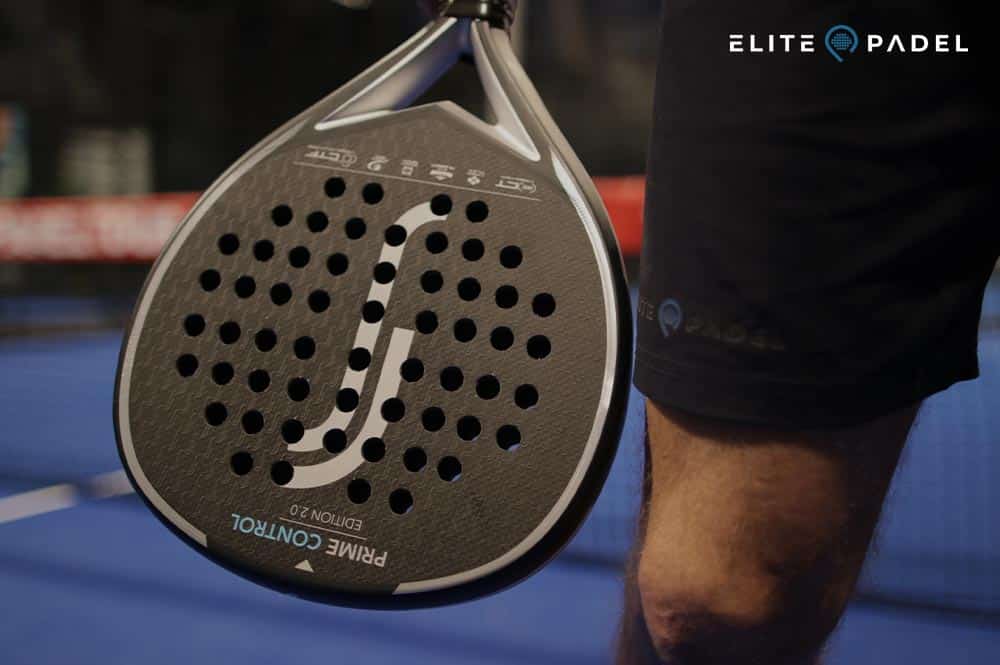 The structure Carbon Tech Frame of 100% carbon fiber EV30 is made to be stable and durable. The hitting surface is also made of carbon fiber, in this case, a very light and dense 12k Carbon fabric that has been topped with fiberglass. Fiberglass is a material that adds elasticity to the otherwise very hard carbon fiber fabric and gives a lovely feel in the ball strike which improves your control.
For the core of the racket, the choice has fallen on the soft foam Soft EVA. The strength of this design is that it constantly combines softer materials with harder ones, bringing together the positive attributes of each. The result is a very competitive all-round racket that is definitely worth a closer look. 
Shot-Max Control optimizes the placement of each shot, while Total Sweet Point is a technique that, through efficient hole placement, provides the best possible sweetspot and takes this racket to the next level. Vibrastop Tech makes it much more comfortable to play with while reducing the risk of injuries such as tennis elbow.
As with most drop-shaped rackets, the Prime Control Edition has a medium balance. Most rackets that focus on control tend to be round with a low balance, but thanks to this being a drop-shaped model, the balance is a little higher which helps you generate a lot more momentum in your strokes. This very fact means that it can be seen as an all-round racket, as it suits most styles of play and you will never feel at the mercy of this racket in your grip.
This is a drop-shaped racket, which is one of the rarities when it comes to the control-oriented models we're talking about. RS seems to have filled a hole here that has existed in the market, by allowing you to hit both speedy balls and well-placed ones. Not having to give up a powerful overhead game just because you prefer technical shots and strategic placements makes this an interesting option in the near future.
This is the softest of the RS collection of premium rackets. The frame itself is hard and stable, as is the carbon fiber found in the hitting surface. To counterbalance this, the racket has a softer core of Soft EVA, making it ideal for more technically inclined players who would rather go for skillful placements than raw power. Furthermore, the addition of fiberglass on the hitting surface provides extra control while absorbing the vibrations when hitting the ball.
This is much appreciated by players who want to use a gentler racket and thereby reduce the risk of injury. In comparison, we can mention that the Prime Power Edition model is a similar racket but harder, and is better suited for the player who is primarily focused on power.
What level of player is the RS Prime Control Edition suitable for?
It is a model that is mainly designed for skilled players who have well-developed technique. However, because it is so easy to handle, it is suitable for a very large target group. If you're still new to the sport, you won't be able to cash in on the extreme precision that this racket is capable of, but you won't find many better options for practicing your technique and playing skills as quickly and efficiently as possible either.
Is the racket best suited for offensive or defensive play?
The Prime Control Edition is an all-round racket for the player whose priority is control. We're otherwise used to rackets that focus on control and precision, usually being round, but here they've managed to produce a really good option with a drop shape. 
The shape and higher center of gravity mean that you don't have to sacrifice a quick volley or be able to hit the ball out of the cage if the opportunity arises, and this combination is undoubtedly attractive. 
In other words, it is a racket whose personality and technical characteristics will appeal to players whose style is based on skillful placement, while at the same time wanting to be able to capitalize on points with a powerful smash.
Information about the RS brand
Does tennis star Robin Söderling sound familiar? Probably so, but you might not have known that he started his own company RS back in 2013. The company motto is "Premium products developed by players for players", which describes his business concept in a nutshell. 
At first, he focused only on tennis equipment, but as the rise of padel tennis in Sweden became more and more evident, his interest grew to start manufacturing products for it as well. 
True to his philosophy, he contacted several padel players, including Spanish WPT pro Cayetano Rocafort and Swedish padel player Simon Vasquez, to help design this new padel collection. 
This year has seen the launch of a significant collection of rackets for different styles and levels of play, most of which are predicted to appeal to a wide audience, complemented by padel bags and balls.
Comparison of RS rackets
Shape
Balance
Level of play
Weight
RS Prime Team Edition
Drop Shape
Medium
Intermediate
360-370g
RS Cobra Apex Womens Edition
Round
Low
Beginner - Intermediate
330-350g
RS Cobra Edition
Round
Low
Beginner - Intermediate
360-375g
RS Cobra Womens Edition 2.0
Round
Medium
Intermediate - Advanced
335-360g
RS Pro Edition Cayetano Rocafort
Hybrid (Round/Drop)
Medium
Intermediate - Advanced
360-375g
RS Pro Edition Simon Vasquez
Hybrid (Drop/Diamond)
Medium/High
Intermediate - Advanced
360-375g
RS Prime Team Edition Black
Drop Shape
Medium
Intermediate - Advanced
360-370g
RS Prime Womens Edition Blue
Drop Shape
Medium
Intermediate - Advanced
345-360g
RS Prime Power Edition
Drop Shape
Medium
Intermediate - Advanced
360-370g
RS Prime Control Edition
Drop Shape
Medium
Beginner - Intermediate
360-370g
X-Series Womens Edition by Margaux
Drop Shape
Medium
Beginner - Intermediate
355-370g
Click here to read about all RS padel rackets.
Advantages of the RS Prime Control Edition
Here RS has managed to create a very complete racket that offers a nice combo of speed and control, the feel on the ball strike is great and it sits comfortably in the hand. The main thing that sets it apart from the crowd is that you can get such good pressure in the smash despite the soft components and light weight. 
It's a racket that will go down well with the general public, due to being so easy to play with and its versatility. If your technique is already well-developed, you've found the perfect playing partner that will let you place the balls exactly where you want them.
If you're not that experienced yet but are aiming to take your game to the next level, here's a racket that will give you excellent ball feel on every hit, and allow you to practice every type of stroke to perfection. 
Not only that, but you can spend all the time you want in the cage, it's a gentle racket on both elbows and wrists thanks to its relatively lightweight feel of just 365 grams. The more flexible glass fiber mixed with carbon fiber in the hitting surface allows the vibrations to be absorbed and provides greater comfort, all this combined with the Vibrastop technology makes it a very gentle racket that reduces the risk of injury.
In short, the Prime Control Edition is a very balanced and complete racket that will leave you a winner at the end of the match because you have been able to do your best in every shot – at the same time as having a lot of fun.
This is a racket that actually doesn't have many disadvantages. Obviously, it's not the most powerful and explosive option on the market, but that's not the idea either. In order to get even more speed, the racket needs to be harder, and then the control decreases. 
So the racket fulfills its intended purpose 100%. The only one we see as a minus is the smooth surface. A racket like this, designed for technical players who like to explore the corners of the court with fantastic placements and bandejas, would definitely benefit from a rough surface layer for power and proper spin. 
There is an updated version called the Prime Control Edition Sandy, which has a rough surface layer, and this model may feel a little redundant. There's a few hundred pounds difference in price between the two, but the updated version will probably be preferred by most players.
Here you can buy the RS Prime Control Edition
Disclaimer
All opinions given by Elitepadel and our writers are subjective and you may not agree. Elitepadel.se is a free platform for you as a visitor and is instead funded through collaborative links to our partners. You as a visitor are not affected by these links.