The World Padel Tour (WPT) is the world's largest padel tournament involving the world's best padel players. In this article, we review both the tournament but also feature the best padel players in the world. 
To top it all off, we've gathered information about the equipment the pros use on the court so you can easily buy a similar padel racket or padel shoes like Alejandro Galán or "Paquito" for example.
Please use the quick navigation below or start scrolling down!
Table of contents & quick navigation
The world's best padel player
When you play padel, you accumulate points from each match. When playing doubles, both players get equal points. The World Padel Tour ranking list is created according to how many points the player has. 
It is common in the sport to change playing partners after a while, partly because the cooperation on the court has not worked out as desired. This, combined with the fact that each player brings with them the points from each match in which they have participated, means that two players on a team often do not have the same amount of points and are therefore ranked differently. I recommend another article if you want to see how much the padel pros at the WPT earn.
The world's best padel players in 2022 (according to WPT rankings): 
Alejandro Galán
Juan Lebrón (tied for 1st with Galán)
Fransisco "Paquito" Navarro
Martín Di Nenno
Augustín Tapia
Fernando Belasteguín
Federico Chingotto
Juan Tello (shared 7th with Chingotto)
Carlos Daniel Guterrez
Pablo Lima
25-year-old Alejandro Galán Romo from Madrid quickly showed promise in padel when he started in 2016, but the biggest change came the following year. Back then, he played with Juan Cruz Belluati and despite their great results as a pair, they switched partners for the 2018 season. Ale has managed to play 352 matches and 251 of them were victories. In the WPT 2021, he is playing with Juan Lebròn and they are ranked number 1.
Spaniard Juan Lebròn Chincoa, also known as "El Lobo", took part in his first World Padel Tour at the age of 21, in 2016, and finished it with the top 30 players. The following year, he finished in the top 19, first with Marcello Jardim as his partner and later with Adrian Allemandi. He has changed partners for each season, but since 2020 he has had Alejandro Galàn Romo at his side. In total, he has taken home 247 wins from 371 matches and ranked number 1.
3. Francisco "Paquito" Navarro
Francisco Jesús Navarro Compán, born in 1989 in Seville and currently living in Madrid, at the age of 5, started playing padel. Only around 5 years later he played so well that he finished as world number two. Since then he has played many different matches and with many different playing partners. In 2014 he played his first World Padel Tour and became champion in both San Fernando and Valencia, with partner Maxi Grabiel. He has played 361 matches won out of a total of 478 matches played and is currently playing with Martín Di Nenno.
24-year-old Martín Di Nenno from Argentina suffered a setback in 2016 after a car accident, but he was back on the court the following year. The impressive results were seen in the Master of Argentina 2018 and in later years he played several good matches with Javi Garrido by his side. His performances with different playing partners in 2019 and 2020 have earned him the reputation of one of the best and charismatic players. Now playing with Paquito Navarro, he is ranked 3a, and he has accumulated 185 victories out of a total of 271 played.
22-year-old Augustín Tapia from Argentina is relatively new to the top list of padel players, but he reached the Madrid Masters alongside Fernando Belasteguín. By then he hadn't even turned 20 and he continued to play well with Fernando until 2020. He played a few months with Pablo Lima in early 2021, but since September he has been playing with Sanyo Gutiérrez and it wasn't long before they won their first title in the Swedish Open. Today ranking 5th place with 9205 points.
The 42-year-old Argentine player, also known as "Bela", was the youngest world seed at the age of 22. He and his then partner, Juan Martin Diaz, managed to go undefeated for almost 2 years in a row, winning 22 tournaments in a row. Playing with Agustín Tapia, he became, in 2020, the oldest player in history to win the Menorca Master Final. As of 2021, he plays with Arturo Cuello and is ranked 7th with his 7655 points.
The 26-year-old padel player is originally from Argentina and, along with his partner Federico Chingotto, is considered one of the most promising pairs in the sport. Ever since they started playing together, in 2016, they have been accumulating good scores. They have continued to play together since then and took their first World Padel Tour title during the Open de Las Rozas in 2020. Just like his partner Federico, he is ranked 9th with 6175 points.
The 26-year-old padel player is originally from Argentina and, along with his partner Federico Chingotto, is considered one of the most promising pairs in the sport. Ever since they started playing together, in 2016, they have been accumulating good scores. They have continued to play together since then and took their first World Padel Tour title during the Open de Las Rozas in 2020. Just like his partner Federico, he is ranked 9th with 6175 points.
9. Carlos Daniel Gutiérrez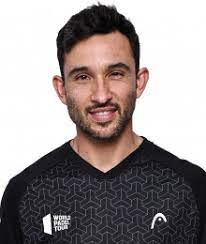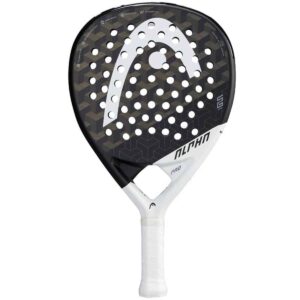 Head Graphene 360 Alpha Pro
Argentinean player Carlos Daniel Gutiérrez, better known as Sanyo Gutiérrez, made the step into the professional league at the age of 15. In 2006, he moved to Spain to further his career in padel. Today, at the age of 37, he has managed several wins with Maxi Sánchez and Paquitto Navarro, among others. Today, he plays with Agustín Tapita; he is ranked 6th, with a recorded tally of 8615 points.
The 35-year-old player Pablo de Lima, from Brazil, first held a racket when he was 9 years old. After collecting record numbers in 2004, he took his first steps onto the Spanish padel court and 2 years later he started playing with Roby Gattiker. He has managed to form great partnerships with different players and has accumulated several titles over the years. He started in 2021 with Agustín Tapia, but is now with Javier Ruiz Gonzales. His score of 6040 gives him a ranking of 11th.
What is the World Padel Tour?
The World Padel Tour is the biggest tournament in padel, bringing together players from all over the world – both men and women. It is a touring tournament, with a total of 16 venues. 12 of these 16 are played in Spain.
The WPT was launched in 2012 and in recent years has exploded in both numbers of participants and audiences. Padel is a sport that has grown rapidly and players from more countries are trying to advance to the WPT. More countries are also looking to join the World Padel Tour as tournament organizers. 
Where can you watch the World Padel Tour?
The WPT is usually played in Spain, Argentina, Mexico, and Brazil, but other countries have shown interest in joining the tournament as hosts. In 2021, we could see Sweden and Italy among others on the list.
There are six different types of tournaments in the WPT. The way they are structured means that there is a chance for those with less experience to join the tournament. The lower the level of the tournament, the lower the ranking points required of the player.
For those with better ranking points, there are higher levels and they also have a greater chance of obtaining better ranking points and better prize money.
Exhibition
Exhibition means arranged matches between some of the great padel players. The line-up changes every year and also depends on the country in which the competition is held. 
Tournaments FIP
A type of tournament that welcomes players who are at an advanced level, but not yet at as high a level as the top ranked players. It gives them the chance to play for more ranking points, showcase their talents and gain more experience on the competition circuit.
Challenger
Challenger is for the lower ranked players, who for whatever reason have not had the chance to play for points from major competitions. Here they get a chance to accumulate points, as there are 120 points up for grabs. 
Open
This tournament features highly ranked players. The top 32 men and top 24 women will appear in these tournaments. 
Master
Unlike the Open, only the top 28 pairs are played in this type of tournament. 
Master Final
The final tournament of the World Padel Tour, which is the final matches between the top 16 men and the top 12 women. All players are divided into two different groups and everyone faces everyone. 24 matches and 4 days later the champion of the year can be crowned.
The Swedish Padel Open is part of the World Padel Tour, which in 2017 was formed by 25-30 people. All people involved had different backgrounds and experience in the sport, but with a great common interest in the sport. They wanted to open up more opportunities for competitions in Sweden and help Swedish players to get further in the sport. 
The years 2018 and 2019, during summertime, were 2 successful years for the Swedish Padel Open, but due to the high risk of rain, discussions started about moving the tournament indoors. Thus, in 2021, the tournament took place in Malmö Arena. By moving the tournament indoors, they don't have to worry about the weather forcing them to cancel the tournament.
Several of those who were involved in the SPO's start-up has stepped down, as there were basically two different camps formed on how they wanted to proceed with the tournament. Finally, Nicklas Persson bought up shares in the SPO, so there would be more chance for the SPO to continue within the WPT. Chairman Nicklas Persson and tournament director Urban Johansson are the two people who today have ensured that SPO will participate in this year's World Padel Tour.
World Padel can be seen as an update of the Padel Pro Tour, which ran until 2012. The World Padel Tour was inaugurated in 2013, with the initiative of the Argentina Association of Professional Padel Players, AJPP, and the Spain Women's Association of Padel, AFEP.
Each year, around 20 tournaments are played in different countries throughout the year. Participants are both men and women of different ages and, thanks to the different types of tournaments, even players who are not yet among those who come up among the Masters can participate in some tournaments. The majority of tournaments are played in Spain, but some tournaments are distributed in other countries. For example Sweden and Italy. 
Most of the high-ranked players in the tournament come from Spain, Argentina, and Brazil. Not very surprising considering that the sport has been big in these countries for many years, but good padel players from other countries are starting to emerge. This is reflected in the fact that more countries want to be involved as hosts during the tournament. 
The whole tournament ends with matches between the champions and the Master Final is usually played in Spain where World Padel's headquarters are located. In 2021, the Master Final was played in Madrid.