Our verdict and review of the Nox X-One is that it is an excellent choice for the beginner. The racket also works well for intermediate level practitioners. The Nox X-One comes with a medium balance that will give you an awesome all-round game where the Nox X-One performs awesome both in the offensive and in the defensive.
Here you can buy the Nox X-One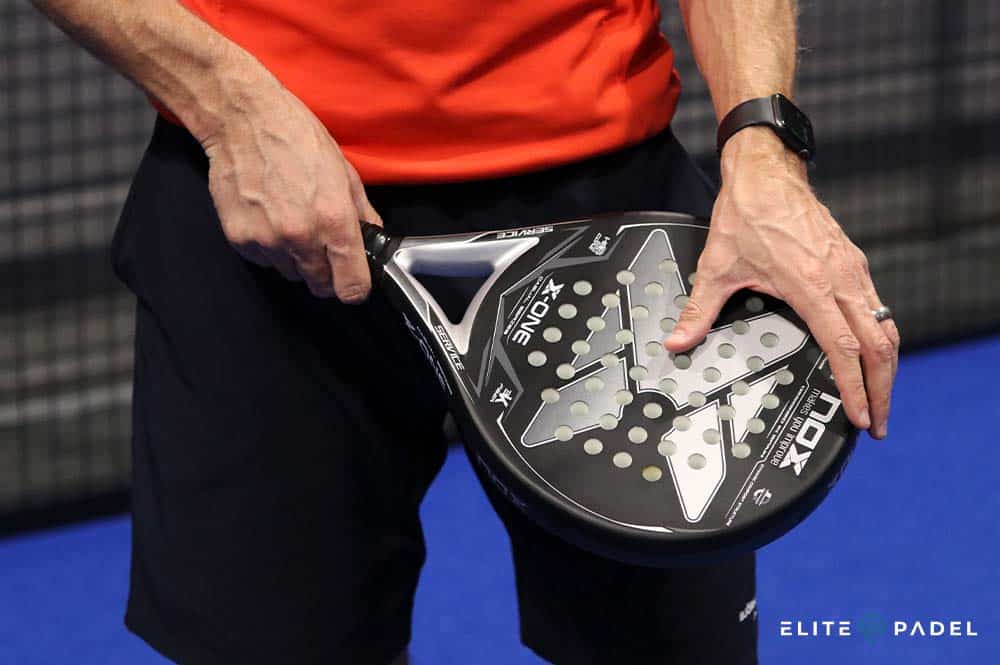 Nox X-One characteristics
The Nox X-One is one of the most affordable rackets on the market – lots of technology and excellent material choices at a very attractive price. 
It is a very complete and balanced all-round racket that is a perfect choice for new players, but also for beginners who want to improve their game to continue to develop on the padel court. It provides really nice control and feel in the strokes, but also in the offense it gets ten points for its performance. X-One is round and has a medium balance, and is very easy to play with. The weight ends up around 365 grams which is a normal weight when it comes to padel rackets, neither light nor heavy.
This is a very popular model at Nox which they have refurbished even more this year. The new design is very similar to the Nox Limitless Control, with a black background and details in various shades of grey and silver. This racket screams a classic and elegant design.
| | |
| --- | --- |
| Rackets specifications |   |
| Brand | Nox |
| Shape | Round |
| Balance | Medium |
| Game type | Allround |
| Game Level | Beginner – Intermediate |
| Weight | 365 g (+/-10) |
Although this is a mid-range racket, Nox has used the same exclusive materials they have become accustomed to, and a technology that doesn't break the bank. The frame of the X-One is made of fiberglass mixed with 30% carbon fiber to make the racket as stable and impact-resistant as possible. It is also reinforced with Dynamic Composite Structure, which bonds the frame to the core fibers in a very efficient way. In practice, this means that the foam core fibers should not break or weaken when you hit the ball further out towards the frame.
For the core, a slightly harder version of Nox's classic HR3 has been chosen. The HR3 Core is a fairly hard and compact memory foam, whose main feature is that it regains its shape immediately after a hit, which makes the ball shoot away with extra force. It also absorbs vibrations very well, which is important to reduce the risk of injuries such as tennis elbow.
The racket's hitting surface is made of 3k fiberglass. This has a higher density than regular fiberglass and provides awesome flexibility and control to the racket while helping to put extra speed on your shots. The racket's sweetspot is well proportioned, allowing you to play with maximum feel and precision in all positions.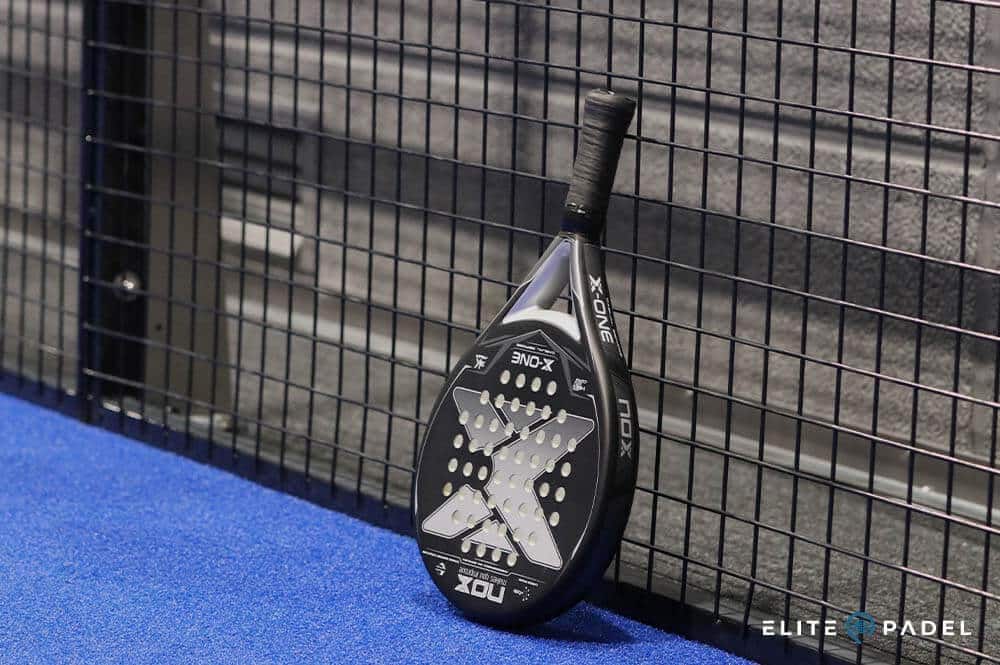 The X-One has been made with a medium balance, to make it an extremely versatile and balanced racket. The weight is thus distributed towards the center of the racket, making it supple and comfortable to grip. This is an important factor in all-round rackets, models with a medium balance are made precisely to work just as well when attacking as when defending, going on the attack, or wanting to use technically demanding strokes like bandejas.
This is a racket with a round shape, which gives it a really big and lovely sweetspot that you'll definitely like. Round rackets are the most common shape for players who base their game on good control, precision, and skillful positioning. However, with X-One, the balance has been made a little higher compared to what round rackets usually have, making it more effective in the attacking game as it is easier to swing. You simply get more power in your strokes without having to grip as much.
The X-One is a medium-hard racket. The frame construction that combines both fiberglass and carbon fiber makes it a flexible yet stable and durable racket. The core is on the harder side, so you'll get maximum power and precision in all your strokes. The fiberglass hitting surface is popular because it's flexible, giving you exquisite control while helping you to get up to speed on the looser strokes. 3k has a higher density compared to regular fiberglass, making the impact more intense.
What level of player is the Nox X-One suitable for?
This racket has been designed to be a perfect fit for players who are committed to developing and improving, especially those who are new to padel or those who are at an intermediate level and want to move up. It's an easy-to-handle racket that allows you to perform to the fullest every time you step on the court. 
Starting to play padel with a versatile racket is always an advantage, as you can then hone in on your technique in all types of strokes without feeling you have to define your playing style straight away. In other words, you will be more complete as a player to be able to win your matches in the future no matter what technique or strategy your opponent uses.
Is the racket best suited for offensive or defensive play?
The X-One is an all-round racket, designed to perform at its best both in your offensive game and when it's time to defend. A balanced and harmonious racket that delivers a nice combo of power, control, precision, and feel.
Information about the Nox brand
Nox padel is a Spanish brand. Their headquarters are located in Barcelona, and it is a company that only produces equipment for padel. In other words, the focus is total, which has earned them enormous popularity among players of all levels.
Nox was founded by the Ballvé brothers, and the first collection was launched in 2009 with a few rackets – now it is a recognized brand with a huge prestige for padel players all over the world. Over the past 10 years or so, the collection has grown to include around 20 racket models, clothing, bags, shoes, and accessories of all kinds.
Nox offers a wide range that has something for every player regardless of level or style of play and is characterized by always providing maximum quality to all. It is a brand that guarantees maximum durability and the best performance in all its products, always accompanied by stylish designs that attract attention both on and off the court.
Nox is an official sponsor of the World Padel Tour. Among its loyal users, they can count legends like Miguel Lamperti, rising star Agustín Tapia and the Sanchez Alayeto twins, to name a few. Something that sets this manufacturer apart from most other brands used on the pro tour is that the top players who use Nox have completely unmodified rackets, in other words, they are exactly the same as the ones we have access to. Further proof that their sports equipment is always made to be top quality.
Read more about the Nox padel rackets and our other reviews.
Compare racket with other models
Nox rackets
Shape
Balance
Nox AT10 Luxury Genius Arena
Teardrop/Hybrid
Neutral
Nox AT Luxury Genius
Teardrop/Hybrid
Neutral
Nox ML10 Luxury BAHIA
Teardrop/Hybrid
Neutral
Nox ML10 Luxury Shotgun
Diamond
High
Nox ML Luxury Perto
Round
Neutral
Nox MJ10 Luxury by Majo Sanchez Alayeto
Teardrop/Hybrid
Neutral
Nox MP10 Luxury by Mapi Sanchez Alayeto
Round
Low
Nox Luxury Titanium 3k
Diamond
High
Nox Luxury Titanium 18k
Diamond
Low
Nox ML10 Pro Cup Black Edition Arena
Round
Low
Nox ML10 Pro Cup
Round
Low
Nox ML10 Pro Cup Black Edition
Round
Low
Nox ML10 Pro Cup Silver
Round
Low
Nox ML10 Pro Cup Grey Survivor
Round
Neutral
ML10 Pro Cup Survivor
Round
Low
Nox Attraction World Padel Tour Edition
Diamond
High
Nox Equation World Padel Tour Edition
Round
Neutral
Nox Equation Lady World Padel Tour Edition
Round
Neutral
Nox Emotion World Padel Tour Edition
Round oversized
Low
Nox Drone
Round
Neutral
Nox X-One
Round
Low
Nox Silhoutte 6
Round oversized
Neutral
Nox AT10 Genius Ultra Light
Round
Neutral
Nox ML10 Pro Cup Ultra Light
Round
Neutral
Nox ML10 Pro Cup Ultra Light Silver
Round
Low
Nox Limitless Control
Round
Low
Nox pro 5.2 limited edition
Round oversize
Low
Click here to read about all Nox padel rackets.
Advantages of the Nox X-One
It is a racket designed for players who know what they want, as this is a model that will help you improve and raise your performance to the maximum.
Very comfortable in front of the net and in volley duels as well as defensively, so that you can improve in all game situations. The large sweetspot makes it a forgiving racket for those times you don't hit it quite right, so you'll feel in complete control at all times.
A very complete racket where we would only add some vibration dampening technology to make it an awesome option even for players who struggle with injuries.
Here you can buy the Nox X-One
Disclaimer
All opinions given by Elitepadel and our writers are subjective and you may not agree. Elitepadel.se is a free platform for you as a visitor and is instead funded through collaborative links to our partners. You as a visitor are not affected by these links.