Our rating and review of the Nox Pro 5.2 Limited Edition is summed up in that it is an excellent choice for intermediate to advanced players. The Nox Pro 5.2 Limited Edition comes with a low balance that will give you an awesome control in your game where the Nox Pro 5.2 Limited Edition performs well with precision in strokes with a lot of control.
Nox pro 5.2 limited edition characteristics
Nox has created this racket to give you total control on the court. It is round in shape, the size is slightly oversized to create a larger hitting surface and the weight is around 365 grams.
It's a great option for players who want a really high-quality control racket with a substantial sweetspot that makes it feel incredibly comfortable in all types of shots. If control, placement, and precision are the foundation of your game, then you should definitely take a closer look at the Nox Pro 5.2 Limited Edition.
This is a racket with an original and sporty design. It is black with a silver logo and orange and silver details.
| | |
| --- | --- |
| Rackets specifications |   |
| Brand | Nox |
| Shape | Round (oversized) |
| Balance | Low |
| Game type | Control |
| Game Level | Intermediate – Advanced |
| Weight | 365 g (+/-10) |
For not being an absolutely premium racket, a lot of effort has been put into producing a lavish option that is very affordable for users. The frame is made of 30% fiberglass and the remaining 70% carbon fiber, to get a really durable racket that is also flexible and lays the foundation for perfect control.
Not only that but the structure is complemented by Dynamic Structure which is a reinforcement around the entire face of the racket. The result is a kind of hybrid construction between the frame and the soft core, to prevent the foam fibers from breaking if you hit a little further out towards the frame. 
As in many other Nox models, the core is made of HR3, which is a soft EVA foam. This core acts much like a memory foam that recovers its shape extremely quickly, allowing the ball to be launched with extra punch and automatically giving you more speed in your shots. It also absorbs vibrations very well, which is especially important when it comes to preventing injuries that can occur in the elbows, for example.
The racket's hitting surface consists of three layers of fiberglass woven together for maximum flexibility and elasticity. This contributes to a really nice comfort and ball feel when hitting the ball.
The sweetspot has been optimized by strategically positioning the holes where they have the most impact for the most forgiving and controlled feel possible.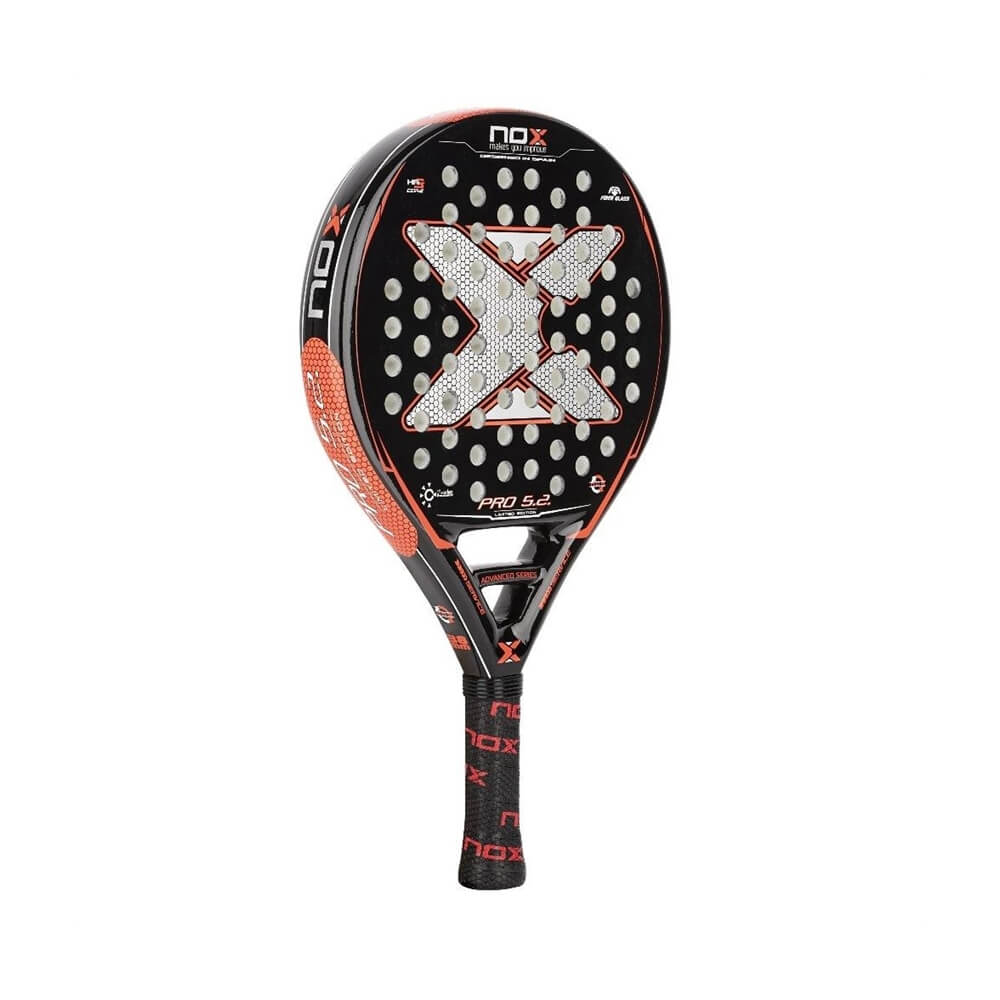 This is a low-balance racket, like most round racket models. A low balance means that weight is distributed lower down, closer to the grip, making for an easy-to-play and more manageable racket. The racket's center of gravity is therefore closer to your body when you play, which makes it feel very comfortable as you move around all corners of the court.
The only downside to a low balance is that it puts more demands on you as a player to put good speed on the balls in offense, but it offers great control and comfort in return.
The Nox Pro 5.2 Limited Edition is a racket with a round shape, the most common shape for a racket that focuses on control and precision. The round rackets are the ones that allow the largest possible sweetspot – i.e. ideal hitting area – and this makes them the most forgiving of the shapes. Round rackets are often recommended to beginners because of this, but even many world-class players choose round rackets if their game is more focused on control than attack.
Here's a racket with a soft feel. The carbon fiber frame mixed with fiberglass makes for a stable yet flexible racket. The core of soft EVA foam HR3 provides exquisite control that at the same time helps you put speed on the balls. The three-layer fiberglass face is also flexible and forgiving, so you'll feel like you're always in total control at all times.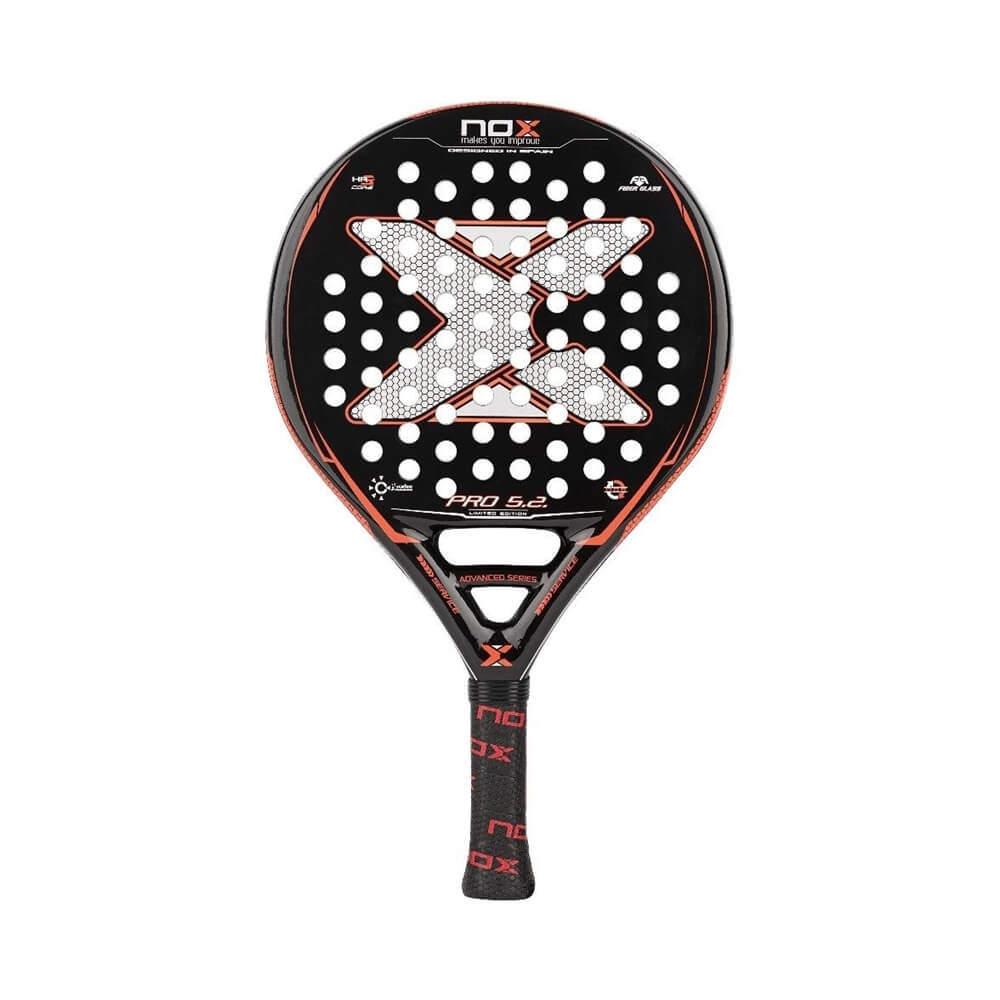 What level of player is the Nox pro 5.2 limited edition suitable for?
This is a racket designed to suit the skilled recreational player and players who want to develop and take themselves to the next level. Even for players at a more advanced level, it is a good option if the priority is an easy-to-play racket that provides excellent control and precision.
Is the racket best suited for offensive or defensive play?
This racket has been developed to fill the need of the control-oriented players to enjoy the really intense matches and to give 100% at all times. The Nox Pro 5.2 Limited Edition prioritizes comfort and precision, but you won't be disappointed with the qualities it offers in offense. The HR3 core provides nice speed, and it feels fast and smooth in volley duels in front of the net, where you will also be able to place the ball exactly where you want even if you don't always hit it really clean.
Information about the Nox brand
Nox is the official sponsor of the World Padel Tour, and it's a brand that has become a favorite both for legends like Miguel Lamperti and for new stars like Agustín Tapia. One thing that makes the Spanish brand very special is that the world-class players who use Nox have completely unmodified rackets, in other words, their models are exactly the same as the ones we consumers can buy. 
Nox only produces equipment for padel, which means their focus sits at 100%. Their headquarters are located in the north of Spain, specifically in Barcelona, and it was founded by the Ballvé brothers. Nox launched its first collection in 2009, consisting of a few rackets, thus fulfilling the owners' dream – they wanted to present a brand consisting of sports equipment with recognized prestige of the highest quality and the latest technology. 
For the next few years, they set their sights on international expansion, and today they have laughed 23 rackets, two textile collections per year, and plenty of compliments. They have proven over these years that they consistently produce and deliver quality products of the highest class.
Read more about the Nox padel rackets and our other reviews.
Compare racket with other models
Nox rackets
Shape
Balance
Nox AT10 Luxury Genius Arena
Teardrop/Hybrid
Neutral
Nox AT Luxury Genius
Teardrop/Hybrid
Neutral
Nox ML10 Luxury BAHIA
Teardrop/Hybrid
Neutral
Nox ML10 Luxury Shotgun
Diamond
High
Nox ML Luxury Perto
Round
Neutral
Nox MJ10 Luxury by Majo Sanchez Alayeto
Teardrop/Hybrid
Neutral
Nox MP10 Luxury by Mapi Sanchez Alayeto
Round
Low
Nox Luxury Titanium 3k
Diamond
High
Nox Luxury Titanium 18k
Diamond
Low
Nox ML10 Pro Cup Black Edition Arena
Round
Low
Nox ML10 Pro Cup
Round
Low
Nox ML10 Pro Cup Black Edition
Round
Low
Nox ML10 Pro Cup Silver
Round
Low
Nox ML10 Pro Cup Grey Survivor
Round
Neutral
ML10 Pro Cup Survivor
Round
Low
Nox Attraction World Padel Tour Edition
Diamond
High
Nox Equation World Padel Tour Edition
Round
Neutral
Nox Equation Lady World Padel Tour Edition
Round
Neutral
Nox Emotion World Padel Tour Edition
Round oversized
Low
Nox Drone
Round
Neutral
Nox X-One
Round
Low
Nox Silhoutte 6
Round oversized
Neutral
Nox AT10 Genius Ultra Light
Round
Neutral
Nox ML10 Pro Cup Ultra Light
Round
Neutral
Nox ML10 Pro Cup Ultra Light Silver
Round
Low
Nox Limitless Control
Round
Low
Nox pro 5.2 limited edition
Round oversize
Low
Click here to read about all Nox padel rackets.
Advantages of the Nox pro 5.2 limited edition
The Nox Pro 5.2 Limited Edition is a lavish and very affordable racket. It gives a really great feel when hitting the ball and it provides awesome control even in tight positions thanks to the well-sized and optimized sweetspot. If you're the kind of player who enjoys outplaying your opponent through skillful placement, you'll love this.
A very nice choice for those who want to improve their technique and the more complicated strokes like delicate lobs or mastered bandejas, thus taking you to the next level as quickly as possible.
If you're an intermediate-level player who prioritizes control, you probably have nothing special to complain about with this racket. However, if you're at a more advanced level, you'll probably find this racket a little too tame, lacking a bit of bite. It works fine in the overhead game for those who are still focusing on improving their technique, but once the technique is mastered, you will probably progress more with other models.
Our overall review for the Nox Pro 5.2 Limited Edition
Our overall verdict and review of the Nox Pro 5.2 Limited Edition is that it is a very affordable racquet. The model is a round racket that is oversized which allows you to get good control in your game. This racket is a very good choice for those who like to outplay their opponents with precise strokes.
This racket does not come with any obvious disadvantages more than if you are a player at a more advanced level, then you may probably find the racket a bit tame and lacking that little extra.
We therefore give the racket 4.0 out of 5 stars.
Disclaimer
All opinions given by Elitepadel and our writers are subjective and you may not agree. Elitepadel.se is a free platform for you as a visitor and is instead funded through collaborative links to our partners. You as a visitor are not affected by these links.