Our rating and review of the Nox ML10 Pro Cup Black Edition is summed up in the fact that it is an awesome all-round racket for intermediate level players. The Nox ML10 Pro Cup Black Edition will give you a really great feeling in your strokes. The racket also delivers speed, control and extreme precision.
Here you can buy the Nox ML10 pro cup black edition
Nox ML10 pro cup black edition characteristics
This racket is the classic of the classics – in fact, it's probably the best-selling racket in the history of padle. Miguel Lamperti is the Argentinian padle legend behind this model, whose original design has always been white, and this Black Edition is exactly the same racket where fans' requests for a black design alternative have been accommodated.
One of the reasons for the Pro Cup's tremendous success is that it's an incredibly complete yet easy-to-play racket that will suit just about any player. It delivers nice speed in all positions, and the sense of control is nothing short of amazing. A great choice for those who like to win matches with strategy and intelligence, and therefore want as much variety in their game as possible.
If you've been considering a Pro Cup racket, we can only say – don't hesitate, buy it! You won't be disappointed. No matter what style of play you prefer, offensive or defensive, this racket is so versatile that it suits everyone.
The Black Edition is, as the name suggests, a black racket with a gold logo, and other details in gold and silver. A really cool design, which is one of Nox's hallmarks.
| | |
| --- | --- |
| Rackets specifications |   |
| Brand | Nox |
| Shape | Round |
| Balance | Low |
| Game type | Allround |
| Game Level | Intermediate – Advanced |
| Weight | 365 g (+/-10) |
This model has been a hit right from the start, and it comes with the best materials and the latest technology.
You'll find a 100% carbon fiber frame, a sure recipe for stability and durability. It is further reinforced with Dynamic Composite Structure, which means that the material in the frame has been woven together with the hitting surface and the core around the entire structure. A full four centimeters of reinforcement minimizes the difference between the hard frame and the soft core. This is to prevent the fibers of the core foam from breaking if you hit further out towards the frame. 
The racket's core is made of HR3, a soft EVA foam, which regains its shape immediately after hitting the ball and pushes the ball away with a catapult-like effect. A core that provides maximum power in the game while allowing you to maintain total control. 
The hitting surface is Fiber Glass Silver – three tightly woven layers of fiberglass reinforced with a metallic finish for the best possible durability, providing a stiffness that falls somewhere between regular fiberglass and carbon fiber.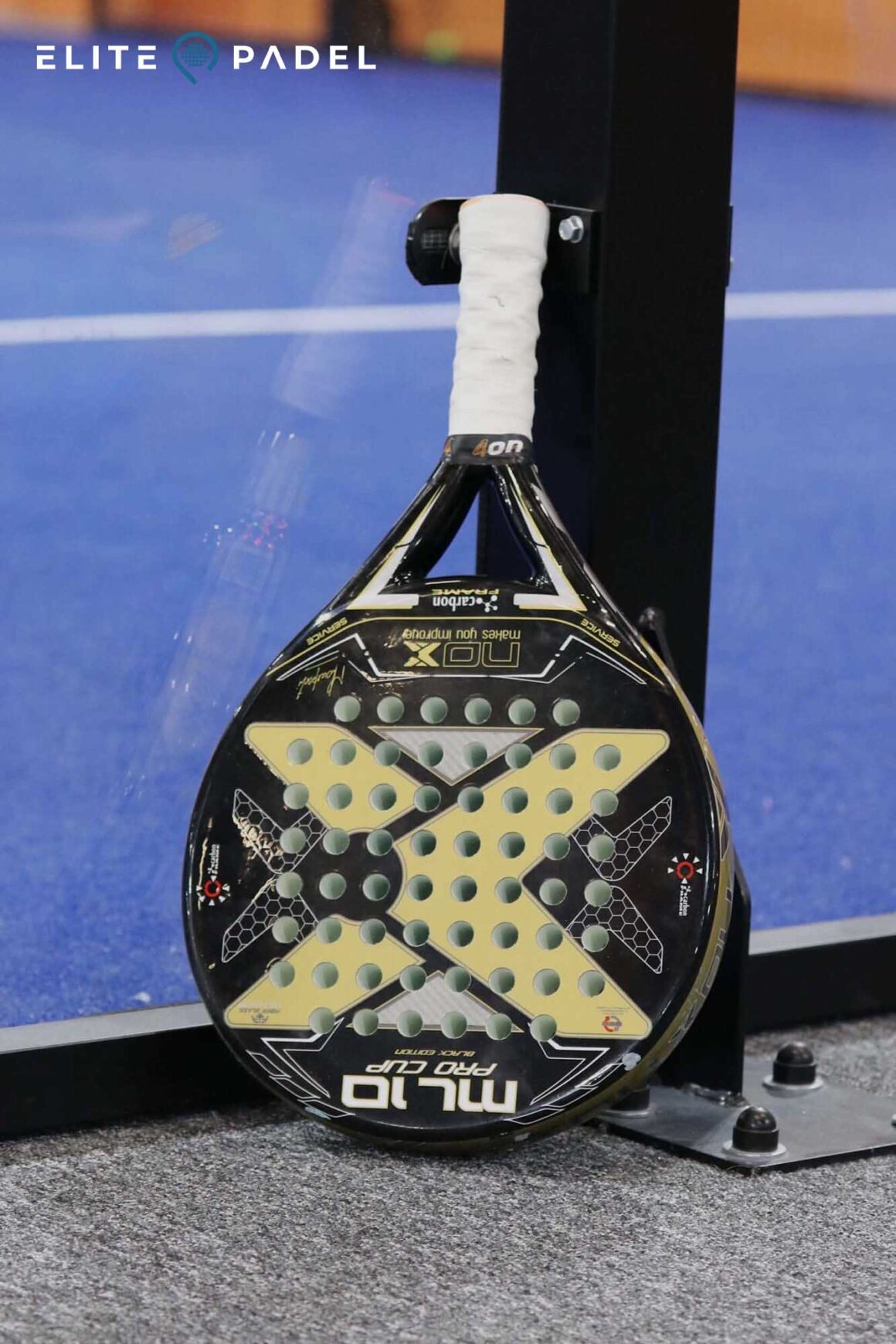 This is a premium racket with a low balance and an exquisite sweetspot, which helps make it really easy to play even for those who still want to develop their technique on the court. The center of gravity is closer to the body, so it easily follows you in all movements. It's a racket you'll feel comfortable with straight away as if it were an extension of your arm.
The Pro Cup is a round racket, which contributes to its very large sweetspot that facilitates precise placements, even under pressure. You don't have to be a pro to blow away your opponents with skillful strokes out of their reach.
We classify the Pro Cup Black Edition as a medium-hard racket. A very comfortable and stable racket that also absorbs the vibrations that occur when hitting the ball really well, making it a gentle option even for players who occasionally have problems with injuries.
What level of player is the Nox ML10 pro cup black edition suitable for?
The Pro Cup is a racket suitable for anyone with some experience in padel. Especially for beginners, there are other rackets that may be better options, but for everything from intermediate to WPT players, this is an excellent choice precisely because it is so versatile.
It offers everything from great speed to an awesome ball feel, giving you the best possible set-up to continue your development on the court. Plus, it's complete enough that even the best and most demanding players will find everything they need to win their matches.
Is the racket best suited for offensive or defensive play?
The Pro Cup is the ultimate racket for those who like to win points with their skillful placements, but at the same time, it provides awesome speed in front of the net. The core of the H3 provides both power and comfort depending on the situation, which is one of the reasons why this racket has won so many users. 
You could sum up the racket's characteristics in two words – controlled power. It is not the most explosive racket on the market, but hardly any other model will give you control and precision in a more powerful way. The volleyball game is actually worth mentioning a little extra, as the combination of an easy-to-handle racket that also provides speed and precision can make this your weapon of choice.
Information about the Nox brand
Nox padel is a Spanish brand. Their headquarters are in Barcelona, and it was founded by the Ballvé brothers with the aim of fulfilling a dream. The dream of being able to offer high-quality sports equipment for all levels of players. This dream came true in 2009 when Nox launched its first collection – now it is a recognized brand with a huge prestige for padel players all over the world. 
Nox only produces equipment for padel, which means their focus is total. Initially, their range consisted of just a few rackets, while today they boast 23 rackets, two collections of clothing per year, and plenty of other products that compliment their padel series. All of their products live up to the quality and class that Nox has proven over the years that they always deliver.
Nox is the official racket of the World Padel Tour. Legends like Miguel Lamperti and the new star player Agustín Tapia are some of their main promotional stars. An interesting detail we would like to mention is that the top players at the WPT who use Nox have completely unmodified rackets, i.e. they are exactly the same as the ones we consumers can buy. So if this doesn't suggest a top-quality racket, then I don't know what does.
Read more about the Nox padel rackets and our other reviews.
Compare racket with other models
Nox rackets
Shape
Balance
Nox AT10 Luxury Genius Arena
Teardrop/Hybrid
Neutral
Nox AT Luxury Genius
Teardrop/Hybrid
Neutral
Nox ML10 Luxury BAHIA
Teardrop/Hybrid
Neutral
Nox ML10 Luxury Shotgun
Diamond
High
Nox ML Luxury Perto
Round
Neutral
Nox MJ10 Luxury by Majo Sanchez Alayeto
Teardrop/Hybrid
Neutral
Nox MP10 Luxury by Mapi Sanchez Alayeto
Round
Low
Nox Luxury Titanium 3k
Diamond
High
Nox Luxury Titanium 18k
Diamond
Low
Nox ML10 Pro Cup Black Edition Arena
Round
Low
Nox ML10 Pro Cup
Round
Low
Nox ML10 Pro Cup Black Edition
Round
Low
Nox ML10 Pro Cup Silver
Round
Low
Nox ML10 Pro Cup Grey Survivor
Round
Neutral
ML10 Pro Cup Survivor
Round
Low
Nox Attraction World Padel Tour Edition
Diamond
High
Nox Equation World Padel Tour Edition
Round
Neutral
Nox Equation Lady World Padel Tour Edition
Round
Neutral
Nox Emotion World Padel Tour Edition
Round oversized
Low
Nox Drone
Round
Neutral
Nox X-One
Round
Low
Nox Silhoutte 6
Round oversized
Neutral
Nox AT10 Genius Ultra Light
Round
Neutral
Nox ML10 Pro Cup Ultra Light
Round
Neutral
Nox ML10 Pro Cup Ultra Light Silver
Round
Low
Nox Limitless Control
Round
Low
Nox pro 5.2 limited edition
Round oversize
Low
Click here to read about all Nox padel rackets.
Advantages of the Nox ML10 pro cup black edition
This racket has it all. Once you start playing with it, you'll never want to switch models – possibly opting for a different design for a change. It's comfortable, reliable, powerful, and stable.

This racket promises speed and control in perfect harmony, and this is definitely the case. If you're one of those who like to place the balls with as close to surgical precision as possible, you'll love this low-balance round racket that will allow you to continue your climb up the ladder and develop as a player.
Suitable for all types of playing styles, it's an excellent all-round racket, and gives you the security of knowing you'll always be able to do your best whatever playing situations arise. This is a classic in a new guise that is well on its way to becoming as legendary as its originator Lamperti.
If you are very offensive-minded, you may find that it lacks that little bit of extra pressure in the attacking game. A surface layer for more impact and better spin on the ball would have been the finishing touch, but on the other hand, you'll find that in the Pro Cup Arena model variant.
Nox ML10 Pro Cup Black Edition reviews and ratings
Below we have collected reviews for the Nox ML10 Pro Cup Black Edition online.
4.4 out of 5 from Tengo.se
Our overall review for the Nox ML10 Pro Cup Black Edition
Our overall verdict and review of the Nox ML10 Pro Cup Black Edition is that it is a racquet that has it all. The racquet is of pure quality where you can expect a comfortable, reliable, stable and powerful racquet.
With the Nox ML10 Pro Cup Black Edition, you get both speed and control in the same racket in a perfect harmony. The racquet comes with a low balance where control and placement of the balls will be your main weapon. Nox ML10 Pro Cup Black Edition is a very all-round racket that absolutely works well even if you would like to play more offensively or defensively.
We would definitely recommend this racket to the recreational players who have some experience in padel. We therefore give this racket a rating of 4.5 out of 5.0.
Here you can buy the Nox ML10 pro cup black edition
Disclaimer
All opinions given by Elitepadel and our writers are subjective and you may not agree. Elitepadel.se is a free platform for you as a visitor and is instead funded through collaborative links to our partners. You as a visitor are not affected by these links.