Our rating and review of the Wilson Bela Pro is summed up in that it is an excellent choice for the very experienced player who is at an advanced level. The Wilson Bela Pro comes with a slightly lower mid-range balance that will give you an awesome all-round game where the racket performs very well in the offensive game but also has good control overall in the strokes.
Here you can buy the Wilson Bela Pro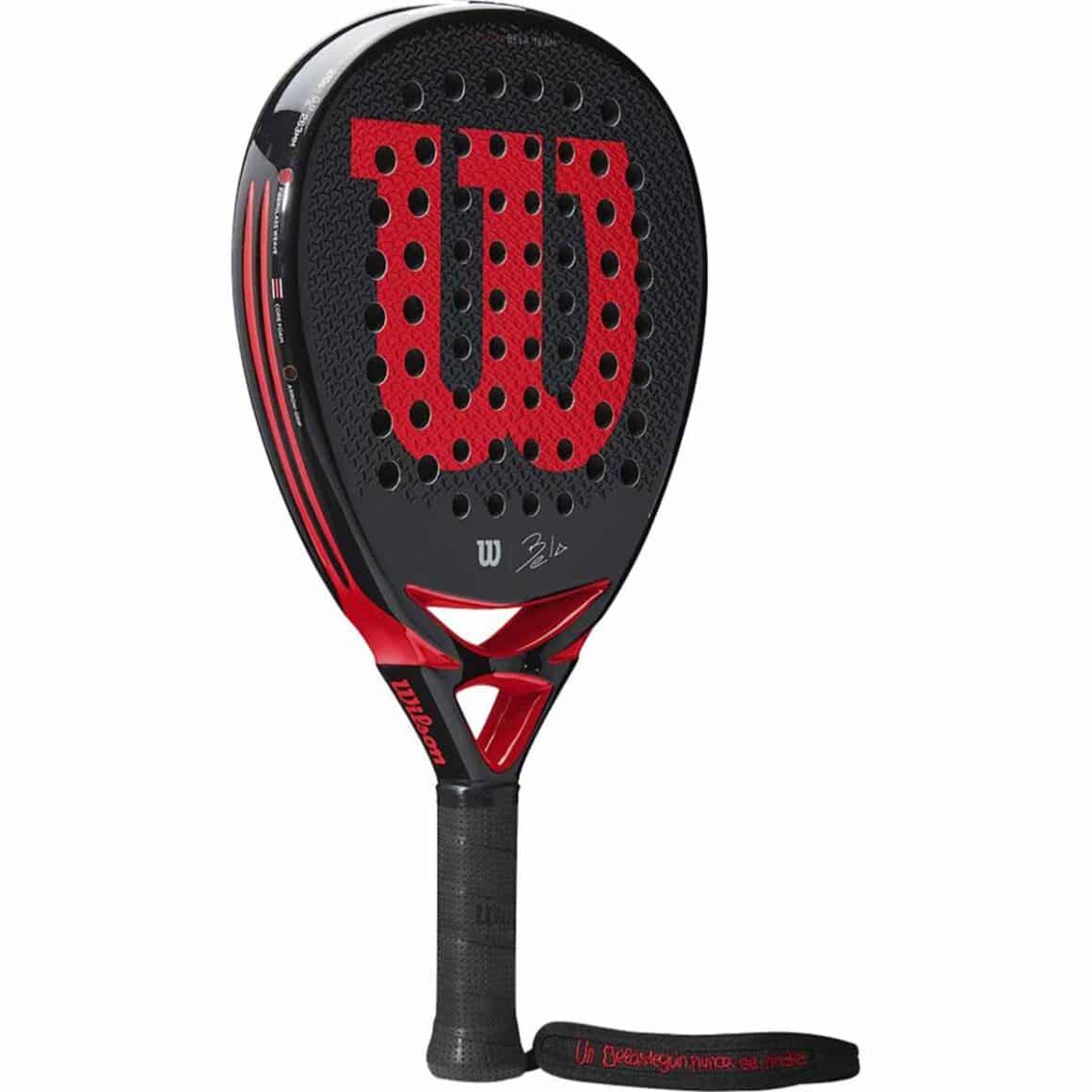 Wilson Bela Pro characteristics
Wilson has produced a range of premium rackets with Argentine padle legend Fernando Belasteguin, the only player to be world champion for a full 16 years. Of course, we are talking about the Bela series, where the Bela Pro is the premium racket. This is a racket designed for the ambitious and talented player, who works every day to become even better. 
It is a diamond-shaped racket with a medium balance, which makes it easier to handle and provides better control than a classic diamond racket. In order not to miss an ounce of explosiveness and offensive power, really hard and exclusive materials have been used in the racket, to be able to make the volley and the smash your favorite weapons. It's a very balanced racket that allows you to perform equally well across the court and take advantage of your fast and technical strokes.
The design is, as always, stylish when it comes to Wilson, a black racket with the logo and details in red. We like the Belasteguin daughter's quote embedded on the wrist strap, "Un Belasteguin nunca se rinde" – A Belasteguin never gives up. 
| | |
| --- | --- |
| Rackets specifications |   |
| Brand | Wilson |
| Shape | Diamond |
| Balance | Medium |
| Game type | Offensive |
| Game Level | Advanced |
| Weight | 365 g (+/-10) |
The racket has a frame made of 100% carbon fiber premium, which is a sure way to guarantee a stiff and durable construction that will be extremely durable and provide the best power in the strokes.
For the core, Firm EVA Foam has been chosen, a high-density solid foam, which always generates clean and stable strokes. The ball will recoil with more speed, and you will have total control and precision in placement.
The hitting surface is made of a dense carbon fiber fabric that provides a very fast response when hitting the ball and concentrates all your power in the stroke with maximum weight as a result. It's also topped with a textured Arrow Grip surface that delivers an exquisite ball feel and a better grip on the ball for greater impact and spin.
The racket has integrated the ergonomic Shock Shield grip, which is a unique blend of polyurethane and Iso-Zob gel to make vibration dampening more effective while ensuring the racket is really comfortable in the hand.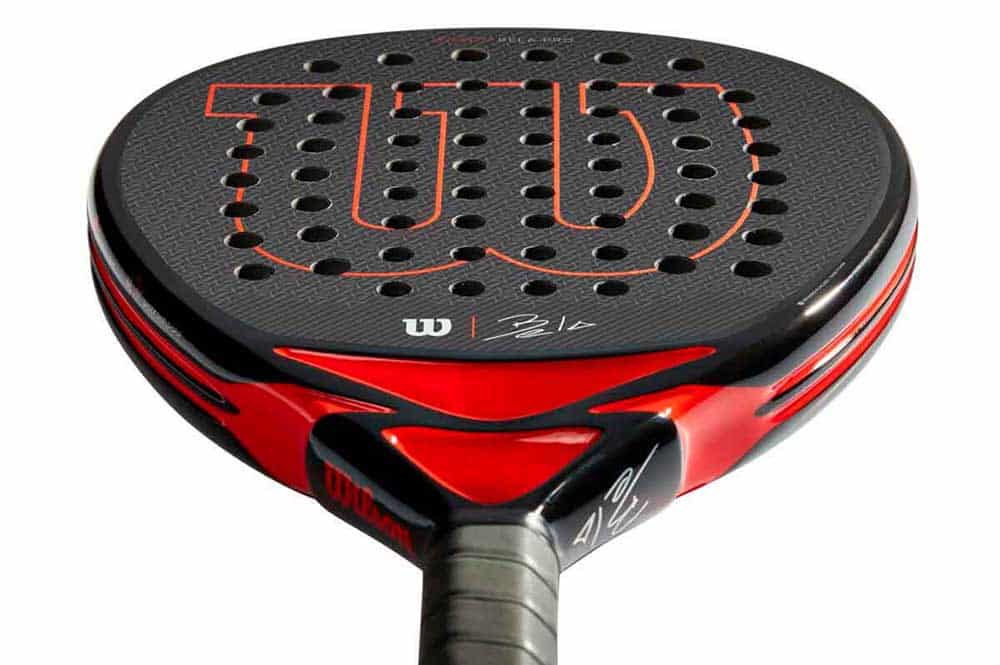 The Bela Pro has a slightly lower balance compared to classic diamond rackets. This makes it more of an all-round racket than a purely offensive model. By placing the balance in the middle of the racket, it automatically becomes more manageable and responsive, making it easier to get right to the ball in quick volley duels. The little extra pressure that top-heavy rackets provide is compensated for here with hard materials, so you can dominate up front at the net with ease.
If you want to learn to play like a Belasteguin, a diamond-shaped racket is the way to go. It's the perfect model for offensive players who have a well-developed technique and want maximum power and precision to defeat all opposition. It is a more comfortable model than many other diamonds because a neutral balance has been chosen here.
The Bela Pro is undoubtedly a hard racket from start to finish. With both the frame and the hitting surface made of premium carbon fiber, it's a racket capable of generating maximum power in all your strokes. The firm foam at the heart of the racket gives you the reins to control all the powder, but it puts demands on you as a player to produce clean hits. The vibration-dampening grip is really effective and helps reduce the risk of common injuries such as tennis elbow.
What level of player is Wilson Bela Pro suitable for?
It's a perfect racket for skilled and experienced players at an advanced level who are looking for a fast and dynamic game and don't need such large margins of error. Diamond-shaped rackets have a more reduced sweetspot and therefore place greater demands on clean hitting.
In addition, the material choices are not very forgiving, carbon fiber premium and solid EVA foam are not for the beginner who is still honing in on their technique. What it does offer skilled players, however, is a combination of awesome speed, control, and precision.
Is the racket best suited for offensive or defensive play?
It's a very versatile racket whose main qualities are highlighted when going on the attack, but the exquisite control it provides along with the mid-range balance also make this racket a very good option for the skilled all-round player who uses a wide range of skills and is versatile in their strokes. 
It's just as good at knocking the ball out of the cage as it is at making brilliant bandejas or delicate lobs, and you'll always feel in total control wherever you are on the court. This is the racket for those who want to learn to play like the best.
Information about the Wilson brand
Wilson Sporting Goods & Co is an American company headquartered in Chicago, which is a subsidiary of Amer Sport. They are dedicated to producing sports equipment, apparel, and accessories for a variety of sports and for players of all levels, including hobby athletes, amateurs, and professionals. As well as racket sports, it also includes football, American football, basketball, golf, baseball, and of course volleyball – who doesn't remember the stranded Tom Hanks and his friend Wilson?
Founded over 100 years ago, in 1913 to be exact, Wilson's roots can be found in the meat industry, starting with the Ashland Manufacturing Company, which packaged meat products from slaughterhouses in New York. The first step towards sports was when they started to take the tendons from the animals and use them to make strings for tennis rackets. In addition, surgical thread was also useful in this area. 
Thomas Wilson became president of the company in 1915, and it wasn't long before they started buying up companies that made sports equipment. Ever since their venture has only grown and their range has expanded until now, becoming a world-leading brand used by many of the most famous players at the elite level. They manufacture the official balls for the NFL, NBA, and several of the major Grand Slam tennis tournaments and are an official sponsor of a host of other major events.
Read more about the Wilson padel rackets and our other reviews.
Benefits of Wilson Bela Pro 2022
This is a very balanced racket that allows skilled players to give 100% every time they step on the court. It's a top-of-the-line racket for those who want only the best – and what could be better than a racket designed by the world's all-time best padel players? 
You can choose whether to decide the score through skillful placement or powerful strokes, this racket produces both speed and control to dominate any game situation. The sense of control is excellent, and so is the precision – you know the ball will end up exactly where you want it thanks to the racket's quick response.
As long as you produce clean hits, the racket will put on some serious speed. The textured face layer ensures you can achieve really nice effects on the balls as an added bonus.
The only real downside to the Bela Pro is that it places pretty high demands on the player holding it in their grip. As long as you have a good technique and can deliver clean hits, this is an excellent racket, but it's hardly the best choice for intermediate-level players who want a racket that will help them develop. For them, it will almost certainly feel too advanced.
Here you can buy the Wilson Bela Pro
Disclaimer
All opinions given by Elitepadel and our writers are subjective and you may not agree. Elitepadel.se is a free platform for you as a visitor and is instead funded through collaborative links to our partners. You as a visitor are not affected by these links.