Our rating and review of the Stiga Art is summarized in that it is an easy to play and well balanced racket. It is a racket that is very suitable for those playing at an intermediate level up to the more advanced practitioner. 
All padel rackets from the manufacturer Stiga are round in shape which gives you a forgiving racket basically. Please watch the video below as Micke tests the Stiga art and compares it to the other rackets from Stiga.
We have tested the racket!
Micke at Elitepadel has tested the racket. In this video you can see us test play and review the racket.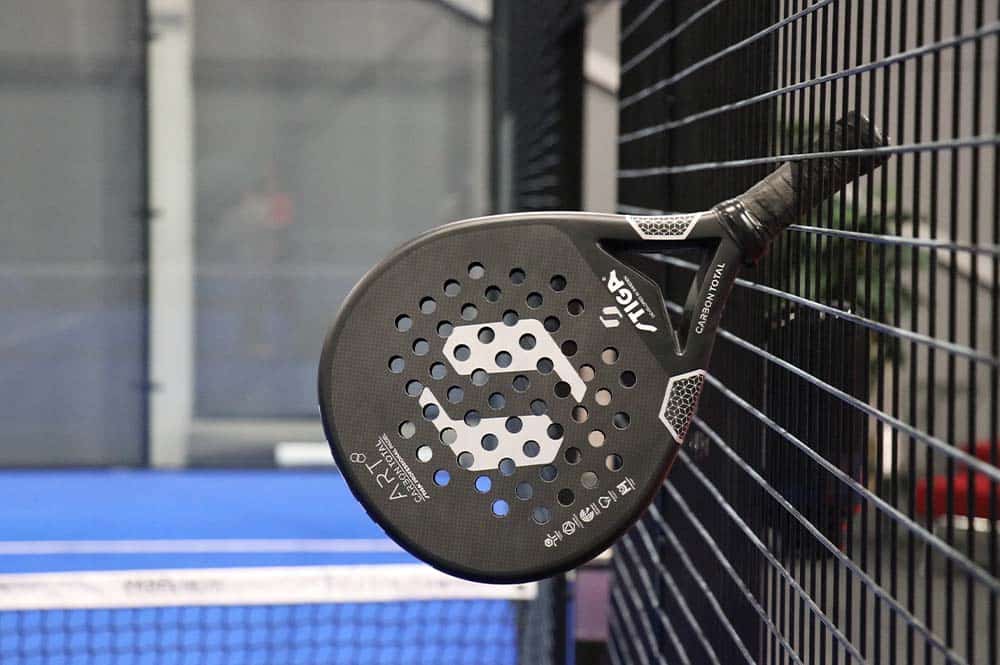 Stiga Art characteristics
Art is an easy to play and well-balanced racket that is perfect for the fast player, it provides a nice mix of speed and control which will be appreciated by anyone who likes a varied game and has a wide repertoire of strokes. 
This model is designed to suit a wide range of players who want a complete and balanced racket that will find its feet in all situations. Art allows you to use a varied game without letting yourself be defined by a particular style, which is an added advantage if you are still developing your game to climb to the next level. 
Like all Stigas rackets, it is handmade for maximum precision with a timeless, Scandinavian design and color scheme in black and silver.
Specifications
Information about the racket
Player performance level: Intermediate - Advanced
The Carbon Flexi Frame is an extremely sturdy 100% carbon fiber frame construction that gives you a durable racket that will consistently deliver great shots despite the passage of time.
The hitting surface of Art is Carbon Total made of 3k carbon fiber, meaning that 3,000 carbon fiber threads per cm² have been woven together. In other words, this makes for an extremely dense and durable hitting surface that puts good speed into strokes, while being very light.
Diamond Touch is Stiga's name for rackets that they believe are totally complete: speed, control, and feel that combine to give unique characteristics on the court. 
Hypersoft Foam is the core on which Stiga has chosen to build its entire current racket range. It is a soft and extremely impact-resistant EVA foam whose properties are based on a unique density that allows for an exceptionally large sweetspot.
Optispot Perform provides a substantial sweetspot that is also perfectly balanced – this means you have total control every time you need it.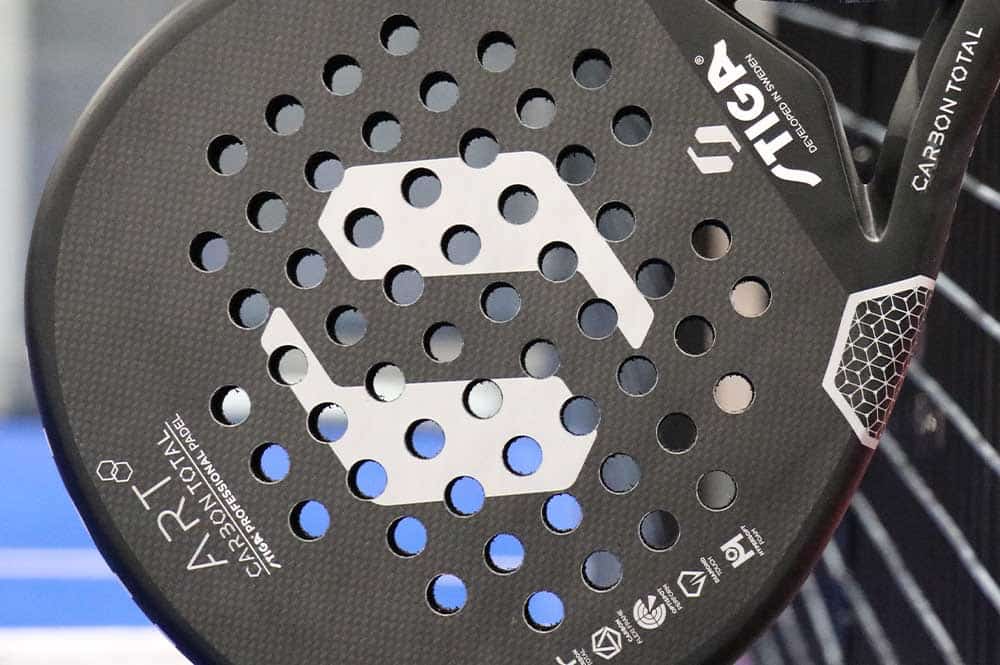 Like Stiga's entire collection of padel rackets, the Art has a low balance, but a little higher than you'd expect. It's a little easier to handle in the overhead game than the other models because the center of gravity is more towards the middle, making it a very interesting all-round racket.
The Stiga Art is a round padel racket, and models with this shape tend to be a good choice for beginners as they are generally easier to play and gentler on the joints. However, there are also elite players who use round rackets, when they have a style of play based on control and precision.
Round rackets that use slightly harder materials work really well on the offensive as well, the only thing you should keep in mind is that you need to hit a little harder to get powerful smashes.
Follow Elitepadel on Youtube!
We publish everything from video reviews where we test and compare different products to tips on how to become a better padel player.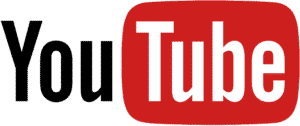 Art is a medium-hard racket, designed from the ground up to assist its user with balance and harmony. The frame is stiff and stable, for maximum durability, and the soft core provides good speed and comfort. The hitting surface of fast and lightweight carbon fiber ensures that you can enjoy optimal control and power.
It's a fully approved option for players struggling with injuries, as the soft core absorbs vibrations very nicely, and the lower balance makes it easy to swing.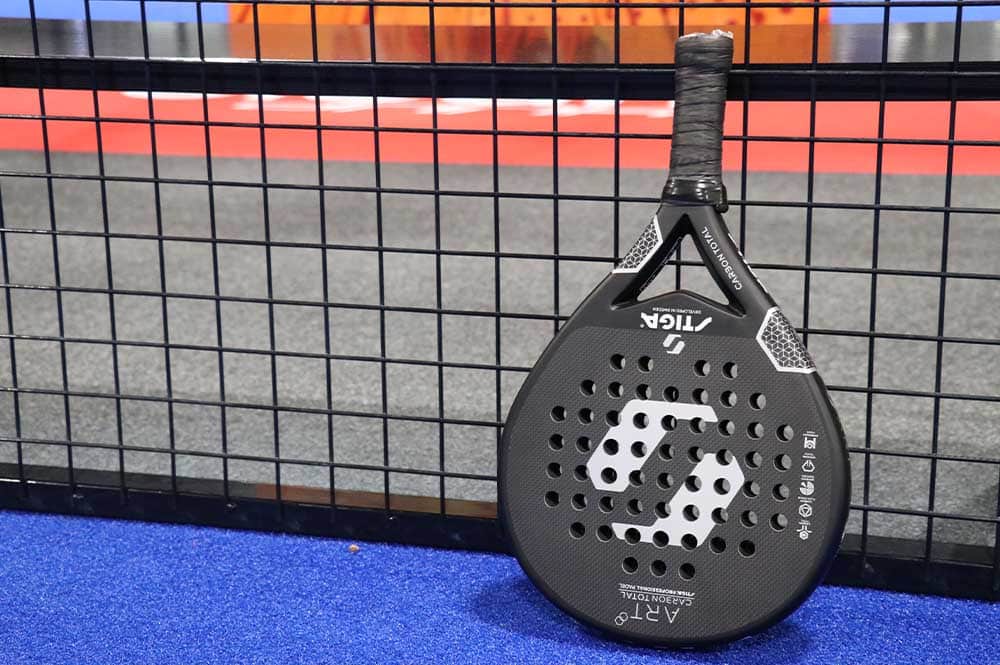 What level of player is the Stiga Art suitable for?
It is suitable for most players who have practiced a good basic technique and have experience in padel. It is an easy to play and versatile racket that the general public will appreciate, but as a beginner's racket, it will not perform to its maximum. 
When you have good technique and get good ball hits, even in crowded situations, it will be perceived as a gentle and forgiving racket. Until you get to that level, there are other options that will allow you to develop your base in an easier and quicker way.
Is the racket best suited for offensive or defensive play?
This is a racket that works just as well when you're attacking as when you're defending or counter-attacking. If your game is based on speed, this is a very good racket that you will have fun with while developing your technique to become even better.
It offers as much comfort and feel as you would expect from a round racket, you can make nice lobs and skillful placements with full control. At the same time, you can use a fast counter-attacking game, witty volleys and powerful smashes without having to feel that your game is being limited in any way.
The relatively low weight and balance allow it to move smoothly across the court, it's a racket you'll feel comfortable with from the first moment.
Brief information about the brand
Stiga Sports is a Swedish brand that we have all grown up with, they have been a world-leading name when it comes to manufacturing high-quality table tennis products since their inception in 1944. It is a company that focuses on the public having as active a leisure time as possible and is at the forefront of developing and designing new products to make this as attractive and easy as possible. You can find everything you could want in the sports and leisure department at Stiga, and their equipment is now distributed in more than 100 countries around the world.
When padel tennis started to become the most popular leisure activity among Swedes, it wasn't long before Stiga felt they wanted to do their bit and facilitate the growth of the sport. This led to the birth of Stiga Padel, a new division within global Stiga Sports.
At the time of writing, two racket collections have been developed, the latest with four different models: the Ace, Arc, Art, and Axe. They have all been developed in collaboration with Daniel Dios Zetterlind, the former national captain of the Swedish Padel team, and are based on common principles.
All models are handmade, have the same soft core of black EVA foam Hypersoft Foam, round shape, and low balance. In addition, they are all black. What sets them apart are technological differences and material choices, which allow them to adapt to different types of players. Each racket model then has details in different colors, so even the color scheme differs slightly. 
Advantages of the Stiga Art
The Stiga Art is a really nice all-round racket that is suitable for most levels and styles of play, but perhaps best by far for versatile intermediate-level players. Stiga has done really well in producing a balanced racket that performs well all over the court, a comfortable and easy to play racket that fits nicely in the hand.
It is a stable and durable racket, which thanks to the carbon fiber frame and Hypersoft foam will deliver great results despite frequent and long use. You'll notice the special feel of the ball strike, but most of all you'll notice the effortless control and reliability of every stroke. It's a relatively forgiving racket even when you don't hit it quite right.
Even on the offensive, it delivers fully passable performance; you'll be able to make lightning-fast net attacks that surprise your opponent without having to worry. 
Plus / Minus
Summary of our review
Good control and reliability

Balanced racket for both attack and defensive control

Maybe a little bit too difficult for beginners
It's a bit advanced to be recommended as a beginner's racket, but really skilled players may find it a bit simple. There are all-round rackets in roughly the same price range that are more complete, for example with a top layer for better grip and spin, which we can find with the Stiga Axe, among others.
We have tested the racket!
Micke at Elitepadel has tested the racket. In this video you can see us test play and review the racket.
Our overall review of the Stiga Art
Our overall verdict and review of the Stiga Art is that it is a well-balanced and easy to play racket with a nice mix of both speed and control that is perfect for the fast player. This racket is very unique in that it suits the player who has no particular style of play and wants a complete racket for all areas of the court.
On the material side, the frame is made of 100% carbon fiber which will make the racket last for a long time. The negative feature of the racket is the surface which could have been more raked for more control and spin on the ball.
Overall, we think this racket is an excellent choice for the player who is around average and would probably be very satisfied.
Here you can buy the product