Our rating and review of the Stiga Ace is summarized in that it is a top racket with very high quality. It is a racket that is very suitable for those who play at an intermediate up to an advanced level who want to take the next step. 
The Stiga Ace is the racket we find most comfortable to play with from the Stiga series. It is also the most expensive, but we think it might be worth the money if you want to take the step to the next level. This racket also has a carbon fibre surface which gives you extra feel in your strokes.
We have tested the racket!
Micke at Elitepadel has tested the racket. In this video you can see us test play and review the racket.
Stiga Ace characteristics
Stiga's top racket is made of really good materials and is undoubtedly of a very high quality. It feels stable and powerful in the grip, and it is designed to be perfect for the offensive and explosive player who likes to decide the score on their own. The extremely high-tech hitting surface makes it one of the fastest rackets on the market, but without ever compromising on control. 
Many offensive players want more speed and power in their strokes, but don't like the classic diamond-shaped models that are harder to handle, provide less control and wear more on the elbows and wrists. If this sounds like you, you should definitely take a closer look at the Stigas most supreme racket on the market. A round racket that feels comfortable in the hand and is easy to play, while allowing you to put pressure on the opposition up front at the net or through delicate placements and bandejas.
Ace is a Swedish-made, hand-crafted padel racket with a classic Scandinavian design. Like all Stigas rackets, this one has the stripped-down, timeless design we've become accustomed to. An all-black base with gold and silver details. Emmie Ekdahl is one of the top Swedish players who use Ace.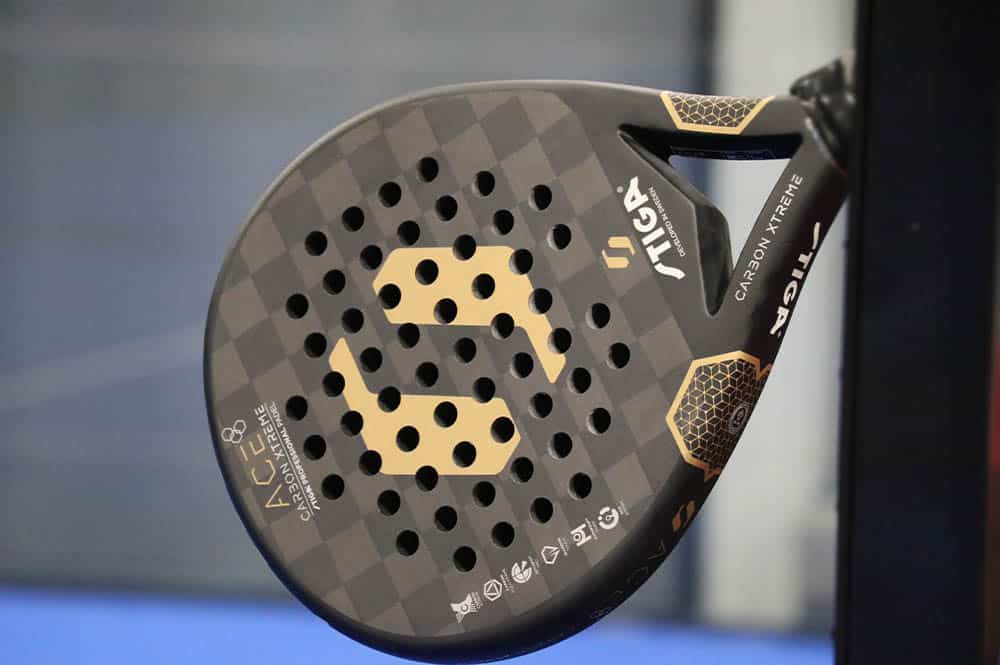 Specifications
Information about the racket
Player performance level: Intermediate - Advanced
Stigas number one racket in the new racket collection is packed with exciting, technological innovations. For starters, the frame's construction, the Carbon Flexi Frame, is made from 100% carbon fiber. This makes for an incredibly durable racket that can withstand almost anything while providing more speed and feel in the ball strike.
The Carbon Xtreme 24k carbon fiber hitting surface is the racket's main innovation, and it provides maximum speed while maintaining full control. It is an exceptional weave consisting of tiny carbon fiber threads that are interwoven in all directions, making it extremely durable and responsive. Two layers of 12k have been used, which together result in no less than 24,000 carbon fiber threads per cm². The number of rackets on the market with the same density of hitting surface is very easy to count.
All Stiga padel rackets have the same kind of core, Hypersoft Foam, which is a soft, black EVA foam that has a unique density to achieve optimal control and an extra-large sweetspot. It gives you an equally good response in the attacks as well as in the defensive game, and thanks to its durability it guarantees that your racket will maintain the same excellent performance for a very long time.
Diamond Touch is the name Stiga gives to its premium rackets that give the user optimal speed, control, and feel. The combination of all these along with the weight of the racket becomes the ultimate blend for the perfect racket. Speed and stability in every stroke, as well as an unparalleled, feel when hitting.
Optispot Pro is Stiga's most technologically advanced sweetspot. Guarantees extra power and control even when hitting a little further out towards the frame.
OCS System – Oxygen Capsule System – are microscopic air bubbles contained inside the EVA foam core, ensuring that the racket can always deliver what you need. Control when you need it, or power when you go on the attack.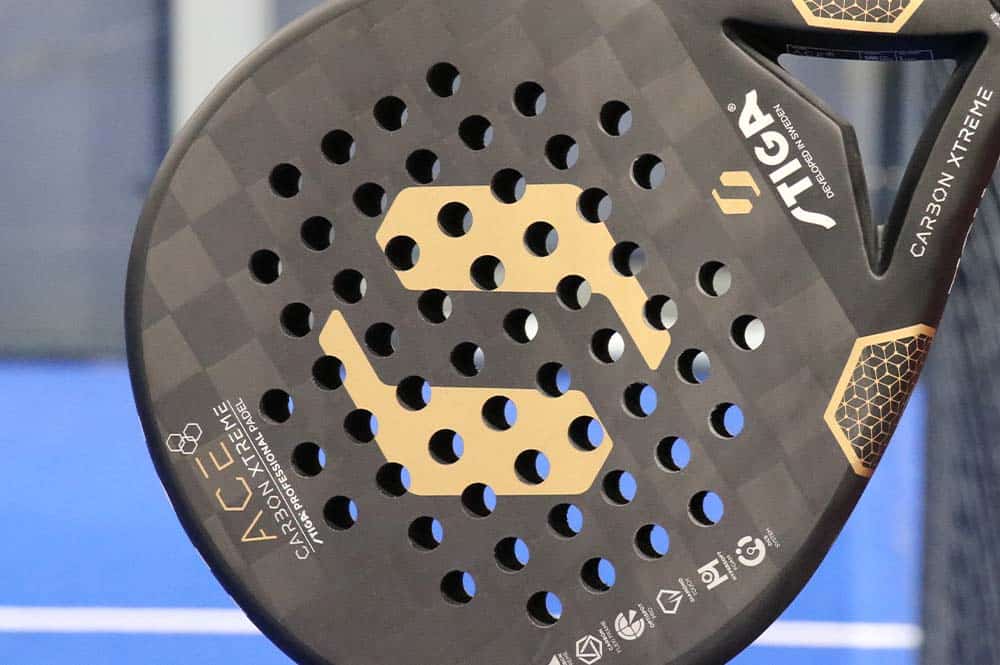 The Ace, like all current Stiga models, has a low balance. What's remarkable about this racket is that they've gone for such an incredibly advanced hitting surface as 24k – this is not seen in many rackets on the market, let alone a round model.
The result is really good though, the low balance makes it easy to play and easy on the joints at the same time as it provides awesome control, while the hitting surface provides the power on offense. However, you have to be prepared to take a bit of a hit yourself, as the low balance makes it less easy to swing than a top-heavy racket.
Stiga padel is a round racket. What does that actually mean? Well, the round shape is the most playable because it allows for a larger sweetspot (forgiving part of the hitting surface). This makes it the shape most often recommended for beginners, but there are plenty of players even among the world's elite who play with a round racket. 
The main feature of this shape is that it makes for really awesome control, and is therefore well suited to more defensive players whose game relies on skillful positioning. The Achilles heel of the racket shape/form is that it doesn't generate that much power in the overhead game and smashes, but Ace has compensated for this with an extremely offensive hitting surface that allows you to perform really well even at the net. 
Ace is a medium-hard racket. The extremely dense carbon fiber hitting surface ensures that you always get maximum speed on the balls, which also goes hand in hand with total control and razor-sharp precision. The frame is also stiff and stable, while the soft Hypersoft Foam core ensures that all strokes will be executed with maximum power and comfort at all times. It also absorbs the vibrations that occur when hitting the ball very effectively, to reduce the risk of injury.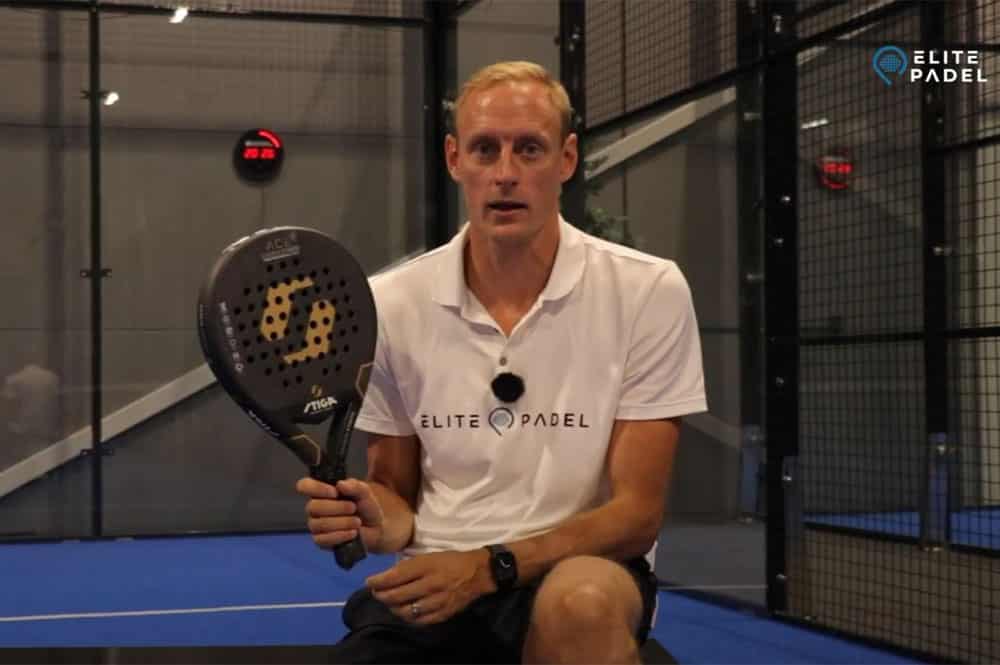 What level of player is the Stiga Ace suitable for?
This is a racket for skilled recreational and experienced competitive players who want a complete racket that lacks nothing. The Ace's hallmark is speed and explosiveness, but it provides control and comfort combined with the high speed all over the court. Those who have been playing padel for a few years have here a great model that allows them to refine and develop their technique further.
The racket has a really nice sweetspot that provides good control even when the strokes get a little off-center, but despite this, it is not recommended for beginners and players with little experience as it is not very forgiving compared to other round rackets that are softer and less technically advanced. 
Is the racket best suited for offensive or defensive play?
The Ace is made to promote a fast, offensive game, but it also works really well defensively and is an ace up your sleeve when it comes to fast counterattacks. It's a great option for any player who wants more power in their strokes but would rather avoid the more difficult-to-play diamond-shaped models.
The rounded shape and low balance undeniably bring to mind control-focused rackets that perform well defensively, but a stiff frame and especially a 24k hitting surface would be something many other offensive models would like to boast about. The combination makes for a more playable alternative to other variants that have more classic characteristics of attacking play.
Follow Elitepadel on Youtube!
We publish everything from video reviews where we test and compare different products to tips on how to become a better padel player.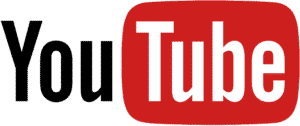 Brief information about the brand
Stiga Sports is a Swedish company based in Eskilstuna – who hasn't held one of their ping-pong rackets in their hands at some point? As you know, they have made a name for themselves all over the world as a manufacturer of table tennis products and play equipment – sledges, scooters, and hockey games, for example. 
You can find most of what you need in sports equipment and active leisure here. Founded in 1944, the company is now owned equally by the Bandstigen family and Escalade Sports. Their products are distributed in over 100 countries, and they are characterized by always delivering high quality to all players, whatever their level. 
Stiga Padel is a recently formed branch of the company, which has so far released two collections of padel rackets. All their models are based on common denominators such as a versatile and durable core and a stable and durable frame construction.
Currently, they offer four different rackets: the Ace, Arc, Art, and Axe, which then have different technological components that make their characteristics different and make them suitable for different target groups. Anyone who enjoys padel will be able to find a racket at Stiga they feel comfortable with. In addition, their range includes clothing, bags, and accessories of the same high quality.
Stiga has enlisted the help of an expert to produce the best possible rackets – Daniel Dios Zetterlind is the former national captain of the Swedish Padel team and has been involved in the development of the new racket collection from start to finish.
Advantages of the Stiga Ace
Stiga's top-of-the-line model won't disappoint – this is a racket that doesn't compromise on power or control. It allows you to generate plenty of power in every ball strike while maintaining precision in all positions.
Suitable for the dynamic and fast player who not only focuses on attacking but also wants to feel total control over the entire court. A balanced model that feels just as good in front of the net as it does from the baseline. Its features allow you to explore and improve shots that you may not have quite dominated before, and if you already have a good technique but were looking for more speed, you've found the right Ace.
Plus / Minus
Summary of our review
Balanced racket for both attack and defensive control

Higher price range compared to other Stiga models
With all the technology and advanced material choices, you might think an impact-boosting top layer would have been necessary. Also, a slightly longer grip for those who like to use a double-fisted backhand would be a plus.
Our overall review for the Stiga Ace
Below we usually collect reviews for Stiga Ace online but haven't found any. Therefore, we choose to rate based on our own opinions.
4.5 out of 5 from us at Elitepadel.se
Our overall verdict and review of the Stiga Ace is that it is a top racket from Stiga that will not disappoint. This racket has both power and control that will allow you to generate decent power while maintaining accuracy in the balls.
This racket is perfect for the dynamic player who is also fast. The Stiga Ace is not only aimed at the offensive player but also for those who want to feel total control over the entire court.
The Stiga Ace racket is a medium hard racket that is built from an extremely dense carbon fiber cloth that provides great speed on the balls. The frame of the racket is made of 100% Carbon Flexi Frame which makes the racket incredibly durable and long lasting. The Stiga Ace is fully loaded with technologies.
Here you can buy the product