Our rating and review of the Bullpadel Hack 02 is summarized in that it is one of the most complete all-round rackets for professional players at an advanced level. The Bullpadel Hack 02 provides a really great feel in the strokes in a combo of speed, control and precision. 
Don't miss that you can buy the Bullpadel Hack 02 with a discount code below. We have also tested the Bullpadel Hack 02 and you can see our review of the racket below.
We have tested the racket!
Micke at Elitepadel has tested the racket. In this video you can see us test play and review the racket.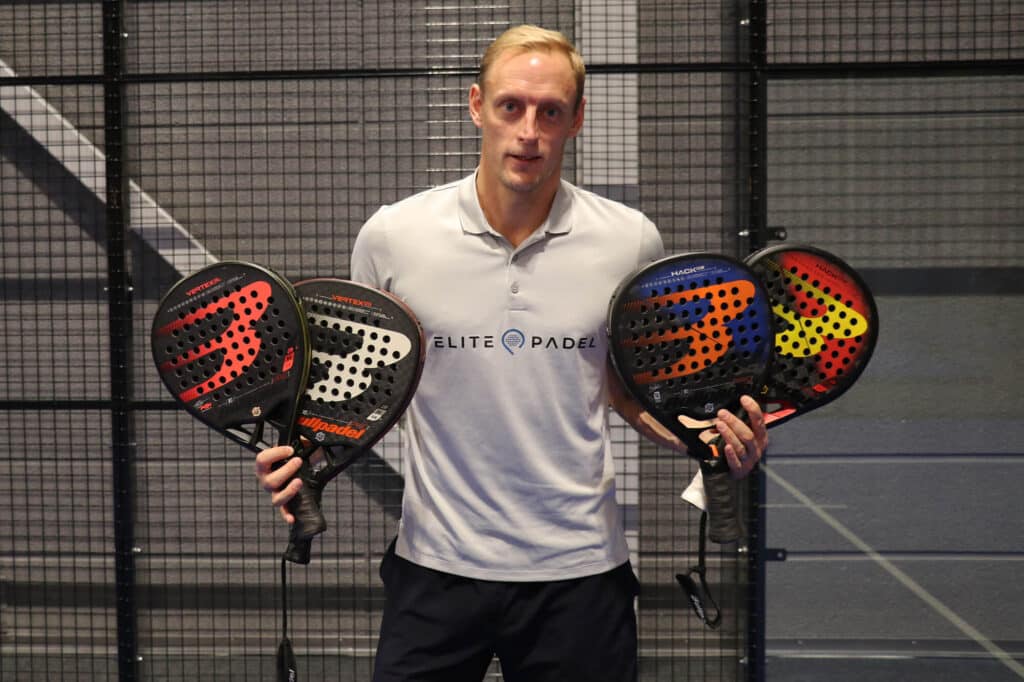 Bullpadel Hack 02 characteristics
This is Spanish top player Paquito Navarro's own competition racket. Bullpadel has accustomed us to always being at the forefront of material choices and new technology, but the Hack 02 maintains the extremely high level of the previous season and now raises the bar even further.
Obviously, the best possible quality has been invested in one of Bullpadel's absolute premium rackets, which delivers awesome power combined with fantastic control. They have managed to produce a very versatile racket, perfect for the player who wants to vary his game. It focuses primarily on speed and power, with the high balance setting the stage for brutal smashes, but the core of the Adaptia provides surprisingly good control with a lovely sweetspot.
The new Custom Weight system makes it an extremely versatile racket that can be varied as needed.
The design with a black background and color scheme in blue and orange makes it a fresh racket that will get the thumbs up from its users.
Specifications
Information about the racket
Shape: Drop format/Hybrid

Player performance level: Advanced
Carbon Tube 100% carbon fiber with 3D Nerve technology, is the most durable and wear-resistant frame available on the market. It resists the twists and turns that occur when hitting the ball, ensuring the biggest sweetspot possible and harmony between power and control. 
For the inner core, Bullpadel has chosen Adaptia, which is a Multi-EVA foam that combines different densities. The outer foam layer is harder and therefore reacts to hard balls and puts extra speed on your strokes. The inner layer, on the other hand, is softer and gives you exquisite control over softer shots.
The racket has a hitting surface made of Tricarbon, which are extremely thin and light carbon fiber threads that have been woven together in three different directions, thus creating a faster reaction in the racket's core immediately after ball impact. The result is higher speed, a great ball feel, and tremendous durability. 
Custom Weight System – the new weight system developed by Bullpadel allows you to customize the weight and balance of the racket to your needs, to achieve the best possible power and balance depending on your opposition. It is divided into two parts: the Protector Custom Weight, which consists of 1-3 small metal plates, each weighing 3 grams, that you can attach to the frame protector, and the Grip Custom Weight, which consists of interchangeable bottom plugs weighing 5 or 10 grams.
Metalshield is a very durable frame protector made of lightweight aluminum that adapts perfectly to the new Custom Weight System, allowing you to place the weight plates where you think they fit best. In addition, it protects your racket from knocks, scratches, and cracks.
Vibradrive comes in the entire Pro Line series and is the vibration dampening system developed by Bullpadel. It is a silicone-like material that lies along the entire handle to make the racket as gentle as possible, thereby reducing the risk of injuries such as tennis elbow. It also improves the feel and comfort the player gets at the moment of hitting.
Hesacore is an ergonomic grip that comes pre-assembled on this model, all to ensure that your racket is as comfortable as possible in your hand and gives you the optimum contact area with the grip. It not only reduces vibration but also provides more power, control, and comfort.
This is a racket with a high balance, to provide maximum efficiency in offense. A high balance is something we usually see in the diamond-shaped models, but here it has been chosen for a drop-shaped racket to give extra potency in the attacking game without sacrificing control and comfort in other match situations. 
A big advantage of the Hack is that the balance can be easily adjusted if necessary thanks to the Custom Weight System. Placing one weight at the top of the frame guard makes the racket more top-heavy, whereas placing two weights on either side makes the center of gravity more balanced. If you want a lower balance, you can replace the bottom plug to get even more control.
Hack is a drop-shaped racket designed to provide speed without giving up control. The drop-shaped models are really meant to be an all-round racket, as its characteristics make it work well in all types of strokes and playing situations. Here, a high balance has been chosen for a more offensive racket, but it can be adjusted if you need it through the Custom Weight System. 
Another characteristic of the drop-shaped rackets is the large sweetspot, or ideal hitting surface, which you will also find on this model. It makes it a more playable racket in comparison to the offensive diamonds. 
This is classed as a medium-hard racket. The frame is stiff to allow you to get the highest possible speed on the balls, which is also supported by the outer layers of the core. The inner layer of the core has a lower density, and therefore works very well for controlling looser shots. The hitting surface is more flexible than regular carbon fiber, but still hard, which makes the racket more demanding on the player's technique.
What level of player is the Bullpadel Hack 02 suitable for?
The Hack is made for professionals or players at an advanced level who want a complete all-round racket that is guaranteed to deliver what is required in all types of opposition. It requires technique and skill for this racket to reach its full potential – hard rackets provide very good speed but require a better technique to allow optimal control.
The weight and balance adjustment is a fantastic addition, but it takes an experienced player to know how to use it to their advantage in the best way.
Is the racket best suited for offensive or defensive play?
The offensive player who uses a lot of overhead shots and has smashes as their weapon of choice, but still likes to use sensitive placement and skillful bandejas has the perfect option here. An offensive all-round racket is really the most accurate description.
For the player who is not as offensive-minded and wants more control, we can recommend the Hack CTR variant.
Brief information about the brand
Bullpadel is one of the most well-known brands in the padel world, and what has made them so popular is their total commitment to always producing rackets and equipment according to the wishes of the players. The Spanish brand has an intense collaboration with players all over the world, precisely to always keep up with the evolution of the sport and be able to manufacture what padel requires to continue its growth. 
Bullpadel padel rackets are considered to be among the very best available, thanks to everything they have to offer both on and off the court. All of their rackets, no matter what level they are designed for, are always made with the best materials and the latest technology. This is precisely why it is the obvious favorite for many stars on the World Padel tour such as Maxi Sanchez, Paquito Navarro, and Alejandra Salazar.
Advantages of the Bullpadel Hack 02
The new Tricarbon hitting surface gives a really great feel to the strokes, the hit is more responsive and not as dull as when using regular carbon fiber. This also weighs 20-30% less than the more traditional version.
It provides a great combo of speed, control, and precision, which the skilled player can use to give their absolute best in every point. It's great for quick attacks in front of the net, where you'll be able to put pressure on your opposition. 
The Custom Weight System is an awesome benefit, being able to so easily adjust the racket's characteristics to suit your needs makes it a more versatile racket than most others on the market.
Plus / Minus
Summary of our review
Good pressure in overhead strokes

Complete all-round racket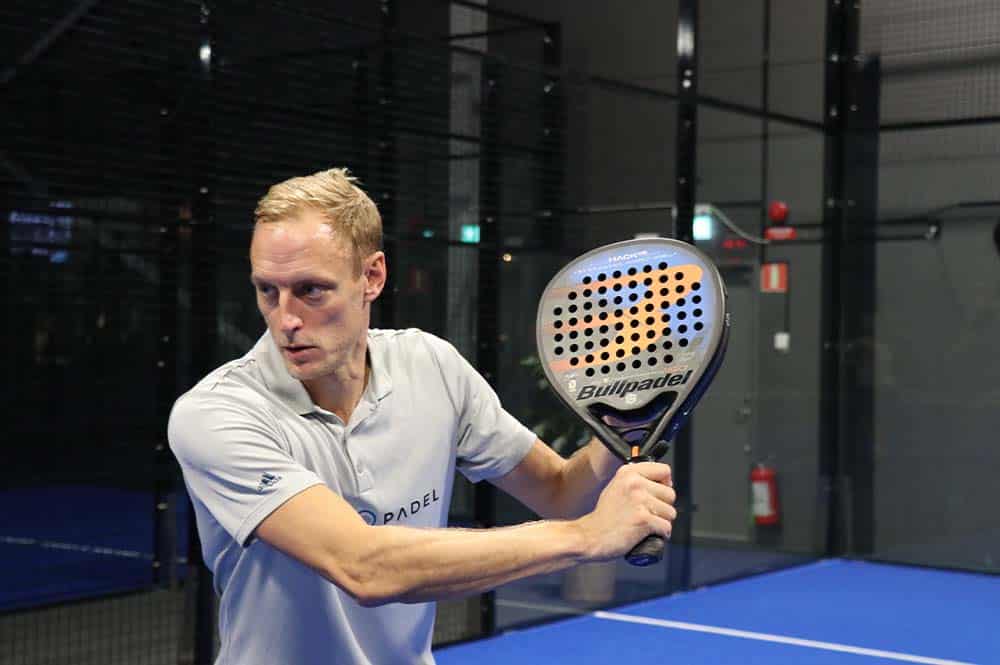 Lobs and other strokes that require speed and skill are a bit difficult to perform with Hack, this racket is much more effective in offensive play.
Bullpadel Hack 02 reviews and ratings
Below we have collected reviews for Head Evo Sanyo online.
4.4 out of 5 from Tengo.se
Our overall verdict for Bullpadel Hack 02
Our overall verdict and review of the Bullpadel Hack 02 is that it is an awesome racket for the professional practitioner. This racket is a properly complete racket that gives you speed, precision and control. The Bullpadel Hack 02 is also equipped with Tricarbon which will create a great feel in your hits.
The Bullpadel Hack 02 is adapted to an offensive game where overhead shots and smashes are your weapons of choice. But all of this requires a good technique and skill for you to use the racket's full potential. 
This racket has few disadvantages but one of the biggest is because the racket is very attack oriented it makes lobs and other shots that require speed and skill more difficult. If you want to use more technique and have more control, we suggest Bullpadel Hack Control instead.
In conclusion, we give this racket a 4.5 as we believe the racket is a very good complete racket that can do the tasks it is designed to do.
Here you can buy the Bullpadel Hack 02
Follow Elitepadel on Youtube!
We publish everything from video reviews where we test and compare different products to tips on how to become a better padel player.