Our rating and review of the Wilson Bela Team is summed up in that it is an awesome choice for anyone looking for a complete racquet. This racket will give you a great all round game as the racket will give you a great overall look to your game. The racket is for the practitioner who is at an intermediate – advanced level.
Here you can buy the Wilson Bela Team
Wilson Bela Team characteristics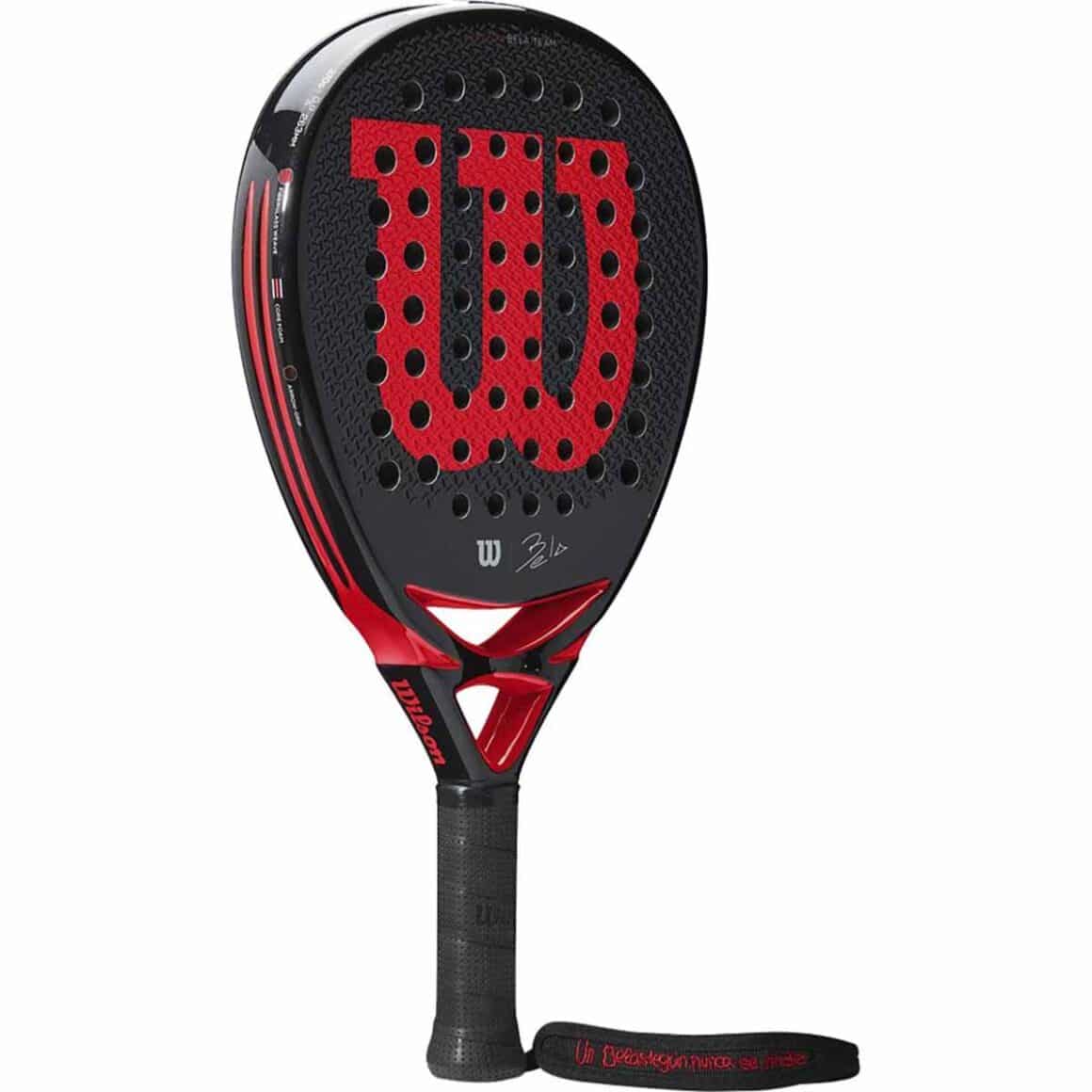 Wilson has produced a range of premium rackets with Argentine padle legend Fernando Belasteguin, the only player to be world champion for a full 16 years. Of course, we are talking about the Bela series, where the Bela Pro is the premium racket. This is a racket designed for the ambitious and talented player, who works every day to become even better. 
It is a diamond-shaped racket with a medium balance, which makes it easier to handle and provides better control than a classic diamond racket. In order not to miss an ounce of explosiveness and offensive power, really hard and exclusive materials have been used in the racket, to be able to make the volley and the smash your favorite weapons. It's a very balanced racket that allows you to perform equally well across the court and take advantage of your fast and technical strokes.
The design is, as always, stylish when it comes to Wilson, a black racket with the logo and details in red. We like the Belasteguin daughter's quote embedded on the wrist strap, "Un Belasteguin nunca se rinde" – A Belasteguin never gives up.
| | |
| --- | --- |
| Rackets specifications |   |
| Brand | Wilson |
| Shape | Diamond |
| Balance | Medium |
| Game type | Allround |
| Game Level | Intermediate – Advanced |
| Weight | 370 g (+/-10) |
The Wilson Bela Team has a sturdy and stable carbon fiber frame construction that is built to last. 
The racket's core is made of Core Foam, a low-density EVA foam that makes for reliable performance. This soft core gives you the security of knowing you'll always be able to give it your all while maintaining control at all times. It also absorbs the vibrations that occur when hitting the ball very effectively, making it very comfortable to play with at the same time as being gentle on your elbow and wrist. 
The Fiberglass Weave hitting surface ensures that the racket provides optimum stability and quick response to ball impact.
The Arrow Grip surface is a unique, sandpaper-like surface that gives you a more efficient spin and a more comfortable hit with power.
Wilson has integrated its Sublime grip, which provides an exquisite blend of comfort and softness while absorbing moisture thanks to its micro-perforations on the surface.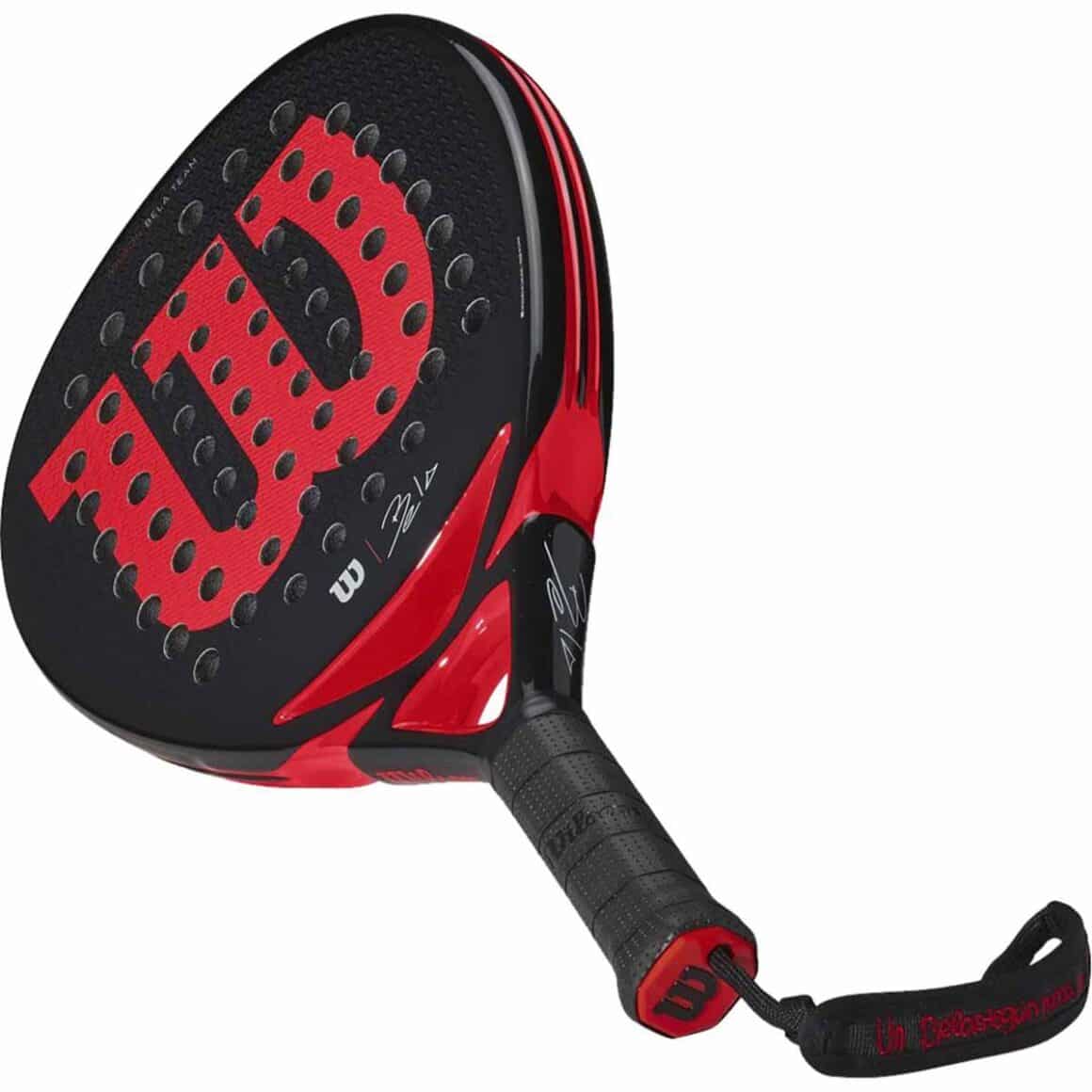 Here you have a racket with a central center of gravity and a medium balance. Most diamond-shaped rackets are top-heavy, but the fact that the balance has been shifted down a bit here makes it easier to handle even for players who have not yet reached their full potential on the court.
The Bela Team is a diamond-shaped racket, making it a nice addition to the offensive game. This shape generally has the smallest sweetspot as they are usually for technically proficient players who do not need particularly large margins of error. This model becomes so versatile thanks to it having a medium balance that makes it easier to handle in all types of shots, and the soft materials ensure that it gets almost the same forgiving qualities as a racket with a larger sweetspot.
It's a soft racket. The frame is the stiff and stable part of the racket to provide maximum durability, but the core of soft EVA foam and the hitting surface of fiberglass are components that provide a gentle racket and responsive control. This means that the Bela Team is not the most explosive racket you'll find, something that usually characterizes diamond-shaped models, but in exchange provides a very nice control and ball feel in the strokes.
What level of player is Wilson Bela Team suitable for?
It is a racket designed to offer the ultimate combination of speed and control for players who want to develop and improve, as well as those who are already at the highest level. Belasteguin's motto is that no matter how good you are, you can always get better, and if you share this winning mentality, you should definitely take a closer look at the Bela series. 
The Bela Team is thus the most easy-to-play model of the three. The Bela Pro and Elite are aimed more at top players who have already mastered an awesome technique, while the Team is more forgiving and allows you to learn while you use it. The soft core and fiberglass hitting surface have broadened the target audience greatly, and it's a great option for players at the mid-level and above.
Is the racket best suited for offensive or defensive play?
The whole Bela series is really designed to promote an offensive and aggressive game where the player wants more power behind the strokes, but because the Bela Team is such a soft racket, we think it is best suited for all-round players who like to be able to master all facets of the court and use a wide range of strokes.
Information about the Wilson brand
Wilson Sporting Goods & Co is an American company headquartered in Chicago, which is a subsidiary of Amer Sport. They are dedicated to producing sports equipment, apparel, and accessories for a variety of sports and for practitioners of all levels, including hobby athletes, amateurs, and professionals.
As well as racket sports, it also includes football, American football, basketball, golf, baseball, and of course volleyball – who doesn't remember the stranded Tom Hanks and his friend Wilson?
We've all heard of Wilson Sport, they have more than 100 years of experience equipping athletes of all levels all over the world. Of course, they'll be pulling their weight when it comes to padel too. Here you will find a wide range of rackets, clothing, bags, shoes, and accessories, all made with the high quality that Wilson always represents.
Founded over 100 years ago, in 1913 to be exact, Wilson's roots can be found in the meat industry, starting with the Ashland Manufacturing Company, which worked to package meat products from New York slaughterhouses. The first step towards sport was when they began to harvest the sinews of animals and use them to make strings for tennis rackets and violins, as well as surgical thread.
Ever since their venture has only grown and their range has expanded, now sitting as a world-leading brand used by many of the most famous players at the elite level. They manufacture the official balls for the NFL, NBA, and several of the major Grand Slam tennis tournaments and are the official sponsor of a host of other major events.
Read more about the Wilson padel rackets and our other reviews.
Benefits of Wilson Bela Team 2022
The biggest advantage of the Bela Team is that it is incredibly complete. It has put together pieces of the puzzle from different styles of play and managed to combine them very successfully.
The diamond shape with medium balance makes it offensive yet easy to play with, and the soft core elasticity puts nice speed on the softer balls and provides comfort and control on all shots. This model is great if you're keen to try a diamond racker but feel that a pure version probably won't give you the control and precision you need.
Technically proficient players who like to challenge their opponents with hard-hitting effects will really like the Arrow Grip surface that Wilson has developed because it takes your bandejas, viboras, and kicksmashes to a whole new level. The grip on the ball is fantastic.   
Intermediate-level players should be aware that it still requires clean hitting for the racket to perform to expectations – the diamond shape provides a more limited sweetspot which you'll notice if you hit further out towards the frame. As a player, if you are already hitting very hard, some of this power will be lost through the soft core and hitting surface.
Here you can buy the Wilson Bela Team
Disclaimer
All opinions given by Elitepadel and our writers are subjective and you may not agree. Elitepadel.se is a free platform for you as a visitor and is instead funded through collaborative links to our partners. You as a visitor are not affected by these links.