Our rating and review of the Head Graphene 360+ Alpha Pro is summed up in that it is a very good racket that delivers well in both offensive and defensive situations. It is a racket that is very suitable for those who play at the intermediate – advanced level. 
The Head Graphene 360+ Alpha Pro is a very popular racket with a stylish design and a very good choice for those with a medium-high budget.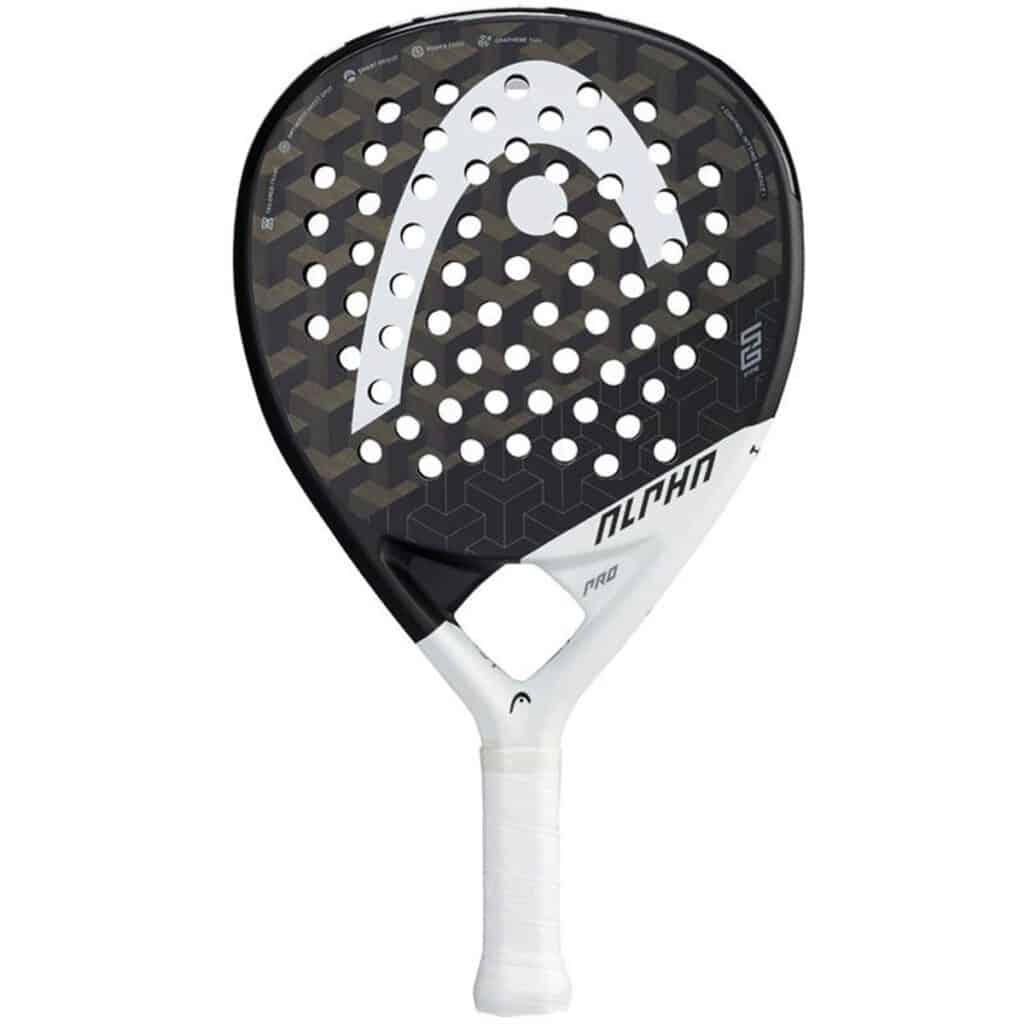 Head Graphene 360+ Alpha Pro features
Here we have one of the WPT's top players' personal favorites – none other than Sanyo Gutierrez has chosen this exact model to play with all over the world! Now the wizard's own racket is finally available to us all, and it's an opportunity we don't want to miss.
Gutierrez uses an easy-to-play premium racket that is suitable for a wide range of players at any level, it is equally suited to professional competitive players and ambitious recreational players. It's an all-round racket that delivers feel, precision, and comfort in every stroke, and thanks to its excellent characteristics, it feels like a safe bet on the court this year.
It boasts a larger sweetspot compared to previous models thanks to Optimized Sweetspot, which is a strategic placement of the holes to thus provide more speed and easier handling. You'll notice that it provides outstanding precision in overhead shots, but also in lobs and bandejas for example.
This racket is elegant and has a stylish design that comes in various shades of grey, from light to dark.
Specifications
Information about the racket
Player performance level: Intermediate - Advanced
Graphene 360+ is the very latest and most exclusive technology, which has been used here to make an unbeatable strong, and sturdy frame. Graphene is an extremely strong and lightweight material, which allows the manufacturer to experiment with the distribution of the material without having to affect either the balance or the weight. In addition, this is 360+, which is an improvement on the previous 360 that further reduces vibrations, resulting in better strokes, greater comfort, and even more control.
For the core, the same foam has been chosen as for most of the Heads padel rackets, Power Foam, which is the perfect alliance when you're looking for maximum speed. This material has become so popular because it delivers awesome power in the strokes, and because it also absorbs the vibrations created when hitting the ball, it makes the racket much more gentle. This reduces the risk of injury to the player while providing a great feel and comfort.
Optimized Sweetspot is a technology that optimizes the drilled pattern of the holes in each individual racket to achieve a larger sweetspot, which provides a more forgiving response when you happen to hit a little further out to the frame.
Smart Bridge Construction is a reinforcement that sits between the racket head and the grip, providing extra stability to the frame, and making sure it will fit you like a glove.
For maximum racket durability, the Anti-Shock Skin has been incorporated which is a very versatile frame protector – not only will it protect your racket from knocks and scratches, it will also help to reduce vibration.
Like most drop-shaped rackets, the Alpha Pro has an average balance, which in this case is 270mm and can be described as slightly top-heavy – slightly higher than most drop rackets. Precisely because the center of gravity has been raised slightly, the racket provides generous power in all types of overhead play and is a great addition when it's time to go on the offensive.
The shape is drop, or hybrid, and is, therefore, suitable for those who dominate many different strokes and styles of play. This racket is best suited to those who like to play with heavy smashes and volleys as well as delicate placements and bandejas. All drop-shaped rackets belonging to the Alpha series retain the same comfort and ball feel as previous editions, but this season's model has that little bit extra thanks to the improvement that Graphene 360+ represents in comparison.
The Alpha Pro has a medium-hard Power Foam core, which puts really good speed on the ball while allowing you to maintain total control no matter where you are on the court. This material has been repeated for a few years now in most of the Head racket models, precisely because of the positive feedback it has received from players. 
It's a kind of memory foam that regains its shape so quickly after hitting that it gives an extra boost to the ball. The hitting surface is made of Graphene 360+, which, unlike the previous 360, has spiral-shaped fibers and is, therefore, more elastic and provides a cleaner and more polished hitting feel.
Follow Elitepadel on Youtube!
We publish everything from video reviews where we test and compare different products to tips on how to become a better padel player.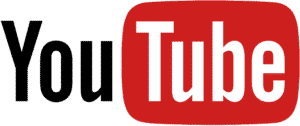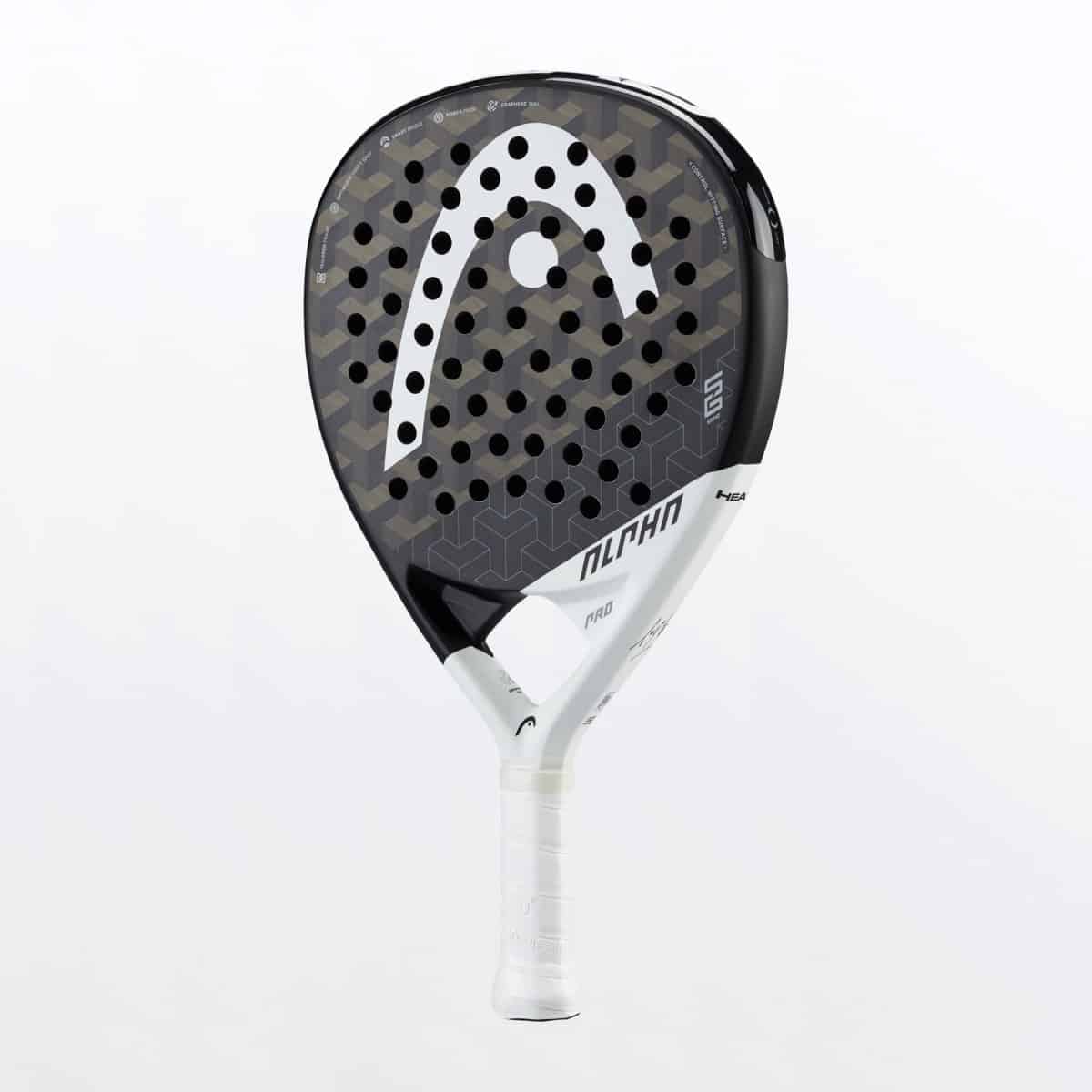 What level of player is Head Graphene 360+ Alpha Pro suitable for?
The Alpha Pro is a racket suitable for any level, with the possible exception of beginners who will benefit from starting with a softer racket with a lower center of gravity. Once the basics are in place, this is a racket that definitely deserves a closer look, as it is very comfortable in the hand while being easy to play with all over the court. Skilled all-round players with a good technical level will also have a truly top-notch racket that delivers well with speed on the offensive and control and precision in all positions.
Is the racket best suited for offensive or defensive play?
Like most drop-shaped rackets, this is a model for the versatile player who likes to alternate between offense and defense and needs a racket that delivers a good result in all types of shots and game situations. It is a very balanced racket that provides an exceptional combo of speed, power, and control. It easily accompanies quick lateral movements, as if it were an extension of your arm, and therefore delivers a fine result in fast-paced ball duels of all kinds.
Benefits of the Head Graphene 360+ Alpha Pro
Anyone who has ever dreamed of playing like "The Wizard" Gutierrez now has the opportunity to do so, using the exact same racket he has at the WPT. The reason he has chosen this particular racket is mainly because it is so complete – it has everything you can look for in a padel racket. 
It provides great speed in the offensive strokes, any power you supply the racket with, more is channeled very effectively out into the ball strike and provides hard placements that your opponents will find difficult to return. The slightly higher center of gravity means that the hitters get better pressure in combination with the Power Foam which influences a really great shot. When it comes to strategic lobs or deep volleys, you'll have that extra bit of ball feel that puts the shot exactly where you want it. The new Alpha series lets you discover a new way to play padel, now you can unleash the magic on the court.
It feels hard to find fault with a racket this complete. What could have made it even better would have been the textured hitting surface that Head uses in many other models, to get a better grip on the ball and greater impact.
Our overall verdict and review of the Head Grapghene 360+ Alpha Pro is that it is a versatile racquet for those who want a good balance between offensive and defensive play. The racquet is a bit more top-heavy which adds some extra pressure to the smashes and offensive strokes.
The Head Graphene 360+ Alpha Pro is made using the very latest and most exclusive technology. The racquet has a core made from the same foam as most other Head padel racquets called Power Foam. It is a perfect choice when you are looking for maximum power in your strokes.
Disclaimer
All opinions given by Elitepadel and our writers are subjective and you may not agree. Elitepadel.se is a free platform for you as a visitor and is instead funded through collaborative links to our partners. You as a visitor are not affected by these links.