One of the first padel companies, which in 1989 started its production in Argentina. Their production has expanded over the years, among others because they also produce rackets for over 30 other brands. Their factories are currently located in Argentina, Spain, and Portugal.
They also have different technologies that enhance different characteristics and several of their models are used by professional players in the World Padel Tour.
A padel racket with a round shape, which is slightly larger than most round-shaped models. The hitting surface is larger and with a large sweetspot, which makes it particularly favorable for beginners. In addition, it has a larger mean balance and for those who want to place spin on the ball, will benefit from the 3D structure that the surface is equipped with.
Sane Impronta Max Pro Compact
This model from Sane has been equipped with a focus on power. A central and larger sweetspot, which facilitates control and power in the ball hits. A racket that is extra durable, thanks to its carbon fiber material, and can give the player proper power when it has a hard-hitting surface. Thus, it can also work well in offensive play.
Thanks to an oversized size, this racket has a larger hitting surface and a larger sweetspot, which gives the chance to hit more balls with both control and power. This model is versatile, with a balance that is at a medium-medium level and can provide good power both in offensive and defensive play.
A racket aimed at padel players who have gained experience in the sport and the various techniques within it. This model has several characteristics and is a form of hybrid, which allows the player to get a lot of pleasure from this racket at different positions on the court. A lightweight racket with fiberglass surfaces and a large hitting surface that also has a larger sweetspot.
Sane Impronta Max Pro Soft
One of Sane's star models that has several features that add extra power to precision play. It has a soft core that takes care of any friction and provides more opportunities to hit the ball with both power and good precision in the strokes. In addition, the scuffed surface of the hitting area helps to spin the ball on impact. This is better suited to a defensive game, as it does not provide as much power for smashes or explosive fastballs.
Sane Rissing Max Pro Carbon
For the beginner, the large sweetspot of this racket is a great advantage, to succeed with more hits that have good control in the direction. The balance point is at an intermediate level, which provides the player with a feeling of a smoother game and grip on the racket. The hitting surface is made of carbon fiber and has a roughened surface, which helps the player to fool the opponents by providing the balls with a spin and an element of surprise.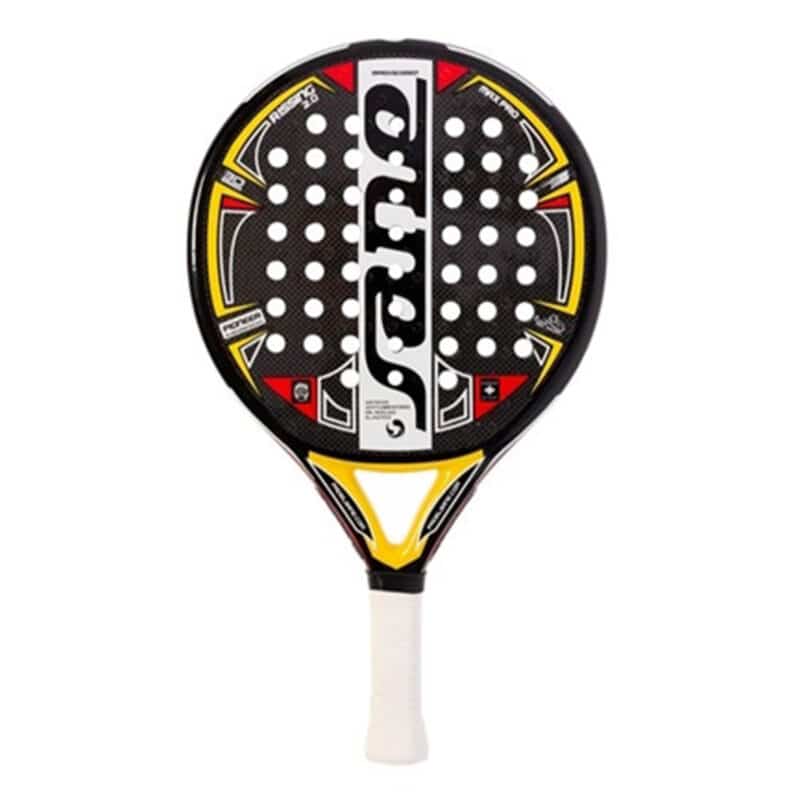 Ratings and reviews for Sane padel bags
The Sane Backpack is made of leather and PVC and is available in black and purple, and black and orange color combinations. It is designed to allow the player to carry all the necessary things needed for padel. There are several pockets: 2 larger ones for shoes and rackets, among other things, and 4 smaller pockets to help organize the pack. The straps for carrying it on the back have extra padding, which makes it more comfortable around the shoulders and back. The backpack can also be carried using the handle on the top of the bag.
Sane's range of padel bags also includes Racket Bags, which are also made of leather and PVC. As with the backpacks, there is a round outer compartment for the racket, which is also easily accessible. A special compartment with a material that breathes better, for better delivery of shoes and wet clothes. Two smaller pockets for the small details, like keys, wallet, and other important items. Larger handles allow it to be carried in the hand, but you can also choose to carry it as a backpack thanks to extra straps that are pulled over the shoulders. 
It is available in black and green, black and orange, blue and white, and red and white.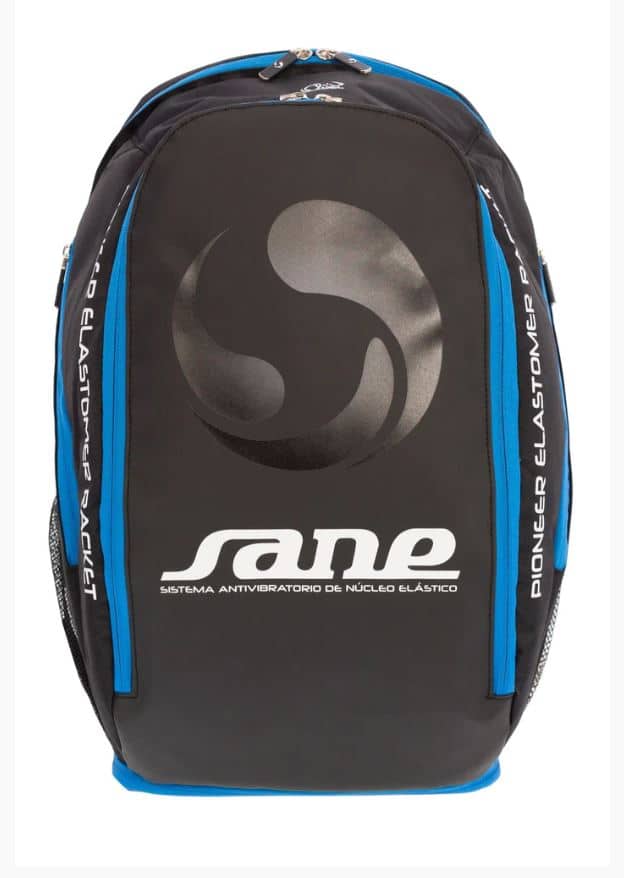 More about the Sane brand
Sane Padel started producing padel rackets in 1989 and is one of the oldest producers on the market. Initially, all production took place in Argentina, but today there are also factories just outside Madrid in Spain and in Portugal. 
Most of their rackets are private label models, but some factories also produce for other brands. The decision to expand the number of factories was partly due to the fact that they produce for more than 30 other brands. However, their own brand is produced by hand in a factory in Argentina.
Contact details
Telephone number: +34915493322
E-mail: madministracion@padelsane.com
Address: PADEL SANE, SL
c/Estío, 7,
Arganda del Rey – 28500,
Madrid, SPAIN