The Swedish market has exploded with padel players and there are not enough padel courts and padel halls to satisfy the demand. In this article, we will go through how much it costs to build a padel court and a padel hall. We give you both concrete calculations and tips on things you need to consider. 
The latest padel statistics show that the sport continues to grow strongly, which means that there is an opportunity for those who want to invest money in the sport to be able to get a good return on their investment.
How much does it cost to build a padel court?
How much it costs to build a padel court varies. However, you can expect a cost somewhere between 250,000-450,000 SEK (25,000-40,000 euro). It simply depends on the type of court that is to be built, and whether any groundwork or similar work needs to be done before construction can begin. In addition, the cost will obviously vary depending on the materials used and the size of the court.
Cost of building a padel court
Premium quality
High quality
Medium quality
Lower quality
Lowest quality
Prices are estimated and may vary depending on ground works, indoor or outdoor course, etc. Also, what country you're building it in. This is an estimation of what it would be to build in Sweden.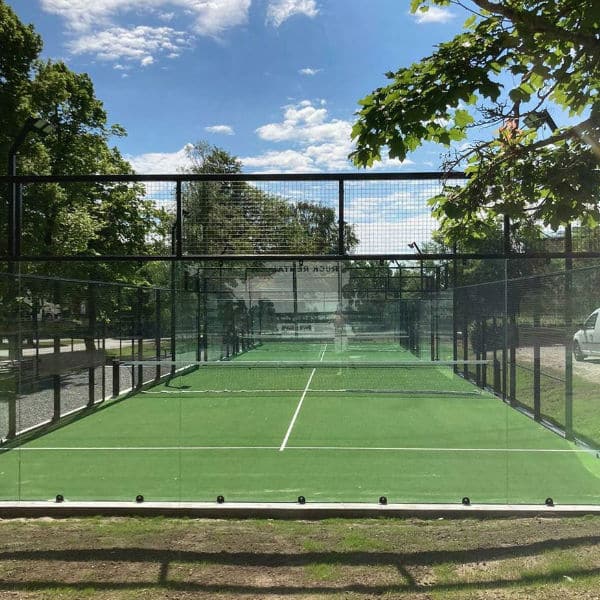 Price example for a padel court
MONDO's padel court "Padelbana Panorama Indoor" costs 204.995 kr + VAT. This does not include the installation of the court.
How much does it cost to build a padel hall?
The price of building a padel hall is determined by several parameters. A padel hall with space for 6 padel courts costs 5.750.000 SEK + VAT to build according to Northpower Stålhallar AB. A padel hall for 4 padel courts costs 3.990.000 SEK + VAT to build.
Cost of building a padel hall 48×35 meters (with space for 6 padel courts)
Outside length:
48 440 mm
External width:
35 440 mm
Floor space:
1 717 sqm
Bearing surface:
211 sqm
Total area:
1 928 sqm
External height of eaves:

11 000 mm (from island concrete slab)

External height of the roof:

12 100 mm (from island concrete slab)

Internal height at bottom of truss:

9 500 mm (from island concrete slab)

Price:
It is the company Northpower Stålhallar AB that gives the price example on its website.
Cost of building a padel hall 48×24 meters (with space for 4 courts)
Outside length:
48 440 mm
External width:
24 440 mm
Floor space:
1 184 sqm
External height of eaves:

9 900 mm (from island concrete slab)

External height of the roof:

10 800 mm (from island concrete slab)

Internal height at bottom of roof beam:

9 200 mm (from island concrete slab)

Price:
What planning permission is required to build a padel court?
A padel court can either be built in an existing facility, in a newly built one, or outdoors. The building permits required vary, and you would be well advised to check with your local authority to find out what permits are required.
If there is already an existing facility or if the court is to be built on private land, no planning permission may be required at all to get the court ready.
However, it is always wise to check before construction begins, otherwise, you could be liable to pay large penalties.
Note
We recommend that you contact your municipality to see what applies in your specific case.
What type of artificial grass is used for a padel court?
A padel court needs a very durable artificial grass because it wears a lot. It should also be relatively maintenance-free. The choice of artificial grass also varies depending on whether the hall is indoors or outdoors.
What type of sand is used for a padel court?
Generally, ordinary sand is used for a padel court. It is used to keep the artificial grass in place and to provide a better glide on the court.
On average, 8-12 kilos of sand are used per m2. However, the choice of artificial grass may require more or less sand. For a portable padel court, no sand is used at all.
It may also be wise to remember that the sand on the court needs to be replenished from time to time. Some of it is lost when players run on the court, and if the court is outdoors, the weather will wear down the surface.
Padel racket
Buy a padel racket that suits you and your style of play. We'll help you!
Padel shoes
Buy padel shoes that suit your body and your style of play. We'll help you!
Padel rules
Learn to play padel by mastering the rules first.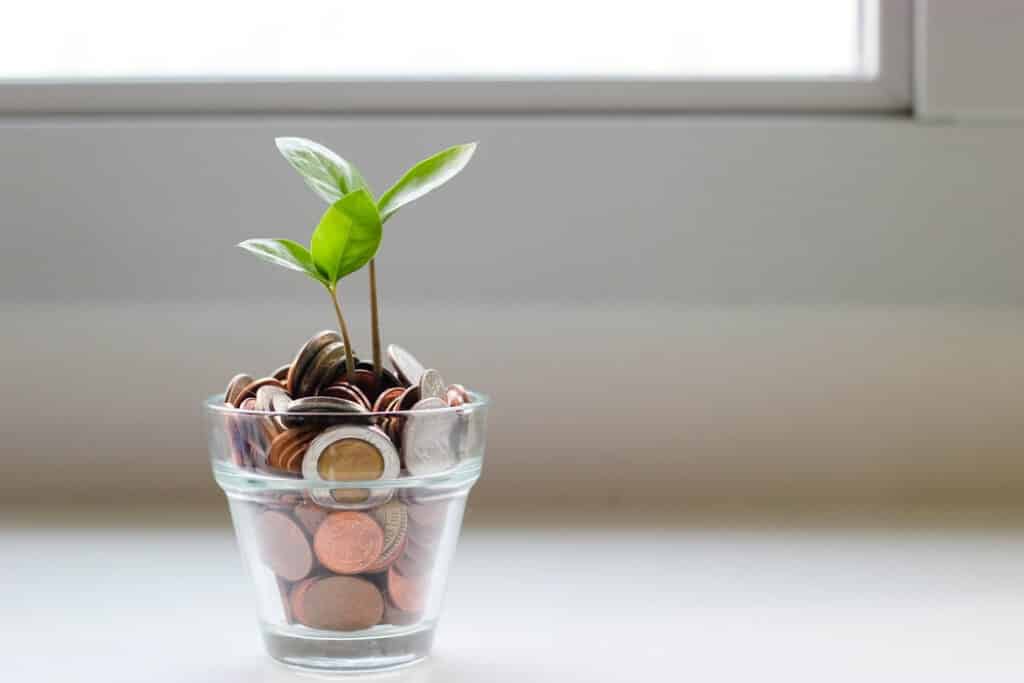 How to finance the construction of your padel court
There are several ways to finance the construction of a padel court. Many people apply for various funds or grants to build the court, but there are also other options. Here are some examples.
Pay for the court in cash
One way is to pay for the court in cash. Maybe you have money saved, grants, or various funds that can be used to pay for the court? When you pay cash, it becomes your own court and you don't have to think about installments, rental fees, or anything like that. One advantage of paying cash is that it is not encumbered by loans or credit in case you need to borrow money later to renovate or extend it.
Another option is to lease the padel court. In this case, you pay a monthly fee to borrow the court once it is built, while someone else pays for the actual construction. You can lease the court for a fixed or indefinite period. This may be an option if you cannot afford to pay for the whole construction, or if you are unwilling or unable to take out a loan.
Take out a normal personal/business loan
If you want to build a padel court, you can of course also take out a loan to pay for the construction. As a rule, you need to be in good financial standing, and you should not have any previous payment history or similar to qualify for the loan. If you can show that there is a strong interest in padel and that there is a possibility of earning money on the court, the loan may be easier to obtain.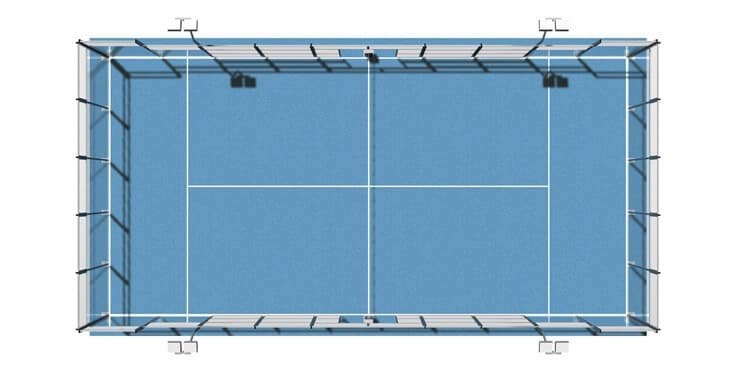 A padel court designed for doubles play is 20 metres long and 10 metres wide. There should also be a ceiling height of at least 7 metres, but optimally 8-9 metres. A padel court designed for singles play is 20 metres long and 6 metres wide.
Padel courts can vary in size depending on whether they are designed for singles or doubles play. Both the length and the width can vary. Here we look at the most common sizes and we also touch on how much space is needed to construct different padel courts.
Minimum height of the track
En padelbana bör ha relativt hög takhöjd då det är viktigt att man kan göra en ordentlig lob. Den fria takhöjden bör vara minst sju meter men det optimala är om takhöjden är åtta meter eller mer. 
Det är bra att tänka på att även taklampor är en sådan sak som sänker takhöjden och de kan störa spelet. Se till att belysningen inte hänger för långt ner, men samtidigt ska den inte blända.
Length of court double court
A double court for padel is 20 meters long. This gives players plenty of room to move around.
As mentioned above, the playing field is made up of a grid and walls, with some of the walls made of plexiglass. 
The back wall has a height of four meters, where three meters are made of glass and one meter is made of grid.
The width of the padel court for doubles is 10 metres.
Length of court for singles
Padel courts for singles play are 20 meters long.
Court width singles court
A singles court for padel is 6 meters wide.
What surface is required to build a padel court? (double)
For the construction of a double court for padel, the minimum installation area is 11×21 metres. This leaves 0.5 metres of free space on each side of the court. The total minimum area needed to install a padel court is 231 m2.
What surface is required to build a padel court? (single)
To build a single court for padel, the surface needs to be at least 7×21 metres. This includes 0.5 metres of space on each side of the court, making it easy to get around the hall.
MATERIAL SELECTION FOR YOU TO BUILD A PADEL COURT
What does a padel court consist of?
A padel court consists of several different parts. To build a padel court you need the following:
glass sections
a frame construction
steel mesh sections
padel grass
lighting
The frame of the padel court is usually made of aluminum or steel. The construction differs somewhat depending on whether the court is outdoors or indoors. A steel frame needs to be of a thicker nature if it is going to be outdoors. 
It is simply a matter of being able to withstand all types of weather. The frame structure also needs to be galvanized and primed before it is painted. Galvanising also differs depending on whether the structure is to be outdoors or indoors. A stronger galvanization is needed if the frame is to withstand a harsher outdoor climate. 
All these measures are taken to make the frame more resistant to rust when it is outdoors. Despite the careful treatment of steel, the average rust guarantee for steel frame structures is only five years. If an aluminum version is chosen, the guarantee is often for 15 years.
In many cases, the padel court is surrounded by glass and fencing. Usually, the long sides of the court have sections of a three-millimeter-thick steel mesh/fence.
The fences are very strong and they can withstand players running into them, hard knocks, and even kicks from frustrated people. The fence needs to have strong welds and be firmly attached. Otherwise, there is a high risk of players seriously injuring themselves if they run into the fence and it comes loose.
It is not uncommon for padel courts to be surrounded by glass partitions. There are a lot of requirements for the glass, including that it should be strong enough to withstand the stress of hard hits and balls. 
The glass should also resist if a player accidentally runs into it. The glass sections are 3.20 x 2.40 m and they are quite heavy. The glass must be certified and it is also extremely important that it is fitted correctly so that no one is injured, either during play or at other times.
The most common surface for a padel court is artificial grass. It is available in several varieties and colors. However, they all have one thing in common: they must be able to withstand a lot of wear and tear. It should also not be too slippery, although it should have some glide. There are also portable padel courts that have a plastic floor or carpet as a base instead of artificial grass. 
There are also smaller padel courts that only have lines drawn on the ground or a real grass surface. However, this is rare. A real padel court is designed to allow players to play whatever the weather, but it is not a normal grass court.
On a padel court, it is important that there is good lighting. Whether the court is indoors or outdoors, it should be possible to play no matter what time of day it is. However, the lighting must be properly installed and it should also work well. 
The lighting should not blind the players and it should not have a negative impact on the game. There are both fluorescent and various pillar lights and lamp posts that work on or near padel courts.
Other things to know when building a padel court
When building a padel court, there are a lot of things to consider. Here we'll look at some of the things you should be aware of when building a padel court, whether it's indoors or outdoors.
What to consider when delivering an indoor court
When delivering an indoor court, it's important that the parts for the court can actually be delivered.
For example, the large glass sections to be used need to be able to be lifted into the hall without any problems and it is an advantage if stairs, sections with low ceilings, and similar obstacles do not need to be passed before the court is in place.
Also bear in mind that space for trucks and other vehicles may be needed outside the hall where the court is to be built. If it is very crowded outside the hall, you may need to cordon off areas nearby, and you may also need to open up doors or walls to allow all the construction to be brought into the hall.
A panoramic padel court is ideal to ensure that visitors have the best possible view of the game. It has a rear wall made up only of glass sections that are fitted tightly together. A standard court has frames between the glass, which means that those watching the match can have a steel frame in the middle of their field of vision. 
With panoramic glass, that risk is completely eliminated and everyone outside the court can see in. Similarly, those on the court may also find the game a little freer. Playing outdoors, you can see your surroundings in a completely different way if there are frame sections between each section of glass.
There are also portable padel courts. These are courts that can be moved around and set up for temporary events, for example.
Such a court does not require any major anchoring and can be set up on virtually any surface. A portable padel court can be a good solution if other activities also need to be accommodated on the premises or if padel is to be organized as an event once or twice a year.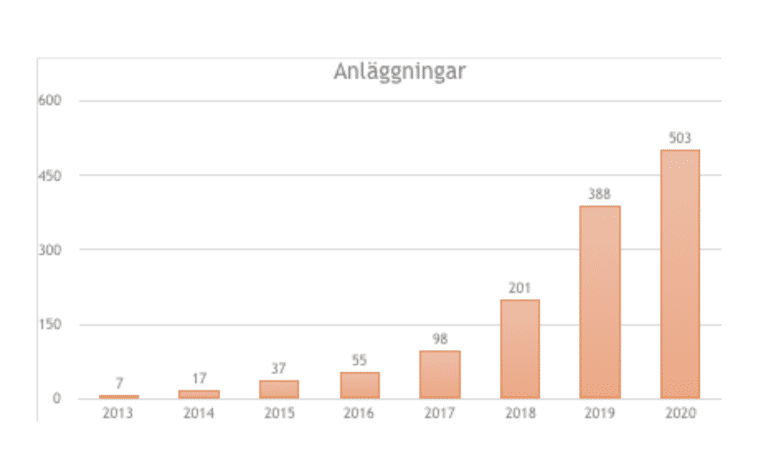 How to maximize the revenue from your newly built padel courts
There are several ways to maximize the revenue from your newly built padel courts. It's about making the hall a pleasant place for visitors and players alike, and it's about providing practical solutions that allow players to use the courts even if there is no staff in the hall at all times. In addition, it is practical to optimize the space to suit the different needs of the players. Here are a few things to consider to help you maximize the revenue from your new padel court.
Optimize the space in your padel hall
As with any sports hall, it's important to optimize the space as much as possible. It takes a lot of planning to fit in courts, changing rooms, equipment corner, reception, and a whole lot more. The more you can optimize the space, the less space you need and the lower the costs.
It might be wise to get help from someone who knows about optimization to make the space as fit for purpose as possible. That way, you can make the padel hall even more pleasant and vibrant.
Can you fit more activities than padel into spaces that don't accommodate a padel court?
In a padel hall, there may be some other areas where a full padel court cannot fit. It is usually possible to fit other activities in there. It could be a ping-pong table, a trampoline, or perhaps a small café corner where players can relax and wait their turn. It may also be possible to put a small play corner for children in the hall.
In this way, children who do not play padel can also join in. When there are more activities than just padel, the whole family can join in, and people who have not been interested in padel before can become interested when they see how the game is actually played.
Sell subscriptions to earn fixed revenue
Players playing occasionally is certainly an income but it is not an income the padel hall can rely on. In this case, an alternative could be to sell subscriptions. It is a more fixed income and the hall receives money for a longer period of time. 
It will not be as spread out as when a player just books in from time to time. If the padel hall needs to take out a loan, it may also be more positive to be able to show that players are actually interested in committing to subscriptions for a longer period of time. This could be for six months, a month, or a year. 
The hall will then receive payment for that period, rather than having to rely on the customer coming back in a few weeks to play again. Although the subscriptions may mean that the player pays a slightly lower fee for each game, it still generates more income for the padel hall and makes it more reliable.
Automate bookings through a good booking service
It is a great advantage if players can book courts and if this is done relatively automatically. This can be done by using a good and efficient booking service. It should also show if there are any courts available, and when the court becomes available. This way, players do not have to come to the hall only to realize that there is actually no opportunity for the player to play.
It is a great advantage if people can book courts both by computer and by telephone. That way, people can quickly click in after work to see if there is a court available. The booking service allows the player to make a reservation to play on a course on their own and this is something that most people appreciate.
A good booking system does not usually cost an extreme amount of money to set up and it also tends to be relatively easy to maintain.
Allow players to rent courts even if you don't staff the place all hours of the day
Even if the padel hall isn't staffed all hours, around the clock, it can make sense to let players rent courts and play. This can be done through an online booking system, and by opening the door through various entry systems. For example, players who have purchased a subscription to play at any time can be given tags that are used to unlock the door. In the case of players booking single sessions, an app can be used to enter the hall.
Allowing players to book into courts without the hall needing to be staffed at all times is another way of generating revenue. Staff costs money and good booking systems can ensure that staffing is only needed in the hall for a few hours each day or even less depending on how well everything works.
Nevertheless, it may be useful to use surveillance cameras at least in some parts of the hall. This will make it easy to find out who has broken something or what has happened if the hall is vandalized.
A more pleasant atmosphere in the hall leads to higher profitability and repeat business
When it comes to padel halls, it is important that both players and other visitors enjoy themselves. If the players are happy, they will continue to visit the hall and this, in turn, leads to higher profitability. 
When customers return, they may also recommend the hall to others in their circle of acquaintances, which will lead to more players finding it. With more returning players, the hall becomes even more profitable, and this only has benefits. 
The enjoyment of the hall has to do with several things. Is the hall hygienic, is the staff friendly? Is it easy to book the courts and does everything work properly? It may also be wise to look at whether the interior of the hall is suitable, and whether the lighting is good. 
For example, in the run-up to the festive season, it might be a good idea to see if it is possible to decorate the hall a little so that the atmosphere is in keeping with the occasion.
Hire and sell equipment such as padel rackets, balls, and other necessary items in the padel hall
Another way to maximize the revenue from the padel hall is by renting out and selling various items in the hall. New players may not want to buy their own racket and balls right away, but they want to learn the game first. In this case, a rental business can be a very good option. 
This can either be in the form of the player contacting the staff in the hall to rent a racket, or there are vending machines that can be used for the rental and the player can leave the racket in a box after the game.
TIPS!
Uthyrning av produkter så som padelracket och bollar brukar vara en mycket lönsam del i verksamheten.
It might also be a good idea to have a small shop in the padel hall so that players can buy rackets, balls and perhaps some clothes. Vending machines also work here, especially for the balls.
When it comes to padel rackets, there are a lot of different varieties and it can be difficult for a new player to know which racket is right for them. It's a good idea to have a knowledgeable member of staff who can give advice and tips on choosing a racket.
Playing padel can also make you hungry and thirsty. It's not a bad idea to be able to offer good drinks, energy bars, and some fruit to visitors to the hall. Vending machines are extremely useful here, as are coffee machines.
However, a small café can also be appreciated, especially by players who travel a long way to participate in tournaments or for those people who spend some time in the hall just to socialize with others.